ArweaveAR
Arweave Price (AR)
Low: $4.090 High: $4.180
Market Cap
$273,225,236.00
Volume / Market Cap
$0.01
Circulating Supply
$65,454,186
Loading Data
Please wait, we are loading chart data
| Date | Price | Volume | MarketCap |
| --- | --- | --- | --- |
| # | Exchange | Pair | Price | Volume (24h) | Updated | Trust Score |
| --- | --- | --- | --- | --- | --- | --- |
Loading facebook comment(s)
What is Arweave (AR)?
Arweave (originally named Airchain) is a Web3 protocol providing the ability to permanently store data on decentralized network.
With a upfront fee, users can access lifetime data information storage. Besides, Arweave allows developers to build DApps through blockweave technology seamlessly.
Based on Proof of access consensus algorithm, Arweave creates a permanent data warehouse with low cost and high throughput, opening up long-term vision for the entire internet system.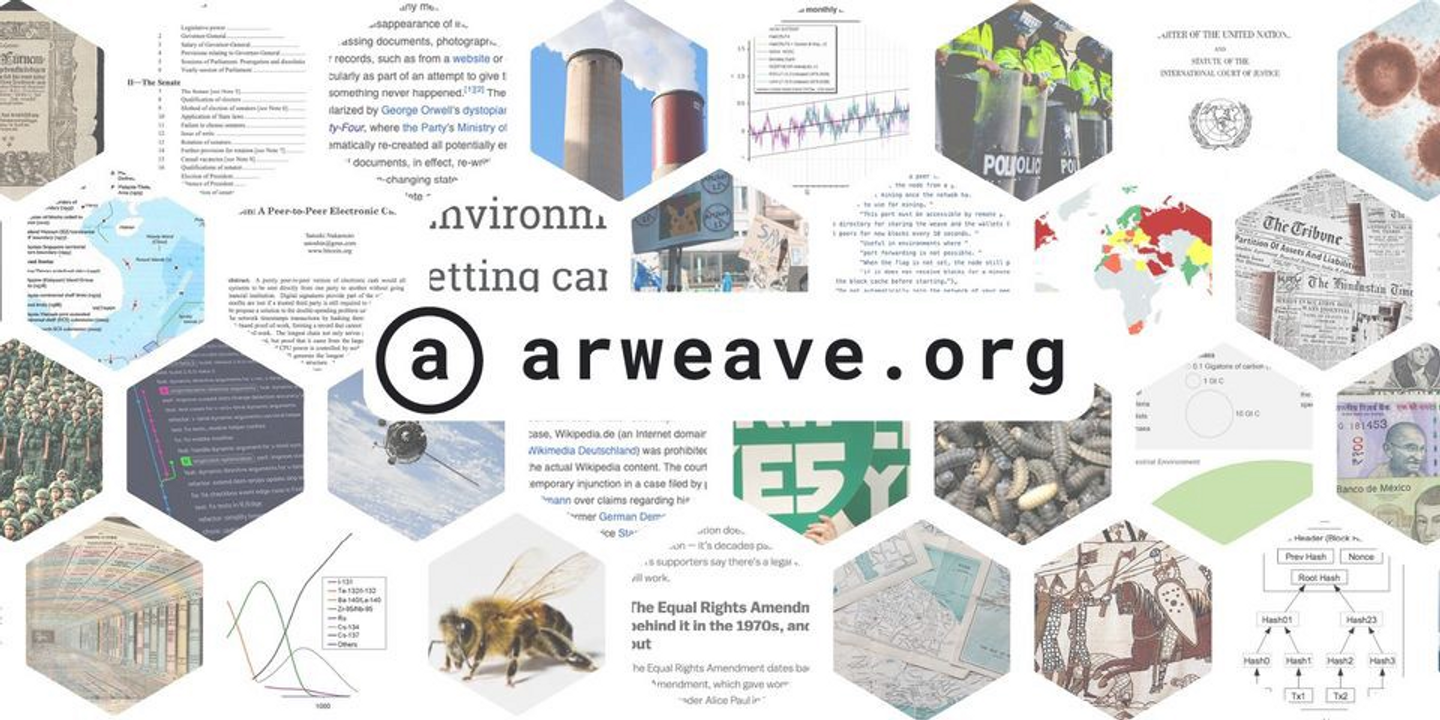 Highlights of Arweave (AR)
Arweave offers a superior solution for data storage based on four core technologies:
Blockweave: provides the ability to expand on-chain storage memory while optimizing storage costs effectively. The number of hashes for consensus decreases as the volume of data on the storage system increases, so the fee for storing the data decreases.
SPoRA (Succinct Proofs of Random Access): Arweave upgraded its PoA (Proof of Access) consensus mechanism to SPoRA in November 2021. SPoRA mechanism reduces the size of block probabilities, reduces the energy wasted in decrypting hashes, and increases data access speed. Therefore, miners will focus on maintaining their own local hardware and nodes.
Wildfire: establishes a ranking system for each node to determine the speed of new block distribution and transaction, creating a mechanism to encourage miners to share data and actively participate in the network.
Blockshadows: brings technology that minimizes data waste, while enabling a consensus mechanism to execute quickly with large transaction throughput by sending shadow blocks to nodes.
How does Arweave (AR) work?
Arweave is based on blockweave technology, miners will provide memory and copy data in the network to receive rewards of AR tokens.
In Arweave's architecture, each block will be associated with a previous block and a random block in the protocol's history which called a recall block. Arweave requires miners to provide specific data from recall block to verify a new block or request a block reward.
Before joining Arweave, miners need to download the current block and retrieve the blockhash and wallet list from the current block. Arweave uses a continuous verification system so miners don't need to find previous transactions linked to a wallet to verify new transactions. Instead, miners simply verify the transaction has been signed by the wallet owner's private key.
Arweave (AR) Token
Token Metrics
Ticker: AR
Token type: Utility Token
Total supply: 66,000,000 AR
Circulating supply: 43,825,615 AR
Token Allocation
Seed sale: 10.8%
Strategic sale: 7.1%
Private sale: 19.5%
Public sale: 1.1%
Advisors: 2.9%
Team: 13.0%
Ecosystem: 19.1%
Reserve: 26.5%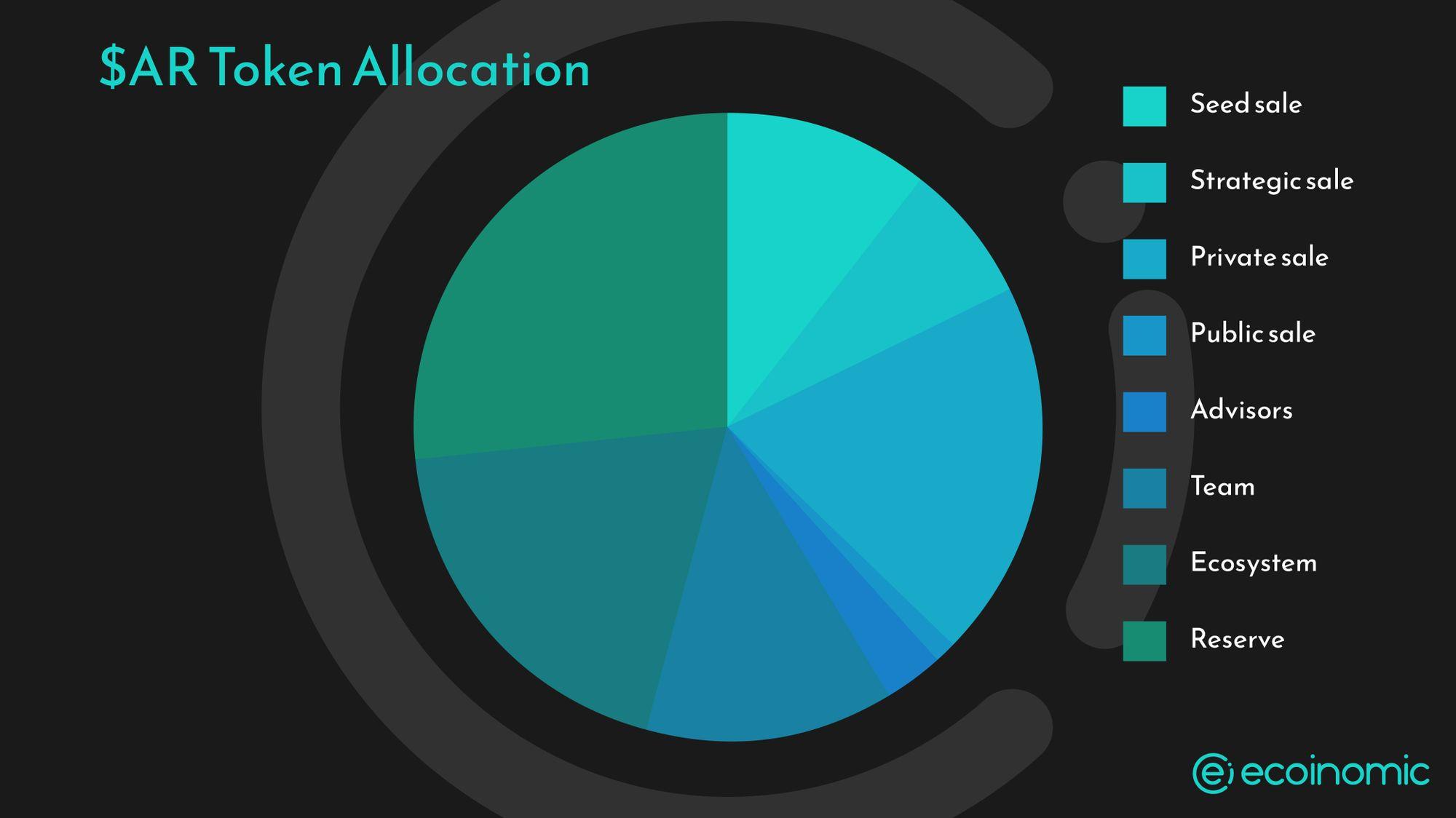 Token Release Schedule
When mainet was launched on June 8, 2018, 55 million AR was generated in the Genesis block.
Another 11 million AR will gradually be put into circulation in the form of block mining rewards. The issuance of new AR tokens is similar to Bitcoin's model and the amount issued is halved periodically.
Token Sales
| Sales | Price | Allocation | Amount of AR |
| --- | --- | --- | --- |
| Seed Round | $0.18 + 25% bonus | 9% | 5.940.000.000 |
| Private sale | $0.56 | 13,42% | 8.857.200.000 |
| Public sale | $0.72 | 3,75% | 2.475.000.000 |
Token Use Cases
AR is a utility token in Arweave's ecosystem with functions such as:
Paying fee: AR token is used to pay for storage fees.
Miner reward: The fee collected will be partially allocated to miners for participating in maintenance and storage in the Arweave network.
Roadmap

Development team
Arweave was co-founded by Sam Williams and William Jones on June 28, 2017. However, in mid-2018, Jones left the project to complete his PhD.
Sam Williams – CEO: Served as a technology advisor on Minespider, Techstars.
Jesper Noehr – CTO: Has nearly 20 years of experience in information technology at companies such as Atlassian (Bitbucket), Opera Software and several hedge funds.
Sebastian Campos Groth – COO: Served as an advisor on Lumit Blockchain & Network Technologies, Techstarts.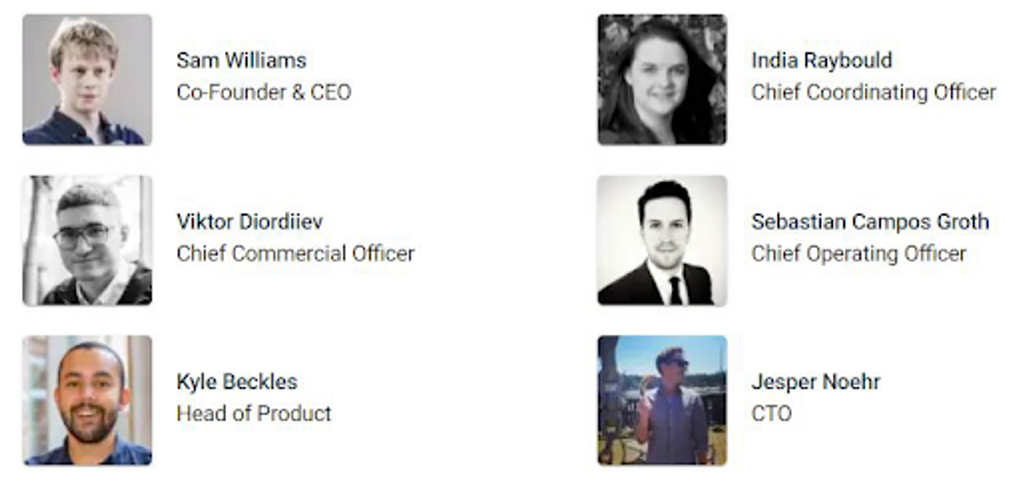 Investment funds, partners
Arweave has raised $22 million through 6 seed rounds and 1 ICO round, attracting the participation of major investors such as Multicoin Capital, Andreessen Horowitz, Coinbase Ventures,…
Besides, many blockchain networks such as Cosmos, NEAR Protocol, Avalanche, Polkadot, Solana have integrated Arweave's technology to store transaction history data.

FAQs to Arweave (AR)
Where can I buy Arweave (AR)?
Investors can own AR tokens by trading on Huobi Global, Binance, MEXC Global, HitBTC,… Besides, investors can participate in sharing storage in the Arweave network to become miner and receive AR token rewards.
Should I invest in Arweave (AR)?
Along with the expansion of Web 3.0, Arweave project promises great growth potential in the future with a superior solution in terms of permanent data storage capabilities.
However, the popularity and usability of Arweave has not been optimized. To access data stored on Arweave, users must use Arweave-compatible blockchain wallets, buy and sell AR tokens on the respective exchanges to pay for fee, while Storj – Arweave's competitor optimizes user experience with a friendly interface, allowing credit card payments. The cryptocurrency market is constantly fluctuating, so investors need to follow the roadmap, update information about the project and compare with competitors. The article only aims to provide information, not investment advice, so you should make the right decision that suits your goals!