What is Binance? In this post, Ecoinomic.io will make you understand all of the information about Binance, how to use it, and the easiest way to Binance sign up and receive a lifetime 20% discount through the article below.
What is Binance?
Binance is one of the biggest cryptocurrency exchanges in the world. In July 2017, Binance exchange was officially founded. The name "Binance" is a combination of "bitcoin" and "finance".
In March 2018, Binance opened an office in Taiwan, after that the company announced the opening of an office in Jersey and moved its headquarters to Malta the purpose is to increase its influence in Europe. After obtaining an exchange license, Binance expanded fiat currency pairs, including the Euro and the British Pound. 
In 2022, after 5 years of establishment and development, Binance become the world's top 1 cryptocurrency exchange has up to 30 million users Binance sign-up accounts.
Binance Ecosystem
Spot: (Regular Trading): Binance Spot have more than 360 cryptocurrencies with 1448 cryptocurrency pairs and fiat currencies such as Bitcoin, Ethereum, and BNB (as of July 2022). Binance Spot is very fast, convenient, and easy trading with an order execution system capable of processing up to 1.4 million orders per second. 
Margin Binance: Margin Binance is a method of trading assets using a loan (leverage) from the Binance exchange. This allows traders to use a larger amount of capital in the wallet so that the margin account will have more trading positions.
Binance Futures: Binance Futures allow traders can use leverage up to 125x. The highest level in cryptocurrency exchanges.
Binance Earn: Binance Earn is a comprehensive financial platform that offers a variety of products to help you increase your profits from holding cryptocurrencies.
BNB chain and BNB token: Its main focus is to facilitate fast, decentralized (or unsupervised) transactions. BNB Token (Binance Coin) is the "fuel" blockchain gas token for transactions on BNB Chain.
Binance P2P: is a core Binance trading feature that allows direct user-to-user trading. P2P helps investors trade coins simply directly in their currency. Binance P2P functionality allows traders to own BTC, ETH, and USDT to almost currency in the world directly on the Binance platform and then switch from P2P functionality to Spot, Margin, and Contract (Combined Equivalent) functions to trade without fees and without intermediaries. 
Binance NFT: Binance NFT Marketplace is the first NFT marketplace and exchange in the world. Binance NFT attracts artists, creators, and art enthusiasts from around the world.
Binance DEX: Binance DEX is a Decentralized exchange of Binance developed on Binance Chain. Binance DEX is a secure trading platform that allows users to trade digital assets issued and listed here.
Binance Labs: Binance Labs is an investment fund that invests in and empowers potential entrepreneurs, startups, and the Binance blockchain community to support and grow blockchain alongside the crypto ecosystem.
Binance Research: Binance Research is the research division of the Binance cryptocurrency project. The main goal of Binance Research is to increase the transparency and accuracy of the information in the world of blockchain and cryptocurrencies.
Binance Cloud: Binance Cloud is an innovative platform created to act as a solution for customers and partners who want to start exchanging digital assets, leveraging Binance's state-of-the-art technology with high functionality, security, and liquidity.
Binance Academy: Binance Academy is a leading Blockchain and Cryptocurrency education institute founded by Binance. This educational platform offers completely free educational content to support learning about Cryptocurrencies and digital asset technology.
Binance Charity: Binance Charity Foundation is a non-profit organization dedicated to harnessing the potential of blockchain technology and working towards global sustainability.
Trust Wallet: Trust Wallet is Binance's official decentralized wallet that supports a variety of cryptocurrencies. This e-wallet allows users to safely and conveniently store many of the main cryptocurrencies on the market
Who are the founders of Binance?
Changpeng Zhao is the founder of Binance exchange, he is a Chinese-Canadian entrepreneur, CZ used to work for the Tokyo Stock Exchange, developing trading order execution software. He is also a developer of futures trading software at Bloomberg Tradebook.
In 2017, Changpeng Zhao launched a cryptocurrency exchange called Binance, after raising $15 million in a BNB token ICO. In less than eight months, it has made Binance the world's largest cryptocurrency exchange by trading volume (April 2018). In February 2018, Forbes magazine ranked it third on its list of the "richest person in cryptocurrencies".
Binance Review
Advantages of Binance:
High liquidity, always at the top of the market.

Supports more than 32 languages.

Low trading fee is 0.1%. Users can use BNB

tokens to reduce trading fees on the exchange by 25% as well as receive many other incentives when using binance launchpad

The platform has a SAFU insurance fund, which helps to ensure customers' accounts in case they got hacked.

Large ecosystem, diverse products.
Disadvantages of Binance:
Binance ecosystem has so many products, newbies need time to understand how to use it.
How to Binance sign up:
If you are Binance sign up by using a computer, click the Binance register button at the bottom to go to the Binance sign up page.

For android phones, Click CHplay to download Binance app on Android.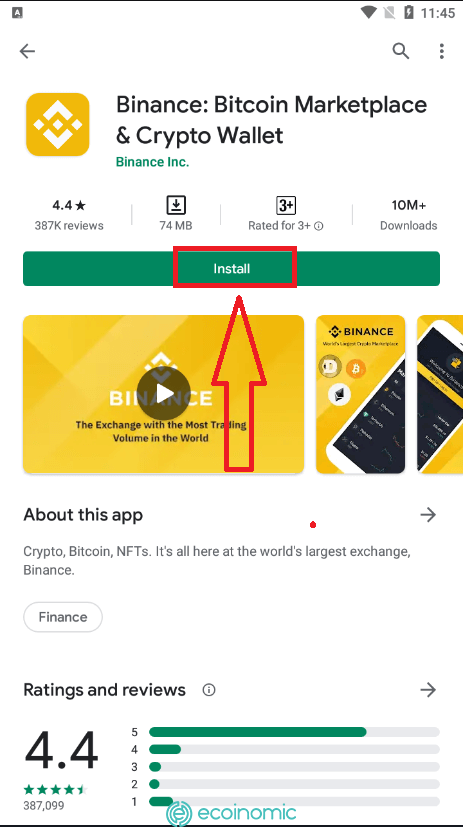 For Iphones, Click Appstore to download Binance app on IOS.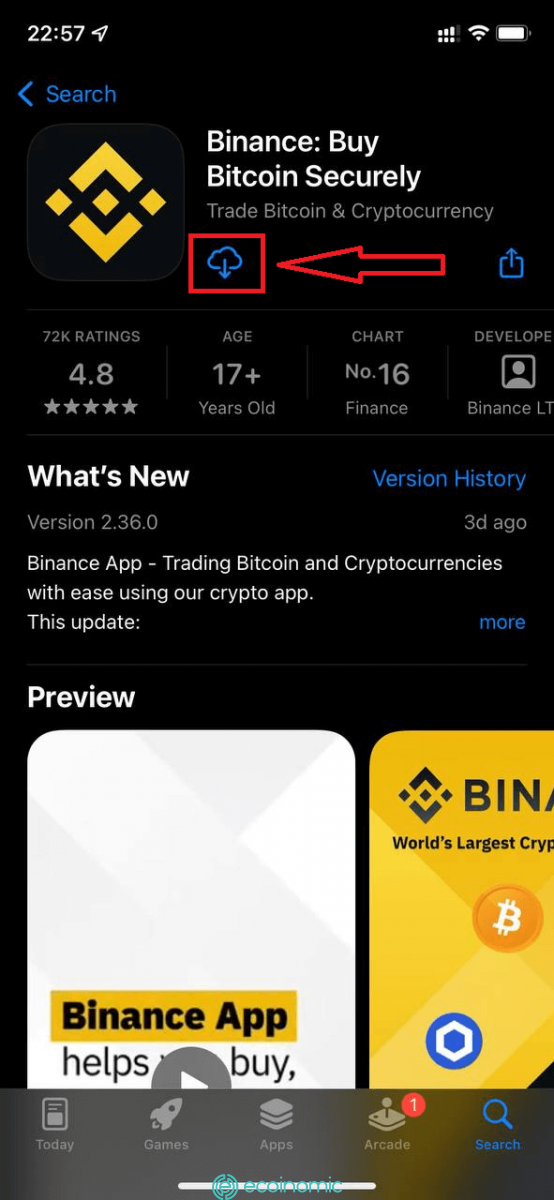 If you use iPhone. You can allow Binance to track activity or not (optional), however, you should allow this app to be sent notifications so that you can receive binance notifications about the market and discount offers.
Step 2: Open the Binance app you just downloaded, if you are using your computer to Binance sign up, or click to Binance Register button below to go to the Binance sign up homepage.

Type your email address, password, and code FY5L300H in the "Referral ID", you will receive a 20% discount trading fee. After entering the information, select "Create Account" to start Binance sign up exchange.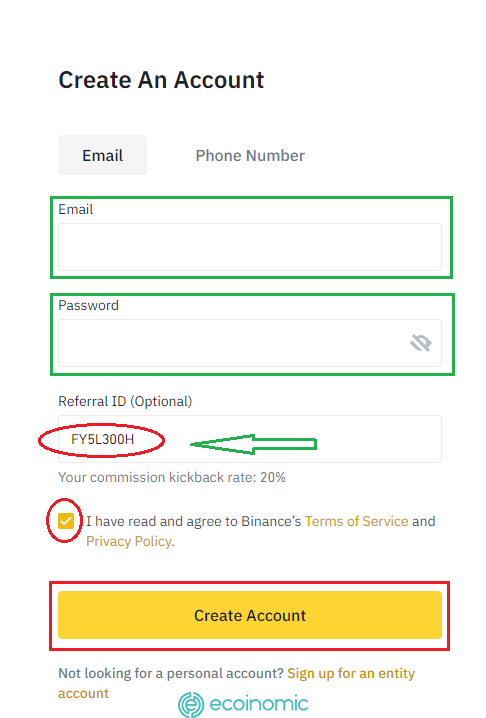 Step 3: Binance will send it to the email address where you just entered the 6-digit confirmation code. Enter this code and click "Submit".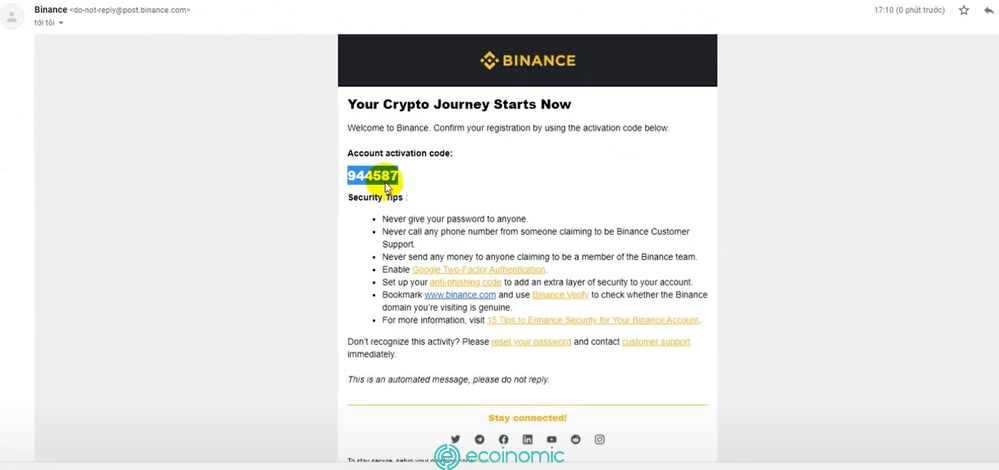 Note: If you can't find it in your email, try checking your "spam" in Gmail or if you still haven't received the Binance email containing the verification code after 3 to 5 minutes, please click the Resend code button.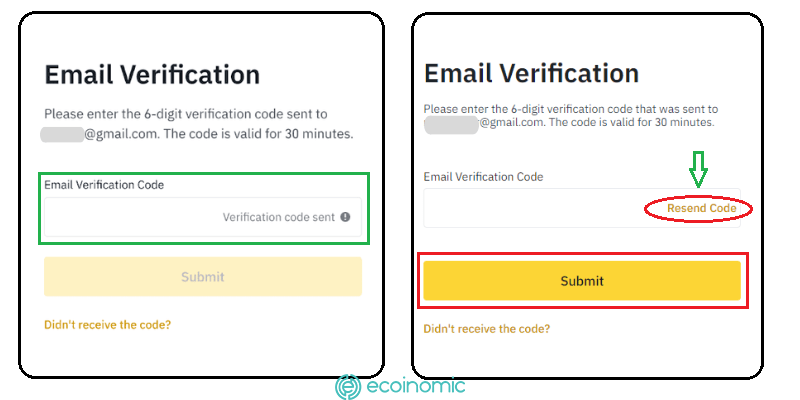 Step 4: Enter your phone number and click "Next".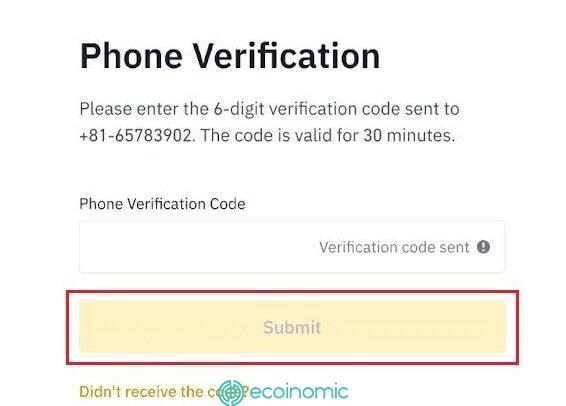 Binance will be sent to the phone number you just entered the 6-digit confirmation code. Enter this code and click "Submit".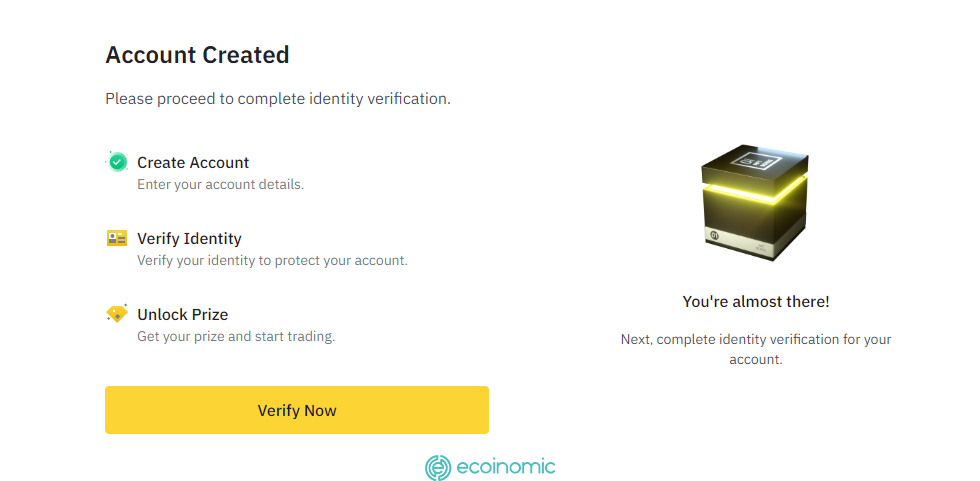 Congratulations you are successful at Binance sign up, however, to be able to trade, you need to verify your KYC (Know Your Customer) identity.
Binance Account Security Guide:
In 2022, with new policies aimed at tightening the confidentiality prescribed by countries. Users who now Binance sign up are required to verify their identity.
Binance KYC identity verification guide.
Step 1: After you register Binance, click on "Verify Now". Here, fill in all the information on your ID card and click "Next".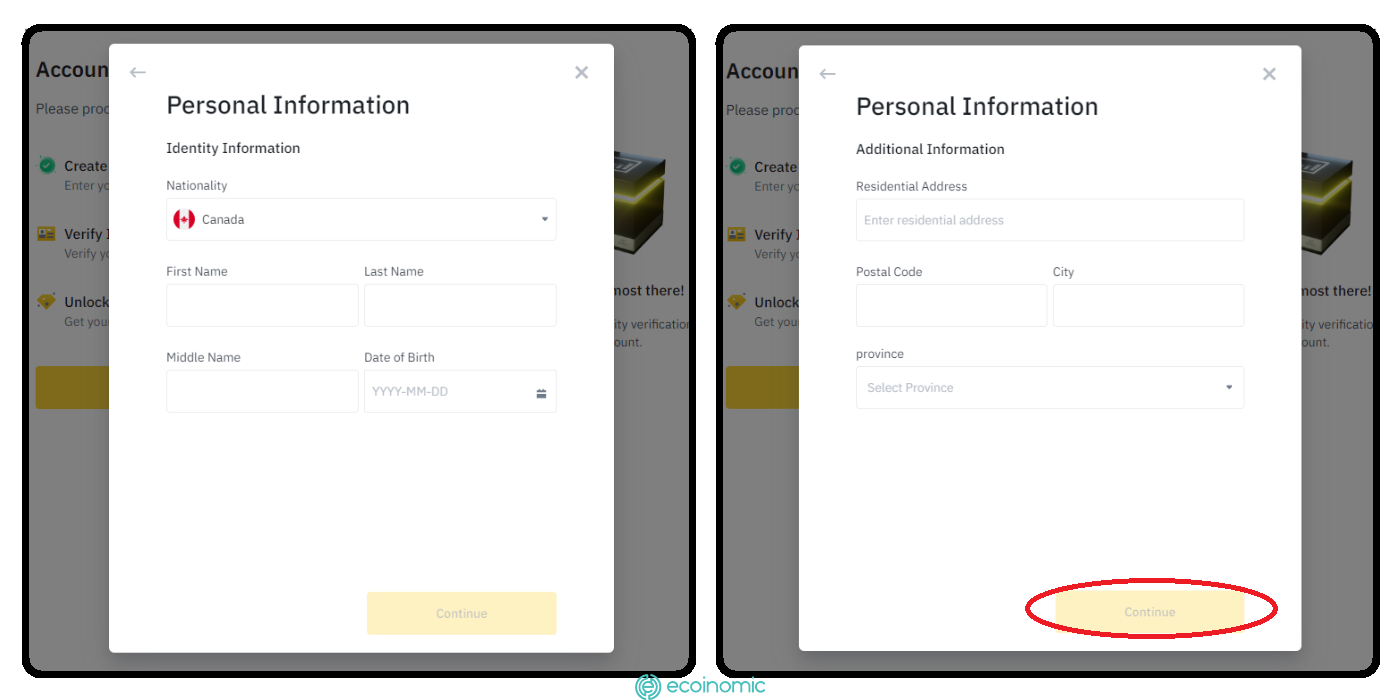 Step 2: In the "Identity Verification" section, there will be 3 types of documents: Citizen ID, Passport, or Driver's License. Select one and click "Continue".
Note: In this section, you must have a camera to verify your Binance account. If you Binance sign up on a computer without a camera, you can use your phone, open the Binance app, and log in with a previously created account, which will automatically redirect you to the identity verification section from Binance.
Step 3: Take a photo of the front and back of your ID card.

Step 4: Take a portrait. After taking a clear photo click on "Continue".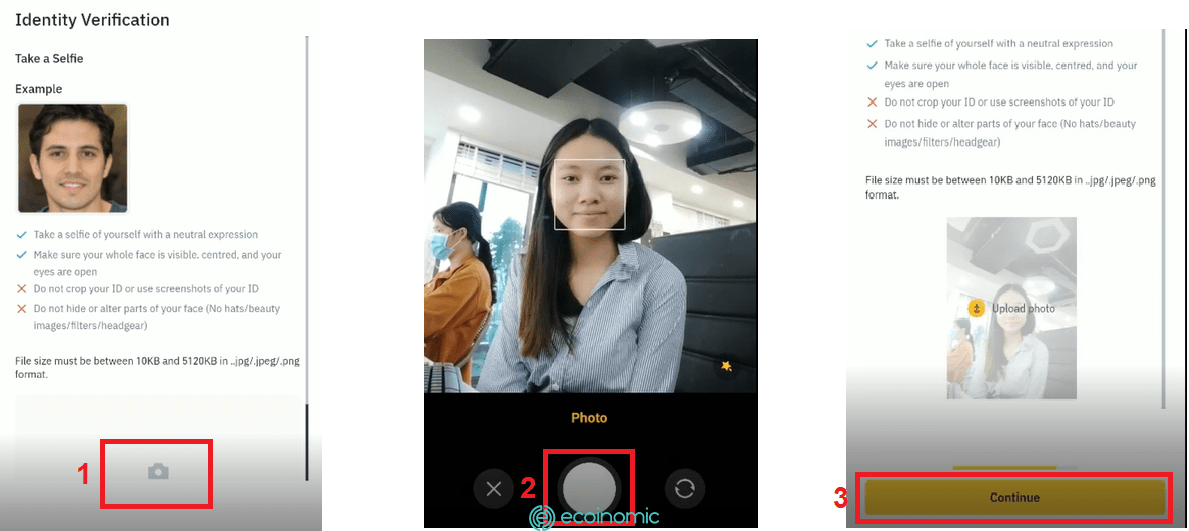 Step 5: Face recognition. You need to pay attention not to wear a hat and glasses, besides it is also advisable to choose photos with good bright photos. After selecting the right photo, click "Begin Verification" for the Binance system to recognize the face.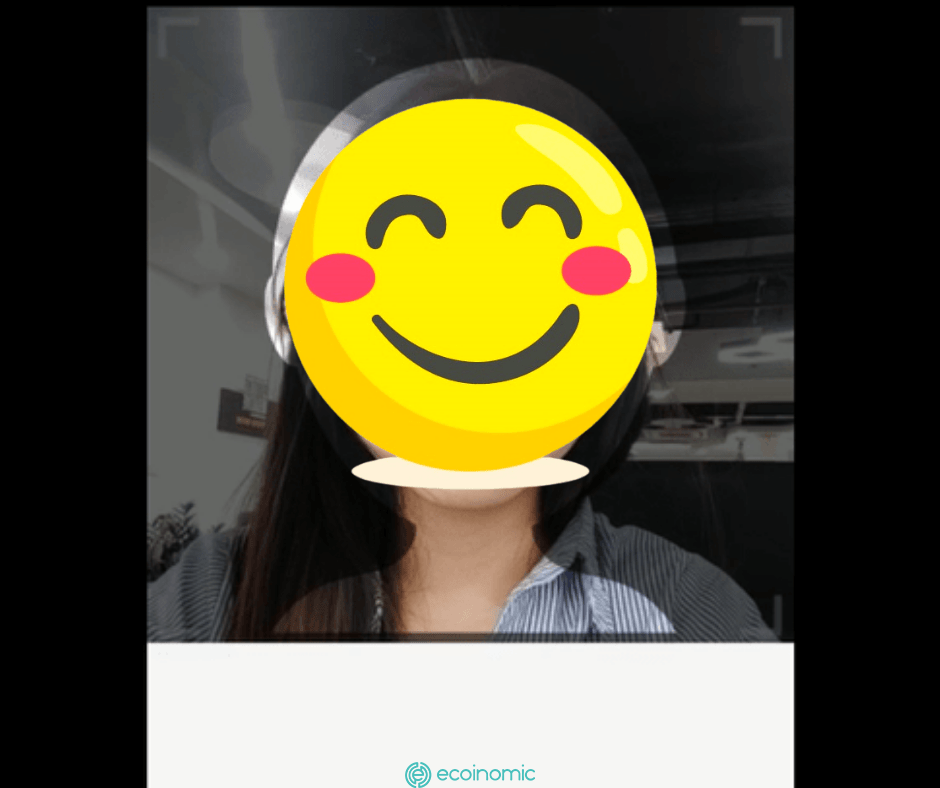 The normal processing time is less than 5 days. Upon successful approval, Binance will send a letter to your email address with the message "Binance registration successful" along with a random NFT gift.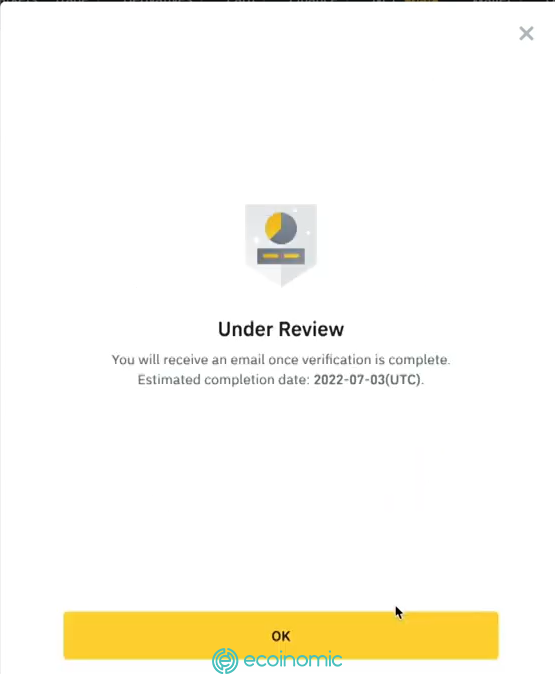 Google Authenticator 2FA Binance 2FA 2-layer security setup.
After verifying your identity by KYC, you can start trading. However, if you have a lot of assets or make many large transactions on the Binance exchange, security is very important. To protect your assets from hackers you need to set up 2FA security. The most trusted method is Google Authenticator.
Step 1: Download the Google Authenticator app on Google Play (Android) or Appstore (IOS) to your phone. Select the "Account" icon. Click on the "Security" section.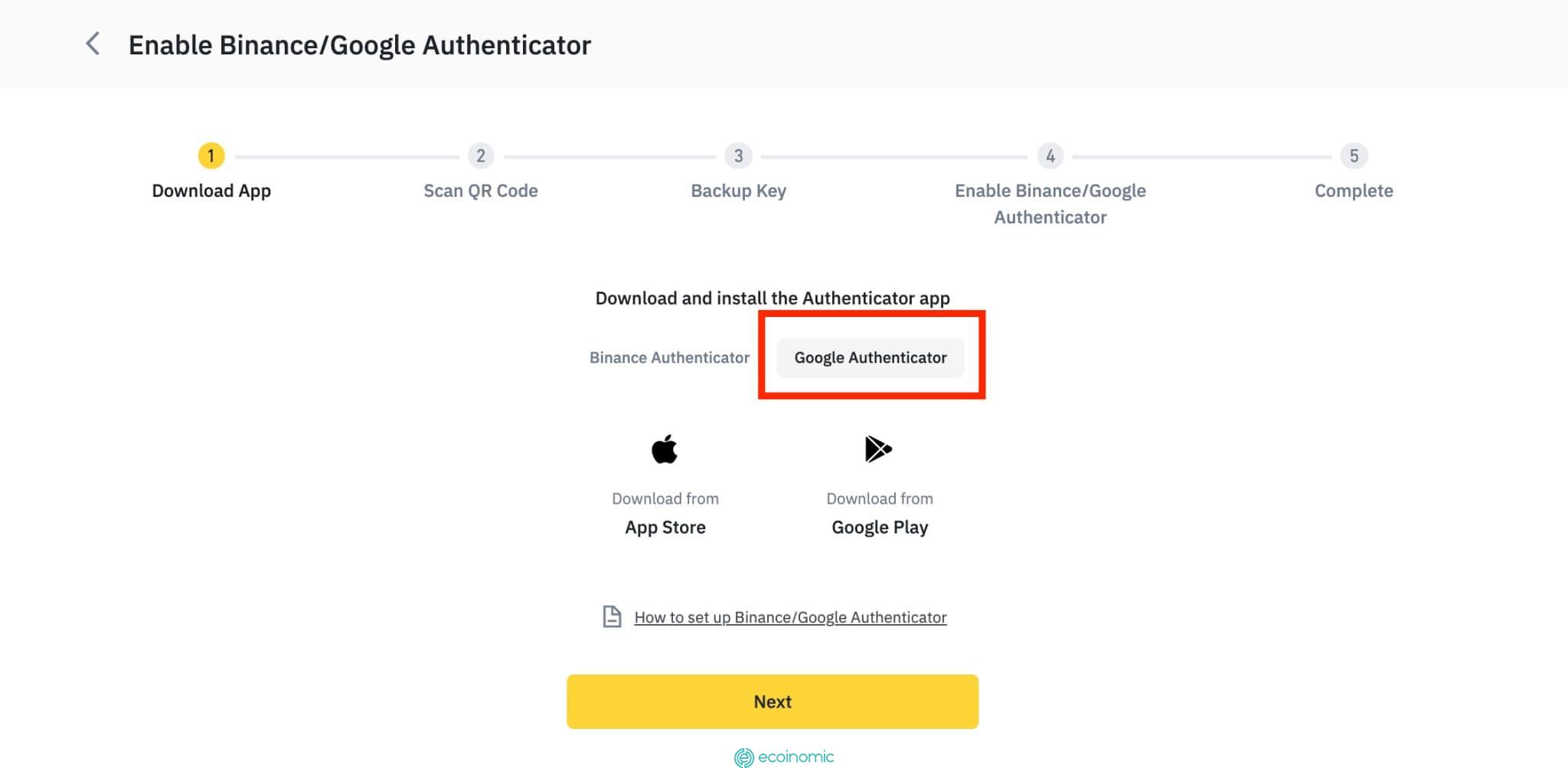 Step 2: At Binance/Google Authenticator select "Enable".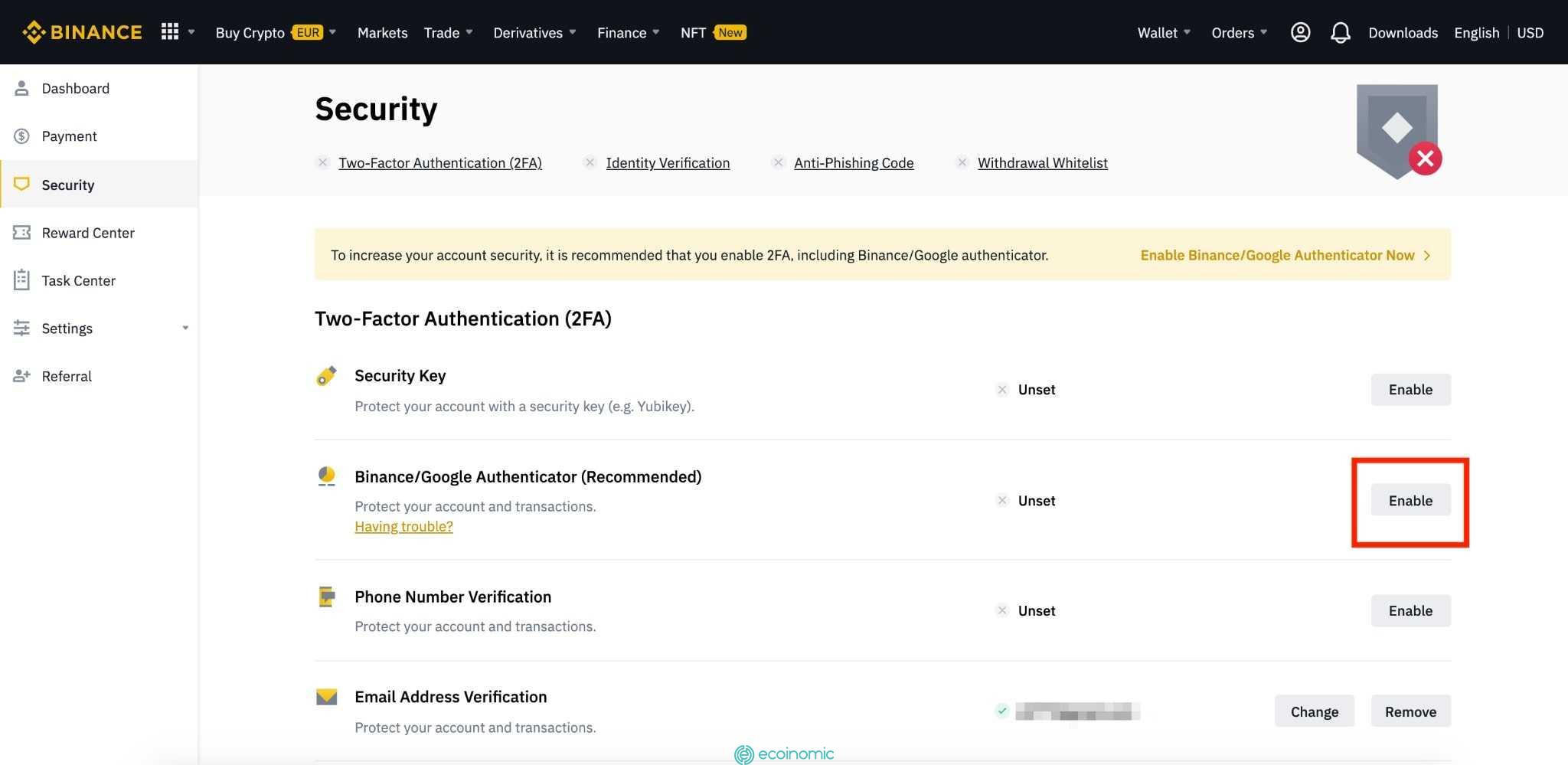 Step 3: Scan the QR code. Open the Google Authenticator app on your phone device and tap "Scan a barcode" or "Enter a provided key" if you can't use the camera on your device. Scan the code to proceed to the next step.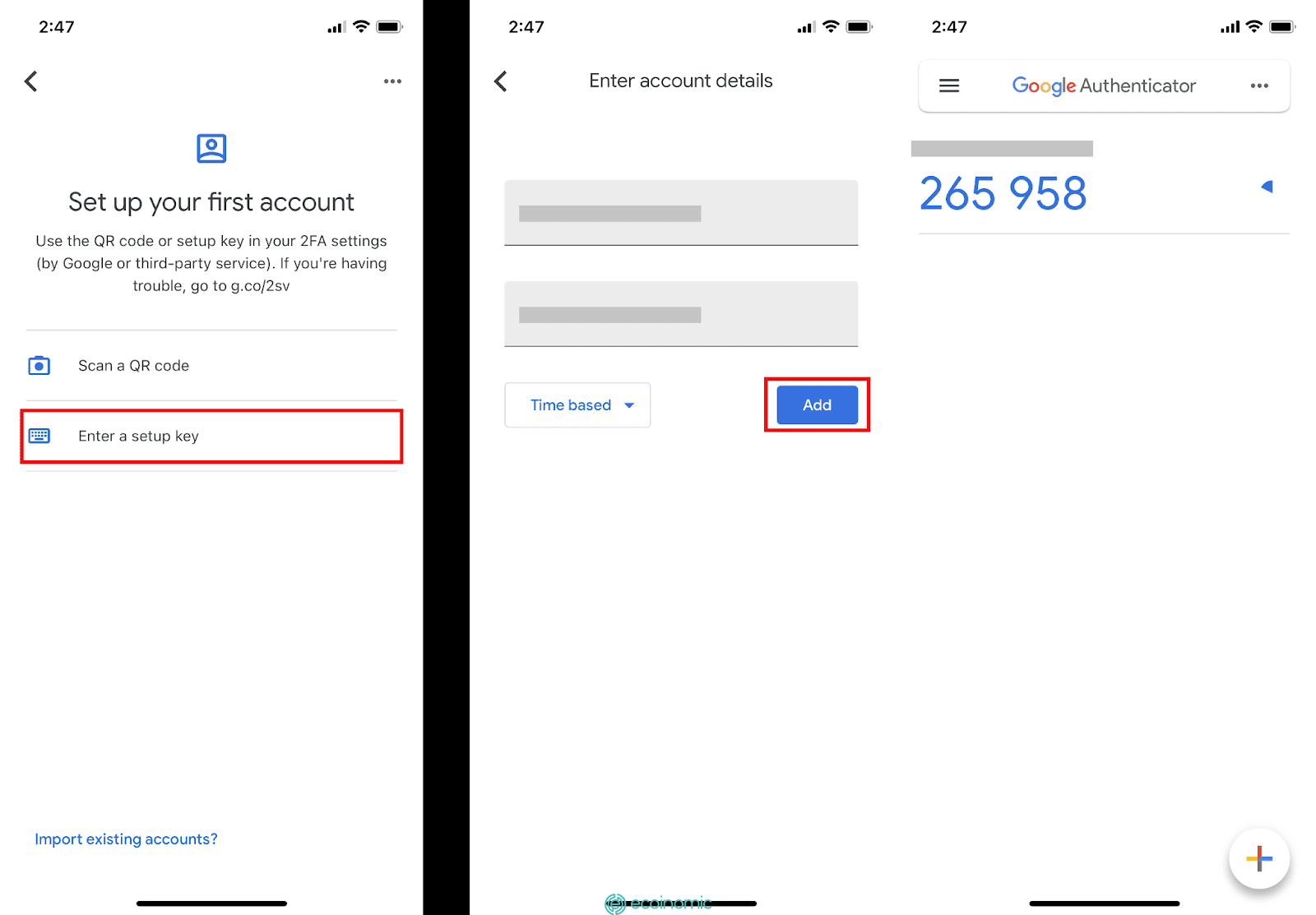 Step 4: Backup lock. On the screen, you will be prompted to reset the code for Google Authenticator. Save this backup key to a piece of paper and keep it safe. You can then use your spare key to reinstall Google Authenticator if you lose your mobile device.
Step 5: Turn on the Google Authenticator app. Confirm your password and the 6-digit code displayed on Google Authenticator, then tap [Enable Google Authenticator] to complete the authentication process.
How to deposit and withdraw Binance
How to deposit on Binance:
Step 1: Log in to Binance then select "Wallet" – "Overview".Then click on "Deposit". Next select "Crypto Deposit".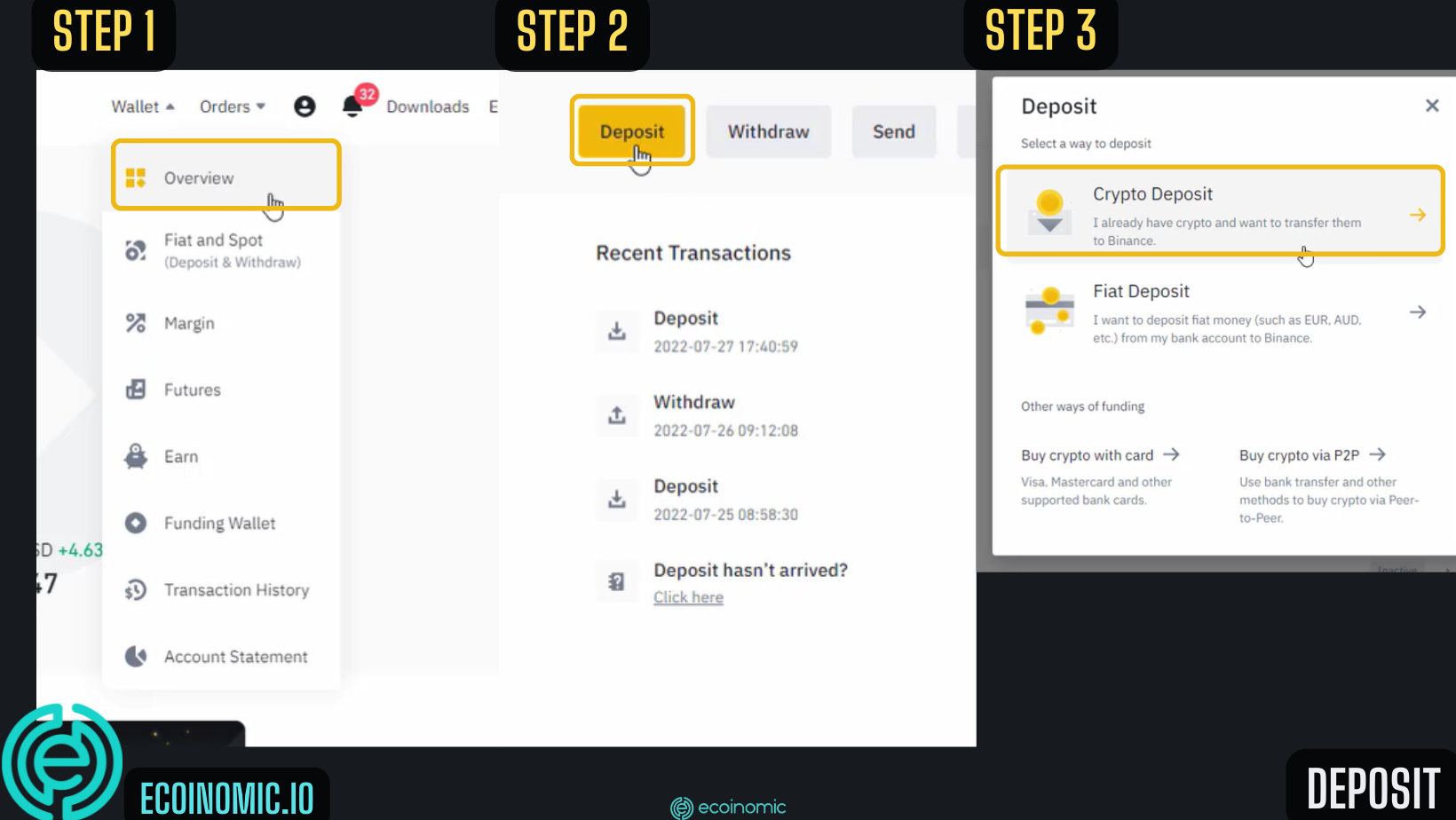 Step 2: Select the convenience type you want to deposit at "Select coin". Select the network you want to deposit at "Deposit to". Copy "Wallet ID" to send to the party that deposits you.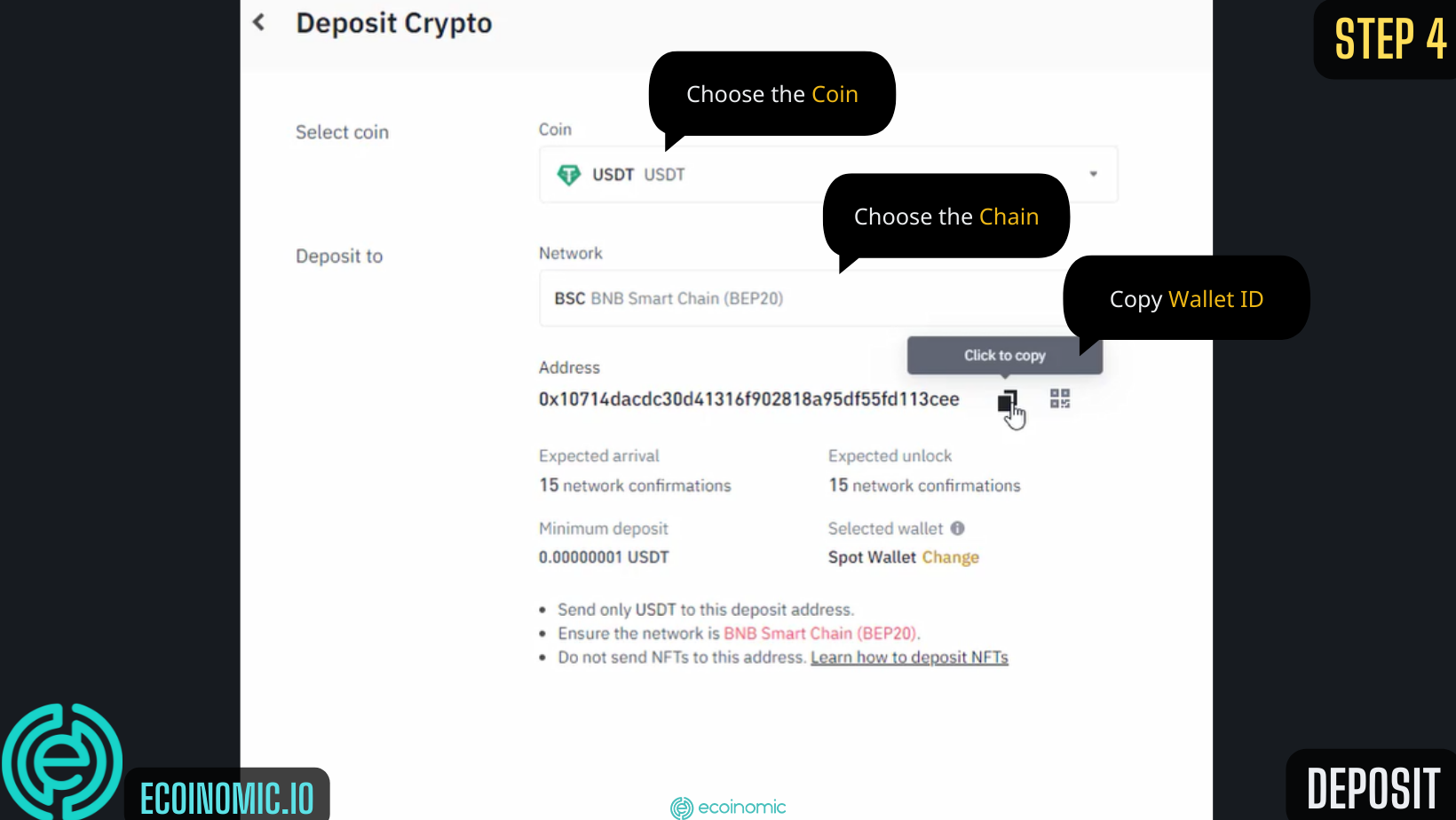 How to withdraw from Binance Exchange:
Step 1: Log in to Binance then select "Wallet" – "Fiat and Spot". Then select "Withdraw".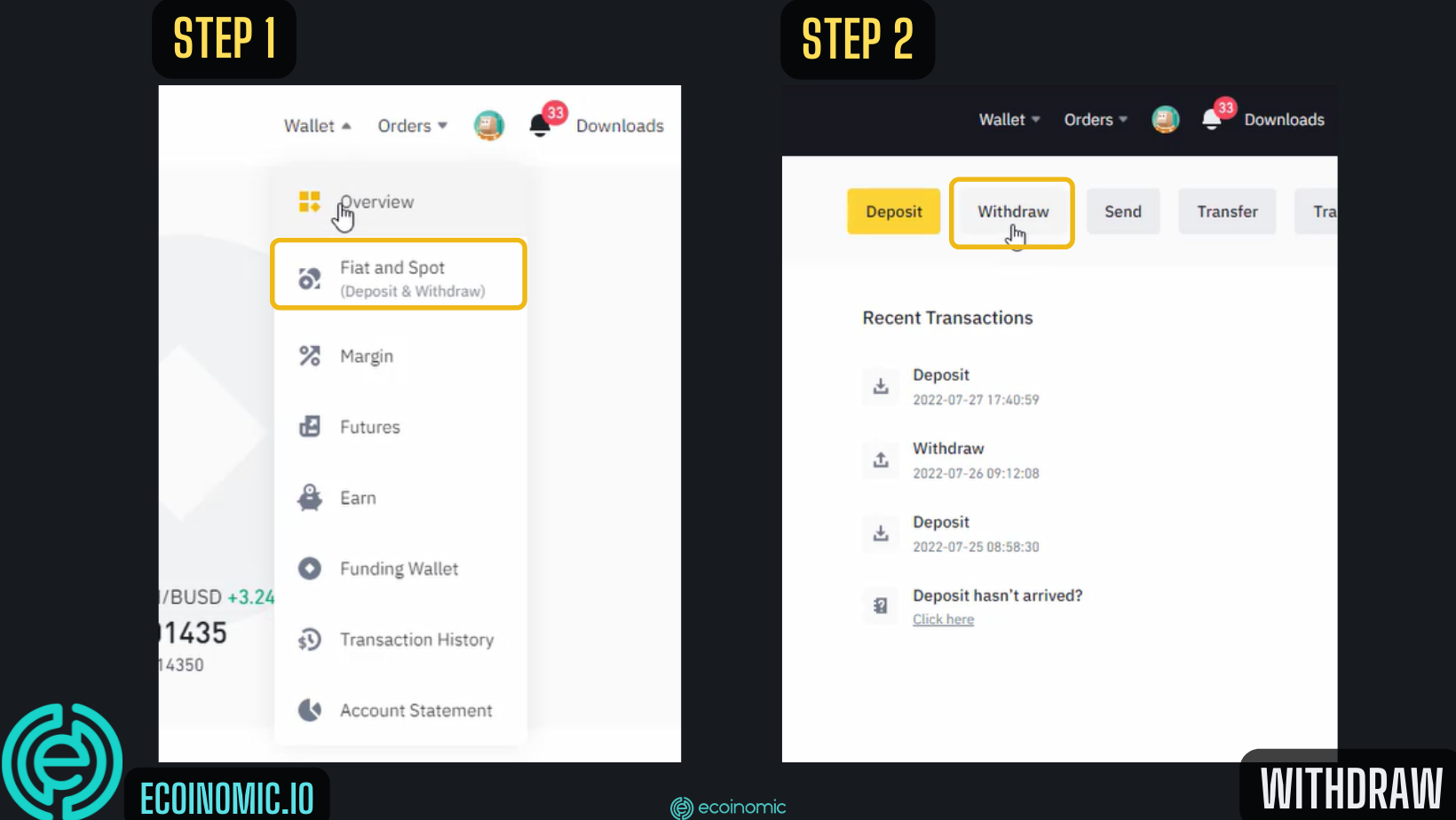 Step 2: At "Select coin" select the cryptocurrency you want to withdraw.
At "Send to" enter the wallet address you want to receive, Select the receiving network at "Network". Enter the convenience number you want to withdraw
At "Withdraw amount". When is done click on "Withdraw"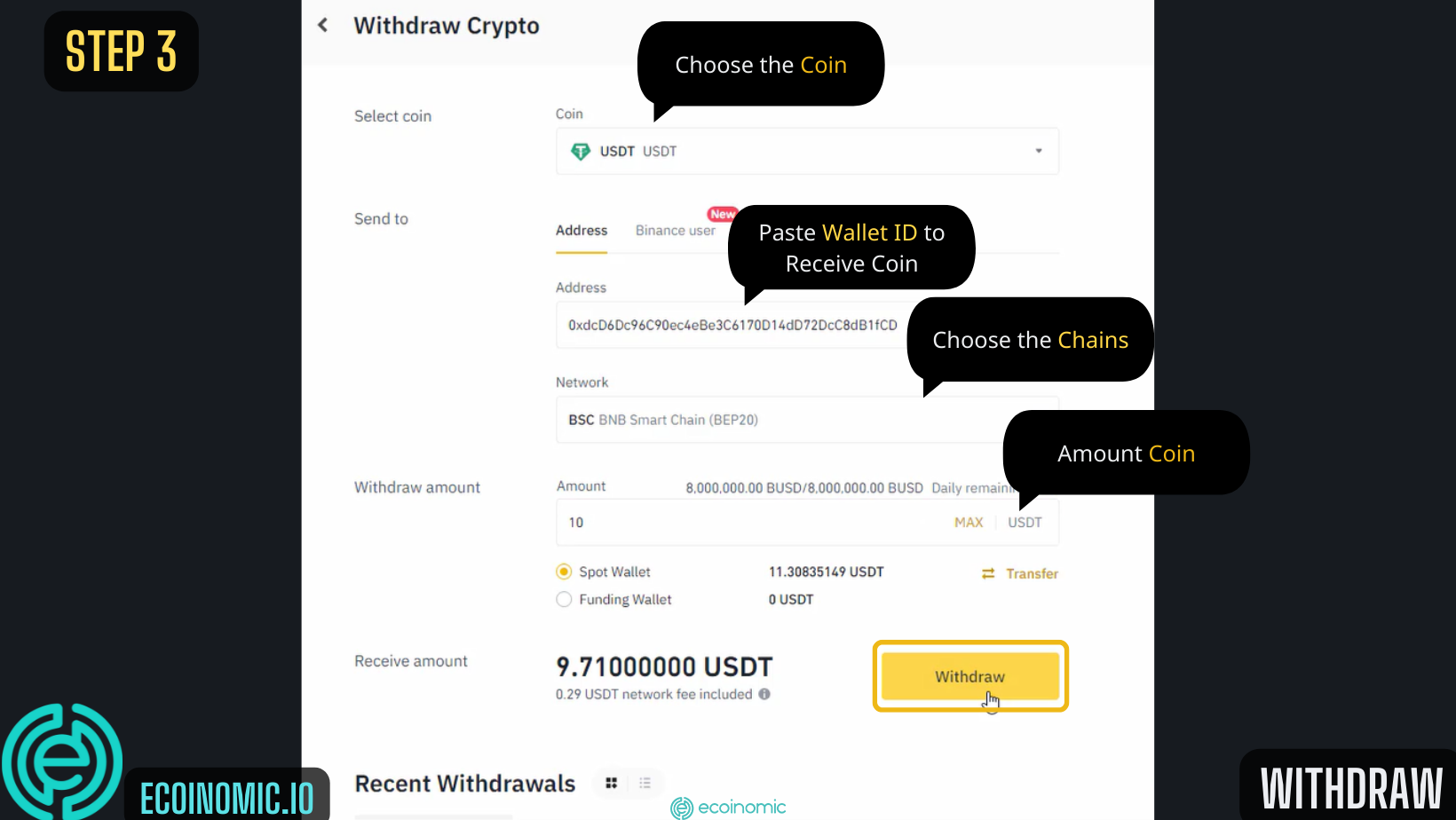 How to trade coins on Binance 
There are many forms of cryptocurrency trading such as Spot trading, Margin trading, and Futures trading,… In this article, I will show you how to trade Spot (trade now). In the following article, I will be dedicated to writing about Margin and Futures trading on Binance.
Purchases on Binance
Step 1: Log in to Binance. Click "Orders" and select "Spot" to make a Spot trade. Then select the "Coin Pair" you want to trade.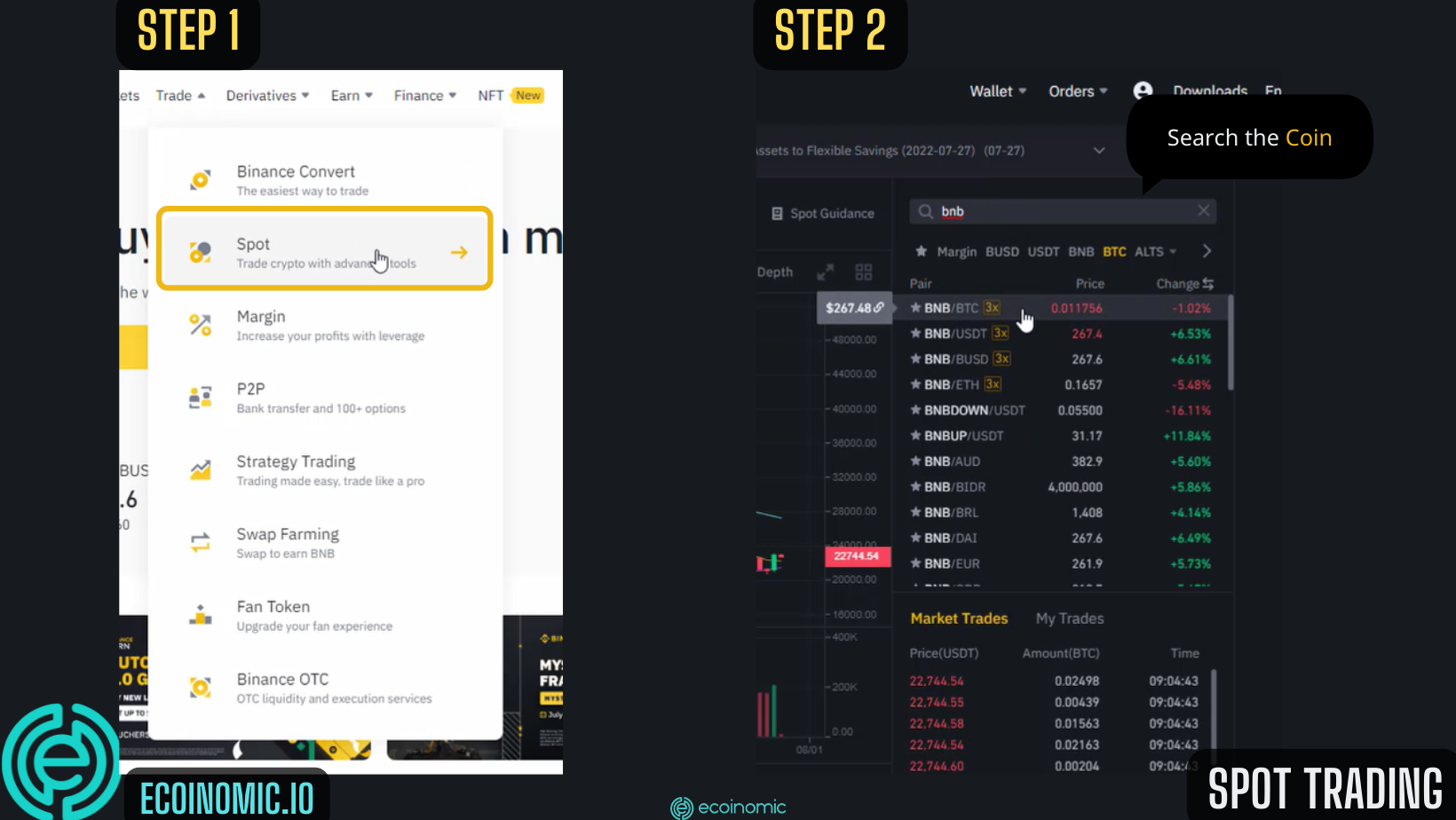 Step 2: Make a trade. In spot trading, there are 3 different orders: Limit, Market, and Stop-limit. Limit orders are placed at a specific limit price. To execute an order select "Limit", at "Price" select the price you want to buy the coin, at "Amount" select the amount of coins you want to buy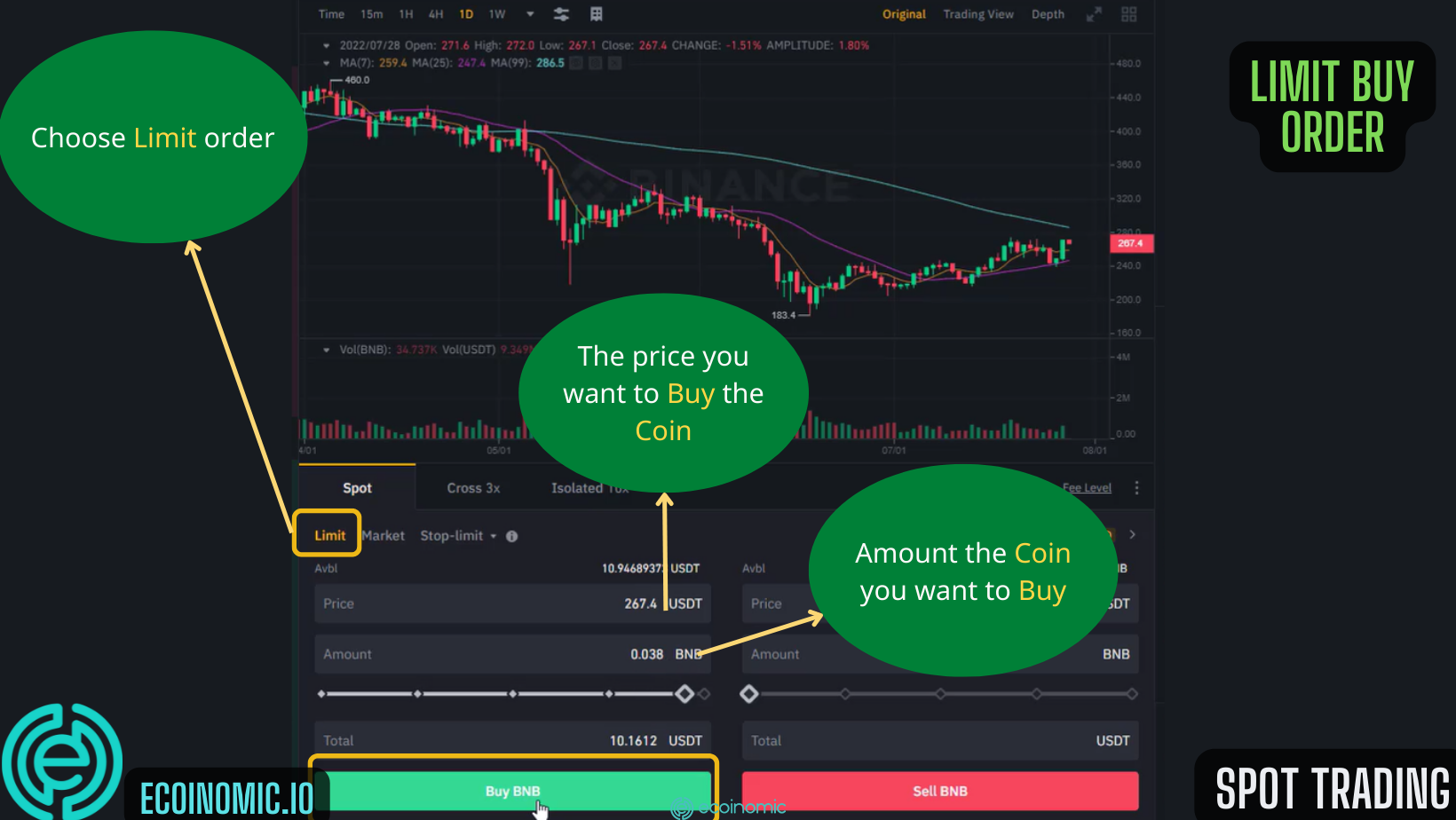 Market orders are used to execute trades quickly, the system will automatically buy the nearest price of your choice. To make the "Market" option because the price will automatically execute, you just need to enter the amount of coins you want to buy at "Amount"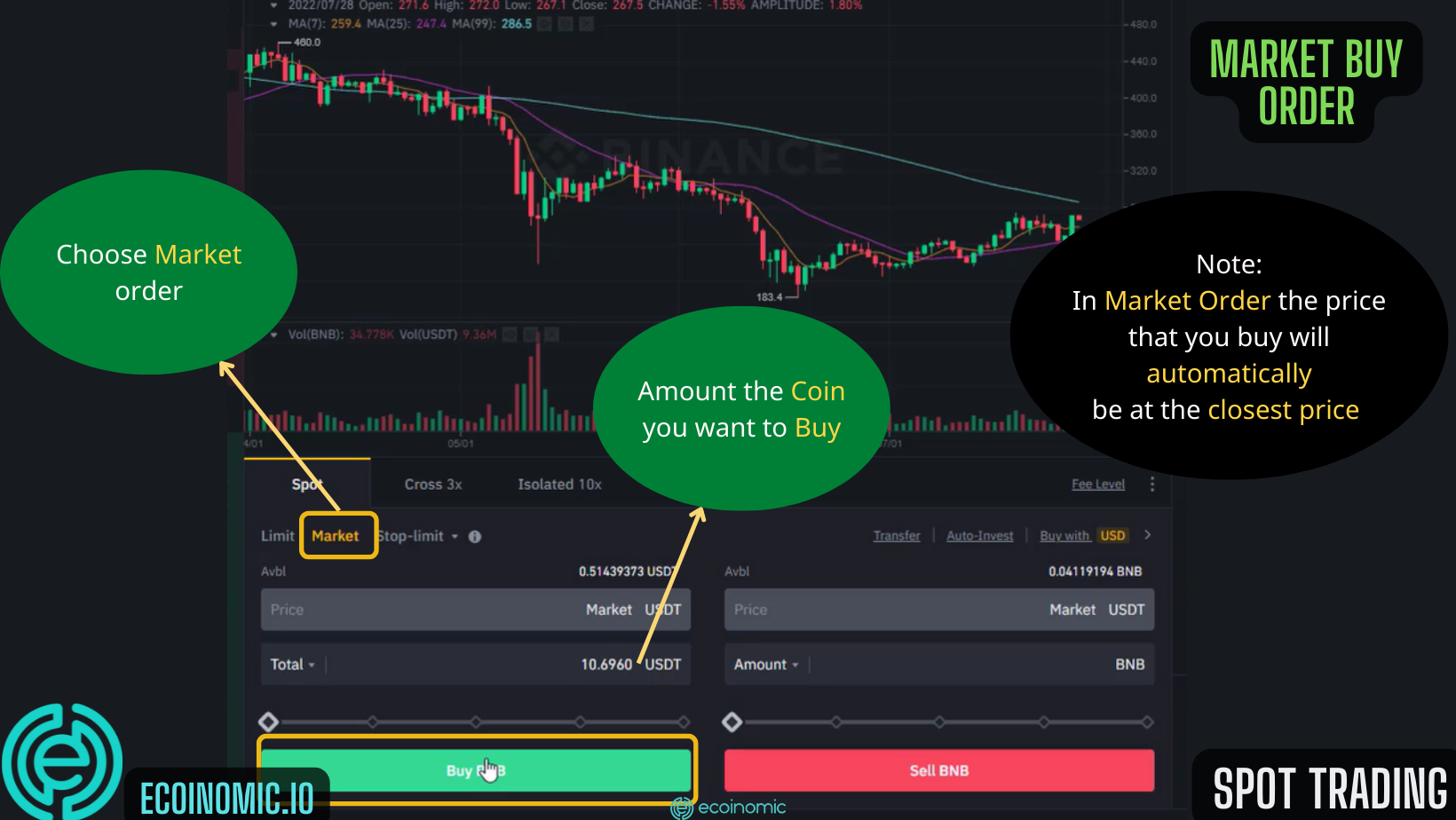 Stop-limit order is a combination of 2 orders, Stop order and Limit order. The Limit order is used to select the price you want to buy. The Stop order is used to stop the loss, which will be triggered when the price of the cryptocurrency reaches the price you want to stop the transaction.
To make a trade select "Stop-limit".
At "Stop" select the price you want to end the order.
At "Limit" select the price you want to buy.
At "Amount" select the amount of coins you want to buy.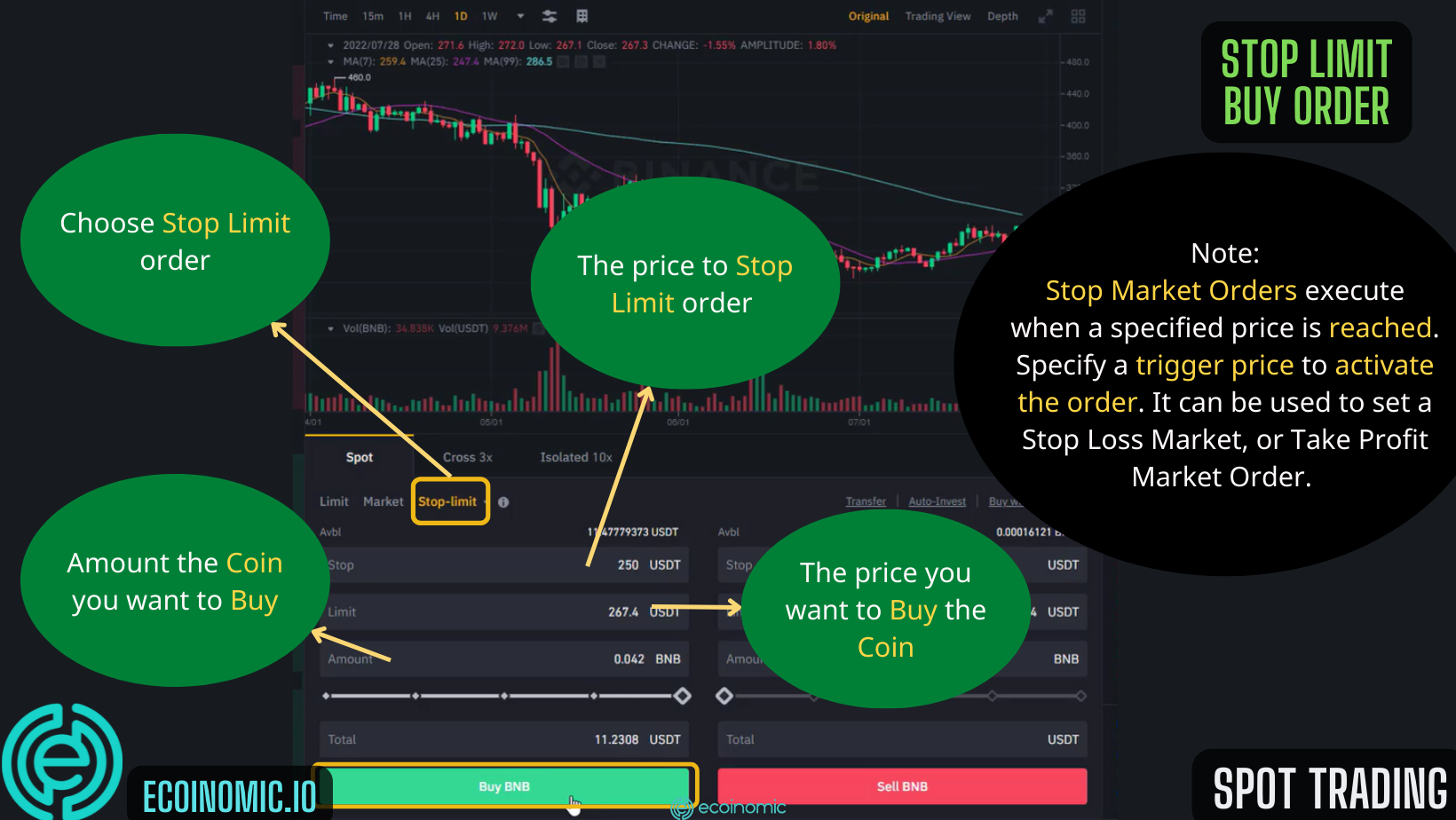 Sale transactions:
To execute the order select "Limit", at "Price" select the price you want to sell the coin, at "Amount" select the amount of coins you want to sell.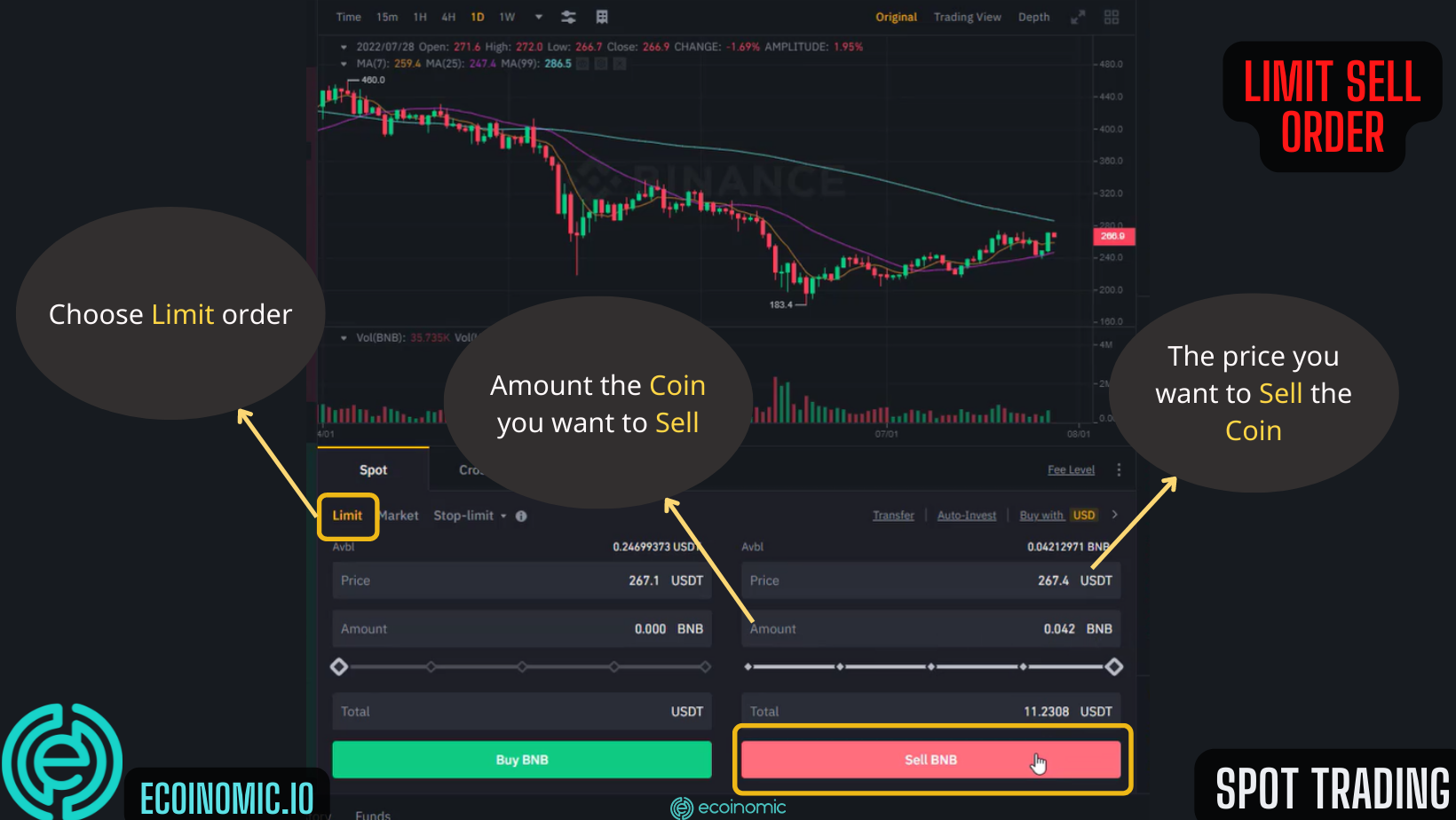 To execute the "Market" option because the price will automatically order, you just need to enter the amount of coins you want to sell at "Amount"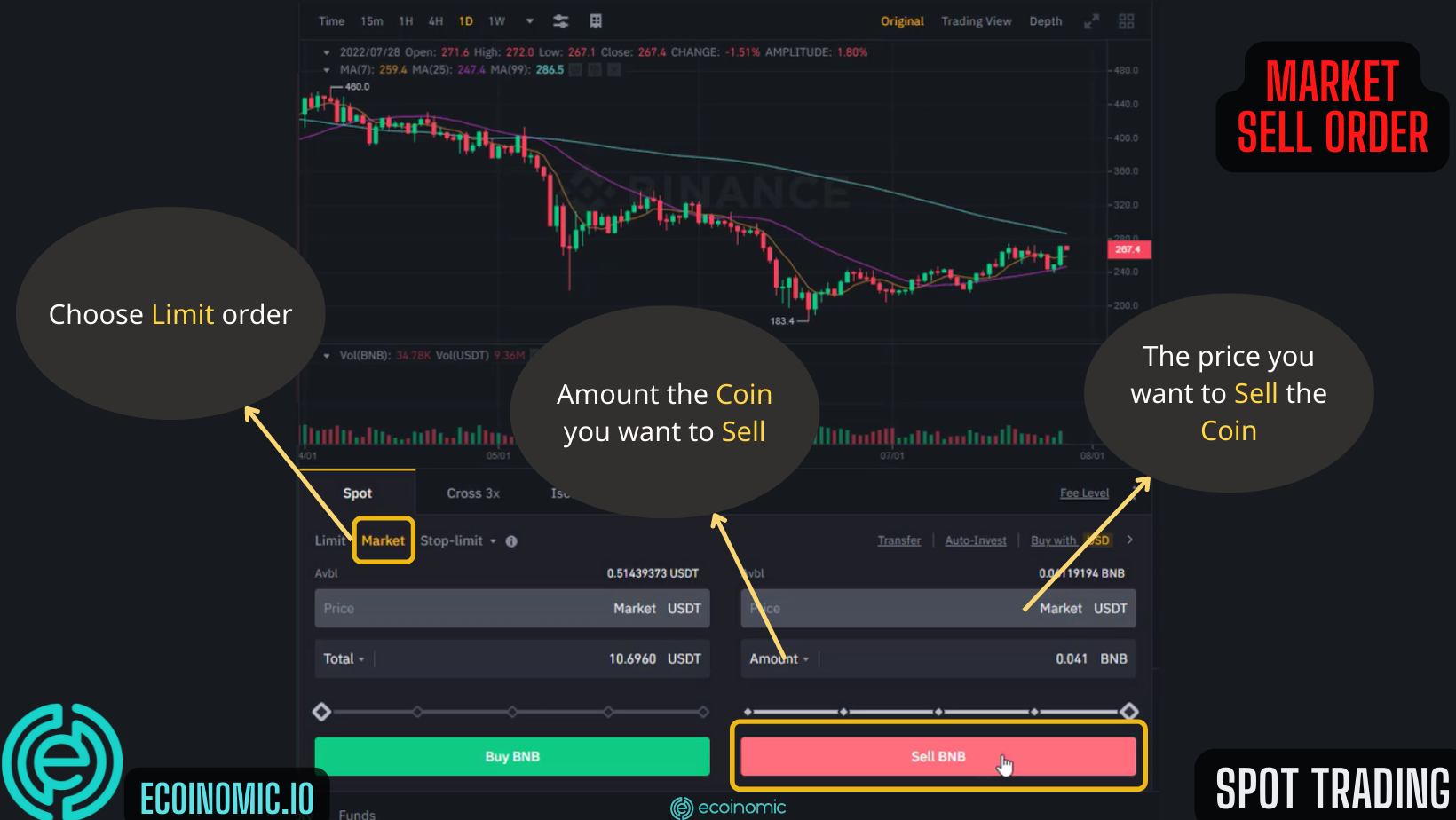 To make a trade select "Stop-limit".
At "Stop" select the price you want to end the order at,
At "Limit" select the price you want to sell,
At "Amount" select the amount of coins you want to sell.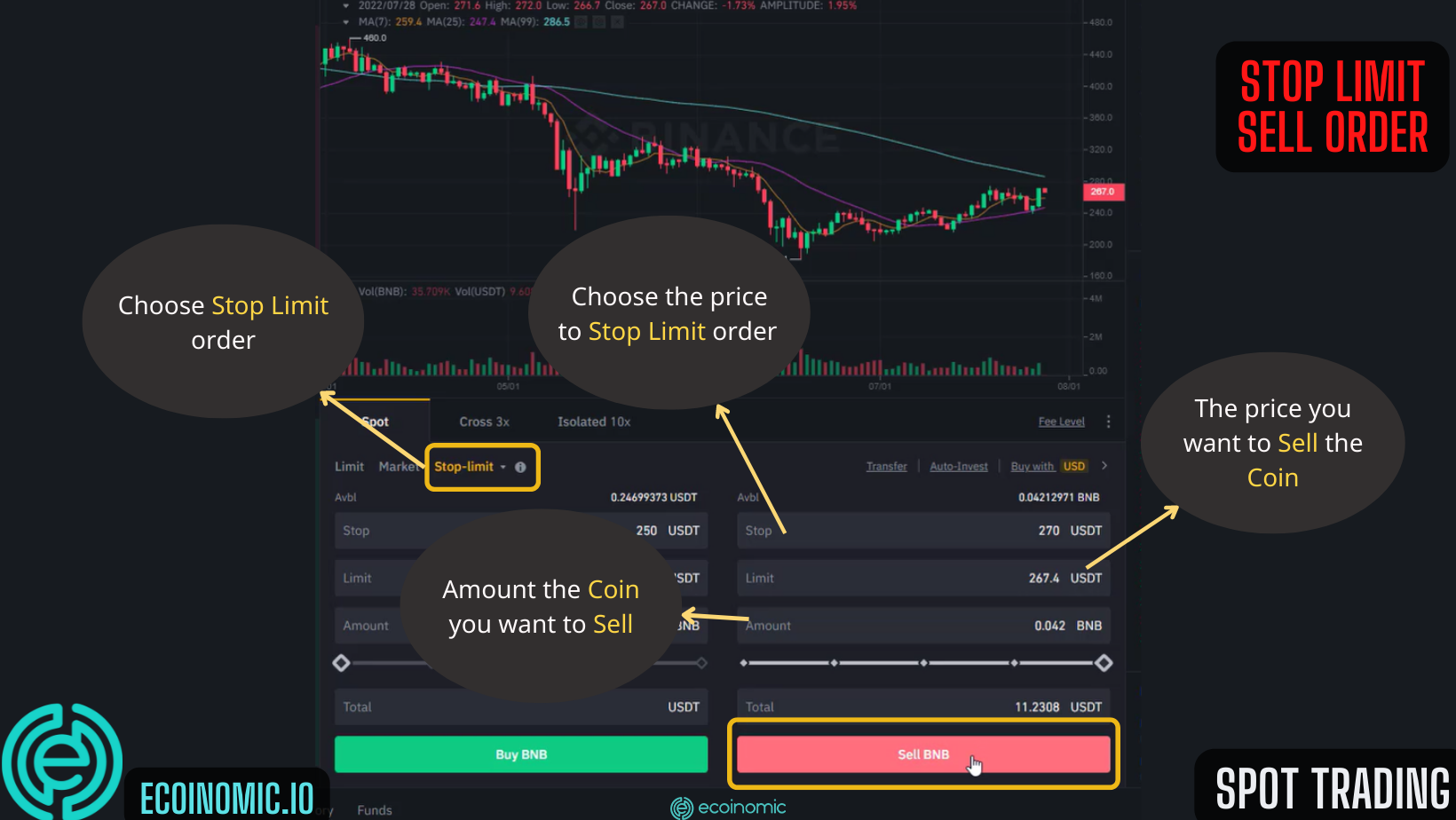 Frequently Asked Questions About Binance Exchange
Is Binance a scam?
Binance is the world's leading cryptocurrency exchange. There have never been any denunciations of crypto scams reported from the Binance exchange. However, many cases of tampering have occurred. Simply put, scammers pretend to be Binance employees to ask users to take some kind of action. Please note that no Binance staff will actively contact you or ask you to transfer funds to a certain wallet address. Do not provide login accounts/passwords and private keys/security keys to anyone, including Binance employees.
Does it take KYC to withdraw money?
If you don't complete the KYC process, you may not be able to use the full functionality of the exchange. For example, without KYC, Binance only allows customers to create accounts, use basic functions, and make limited transactions. To get full access and increase deposit and withdrawal limits, customers will need to complete KYC verification.
Has Binance ever been hacked?
At the beginning of 2019, Binance – the world's largest Bitcoin exchange confirmed that hackers stole more than 7,000 BTC, or about $40 million. This heist affected about 2% of all Bitcoins held by this exchange.
However, after the attack, Binance refunded all of the cryptocurrency stolen by users through the User Safe Assets Insurance Fund (SAFU). Binance has also upgraded its security system, and no similar attacks have occurred since then.
How many countries does Binance support?
Currently, on the homepage of Binance exchange, there are supported in 36 languages, all popular languages such as English, French, Portuguese, Chinese,….
What is the Binance App on Android, iOS?
Currently, the Binance app is available on both Android and IOS up to 100 million downloads.
Binance is still one of the best exchanges in the currency market, after many years of establishment and development it has had a huge number of users. In order to preserve its position, Binance is constantly updating and innovating to help its customers get the best experience.