MEXC is not only a cryptocurrency trading platform, but also provides many other services related to cryptocurrency. In this post, ecoinomic.io will guide you what is MEXC and all MEXC sign up steps.
What is MEXC exchange?
MEXC Global exchange, also known as MXC, established since 2018, is considered one of the leading reputable cryptocurrency exchanges. Up to now, MEXC has reached an average 24-hour trading volume of nearly $ 1 billion and at the same time listed 1,452 coins and tokens.
MEXC has successfully built a one-stop trading service for digital assets, besides providing users with services such as spot trading, margin trading, leveraged ETFs along with derivatives trading services.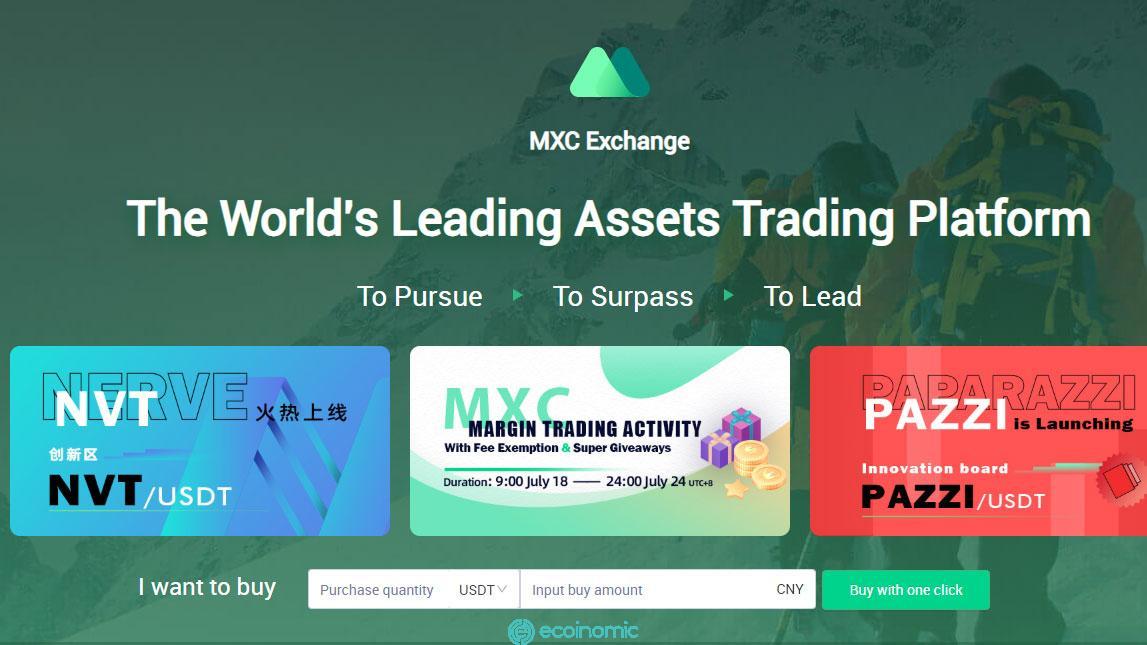 Founded in April 2018 until now, MEXC is considered one of the world's leading digital asset trading platforms. MEXC has a core team that mostly comes from world-class financial businesses and companies with extensive experience in the financial and blockchain industries.
As of 2022 after more than 4 years of development, MEXC has been continuously licensed to operate cryptocurrencies in 5 countries including Australia, Canada, Switzerland and the United States. Languages that can be used include English, Russian, Korean, Portuguese, Turkish, Malay, Vietnamese, Hindi, Indian, African and a wide range of languages from other countries.
The history of MEXC exchange
MEXC Global was originally named MXC, launched on the market in April 2018. In 2019, MXC exchange has grown at a rapid pace, accounting for 5% of the market share of the total global digital asset trading volume and at the same time being honored in many famous Blockchain media magazines.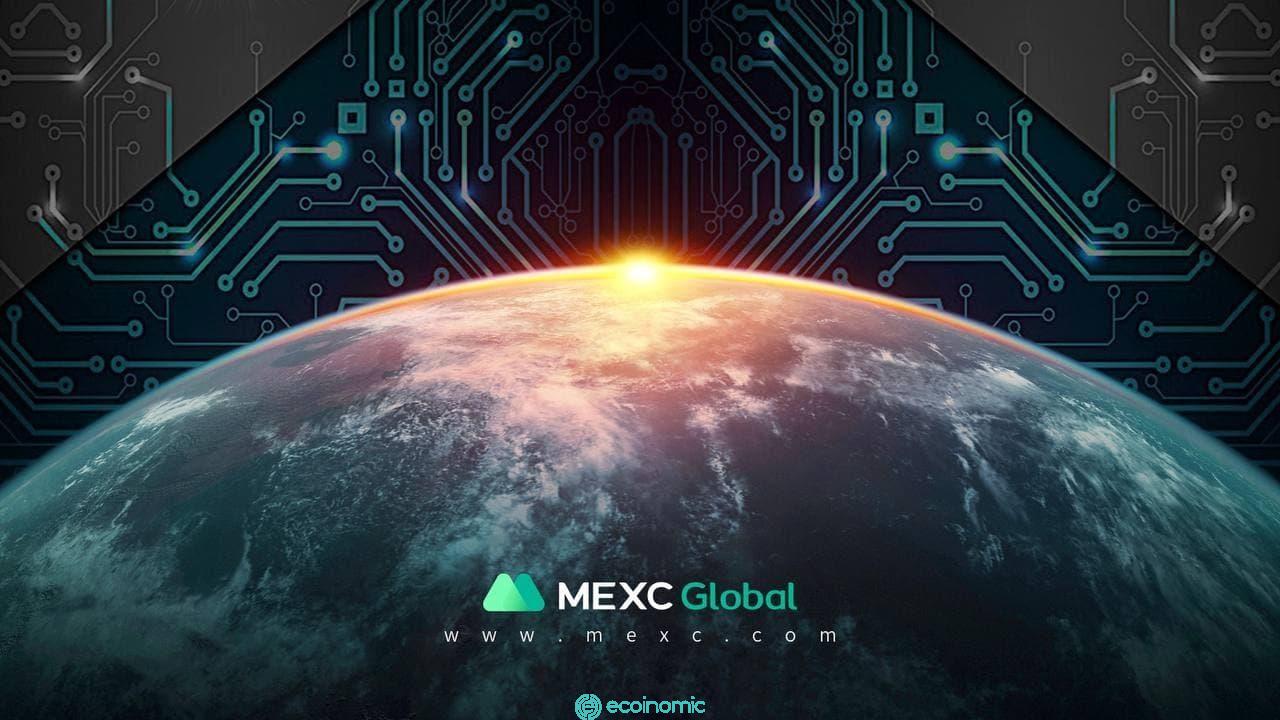 Volume trading on MEXC once reached 1 billion USD and ranked 4th according to Coingecko's 24h Volume in the bullish coin season in the period of 2021.  MEXC currently has a transaction value of approximately $1 billion per day. After MEXC sign up, user can trade up to 1452 cryptocurrencies with more than 2000 trading pairs.
On June 8, 2021, MXC officially changed its name to MEXC Global. The name change partly promotes the aim of expanding the exchange platform on a global level, support every one with MEXC sign up.
The founding team of MEXC
The members of the founding team are mainly from European countries and Japan, but the founding team decided to choose Singapore as the official registration place as Singapore's laws are mostly beneficial to cryptocurrencies.
Although the company is based in Singapore, MEXC has satellite offices around the world with more than 200 employees in different countries.
John Chen, a Singaporean, is the CEO of MEXC. John Chen founded Accufind Technologies in 2013. In 2015, he founded eBeeCare and sold it to Raffle Medical Group in 2017.
Metin Mehmet Durgun is known as the co-founder of MEXC, the Linkedin profile says Metin Mehmet Durgun currently lives in China and he once held bachelor's degrees at three different universities.
The MEXC exchange is now focused on customers in the Asia Pacific region.
MEXC review
Advantages of MEXC. MEXC vs Binance Comparison
Users can choose from a wide variety of payment methods and can also download mobile applications for the service when registering for MEXC
More than 1,450 coins and tokens are on MEXC, which is 4 times the number of coins available on Binance.
Good security: Not only KYC verifies identity, MEXC registration also supports enabling anti-fishing advanced security layer so that users can confirm official information from the exchange.
Without KYC's identity verification, users can still withdraw crypto within a maximum limit of 5 BTC per day. That means without KYC after MEXC sign up, user can still deposit, trade coins and then withdraw from MEXC. This is a highlight of MEXC compared to Binance exchange because Binance requires users to verify their identity when registering an account.
High execution performance, up to 1.4 million orders per second.
Disadvantages of MEXC exchange
In addition to having many high-growth potential coins listed on the exchange, it is inevitable that the exchange sometimes appears many "junk" coins, you need to research carefully before making investment decisions.
The interface of MEXC is informative, which may be difficult to use for new users
Transaction fees on the exchange is 0.2% which is higher than Binance
MEXC exchange ecosystem
Similar to other centralized cryptocurrency exchanges, your MEXC account can participate in investing in many other financial products, including:
Derivatives: including leveraged ETFs, Futures and ETFs
Margin trading: Margin trading is intended to bring high profits but also has the potential to hide a lot of risks because when the market fluctuates sharply, the user's order is likely to be liquidated.
Credit card transactions: it is entirely possible to buy tokens or coins with a credit card
OTC trading: also known as PUSH trading
P2P trading: trading cryptocurrencies on a par with the use of Fiat currency by each country. Currently, MEXC has supported fiat currencies such as USD, EUR, AUD, Thai Baht along with more than 10 other currencies.
Launchpad: MEXC Launchpad was created to give users the opportunity to invest early in the project tokens at an extremely low cost. Like the BNB and Binance Launchpad models, users only need to hold the MX Token of the exchange to be able to participate in the launchpad of the exchange.
MEXC sign up guide
In this article Ecoinomic will guide MEXC sign up steps on the computer, the steps of creating MEXC account on a mobile phone and creating MEXC account on a computer are the same, so you can follow easily on both devices during this MEXC sign up steps.
If using a phone, before beginning MEXC sign up on phone, you can download the "MEXC Global app" on the Appstore or CH Play
If you are using a PC/Laptop, click the Register MEXC button below to go to the MEXC account registration page website version.

In another way, following the steps:
Step 1: Access the MEXC Global exchange's homepage, click Sign Up
Step 2: Enter your Email and password. Click Send Now and enter the verification code that you have received via email. Please don't forget to enter the ref code 164EF. Then click Sign Up.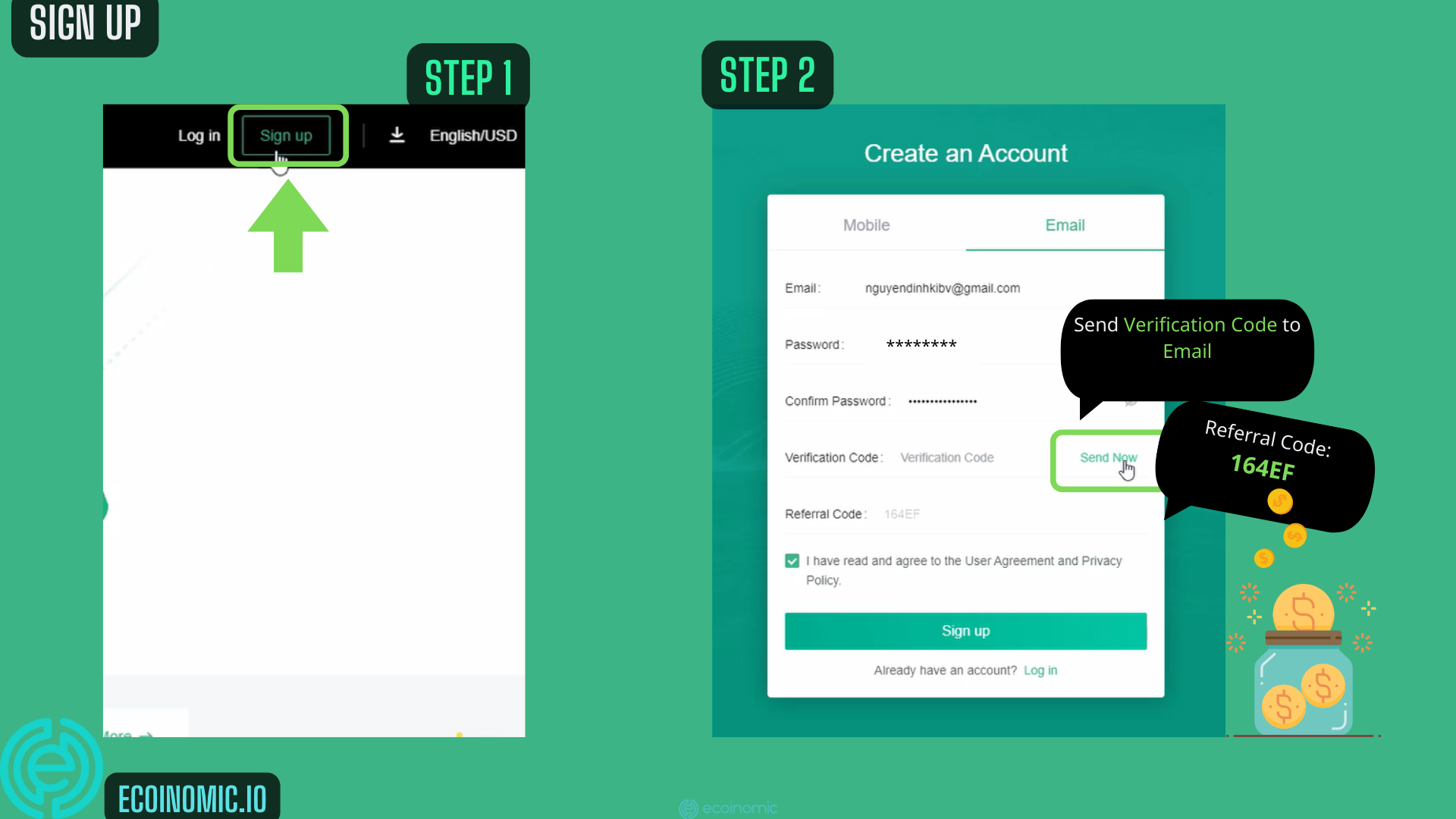 In another way, access the website by the link https://m.mexc.com/auth/signup?inviteCode=164EF
Step 3: In the image below, arrange these icons in the order they appear.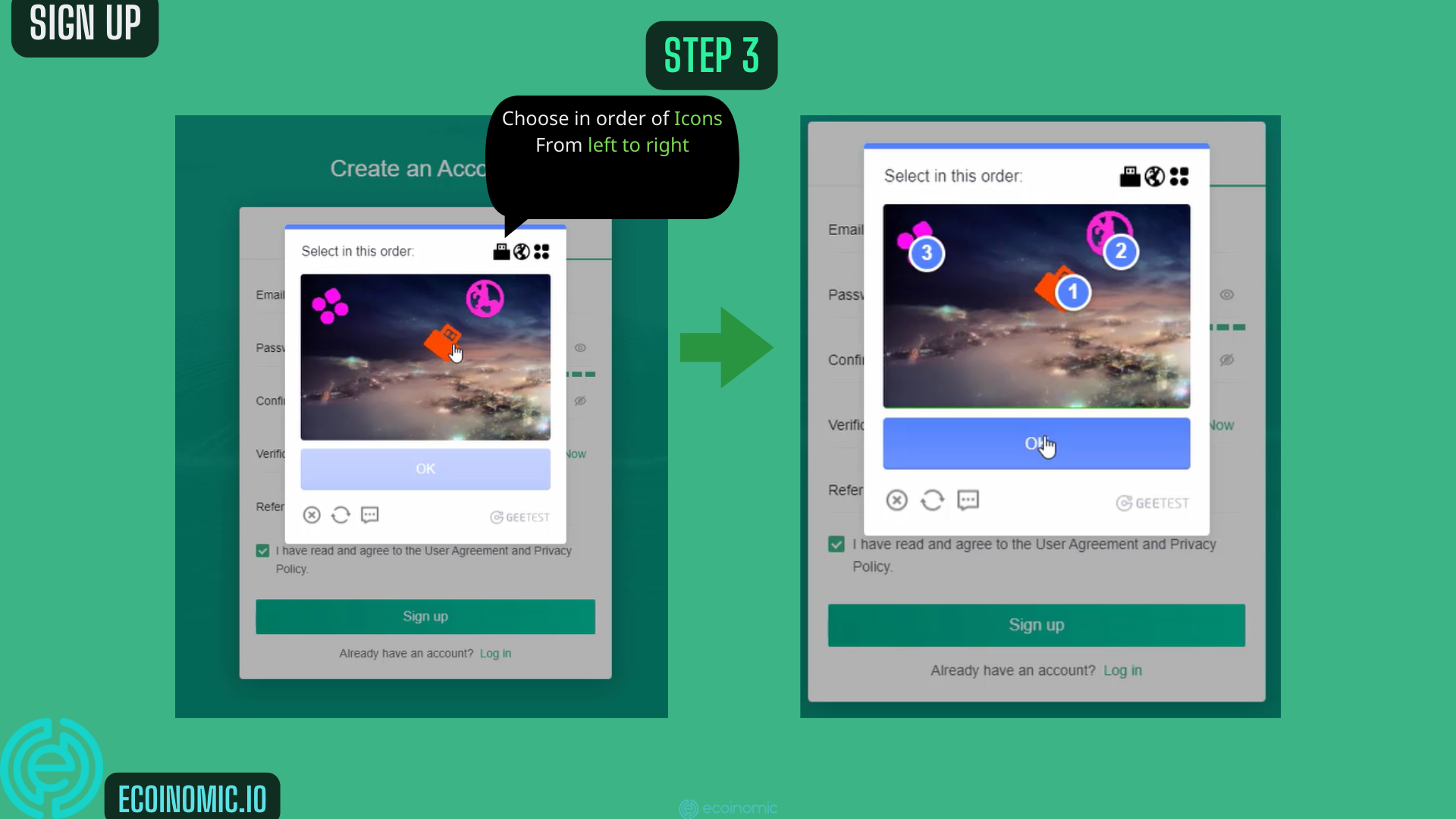 Step 4: Fill the 6-digit code that you have received in your email into the E-mail Verification Code. Your registering process is done.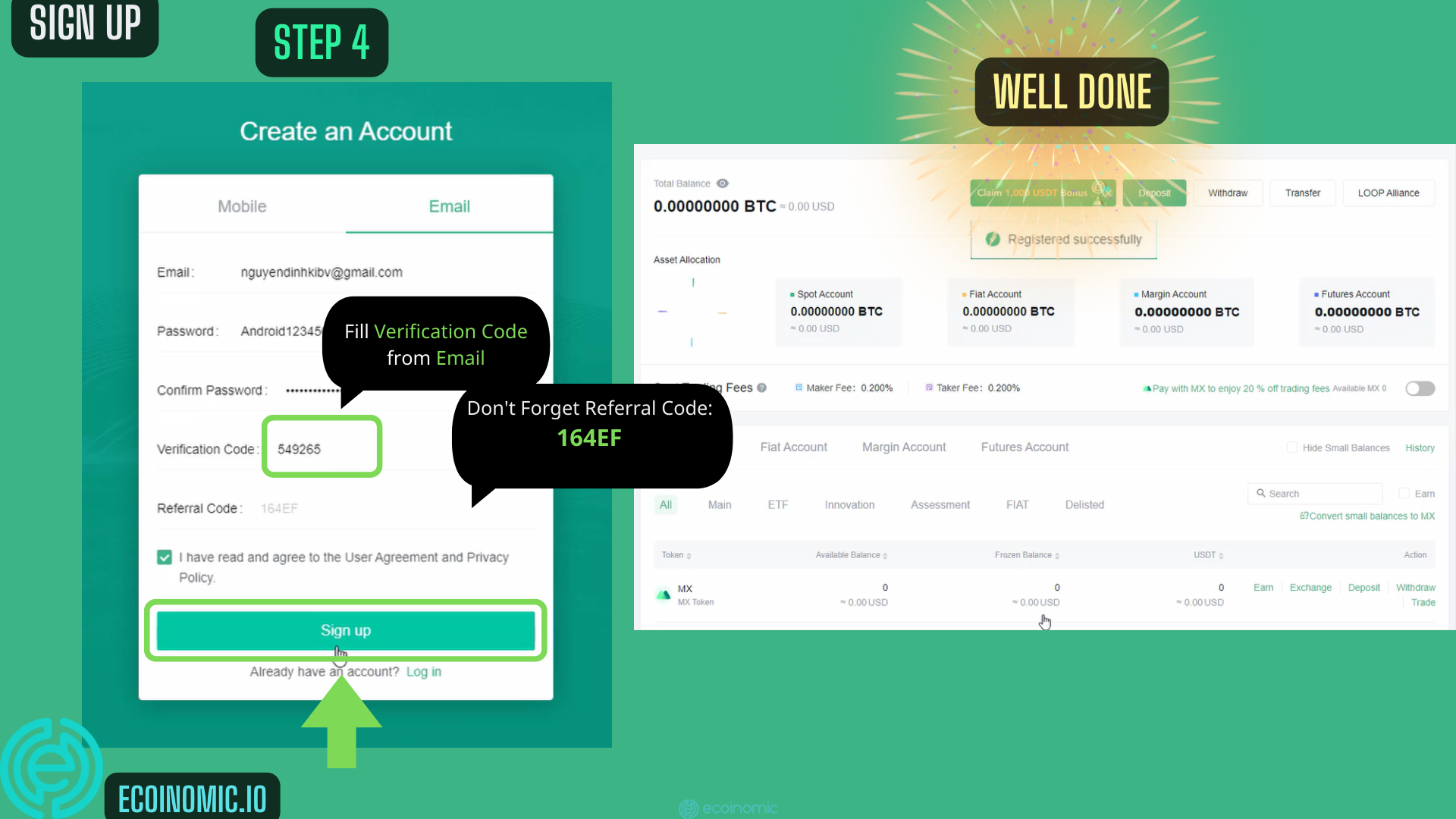 MEXC Account security guide
Commonly used email address.

Photos of the ID card or driving license: a photo of the front, a photo of the back, and a selfie photo with the front.

A smartphone has the Google Authenticator Application.
KYC MEXC – Identity Verification
KYC is the process of collecting and identifying information related to the customer. The basic information that is usually collected is a portrait photo, ID number, Passport, address, etc. to eliminate unqualified people.
To KYC your account on MEXC Global, you do the following:
Step 1: On the homepage of the MEXC Global exchange, click the profile symbol and choose Identification.
Step 2: Choose Verify in section Advanced KYC.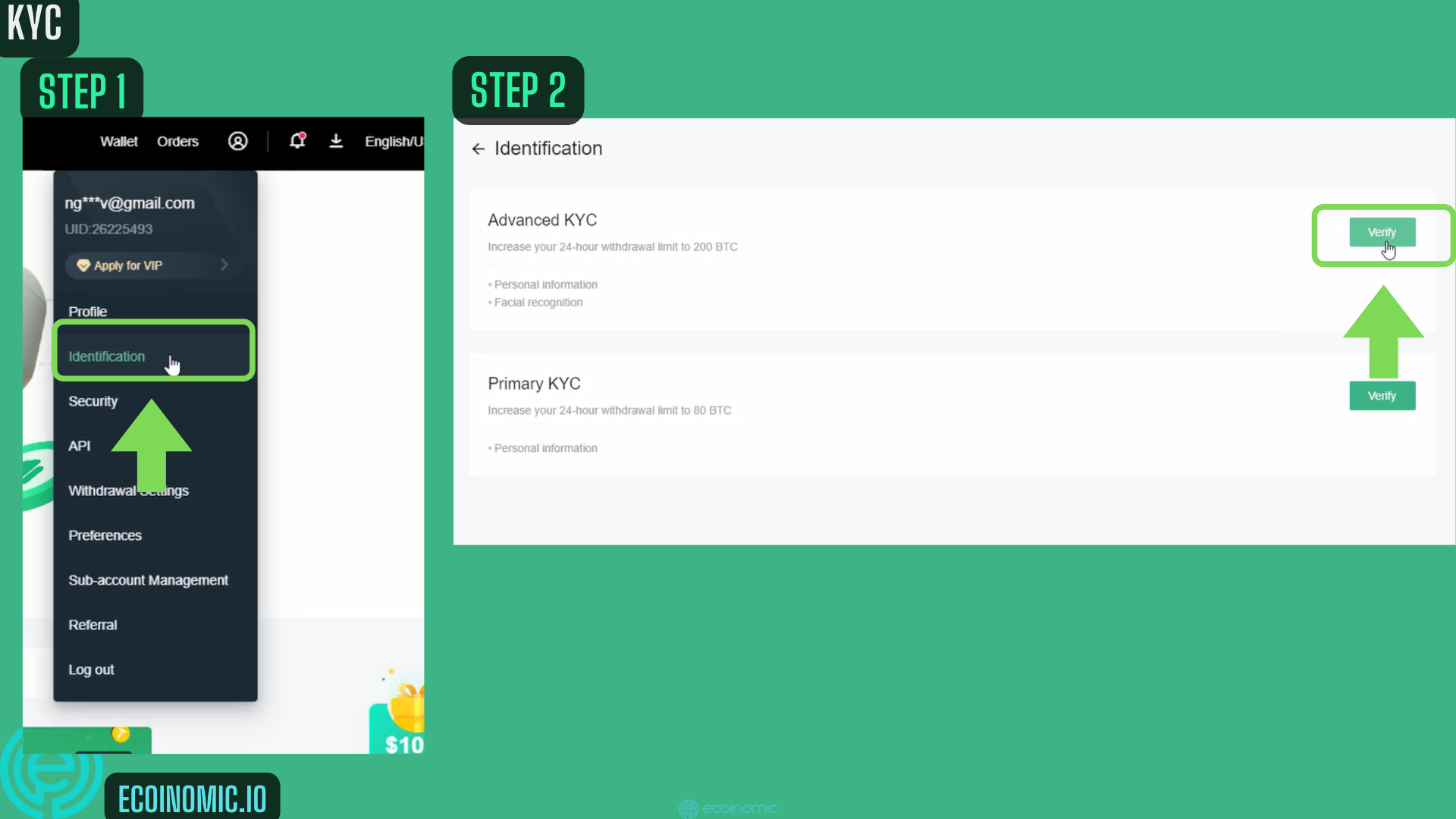 Step 3: Select your Nationality. In this step, you have to choose an ID document for KYC by selecting one of three options (ID card, Passport or Driver's license).
Step 4: Click Start. Then choose one of these methods to upload photos.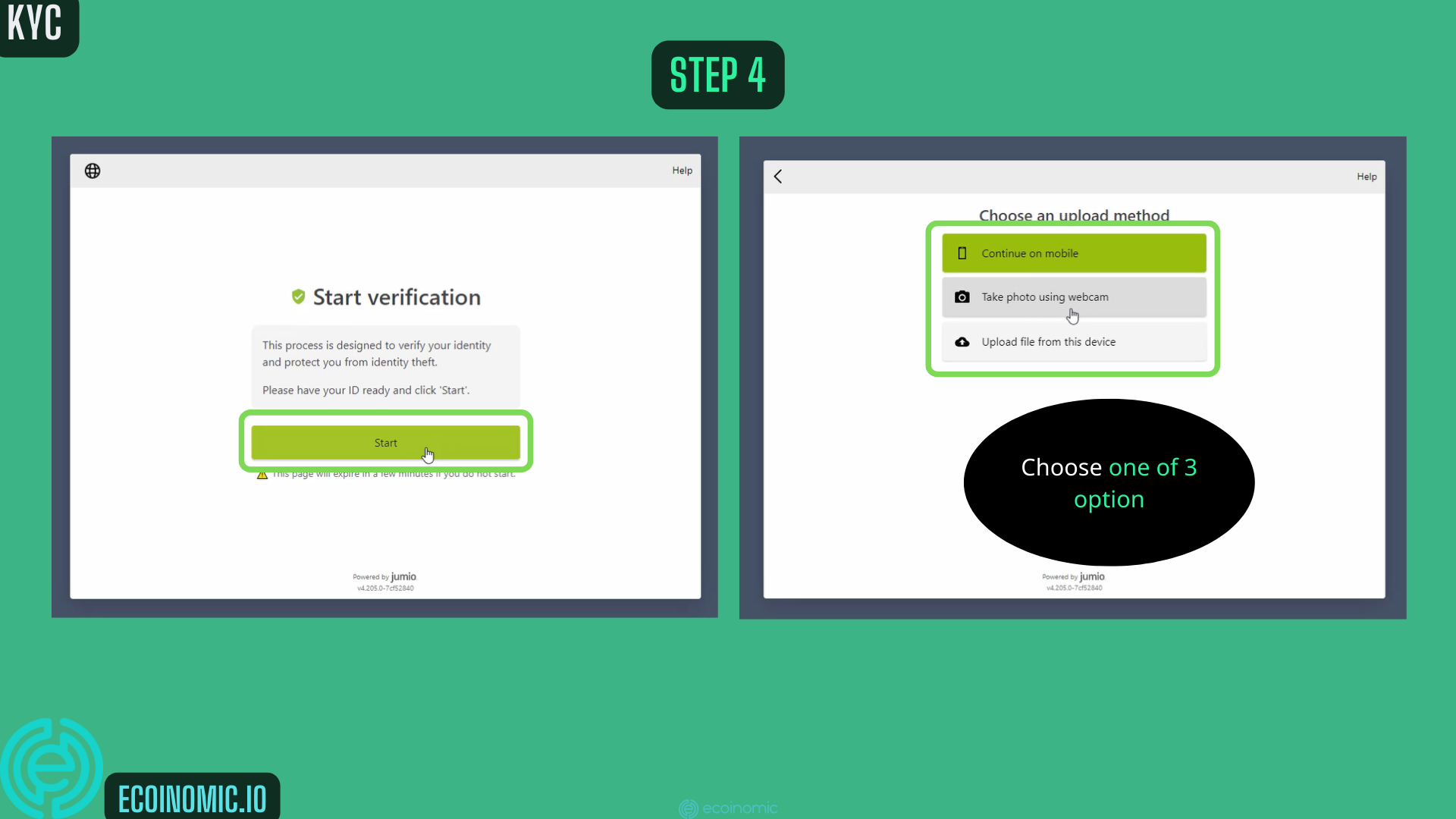 Step 5: Click Start. Take a photo with your ID's front side. Then click Confirm.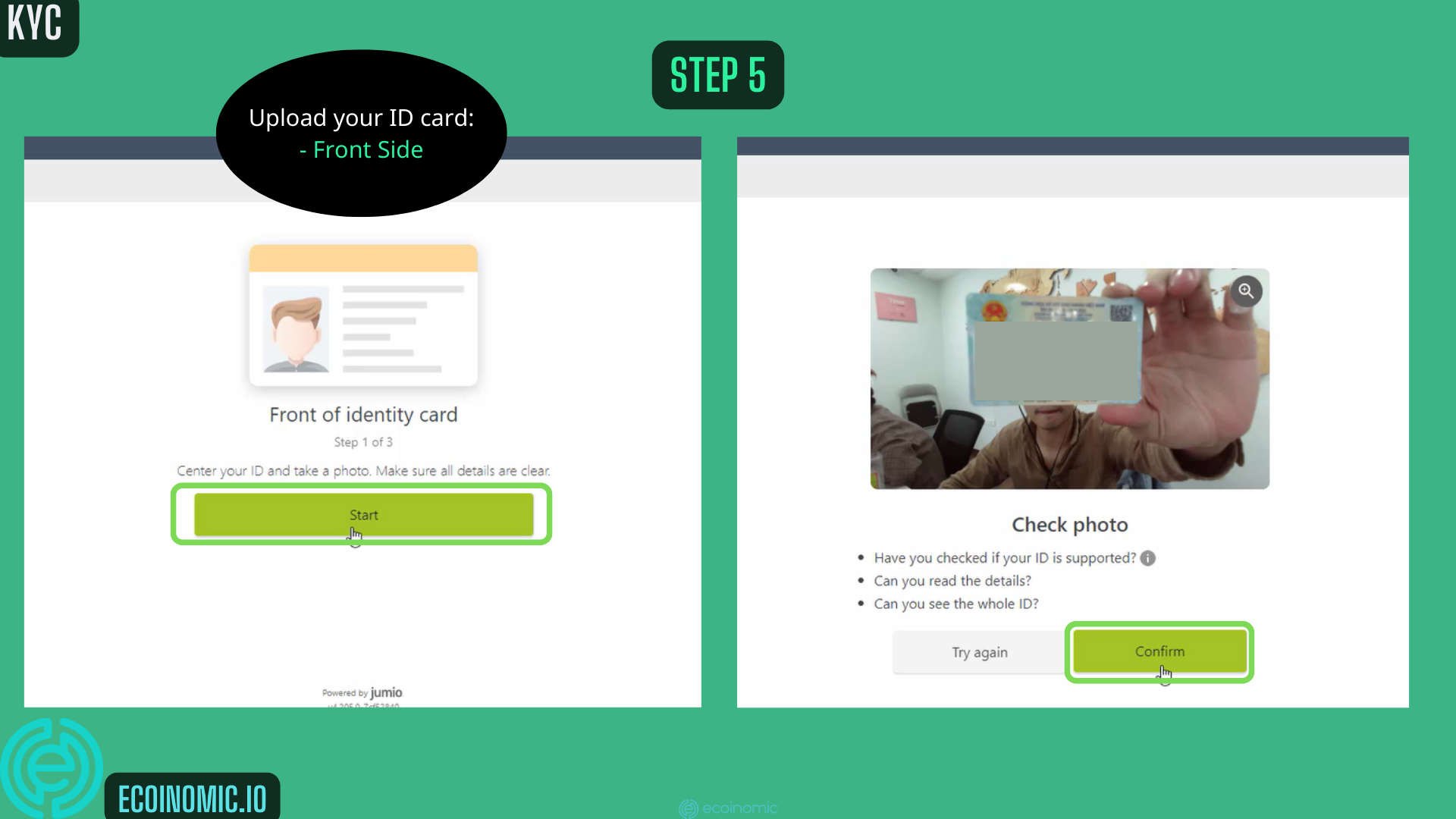 Step 6: Similarly, take a photo of the ID's back side.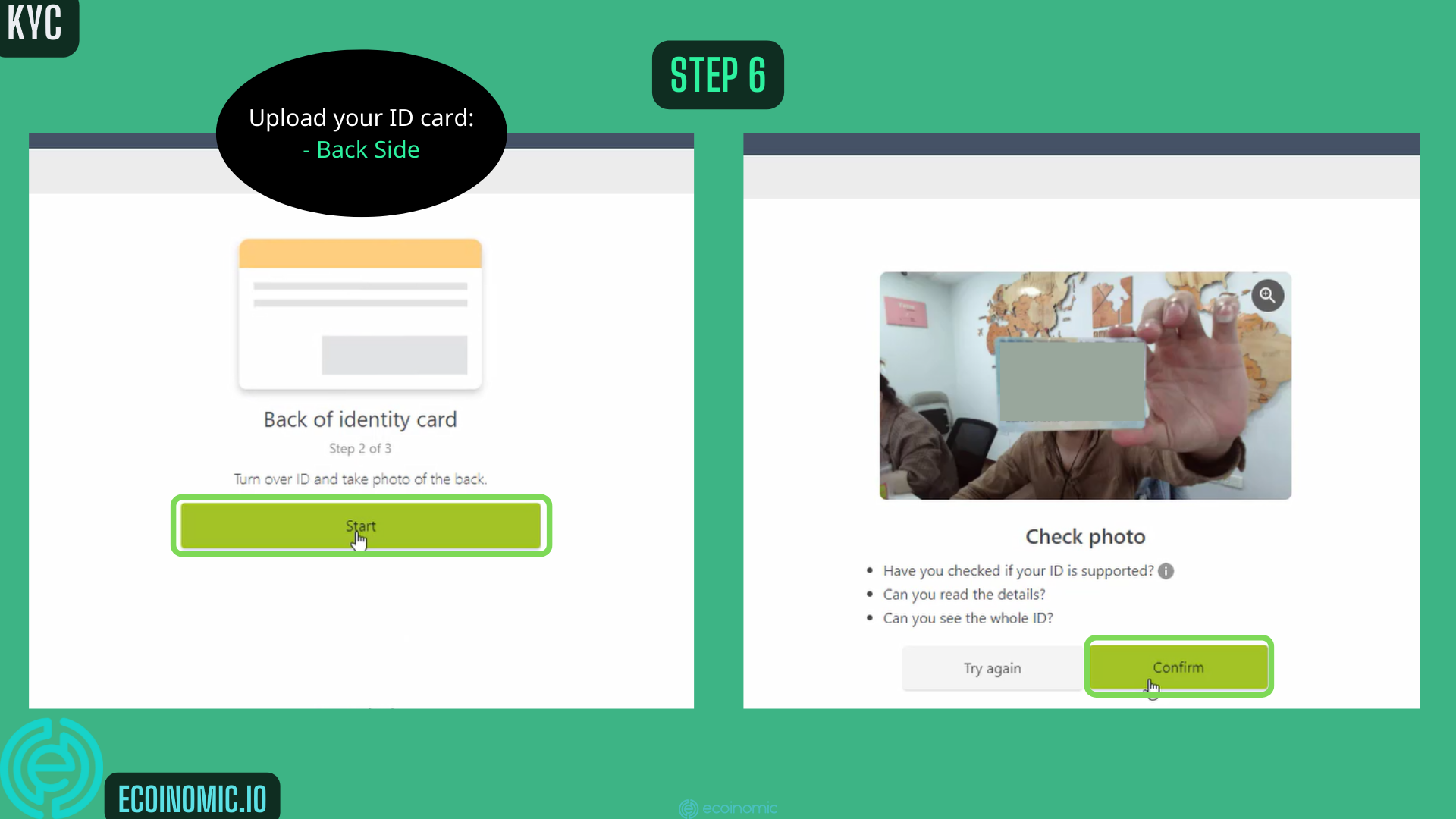 Step 7: Click Start and keep your face in the oval frame.
The system will compare them automatically. You have successfully requested KYC.
Set up Google Authenticator (2FA) after MEXC sign up
Google Authenticator is an application that automatically generates a random 6-digit code to log into your account. However, these 6 numbers only last for 30 seconds and will change to 6 other numbers on their own.
To set up Google Authenticator, follow these steps:
Step 1: On the homepage of MEXC Global exchange, choose the Profile symbol and click Security
Step 2: Click Set Up in the section MEXC/Google Authentication.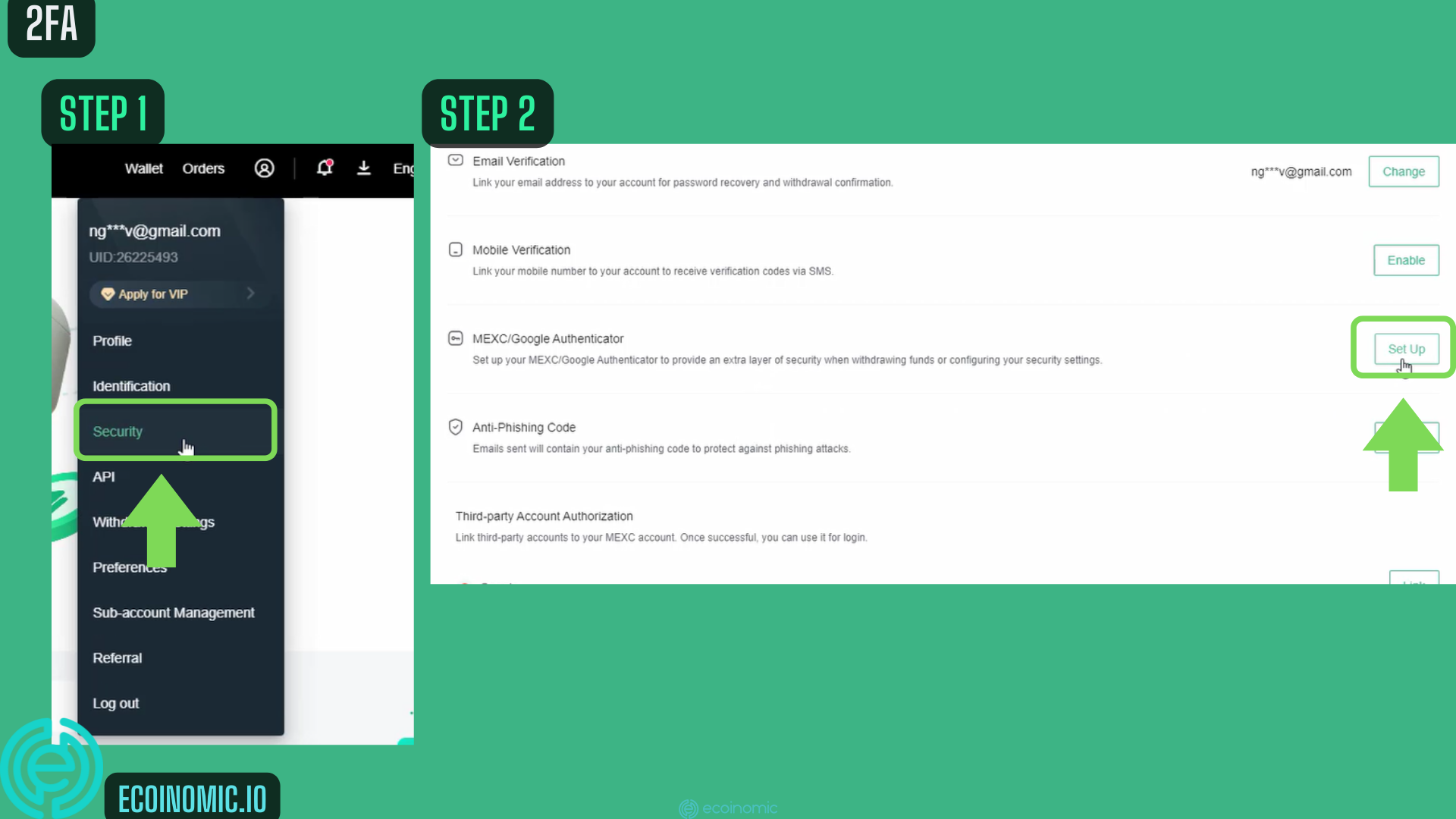 Step 3: Click Next Step
Step 4: Copy the QR Code and click Next Step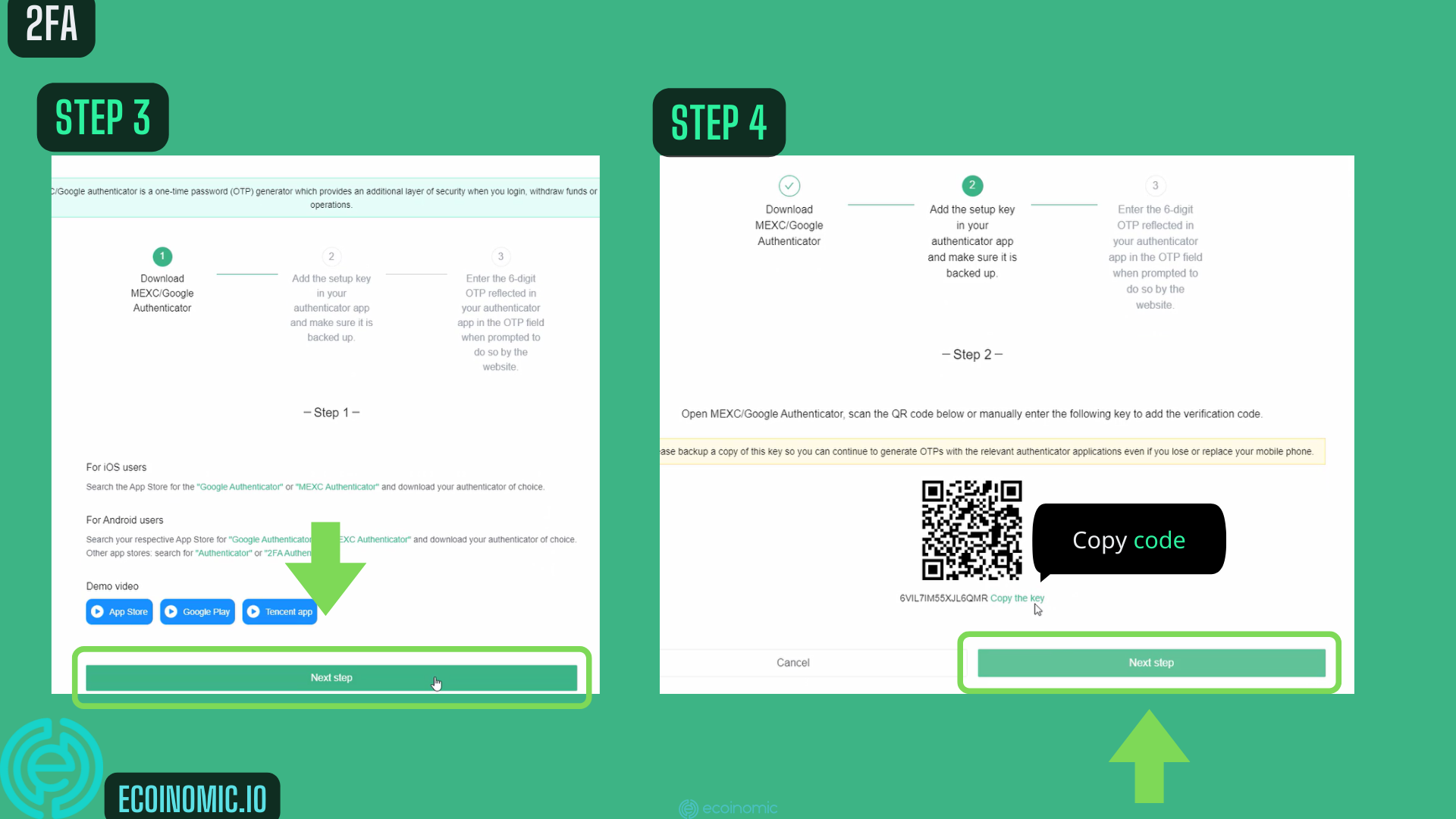 Step 5: Setup and activate Authenticator on Google Extensions if you haven't used it before. Open it and click the pen symbol. Click plus sign and choose Manual Entry.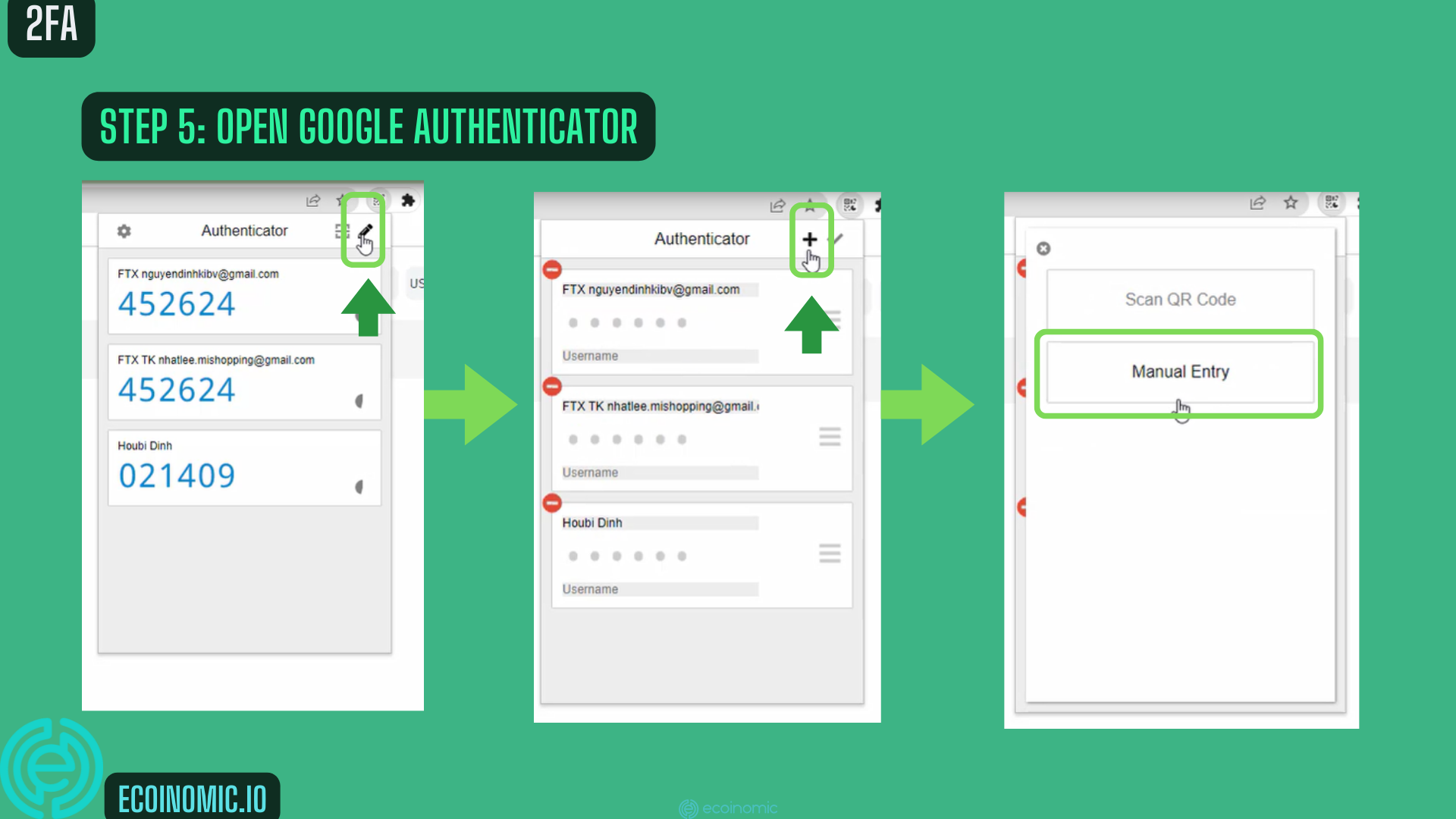 Step 6: Name the Code, for example, MEXC 2FA. Then paste the QR Code you have copied to Secret and click OK.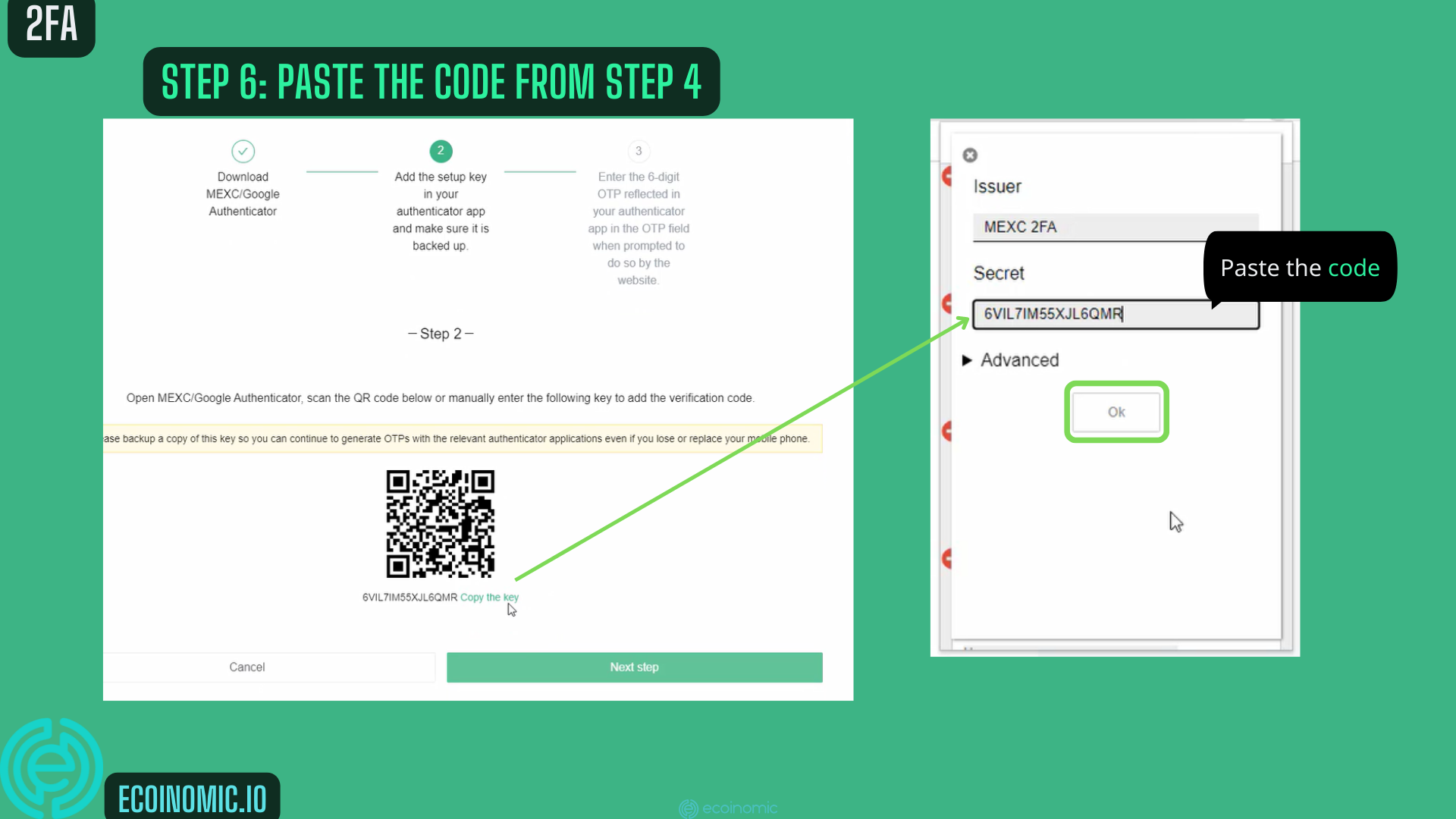 Step 7: In this step, you'll see a random 6-digit code, copy it, and paste the code to MEXC/Google Authenticator. You also have to enter the Email Verification Code that you have received. Then press Enable. This process is done.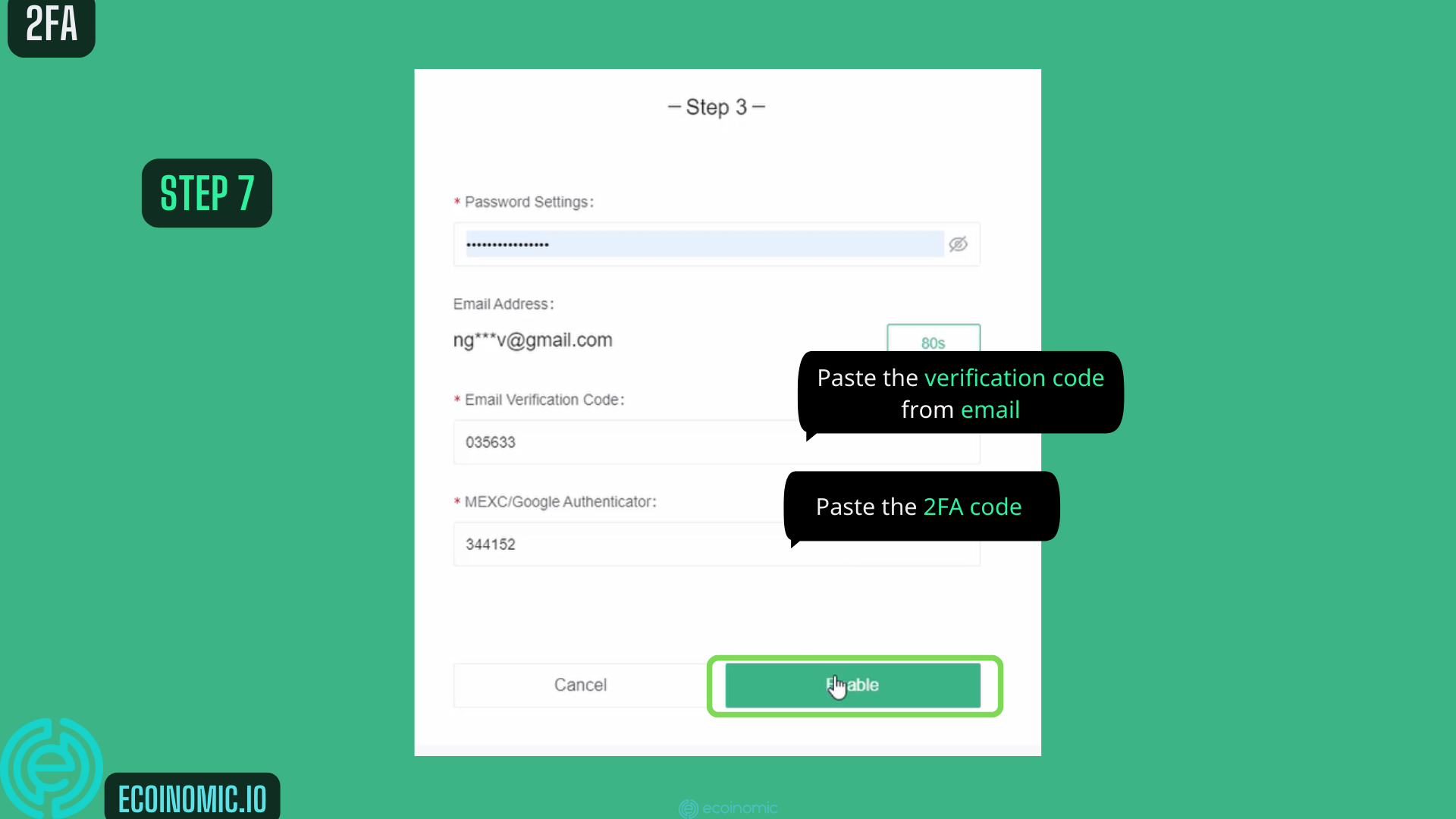 Instructions for depositing money to MEXC after MEXC sign up

The following steps to deposit money to MEXC exchange:
Step 1: On the MEXC Global exchange's homepage, click Wallet → Overview
Step 2: Choose Deposit.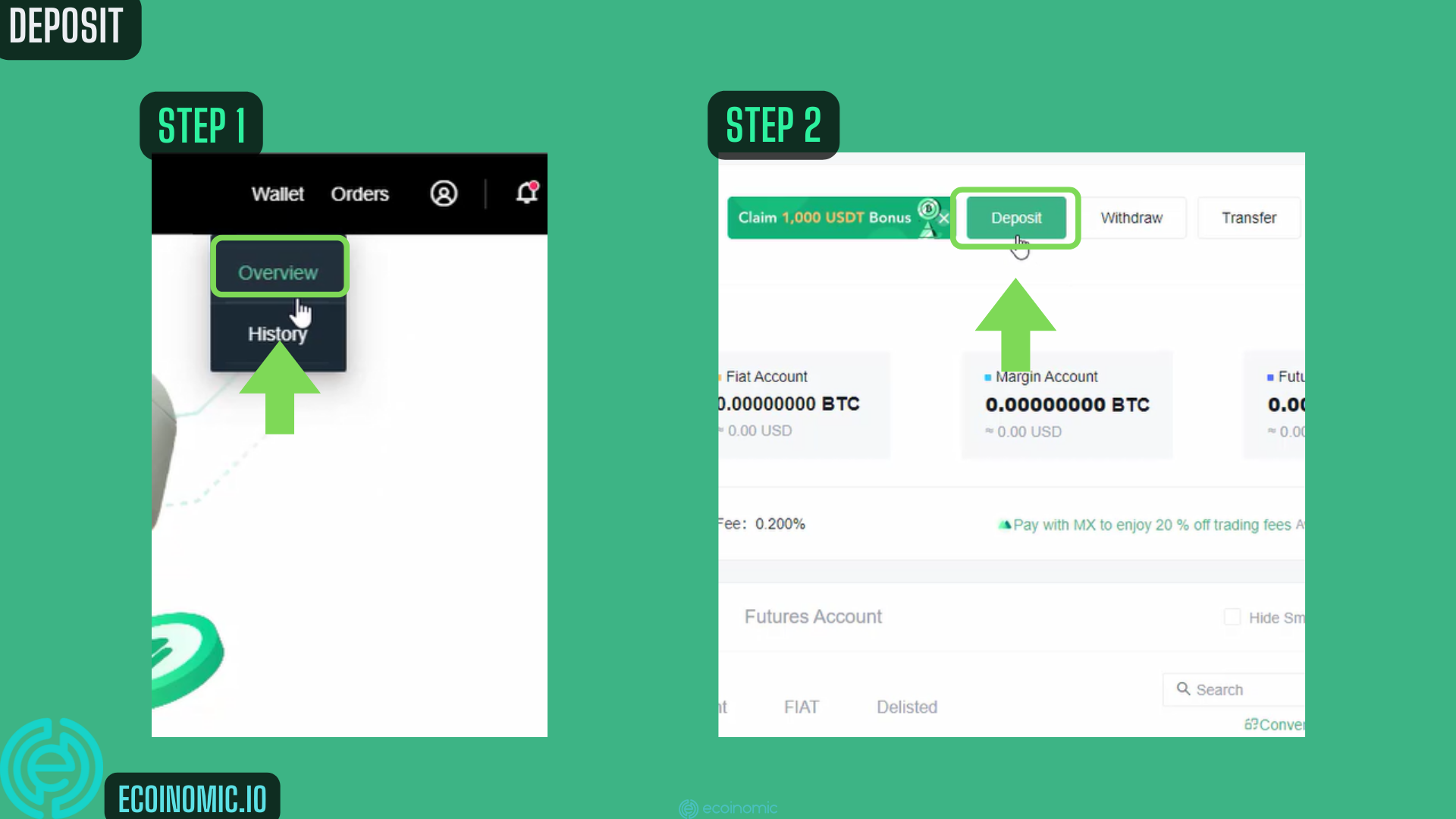 Step 3: Choose the coin. Choose the chain that is compatible with your asset, then copy the Wallet ID.
Instructions for withdrawing money to MEXC after MEXC sign up
Withdrawing money on MEXC exchange is also uncomplicated, you do that by following these steps:
Step 1: On the MEXC Global exchange's homepage, click Wallet → Overview
Step 2: Choose Withdraw.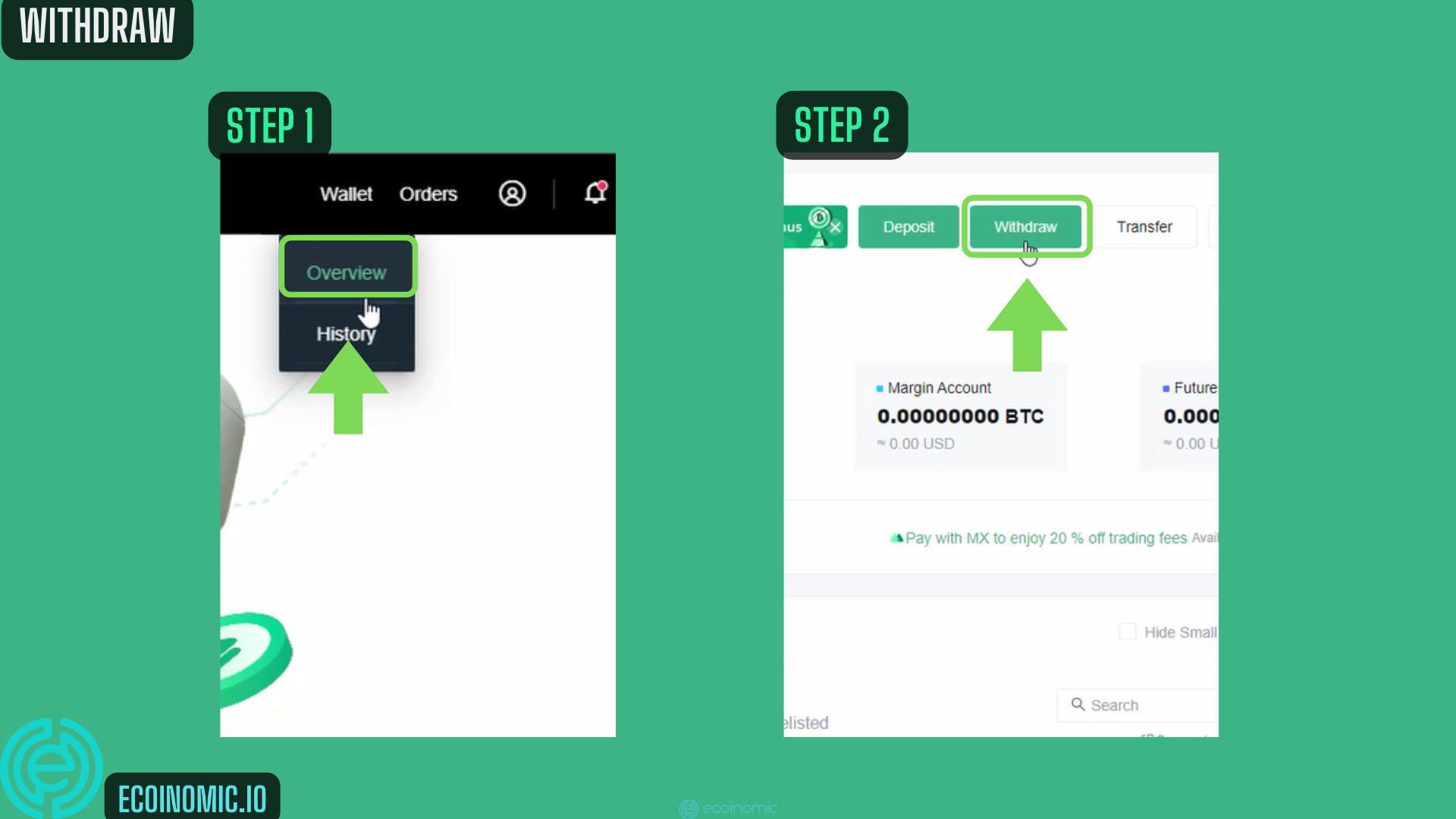 Step 3: Choose the coin. Enter the amount of coin that you want to withdraw. Choose the chain that is compatible with your assets, then paste your Wallet ID and click Submit.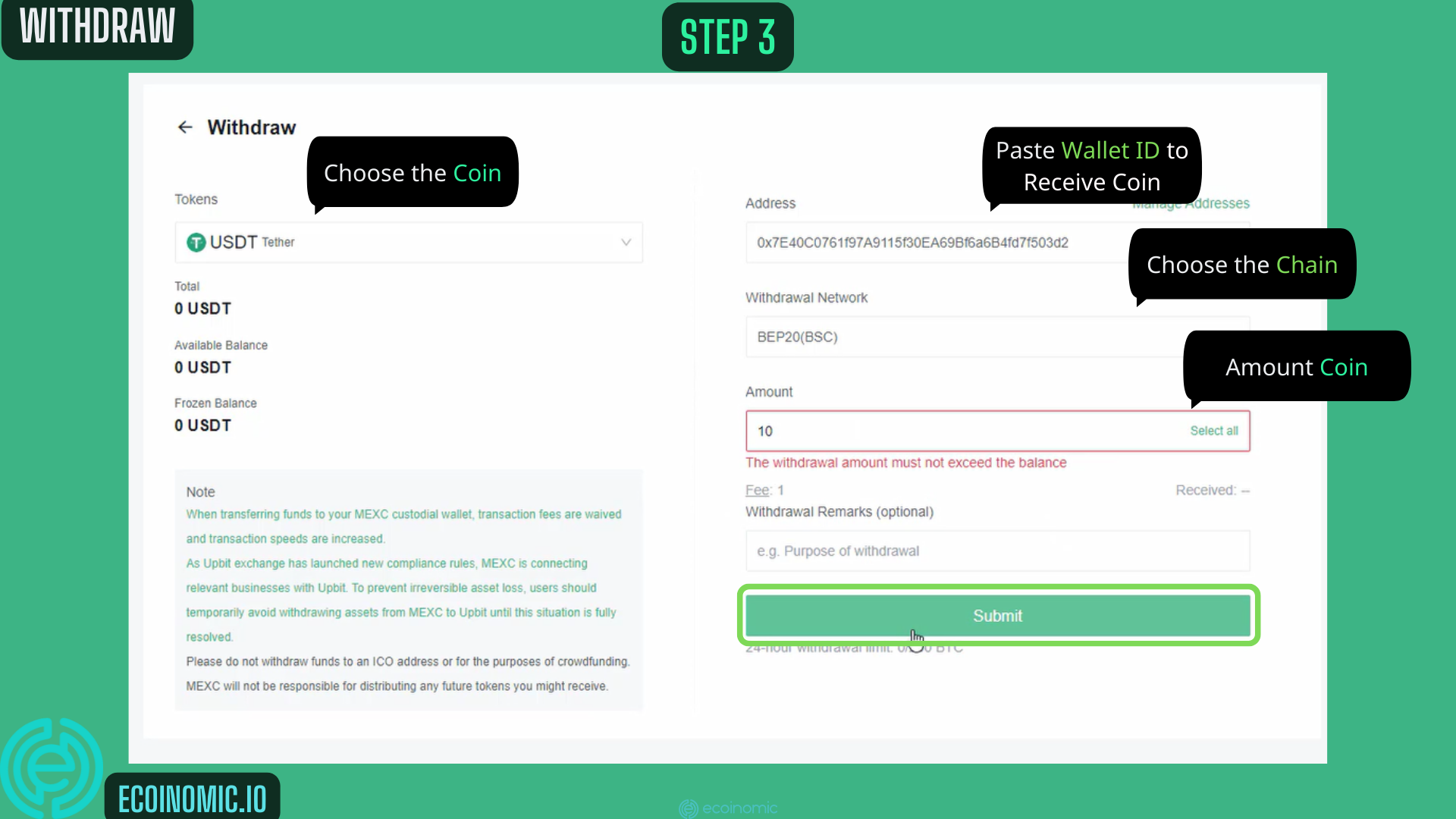 Instructions for Buying, Selling/trading coins on MEXC

Step 1: Choose Trade → Spot on the homepage of MEXC Global exchange.
Step 2: Search the name of the coin in the search bar and choose the pair of coins that you want to buy.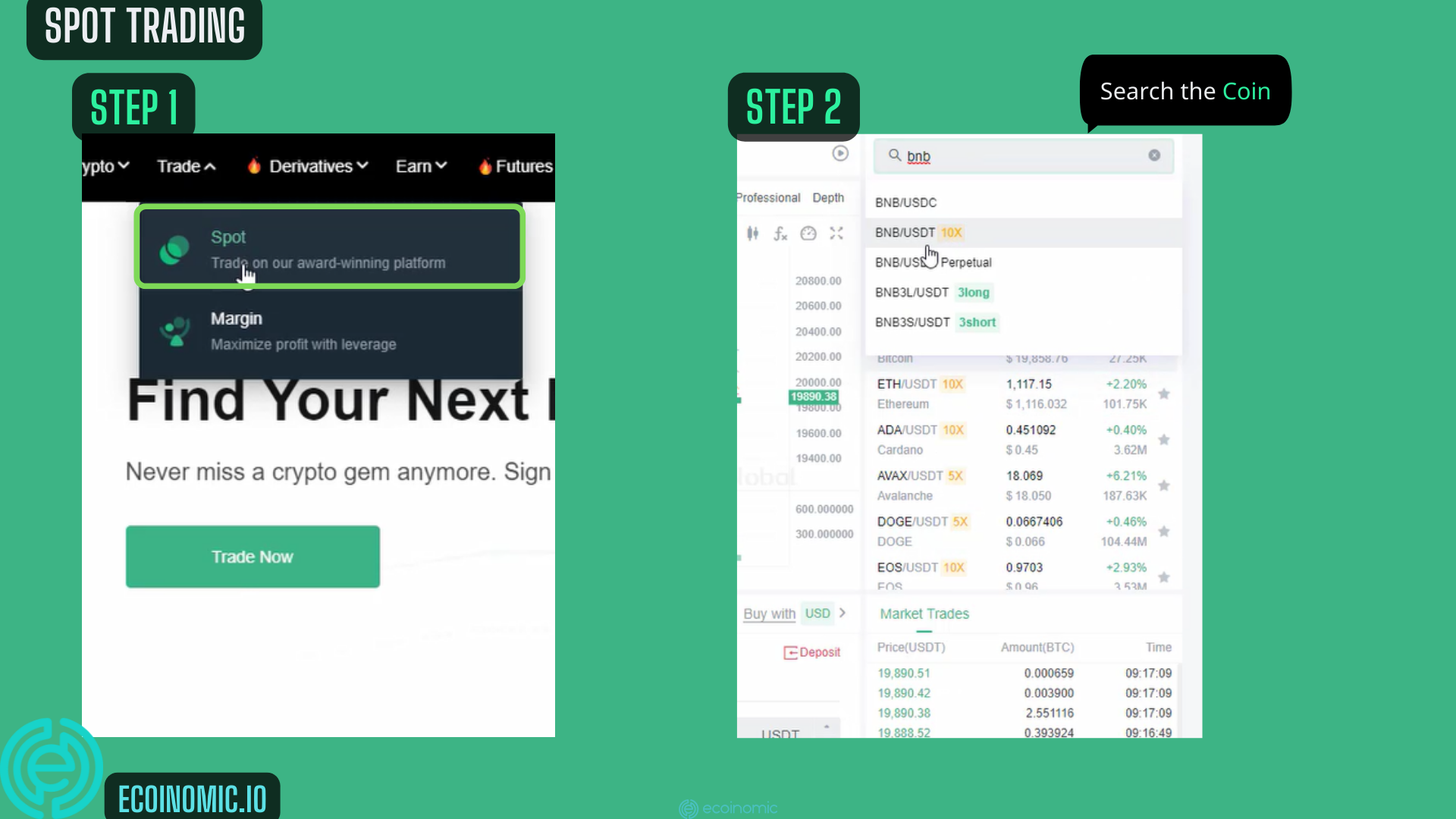 Instructions for buying coins
Before buying, you must check the price of the coin carefully and enter the amount of coin you want in Amount or adjust the bar below. Then press Buy BNB.

Instructions for selling coins
The operation of selling coins is similar to buying. You have also to check the price of the coin carefully and enter the amount of coin you want to sell. Instead of clicking Buy, you click Sell BNB.
Frequently asked questions when FTX sign up
Is MEXC legit? Should I trade on the MEXC?
Established in 2018, MEXC has never encountered complaints or fraudulent petitions. On the other hand, MEXC also has a service to help protect user information to the maximum thanks to an experienced cybersecurity team from many countries around the world.
Has MEXC ever been hacked?
From the time of launch until July 2022, MEXC has not shown any signs of security attacks affecting the user experience.
Why did I not receive the Email confirmation code when creating account on MEXC exchange
Could it be that you mistyped one of your email characters at MEXC sign up step? Make sure you entered your email address correctly.
You can also try checking your spam folder for the MEXC registration confirmation email.
If you still don't see the MEXC email confirmation code, click the resend confirmation code button, or try using 1 other email address to register MEXC .
Which country's MEXC exchange? 
MEXC is a registered exchange based in Singapore. Cryptocurrency exchange MEXC currently supports up to 10 different languages and which includes Vietnamese. In Vietnam, investors can use the money in their bank accounts to exchange coins with brokers on MXC. In contrast, investors can also sell coins on MEXC and receive money through their bank accounts.
What is a MEXC coin?
MEXC has launched its own token called MX. MX is considered proof of rights and a source of profit of this trading platform. Some information about MX you may need to know such as:
Total supply: infinite

Total circulation: 99,999,999 MX (up to now)

How to get it: Mine a coin or buy a coin.

About 60% of the transaction fees on the MXC are used as rewards for MX holders. The remaining 40% will be used to repurchase the amount of MX that users hold from the market as well as burn coins monthly.
In addition, MX holders will be entitled to participate in voting to establish a exchange development team, community activities as well as many other benefits.
Is it necessary to KYC MEXC account to withdraw funds?
MEXC does not currently require KYC to withdraw funds after MEXC sign up. However, if you want to have a withdrawal limit above 30 BTC, you still need to activate KYC manually. During the manual KYC process, withdrawals from your account will be frozen until KYC is successful.
What is the deposit limit on MEXC sign up?
Each deposit transaction to the exchange must be worth at least 0.0002 BTC. Depending on the cryptocurrency, they will have different withdrawal limits. The minimum withdrawal limit of the current 5 top coins is as follows:
Bitcoin: 0.01 BTC

Ethereum: 0.05 ETH

Tether: $25 USDT

Binance Coin: 0.2 BNB

Bitcoin Cash: 0.02 BCH
What types of fees are available on MEXC sign up?
The transaction fee on the MEXC cryptocurrency exchange falls to 0.2% per transaction. Cryptocurrency exchange MEXC is also maintaining two other fees:
Perpetual Contract Transaction Fee: MXC sets the fee rate for permanent contracts with a fee rate for Maker of 0 and Taker of 0.07%.
ETF transaction fee: The transaction fee rate of a leveraged ETF product is 0.2%, which is exactly the same as the spot transaction fee rate.
Does the MEXC exchange have a maintenance error?
According to the information, the MXC exchange has never been involved in any maintenance errors.
However, because it is a new exchange, MEXC also often has to upgrade new features, so it still has to suspend deposit and withdrawal functions from time to time for a short period of time.
MEXC app on Android, what is iOS?
MXC has now fully developed the exchange interface on both the website and the app on the phone, applying to both Android and iOS operating systems with the MEXC app. Be sure to download the app before MEXC sign up.
Sum up
Above is the information related to MEXC exchange and the instructions for using and MEXC sign up. Hopefully this article has brought useful knowledge to users who want to participate in the MEXC exchange. What are you waiting for? Start register MEXC today!