When entering the crypto market, you will definitely hear the name OKEX, also known as OKX. It is a long-established cryptocurrency exchange and among top 10 crypto exchange by trading volume. In this OKX review, lets find out how to use OKX, deposit, withdrawal and OKX sign up bonus with ecoinomic.io 
OKX Review
OKX is one of the world's leading cryptocurrency exchanges and was founded by Star Xu in January 2014 in China. The OKX exchange is a good choice for crypto traders who want to buy and sell with low trading fees. Currently OKX is in the top 2 derivatives exchanges, second only to Binance.
In addition, the exchange has more than 20 million customers across 180 trusted markets and supports the translation of more than 250 crypto assets. You can find more information about OKX and real time data here
OKX Review – Advantages:
High Liquidity – trading volume.

Multi-language support.

Supports many types of trading such as OKX Margin, OKX Futures, OKX Spot …

Trading fees are cheap compared to other exchanges in the market.

The transaction limit is up to 300 BTC/day.

There are apps on 3 main platforms: Android, IOS, and Windows.
OKX Review –
Shortcomings:
Not many outstanding features yet.

Restrictions of used in some countries.
OKX Sign up guide: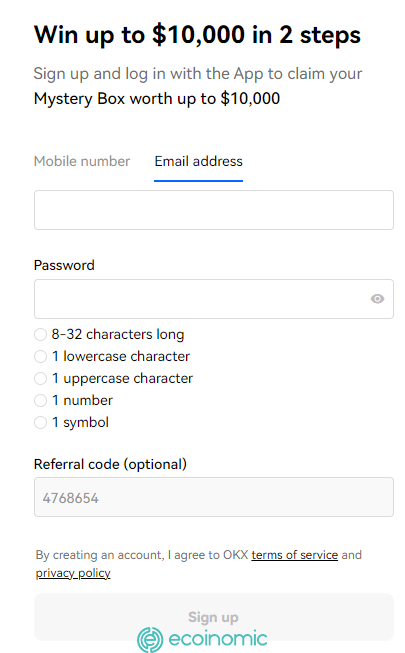 Step 1: If you are looking to OKX sign up, go to the homepage or click on the OKX sign up link to go to the OKX sign up page.
Enter referral code 4768654 to receive Okx sign up bonus for new accounts
Step 2: Choose to register OKX by phone number or by email 
Step 3: Enter the password you want to set, then select in the box "I read and agree to the Term of Service" and click on "register".
Step 4: Check for activation code to email or your mobile phone to complete create an Okx account.
Instructions set up account security after creating OKX account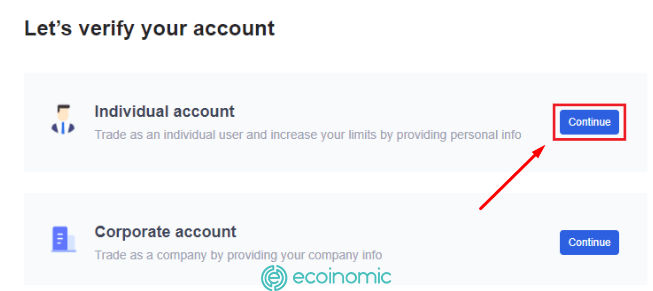 Step 1: First on the menu bar you move your mouse on the human icon next to the account select "Verify" then click on "security". 
Step 2: You need to fill in the basic information including nationality, full name, and identification. Then select "submit" to complete.
Secure OKX account with Google Authenticator
Step 1: You need to access your account to go to OKX's account security settings page.

Step 2: Click "set" to enable security with apps that generate authentication codes. 
Step 3: Download and install the Google Authenticator app, use it to scan a QR code, or you can enter a backup code. After entering the Google authentication code and verification code from OKX's email, click "Confirm" to finish.
2FA Security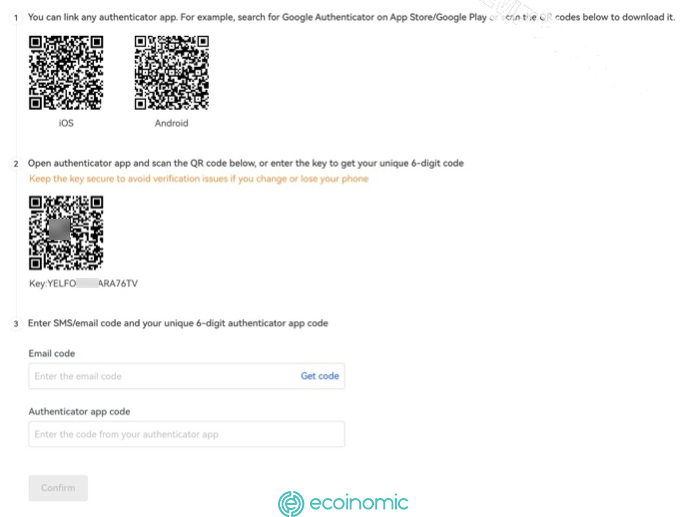 After completing security with Google Authenticator and phone messages you just have to tap on "enable" in the 2FA section then enter the Google Authenticator code. Alternatively, you can use QR code scanning to enable 2FA security. 
Fund passwords and anti-phishing codes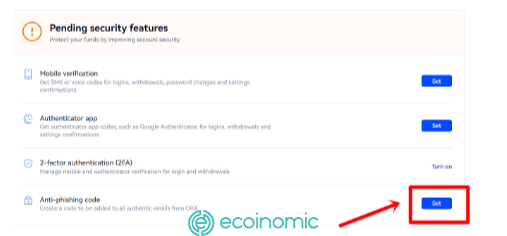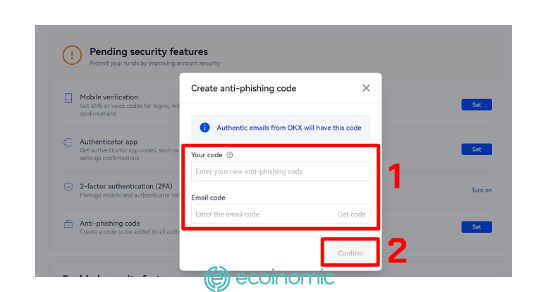 Step 1: In the Anti-phishing code section, click "Set". 
Step 2: Create your own code, then enter the code sent to the email and click "Confirm" to complete.
KYC OKX Identity Verification Guide
After completing the OKX sign up, the next thing to do is to verify the KYC identity on OKX. This is aimed at increasing security as well as minimizing phishing cases. First select the national area of Vietnam, next you need to fill in some basic information in the field and then click on "Submit Information".
Legal First and Middle Name

is your middle name and first name.

Last Name

is your last name.

Type of Document

is a type of identity document (ID card or passport).

Document Identification Number

is the ID number or passport.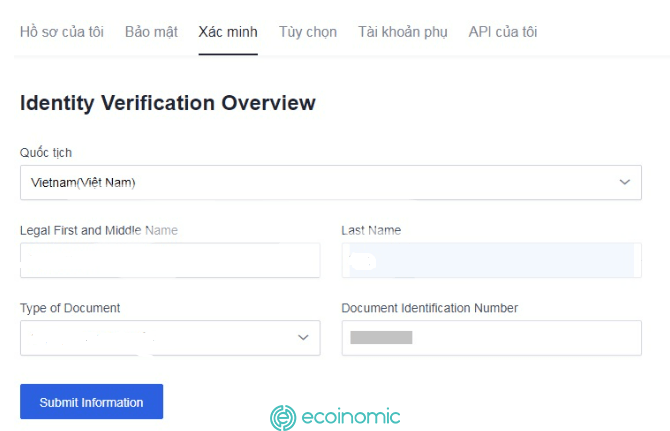 OKX deposit and withdrawal instructions
How to deposit money to OKX: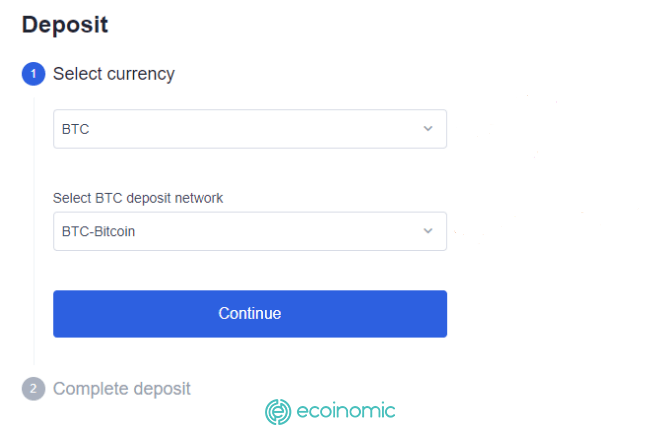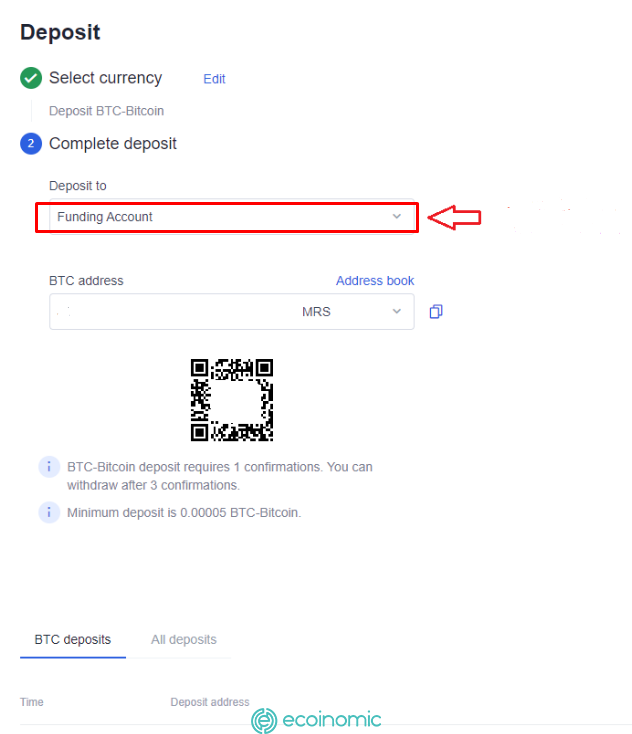 Step 1: Click on "Asset" on the menu bar to select "Deposit" to access OKX's deposit page. 
Step 2: Select the currency type and network that supports depositing funds into OKX and click "Continue" to continue. 
Step 3: You need to select the account you want to receive funds from. Then deposit funds into OKX via the wallet address displayed on the screen. Also, you can check your deposit transactions in the "All deposits" section.  You can now deposit BTC into your OKX account by sending it to your chosen address. You can also check your deposit history in the deposit section.
How to withdraw money from OKX: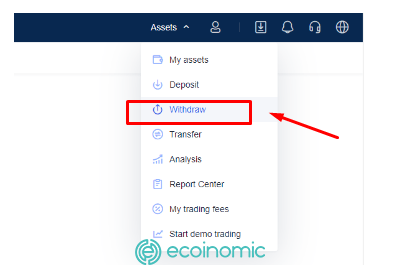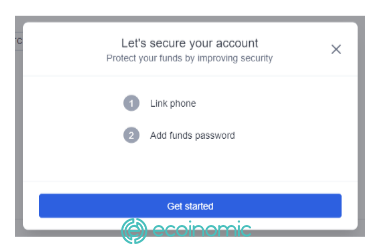 Step 1: To withdraw your cryptocurrency, click on "Asset" in the menu bar and select "Withdraw" to access OKX's withdrawal page.  For newly OKX sign up accounts, OKX requires users to provide an additional phone number along with a fund password. Click "Get started" and follow the instructions to complete the process. 
Step 2: Select your currency, withdrawal method, and support network. Then select "Continue" to continue. 
Step 3: Enter the number of coins/tokens and the wallet address you want to receive and then click "Continue" to send a withdrawal request. You can check your deposits in the "All withdrawls" section.
Frequently Asked Questions When Trading Coins on OKX
What are the OKX fees?
Most people don't trade 600 Bitcoins worth 30 days. This means that most crypto investors only trade at level 1. Level 1 transaction fees are as follows:
Market trading: 0.15% order placement fee and 0.2% execution fee.

Futures trading: 0.03% order placement fee and 0.05% execution fee.

24-hour withdrawal limit: 100 Bitcoin.
Is OKX a legit?
OKX is one of the largest exchanges today, the Management Team has many years of experience in the cryptocurrency sector. The system is equipped with excellent security. The platform always has a long-term development plan. 
So far, the exchange has not encountered any cases of fraud (scam) and has not been attacked by hackers. 
How secure is OKX?
OKX Exchange uses a variety of security methods to provide the highest level of security to our users.
Cryptocurrencies are stored in cold wallets, making it difficult for hackers to get funds inside accounts.

The exchange keeps external backups up to date and checks security constantly to ensure that cryptographic keys are always secure.

Once the security key is used, it will not be used again.

The latest encryption protocols are always integrated into the exchange's cold wallets.

The account's private encryption keys will never be connected to USB or other peripherals and the Internet.
Does OKX need identity verification to trade?
You need to verify your identity to be able to trade on OKX to comply with anti-money laundering or counter-terrorist financing regulations.
Conclusion
As an old and popular exchange, OKX has many great policies and products. OKX is one of the exchanges of choice for asset allocation thanks to its high trading volume and stable liquidity. We hope that the above advantages, features, and limitations will help you better understand what OKX is and what to know about the exchange. If you still have questions, leave a comment below, and we will help you answer.