Phemex is a fairly popular name in the cryptocurrency market recently. Although newly established not long ago, Phemex is considered a highly reputable and safe platform. So what is Phemex? All the information about how to use and Phemex sign up will be Ecoinomic.io answered in the writing below!
What is Phemex?
Phemex is a well-known and growing cryptocurrency exchange. One of the most outstanding strengths of the exchange is the transactions without fees. That is a breakthrough in the crypto industry because the other model charged transaction fees for both buying and selling of cryptocurrencies. Moreover, traders only have to pay a monthly premium of $9.99. This is a great advantage for crypto traders and technical analysts when joining Phemex exchange. 
According to the introduction of the exchange, the name Phemex is a combination of Pheme and Mex. Pheme is the name of a famous Greek goddess who represents the voice of the masses. MEX stands for mercantile exchange.
By 2022, after 3 years of development, there are more than 5 million registered accounts with Phemex and this exchange operates in over 200 countries and regions.
Over $6 billion of trading volume over the last 24 hours (at time of writing).
Development-oriented: Leveraging advanced blockchain technology and the latest investment opportunities to provide a fair financial platform for all.
Phemex will be a solid platform to help people discover sustainable financial investment opportunities, equality, safety and security. It helps people around the world approach a new financial trend that traditional finance is regulated by governments and legislatures. With Phemex you are able to master the financial game and achieve your "financial freedom" not so far.
Phemex's mission: Remove barriers to entry into the decentralized financial market and provide attractive investment opportunities for everyone.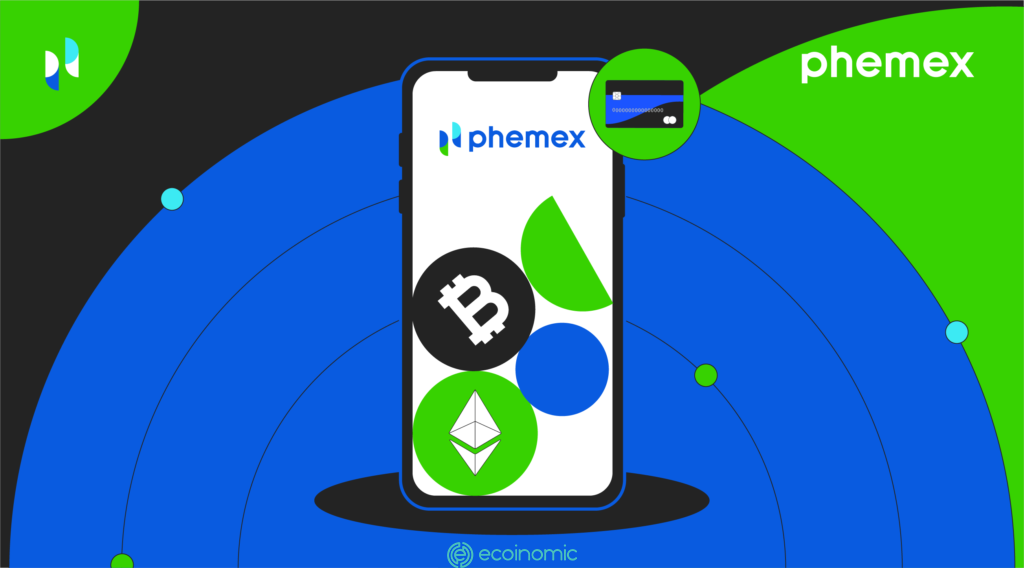 The ecosystem of Phemex exchange
Phemex Contract Trading: Derivatives trading over 132 pairs of perpetual futures contracts with leverage up to 100x, using Conditional, Take Profit, Stop Loss, Limit, Market etc.
Phemex Spot Trading: Trade over 249 crypto pairs without any trading fees.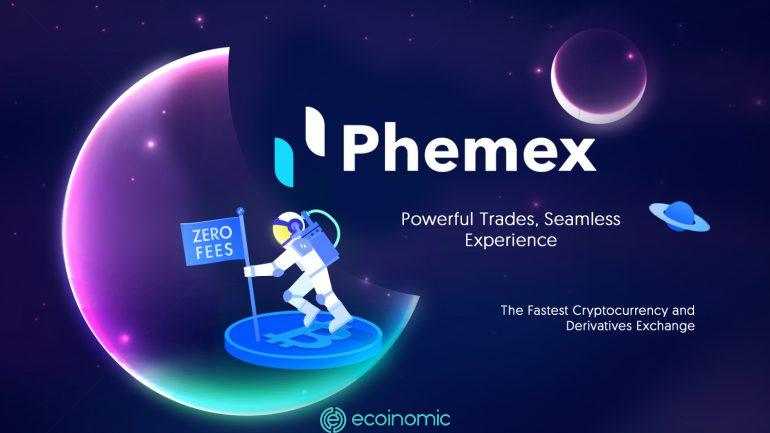 Phemex Buy Crypto: Buy Cryptocurrencies by Paying Fiat via Credit or Debit Card
Phemex OTC Trading:Two parties transact directly with each other, and the price, volume, and terms of each transaction are agreed upon by both parties before the transaction takes place. To participate in OTC trading, users must KYC. Phemex has partnered with Legend Trading to provide users with the ultimate OTC trading experience.
Phemex Crypto Converter: Convert between cryptocurrencies, from cryptocurrencies to USD, that's used to trade USD contracts (or to convert back to cryptocurrency).
Phemex Earn Crypto cryptocurrency: Earn crypto by participating in Savings, Launchpool with 8.5% APY.

Founder of Phemex
The founder and CEO of Phemex exchange is Jack Tao – former Senior Executive Director with more than 11 years of experience at the world's largest financial company, Morgan Stanley. After working for many years in the financial industry, he realized the limitations and weaknesses of the traditional market such as incurring unreasonable fees, inefficient trading systems, opaque transactions, and complicated procedures…
Jack had an idea for a new financial model where the negatives were removed and everyone could trade equally. He started as a Bitcoin (BTC) miner and participated in the cryptocurrency market. However, a technical flaw in that exchange caused Jack to lose part of his assets. Therefore, he realized that exchanges at that time didn't have enough security. Blockchain was born and Jack got the opportunity, he and his colleagues on Street Wall founded Phemex by taking full advantage of the safety, security, and transparency of blockchain while maintaining the cryptocurrency's ideals of financial freedom and self-empowerment.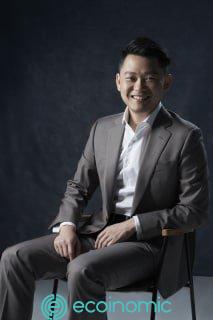 Exchange Review when Phemex sign up
Phemex exchange advantages
Multilingual support for users around the world. User-friendly interface.

24/7 customer care. Even users can contact the CEO directly via Telegram/Twitter.

Easily create sub-accounts to make trading simply for institutional clients and quantitative traders

Cold wallet storage with high security, requires offline signatures at level 2 to protect your assets.

Modern advanced trading system with order processing speed up to 300,000 transactions/second (more than 10 billion USD in transactions/day)

365×24 trading tool delivers high performance with a user-friendly interface
Phemex exchange disadvantages
Does not support the Vietnamese version for users from Vietnam.

The exchange isn't yet popular

Not a diversified ecosystem.

Only support P2P transactions with BTC, ETH, USDT
Phemex sign up Guide
If registering for Phemex by phone, first of all, you need to download the Phemex app on the Appstore or CH Play.
If you are registering Phemex with a computer, click on the Register Phemex button below to the Phemex account homepage.

In another way, following the steps below to Phemex sign up
Step 1: Access the Phemex exchange's homepage, and click Register Now.
Step 2: Enter your Email and password. Please don't forget to enter the ref code FXUA75. Then click Create Account.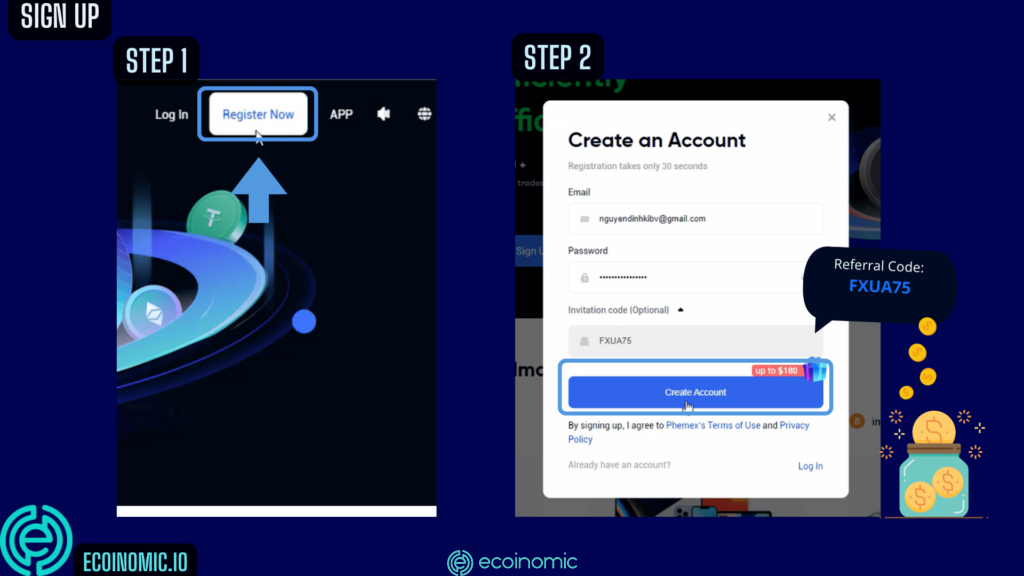 Another way, access the website by the link https://phemex.com/register?referralCode=FXUA75 
Step 3: Fill in the 6-digit code that you have received in your email. The system will be information processing automatically.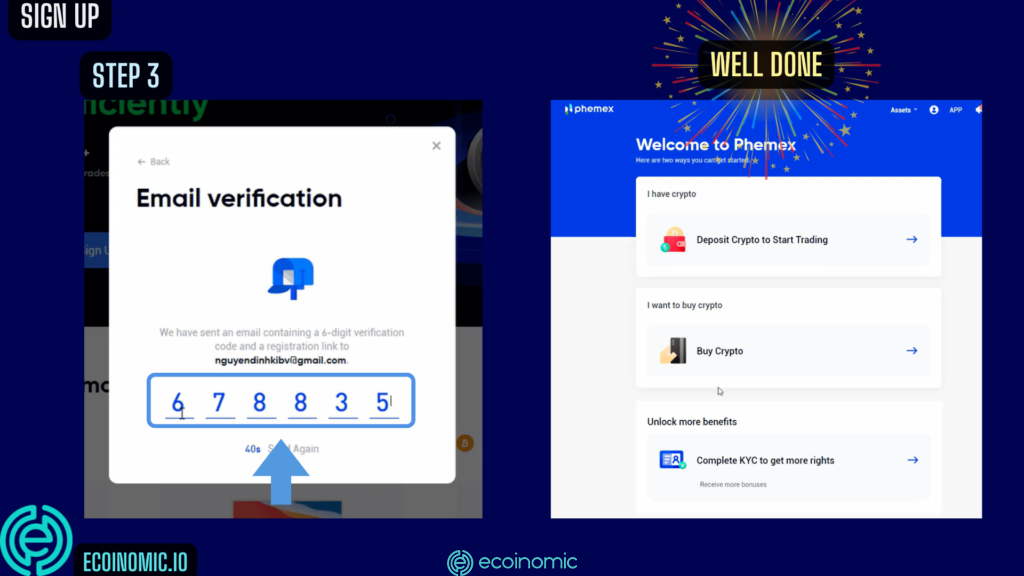 Account security guide when Phemex sign up
Preparation: 
Commonly used email address.

Photos of the ID card or driving license: a photo of the front, a photo of the back, and a selfie photo with the front.

A smartphone has the Google Authenticator Application.
Instructions for KYC (Know your customer) after Phemex sign up
KYC is the process of collecting and identifying information related to the customer. The basic information that is usually collected is a portrait photo, ID number, Passport, address, etc. to eliminate unqualified people.
To KYC your account on Phemex, you do the following:
Step 1: On the homepage of the Phemex exchange, click the profile symbol.
Step 2: Choose ID & Face Verification in section Identify Verification.
exchange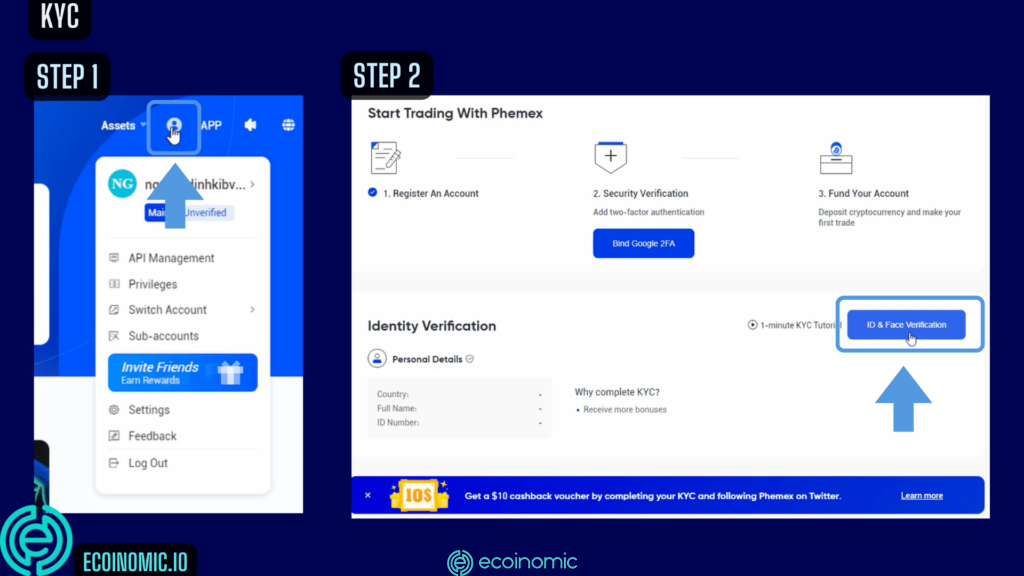 Step 3: Choose verification type and click Confirm.
Step 4: Click Start to start verification.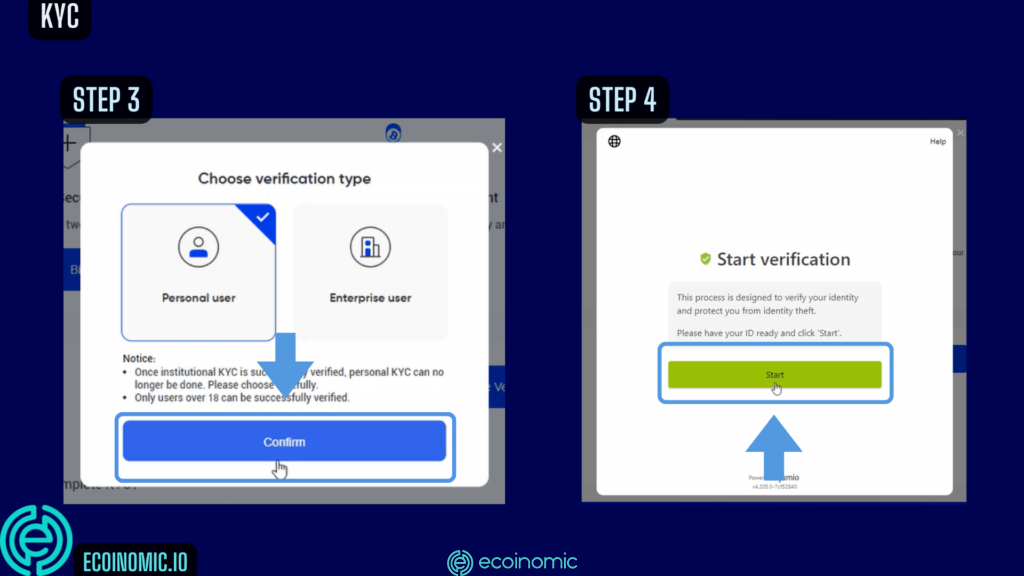 Step 5: Choose your location. In this step, you have to choose an ID document for KYC by selecting one of three options (ID card, Passport, or Driver's license). 
Step 6: Choose an upload method (continue on mobile or take a photo using a webcam).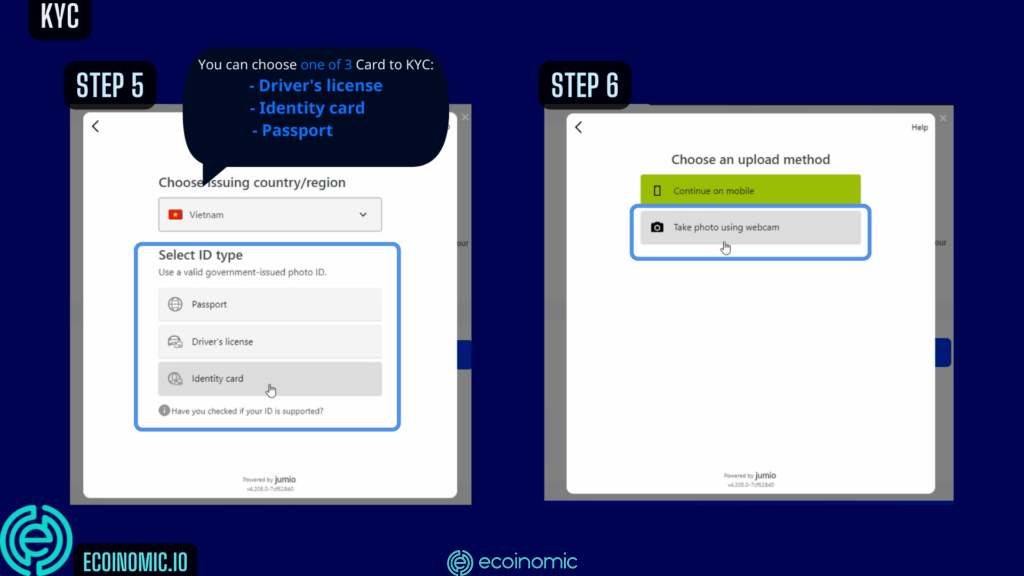 Step 7: Click Start. Take photos of your ID document on the front side (ex. ID card). The photos must be bright, clear, and uncut then upload the photos. Then click Confirm.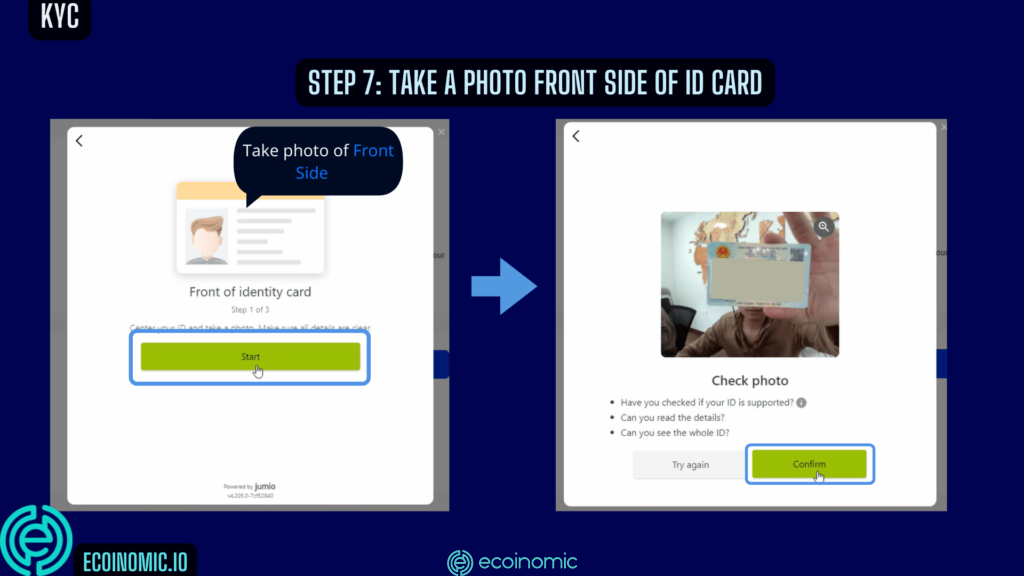 Step 8: Similarly, take the photo of the ID's backside.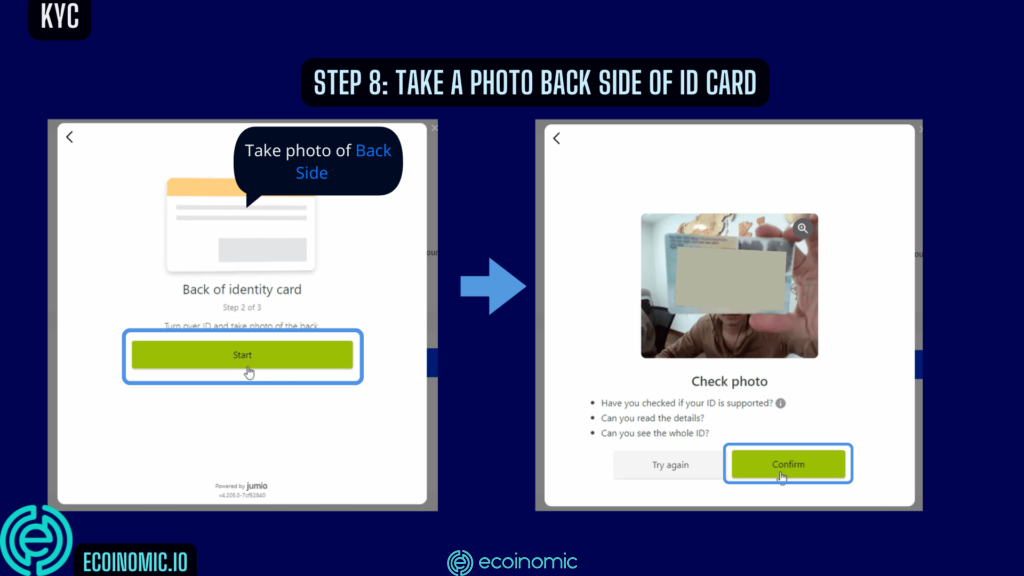 Step 9: Click Start, then take your portrait photo and click Complete.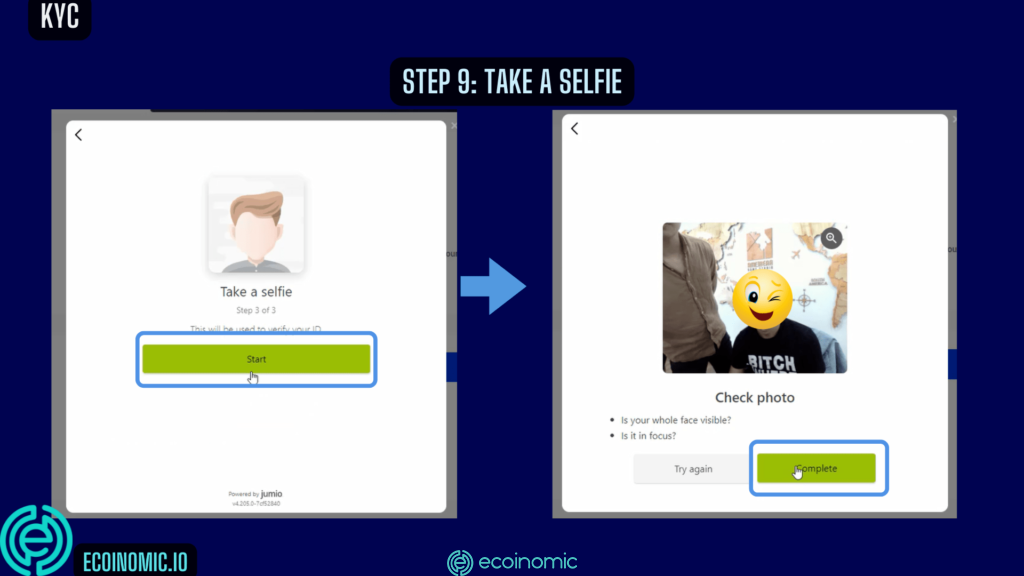 Click Close. Your KYC request has been submitted. That'll be handled by the system and you're going to receive the result when it's done.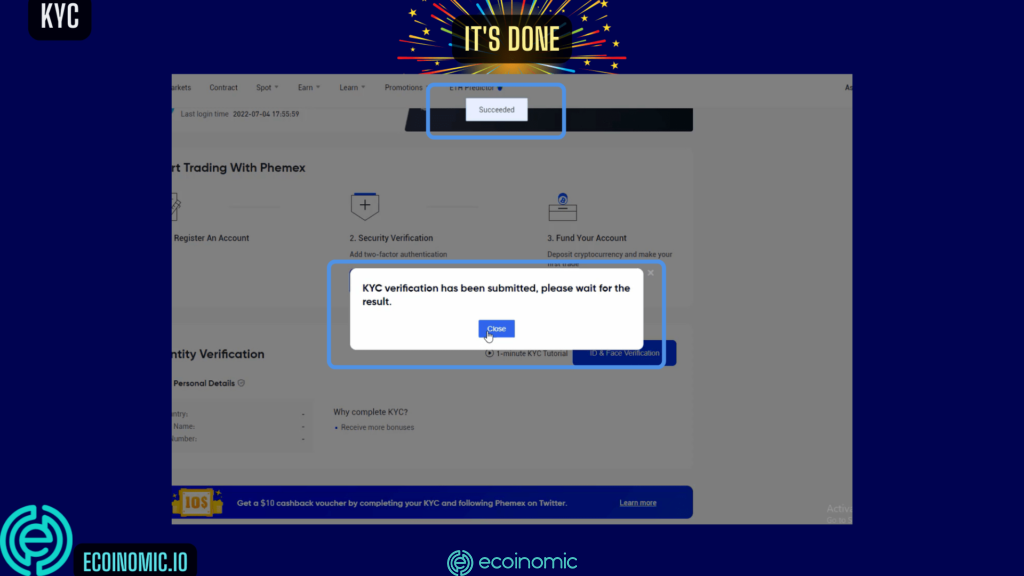 Google Authenticator setup when signing up for Phemex

Google Authenticator is an application that automatically generates a random 6-digit code to log into your account. However, these 6 numbers only last for 30 seconds and will change to 6 other numbers on their own.
To set up Google Authenticator, follow these steps:
Step 1: On the homepage of the Phemex exchange, click the profile symbol.
Step 2: Choose Bind Google 2FA.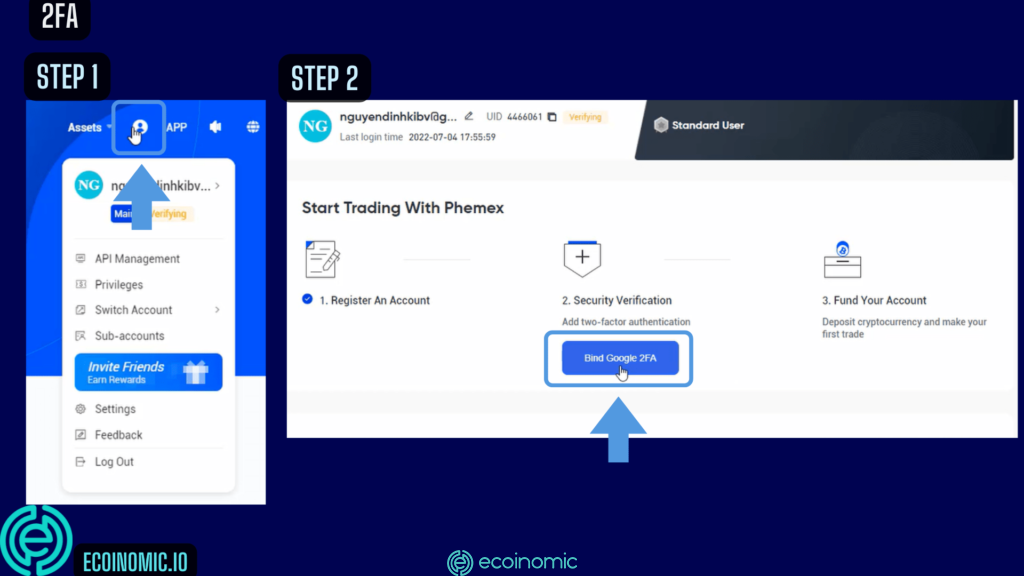 Step 3: Copy the QR Code
Step 4: Setup and activate Authenticator on Google Extensions if you haven't used it before. Open it and click the pen symbol. Click plus sign. Then choose Manual Entry. Name the Code, for example, Phemex 2FA. Then paste the QR Code you have copied to Secret and click OK.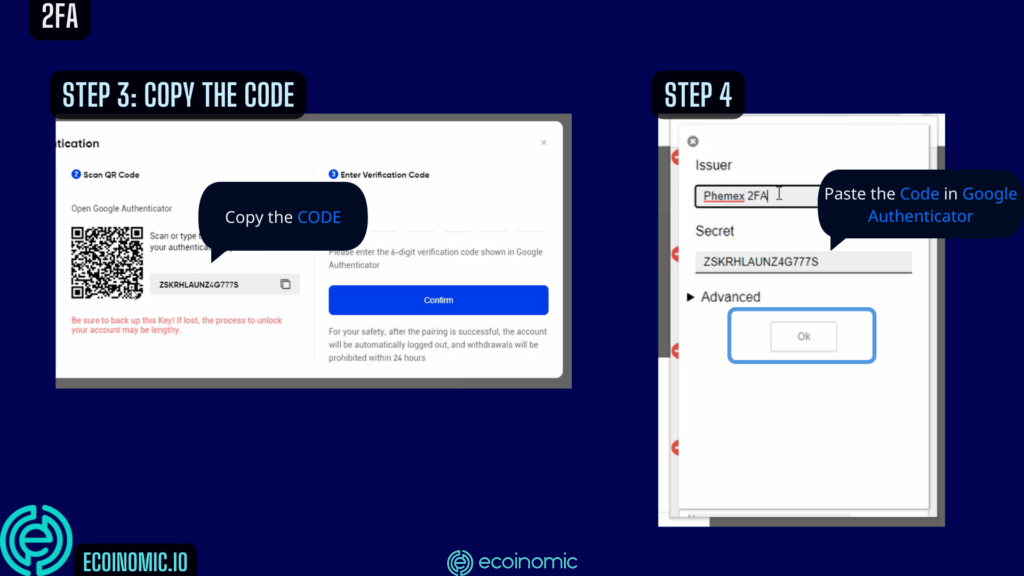 Step 5: In this step, you'll see a random 6-digit code, copy it and paste the code into spaces. Then press Confirm.
Step 6: A window Safety Verification will appear. Enter the verification code from your email.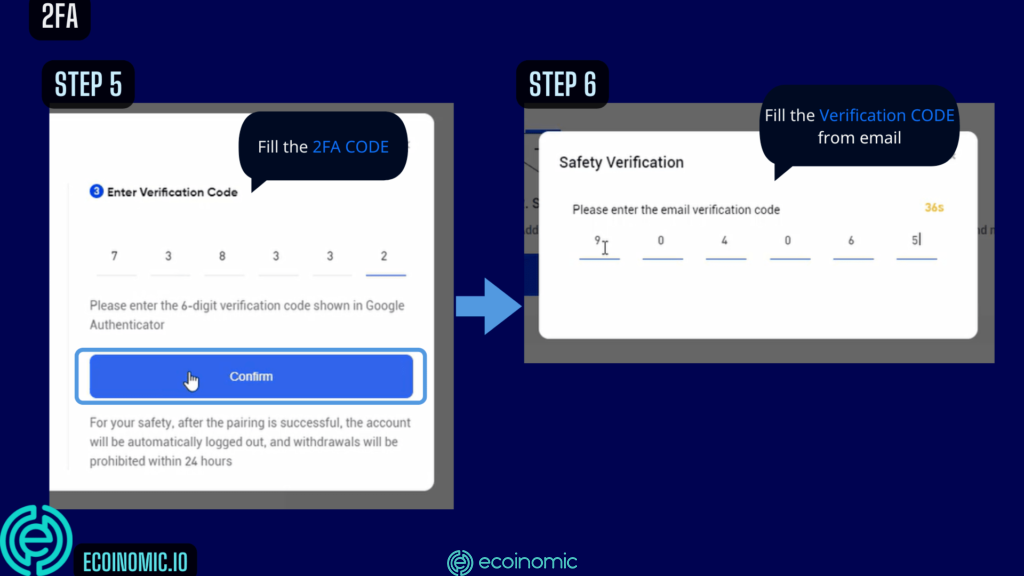 Step 7: So you have successfully linked your Phemex account to Google Authenticator. You have to log in again to your account with the 2FA code.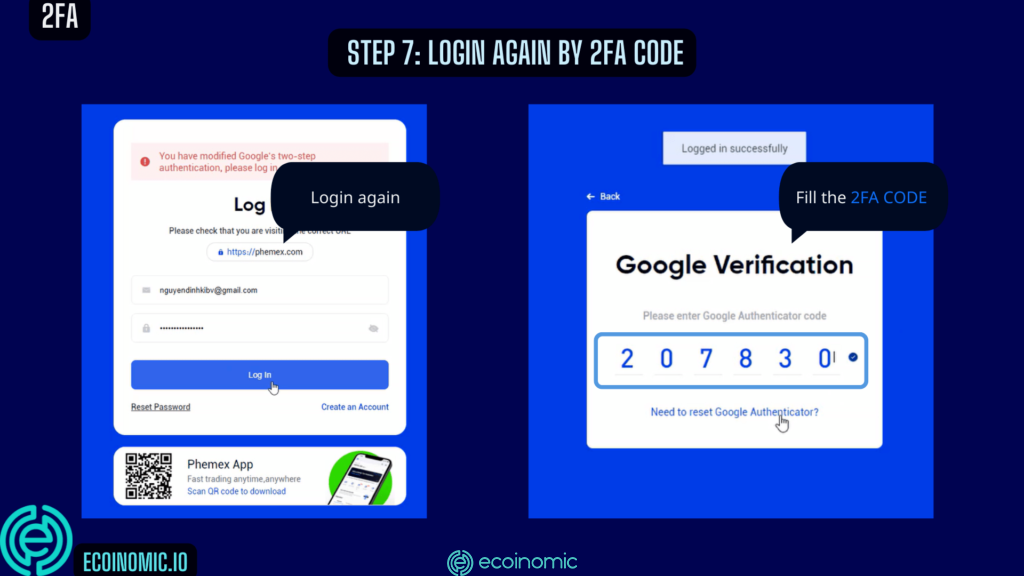 Instructions for depositing and withdrawing money Phemex sign up
Depositing money on Phemex
Step 1: On the KuCoin exchange's homepage, click Asset. Then choose Deposit.
Step 2: Choose the network that is compatible with BTC, then copy the Wallet Address. (At this time, Phemex exchange allows to deposit of BTC only)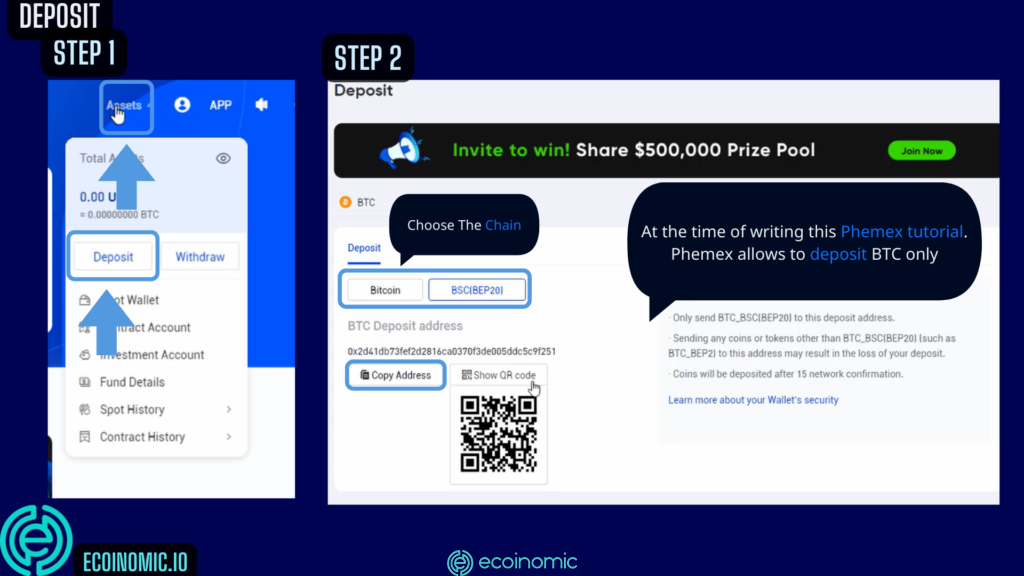 Withdrawing money on Phemex
Withdrawing money on Phemex exchange is also uncomplicated, you do that by following these steps:
Step 1: On the KuCoin exchange's homepage, click Asset. Then choose Withdraw.
Step 2: Add your withdrawal address by choosing Address Management in the section Withdrawal.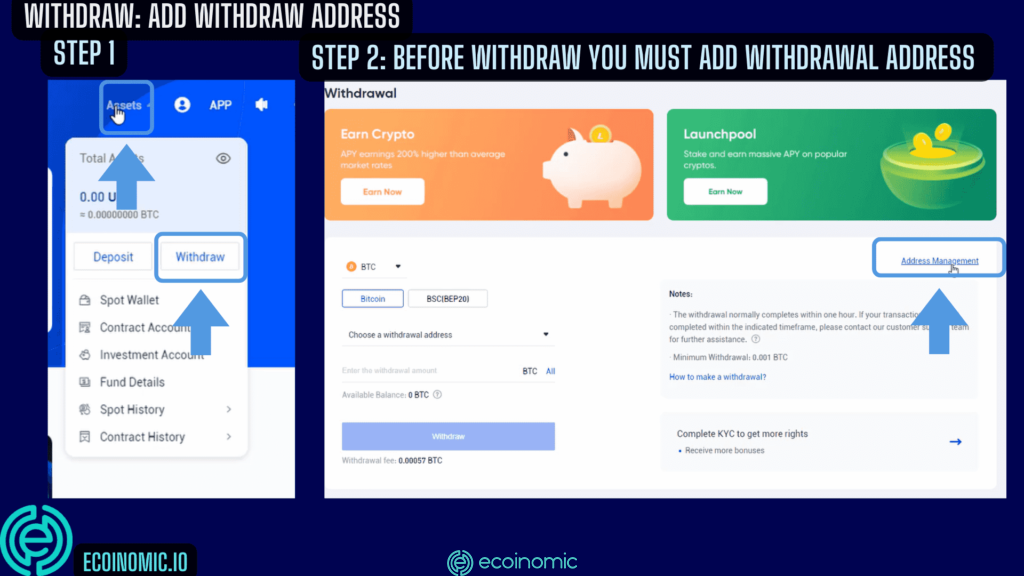 Step 3: Click Add withdrawal address. Choose the coin and the chain. Then paste your wallet ID. Enter the Address Note if necessary. Click Confirm.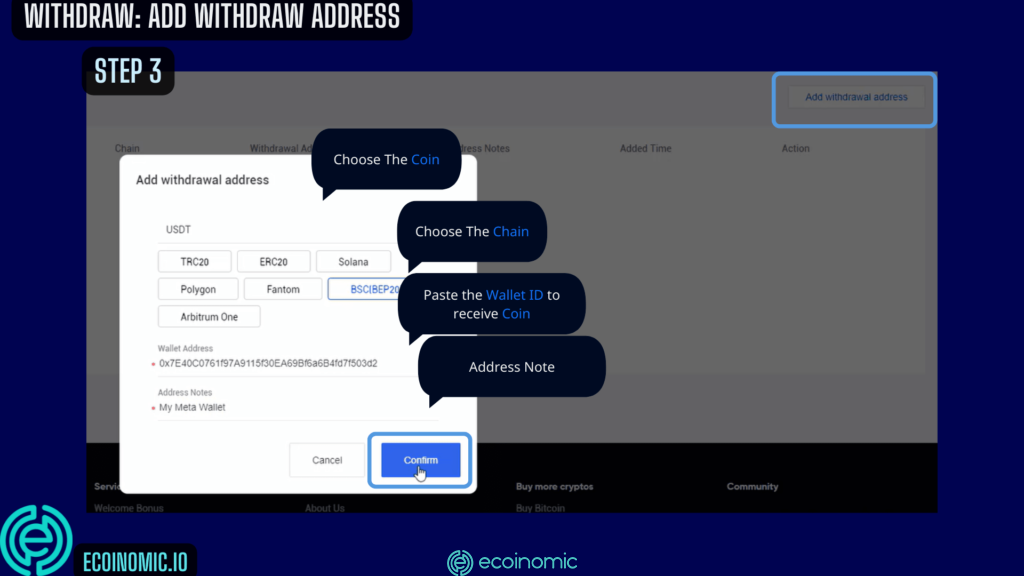 Step 4: Back to your Withdrawal screen. Choose the coin that you want to withdraw. Paste your wallet address. Then choose the Network and enter the amount of coin. Click Withdraw.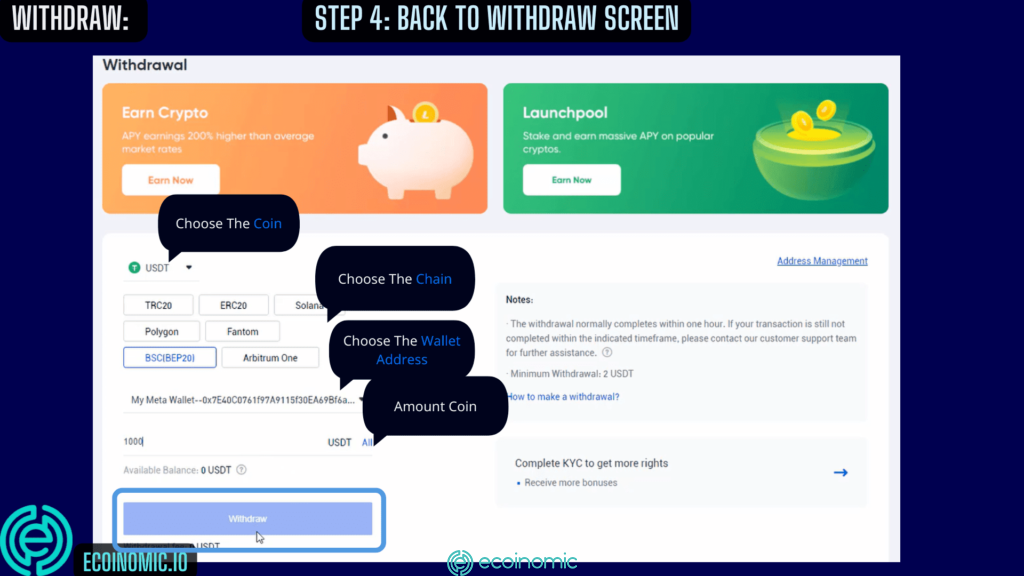 Instructions for buying and selling coins when Phemex sign up

Buy coins on Phemex
Step 1: Choose section Spot on the homepage of Phemex exchange, then click Spot Trading.
Step 2: Search the name of the coin in the search bar in the section Select Market and choose the pair of coins that you want to buy.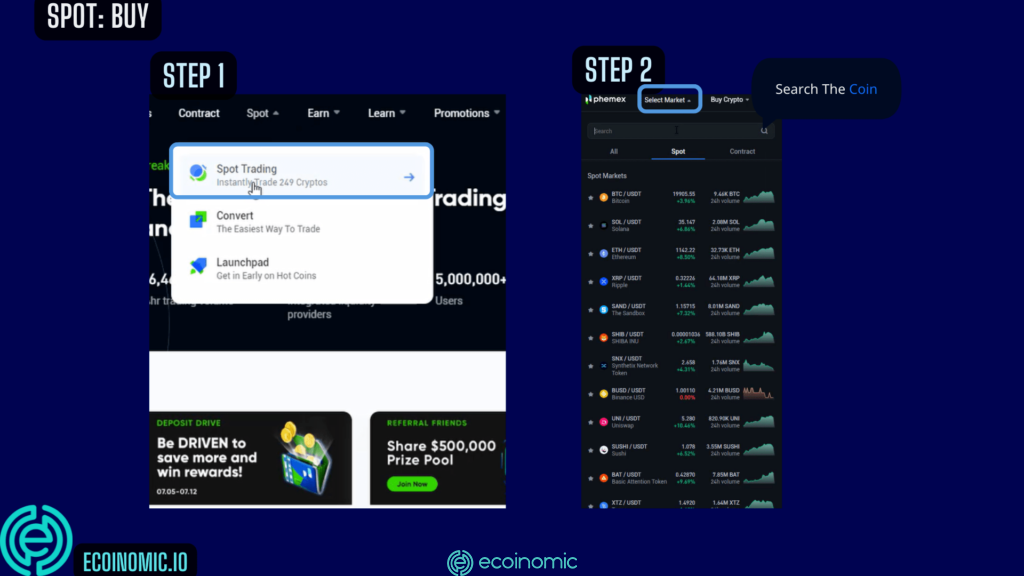 Step 3: Before buying, you must check the price of the coin carefully and enter the amount of coin you want in Amount in the section Buy or adjust the bar below. Then press Buy BNB.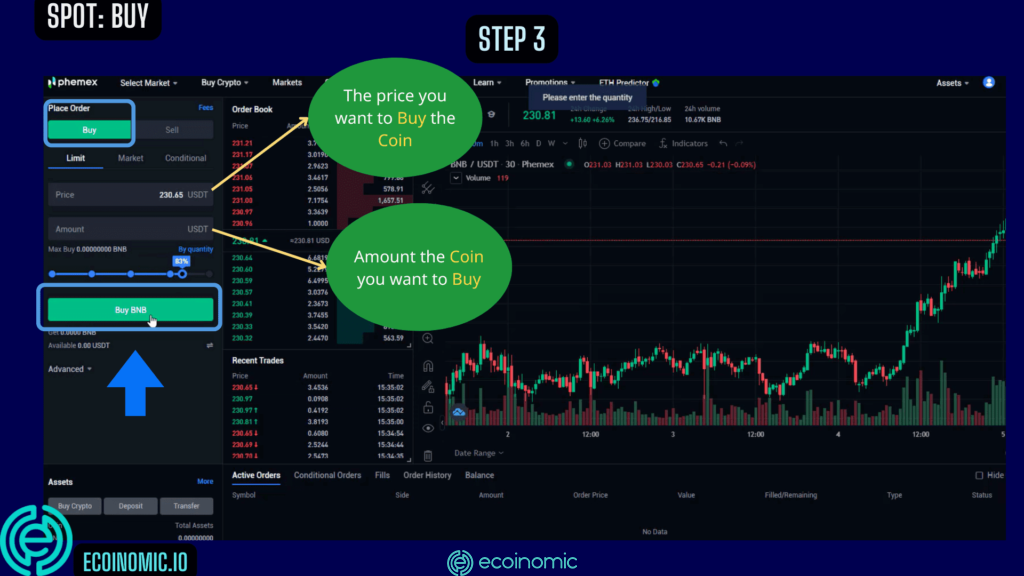 Sell coins on Phemex
The operation of selling coins is similar to buying. Instead of choosing the section Buy, you choose to Sell. You have also to check the price of the coin carefully and enter the amount of coin you want in Amount or adjust the bar below. Then click Sell BNB.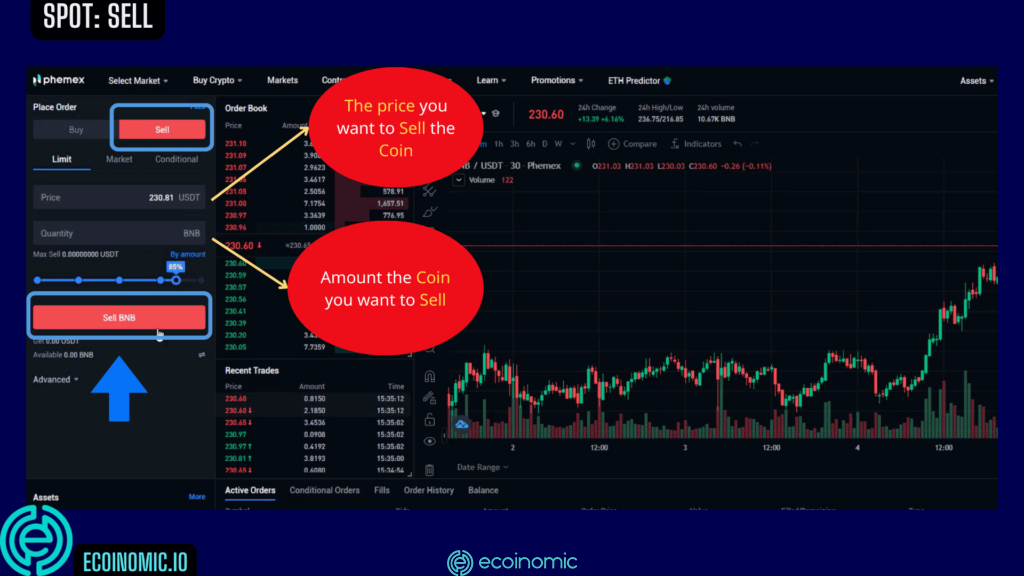 Frequently asked questions about Phemex exchange

Is FTX exchange prone to maintenance errors?
Issues such as not being able to withdraw money, not trading or not registering, and logging in are very common errors in any exchange and you can rest assured, Phemex will handle them within 24 hours.
Which country's Phemex exchange? Does it support Vietnam?
Phemex exchange's head office is located in Singapore. Currently, Phemex supports diverse languages such as English, Korean, Chinese, Japanese, Russian, German, Spanish, etc. However, there is no Vietnamese language for Vietnamese users.
Does it take KYC to withdraw money on Phemex?
For Phemex, users do not need to perform KYC. However, Phemex recommends that users complete KYC to ensure safety on the platform for all users. Customers who do not complete KYC will be restricted to certain services such as ineligibility to become a senior member, various rewards,… 
Is it necessary for KYC to withdraw money when FTX sign up?
Phemex exchange has an MSB license issued by the United States.
*MSB stands for Money Services Business and is a type of financial license issued and supervised by FinCEN – the Financial Crimes Enforcement Bureau of the United States Department of the Treasury. The scope of the license includes services such as international money transfers, foreign exchange, trading, provision of prepaid items, and issuance of traveler's checks. Companies participating in the activities must apply for a license from MSB to operate legally.
Additionally, Phemex repeatedly states on its website that security is a top priority. Security consists of three distinct elements:
Phemex Wallet
Phemex's website says it has designed and implemented a hierarchical cold wallet. Cold wallets store cryptocurrencies on the exchange, while hot wallets reside on the exchange and are vulnerable to theft. Phemex assigns a separate Cold Wallet address to each user. All deposits are periodically aggregated in the company's multi-signature cold wallet via offline signatures.
Phemex processes withdrawal requests three times a day and each request is scrutinized by all moderators and founders.
Phemex's security system
Phemex deploys its systems and secures its machines on the Amazon web cloud service (AWS). Phemex uses several firewalls to separate different zones and machines for different trading purposes. There are multiple levels of security and intranet access management protocols to control the accessibility of one version to another.
Phemex secures user accounts
Phemex uses 2FA authentication to protect all user accounts. When the user performs any important operation such as modifying login, funding, or password, the system automatically activates two-factor authentication. This forces the user to perform secondary authentication to protect the safety and security of the account.
Has Phemex ever been hacked?
Up to now, phemex has not had any attacks.  
What is the withdrawal & deposit limit when Phemex sign up?
For BTC, the minimum withdrawal limit is 0.001 BTC. 
What are the fees on Phemex?
A transaction fee of Phemex: Compared to the common ground, the transaction fee of Phemex is not high, only 0.1%. For Premium Users, the transaction is free. Trading fees on the derivatives platform will be:
Taker: 0.075%
Maker: 0.025%
Deposit and withdrawal fees of Phemex exchange:
Deposit fee: none
The withdrawal fee depends on each coin.
What is Phemex exchange app on Android and iOS?
Phemex has a mobile trading app on both iOS and Android operating systems.
Conclusion
Although the Phemex exchange is fairly new in the cryptocurrency market. With a simple and easy-to-use interface, the exchange is constantly attracting more newbies. Especially, the security and safety feature is one of the outstanding advantages for users to decide to Phemex sign up.