Huobi.Pro is the cryptocurrency exchange in the third position with a very large trading volume and many potential coins. Ecoinomic will provide the most complete guide to Huobi sign up and use it.
What is Huobi Global?
Huobi Global is a cryptocurrency exchange launched in China in 2013. The founder of the exchange, Leon Li is an Oracle software engineer. Initially, the exchange mainly operated in the Chinese market. However, after the government's restriction on cryptocurrency trading, Huobi has moved to provide services globally, especially in the Asian market.
Huobi exchange scale
Scale: over 200 regions and countries around the world.

Number of users: more than 10 million people (2022)

Daily trading volume: about 10 billion USD.

A number of coins/coin pairs traded: 927 different trading pairs.

Huobi exchange's history
September 1, 2013: Huobi Bitcoin Exchange was officially launched. Within 1 year, Huobi introduced several other important services such as Litecoin and Margin trading platforms.
December 2013: The trading volume of the Huobi exchange exceeded 4 billion USD. That makes Huobi becoming the largest crypto exchange in China.
September 2017: This is probably the beginning of the most difficult period for crypto exchanges in China. The government of this country has officially announced a ban on ICO services (first coin issuance) and cryptocurrency exchanges.
Huobi founder, Leon Li has adjusted the business structure to expand the scale to the globe.
October 2017: Huobi opened a new headquarters in Seoul, South Korea. 
November 2017: A new Branch of Huobi in Singapore is inaugurated
December 2017: Huobi's Tokyo-Japan office opened.
Currently, Huobi's headquarters are located in Singapore.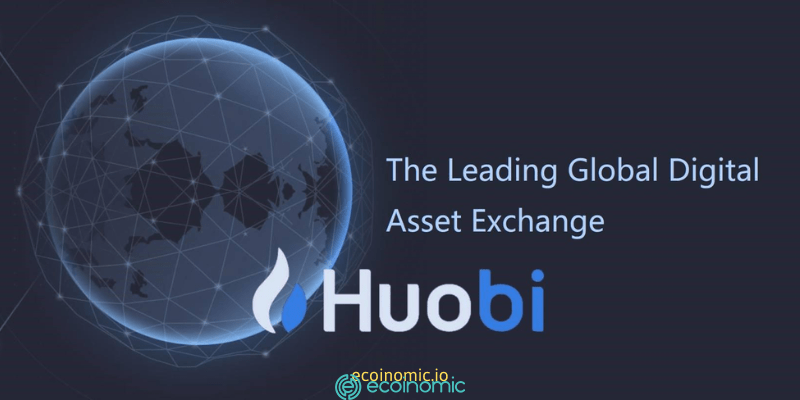 Huobi's founding team
Huobi Global was built by Leon Li. He is also CEO of Huobi Group. After graduating from Tsinghua University (Faculty of Automation), he became a Bitcoin proponent in 2011 and started his career as a computer engineer at Oracle – the world's largest database provider. In 2013, he founded Huobi Group and made it become one of the biggest providing financial services companies in the crypto space.
In addition, Jun Du is the co-founder of Huobi Group. He was director of community activities at Comsenz, worked at Tencent, executive director at Node Capital, founder Jinse, and co-executive director at BiKi.com before. He eventually co-founded companies including AToken and Chainup.
In 2018, Herbert Rafael Sim, the founder of Crypto Chain University joined the Huobi Group team. He has contributed to the development of Forbes, The Huffington Posts, and Wardrobe Trends Fashion. At Huobi, he takes over the position of director of public relations and digital marketing.
Huobi Exchange Ecosystem
Huobi Pool:

Operating a mining (mining) pool.

Huobi Chat:

A social software customized for Blockchain Industries, providing attentive service and in-depth communication for Blockchain enthusiasts.

Huobi Wallet:

Huobi's centralized electronic wallet supports lots of cryptocurrencies.

Huobi Capital:

An investment fund focused on the Blockchain industry.

Huobi Cloud:

Providing solutions for global digital asset exchange.

Huobi Eco Chain:

Allowing programming Smart Contracts and supports high-performance transactions.

Huobi DeFi Labs: Researching fundamental financial theories and technologies; focusing on researching DeFi projects; investing in incubation and ecosystem building; committing to creating a financial world with a financial community global cryptocurrency production.
Exchange Review before Huobi sign up
Advantages of Huobi
Huobi has an insurance fund. Therefore, customers haven't to worry about losing money, even in case, the exchange is attacked.

Huobi Token (HT) is one of the very famous exchange coins. It has high liquidity, stable growth, and price. In addition, if you trade with HT, you will get a 50% discount on trading fees.

Huobi Global supports many different coins.

The HT holders have the opportunity to participate in investing in IEO projects on Prime, and FastTrack and receive HPT (like the Staking mechanism).

You can easily convert between coins and VND.

There is a Huobi support community in Vietnam.
Disadvantages of Huobi
The transaction fee is quite high compared to other exchanges (0,2%).

Without a KYC account, you can only withdraw 0.06 BTC/day, P2P transaction limit (about 149 USD), and can't access derivatives trading.
Huobi Sign up Guide
If you Huobi sign up, you need to download the Huobi app on the Appstore or CH Play to your device.
If Huobi sign up with a computer (PC/Laptop) click on the Register Huobi button below to go to the homepage of Huobi or do the following steps:

Step 1: Access the Huobi Global exchange's homepage, and click Sign Up.
Step 2: Enter your Email and password (at least 8 characters and not all numbers). Please don't forget to enter the ref code fv2n3223 to get 15% off on the fees for every exchange. Then click Sign Up.
In another way, access the website by the link https://www.huobi.com/vi-vi/o-topic/m_register/?invite_code=fv2n3223 , you are also going to get the same preferential treatment.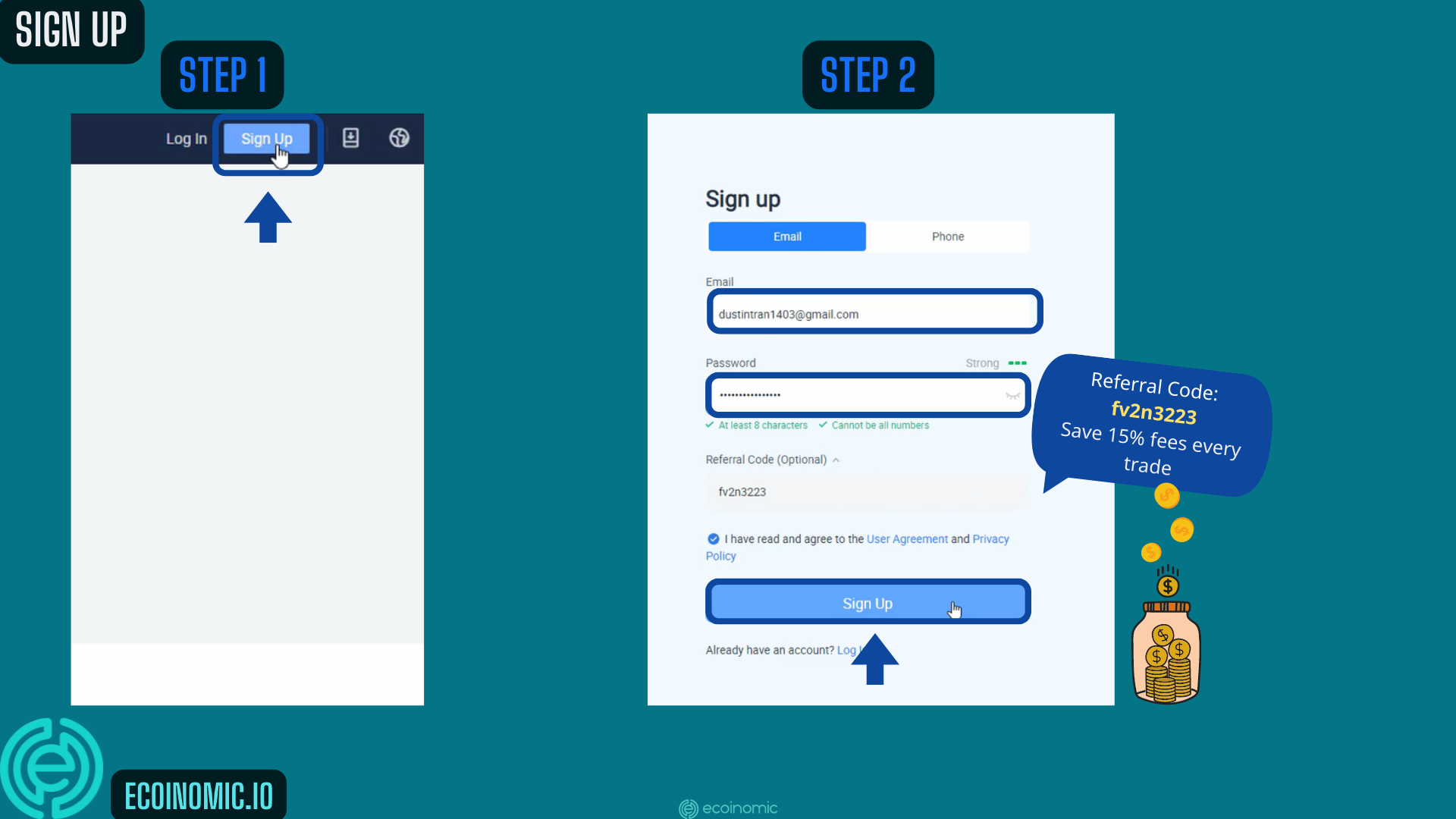 Step 3: Choose Click to verify.
Step 4: In the image below, arrange these icons in the order they appear.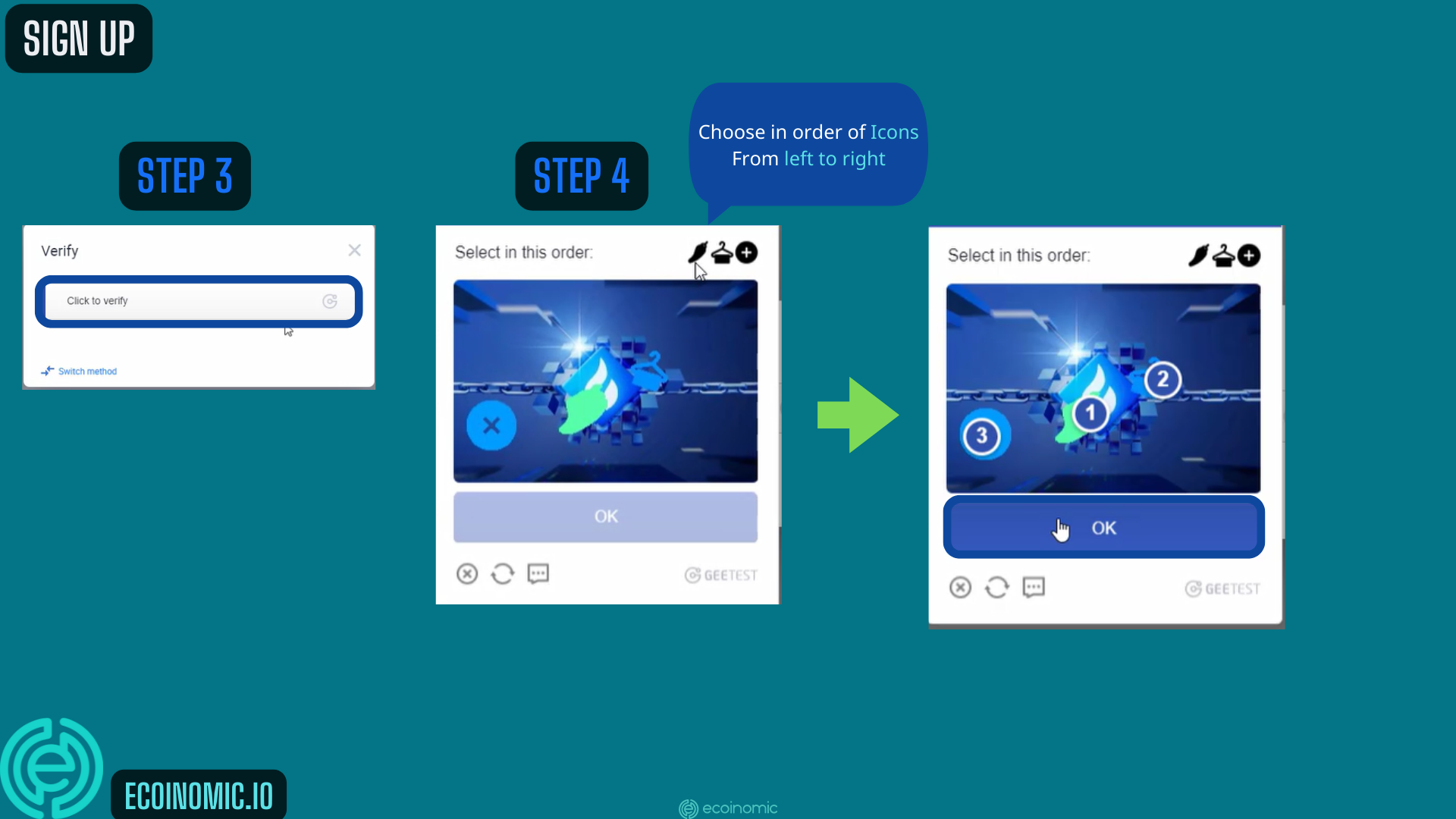 Step 5: Fill the 6-digit code that you have received in your email into E-mail Verification Code.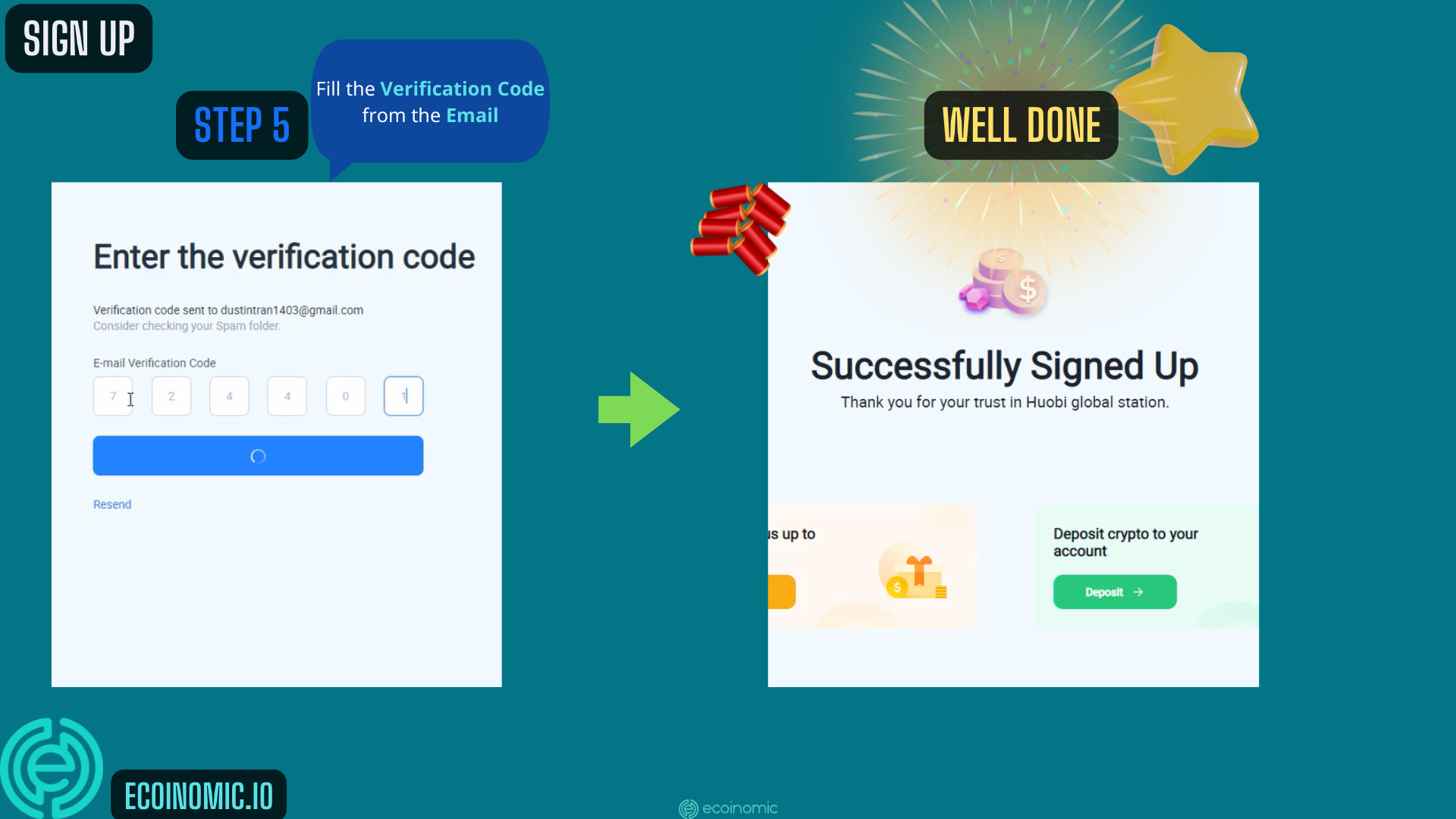 Guide to security when Huobi sign up
Preparation when Huobi sign up: 
Commonly used email address.

Photos of the ID card or driving license: a photo of the front, a photo of the back, and a selfie photo with the front.

A smartphone has the Google Authenticator Application.
How to verify identity – KYC when Huobi sign up
KYC is the process of collecting and identifying information related to the customer. The basic information that is usually collected is a portrait photo, ID number, Passport, address, etc. to eliminate unqualified people.

To KYC your account on the Huobi Global exchange, you do the following:
Step 1: On the homepage of the Huobi Global exchange, click the profile symbol and choose Identification.
Step 2: Choose Verify Now in the section Personal Verification.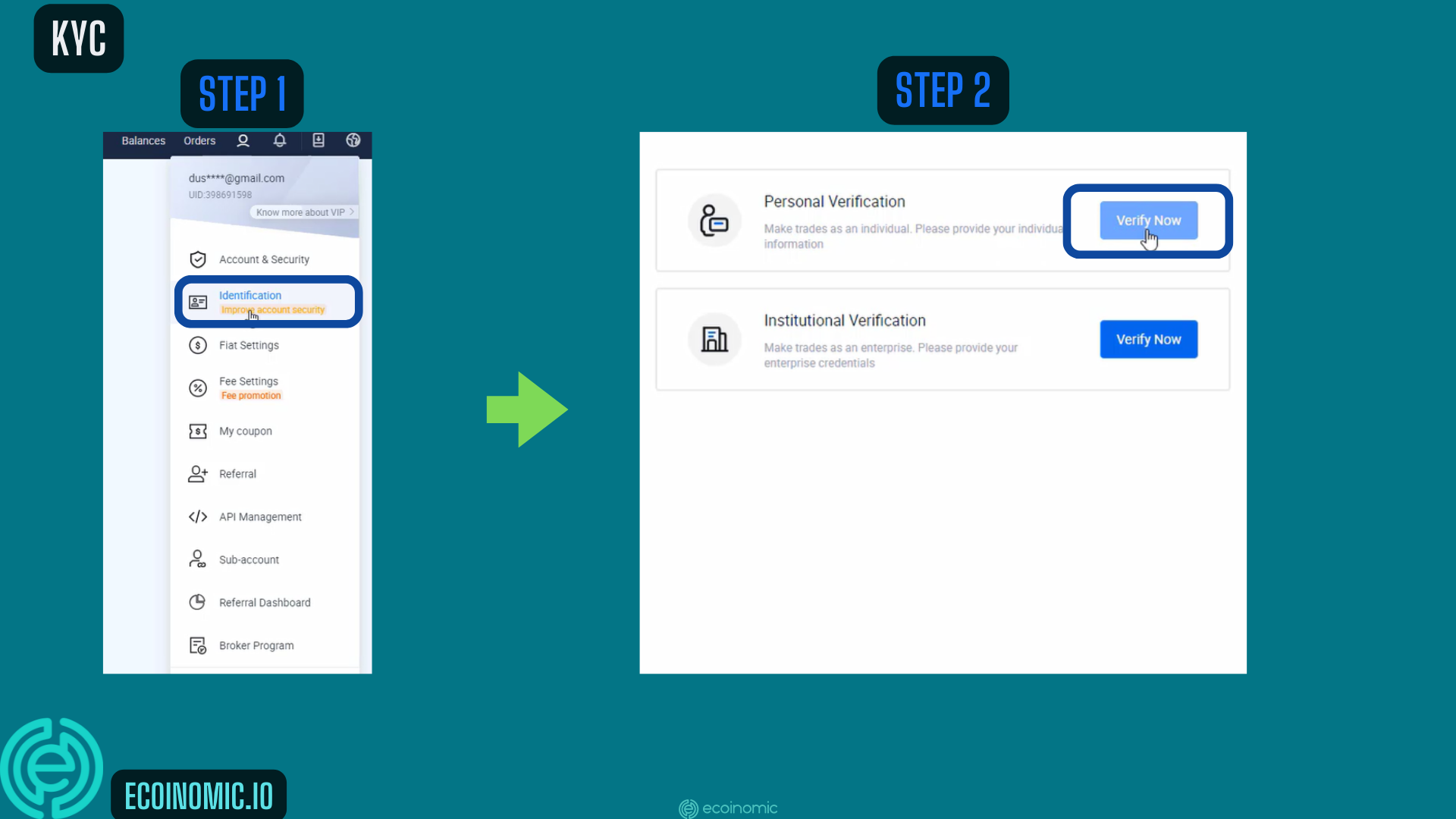 Step 3: In section Exchange, click Verify
Step 4: On the window, Change Registered Country/Region, change your location by choosing the country or region.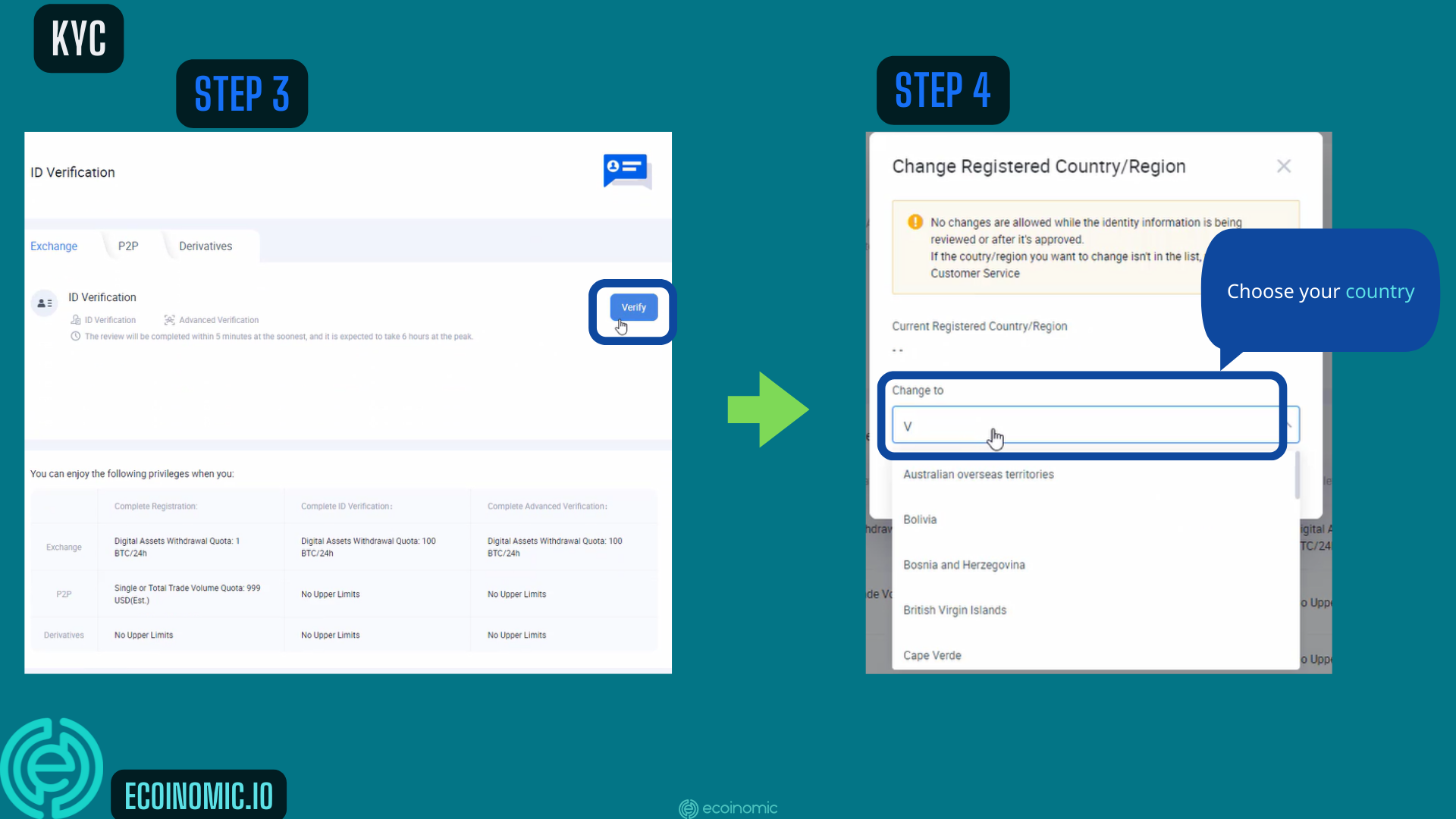 Step 5: In this step, you have to choose an ID document for KYC by selecting one of three options (ID card, Passport, or Driver's license) 
Step 6: Take photos of your ID document on both sides (ex. ID card). The photos must be bright, clear, and uncut.
Step 7: Upload the photos and click Next. Your KYC request will be handled by the system within 5 minutes. You're going to receive the result via SMS, Email, or Internal Message.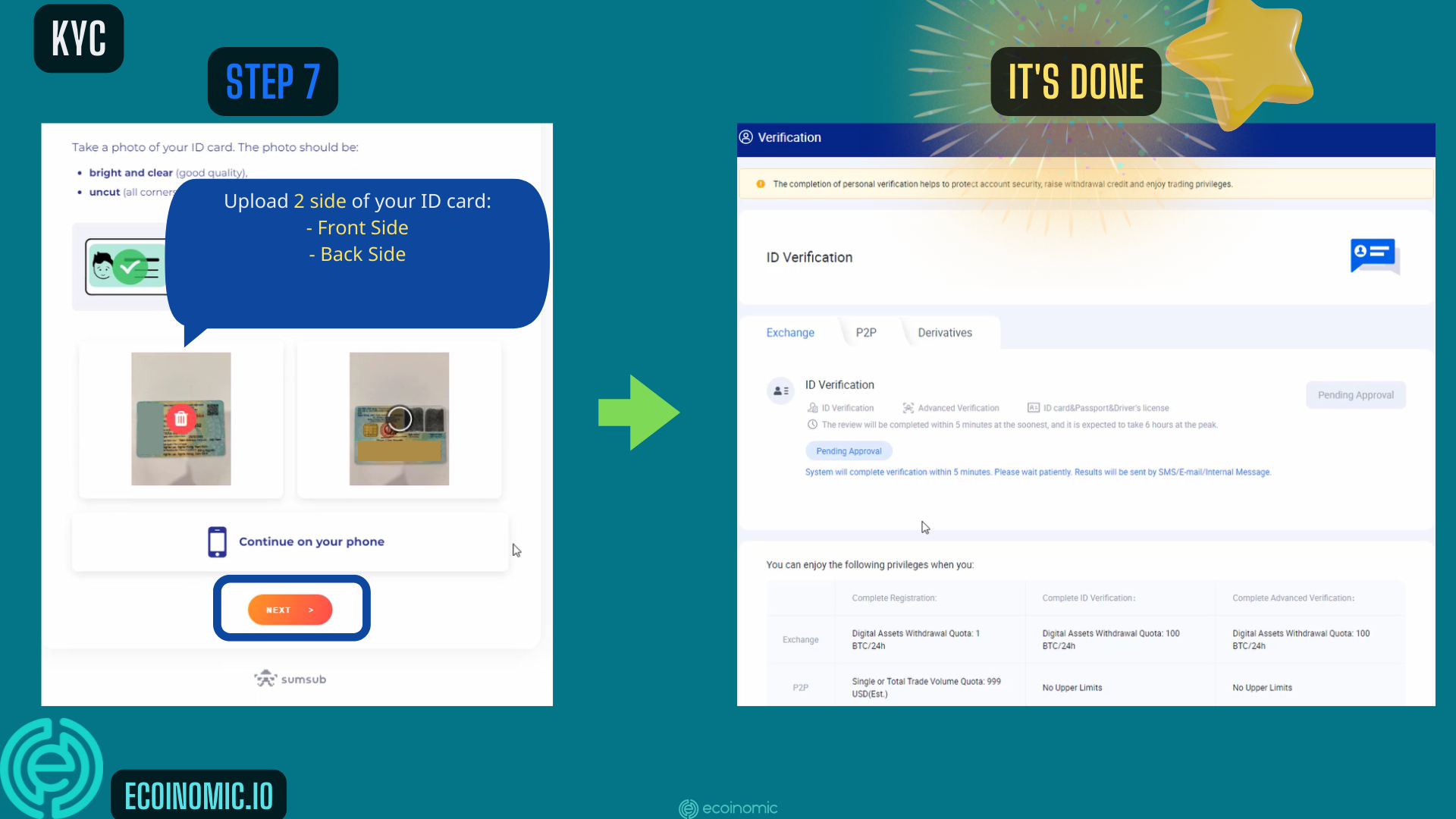 Google Authenticator (2FA) after Huobi sign up
Google Authenticator is an application that automatically generates a random 6-digit code to log into your account. However, these 6 numbers only last for 30 seconds and will change to 6 other numbers on their own.
To set up Google Authenticator, follow these steps:
Step 1: On the homepage of the Huobi Global exchange, click the profile symbol and choose Account & Security.
Step 2: Choose Enable GA Verification on the window Security Warning.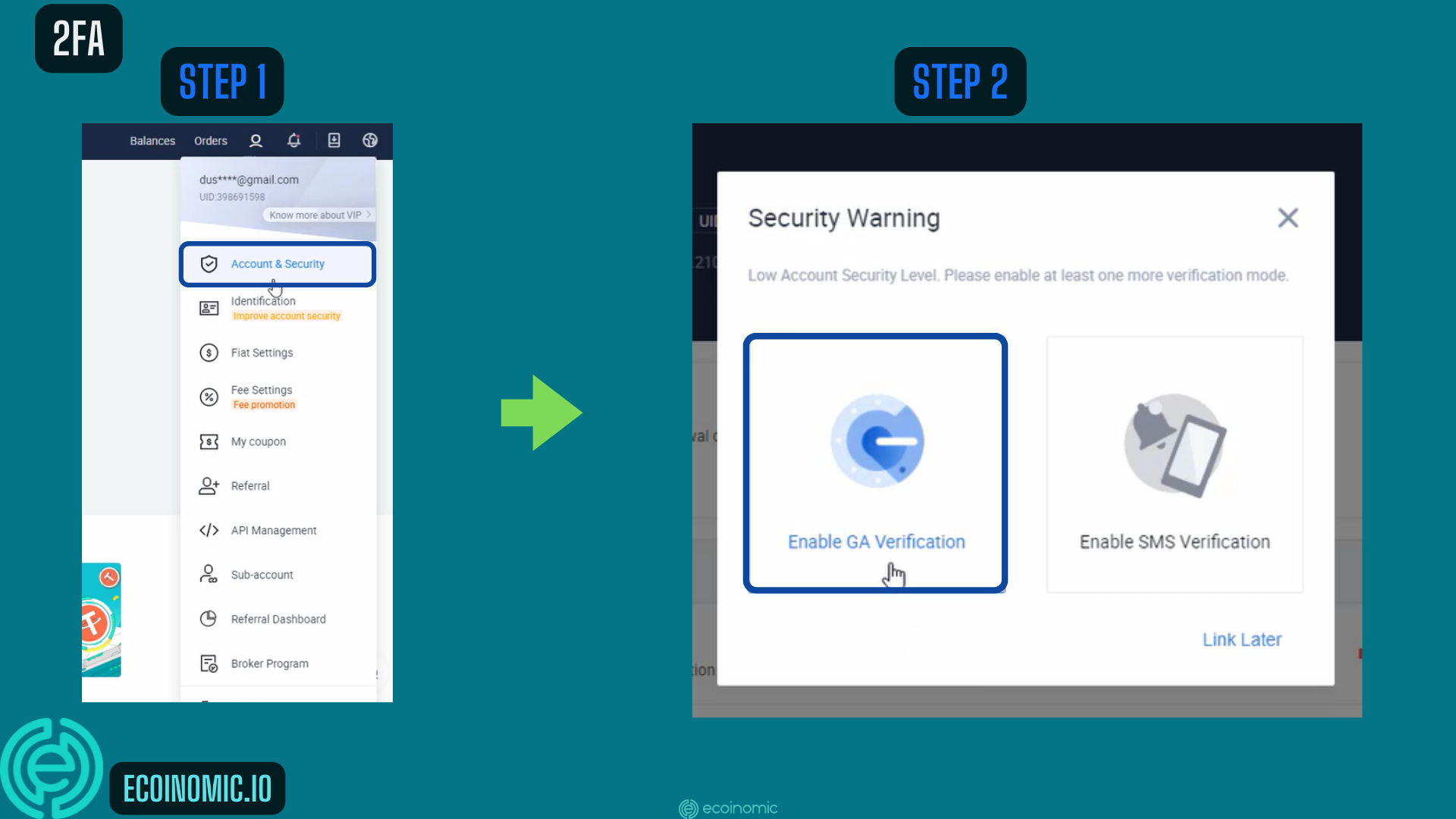 Step 3: Click Copy Key to copy the QR Code
Step 4: Setup and activate Authenticator on Google Extensions if you haven't used it before. Open it and click the pen symbol. Then click plus sign.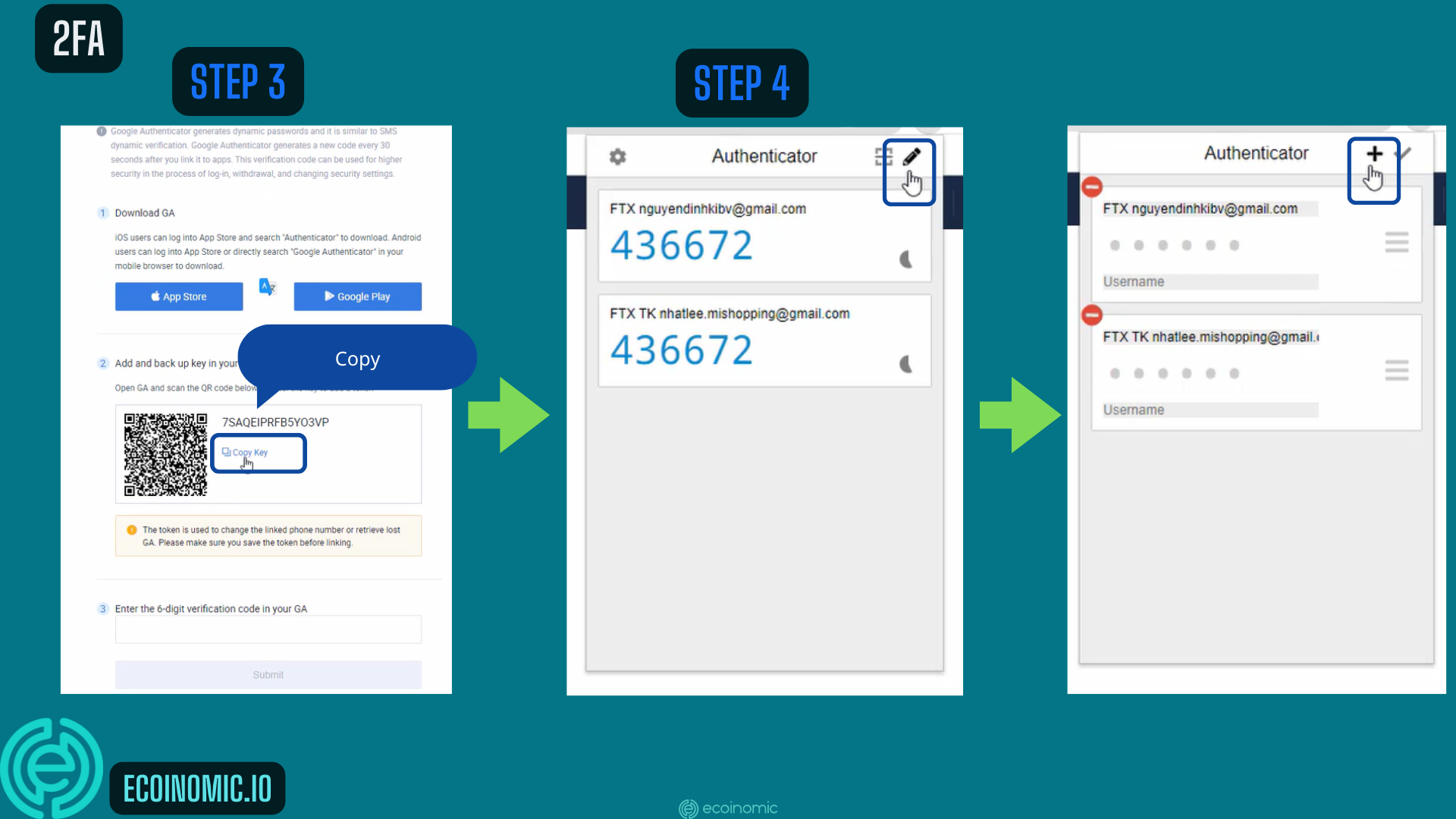 Step 5: Choose Manual Entry
Step 6: Name the Code, for example, Huobi 2FA. Then paste the QR Code you have copied to Secret and click OK.
Step 7: In this step, you'll see a random 6-digit code, copy it and paste the code to Enter the 6-digit verification code in your GA. Then press Submit.
Step 8: Window Security authentication will appear. Click Get Verification Code.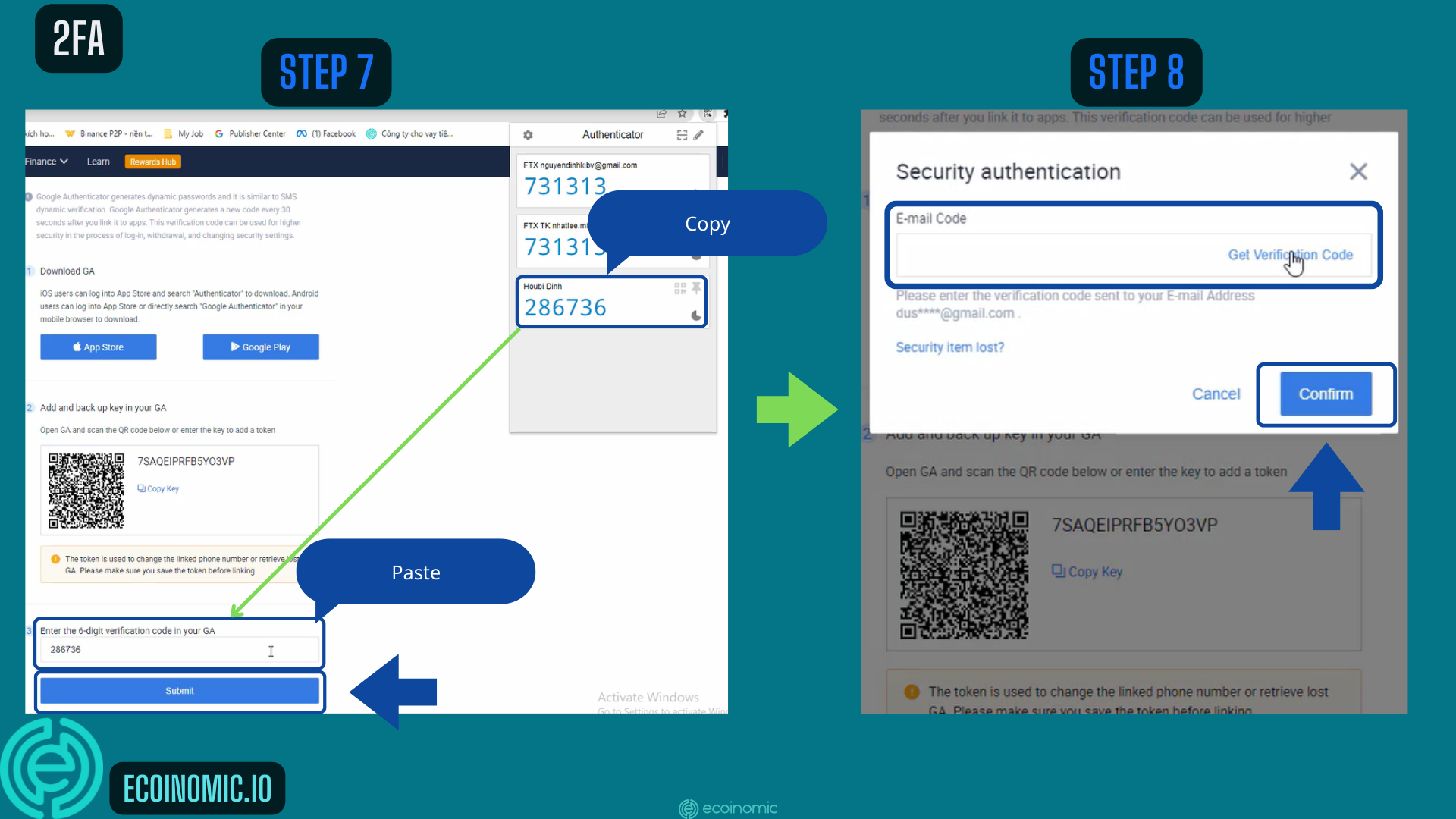 Step 9:  Enter the Email Code you have received and click Confirm. You'll see a Successful notification.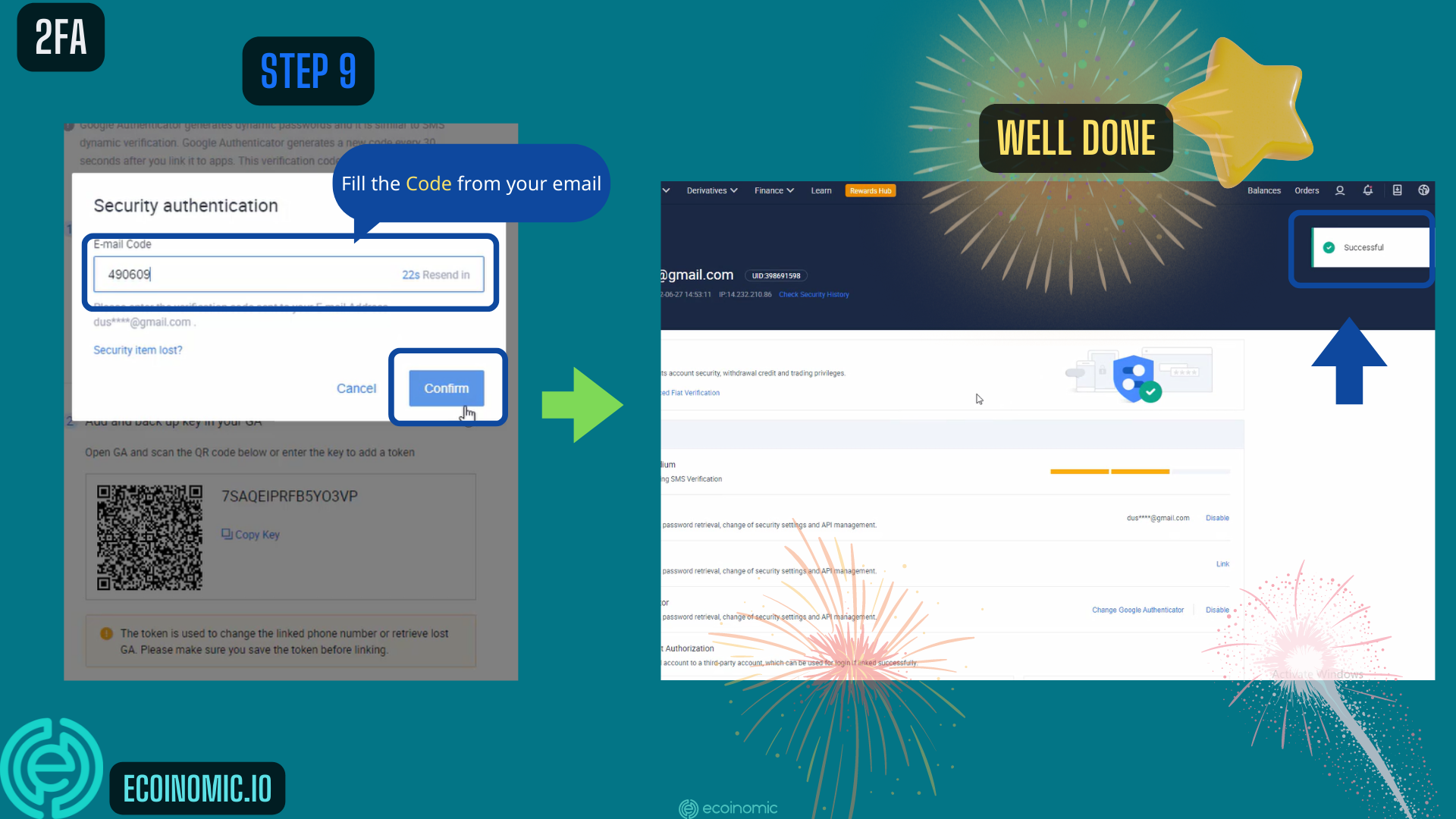 Instructions for depositing and withdrawing money on Huobi Global
Depositing money on Huobi Global
Step 1: In the section Balances on Huobi's homepage, click Assets Overview.
Step 2: Choose Deposit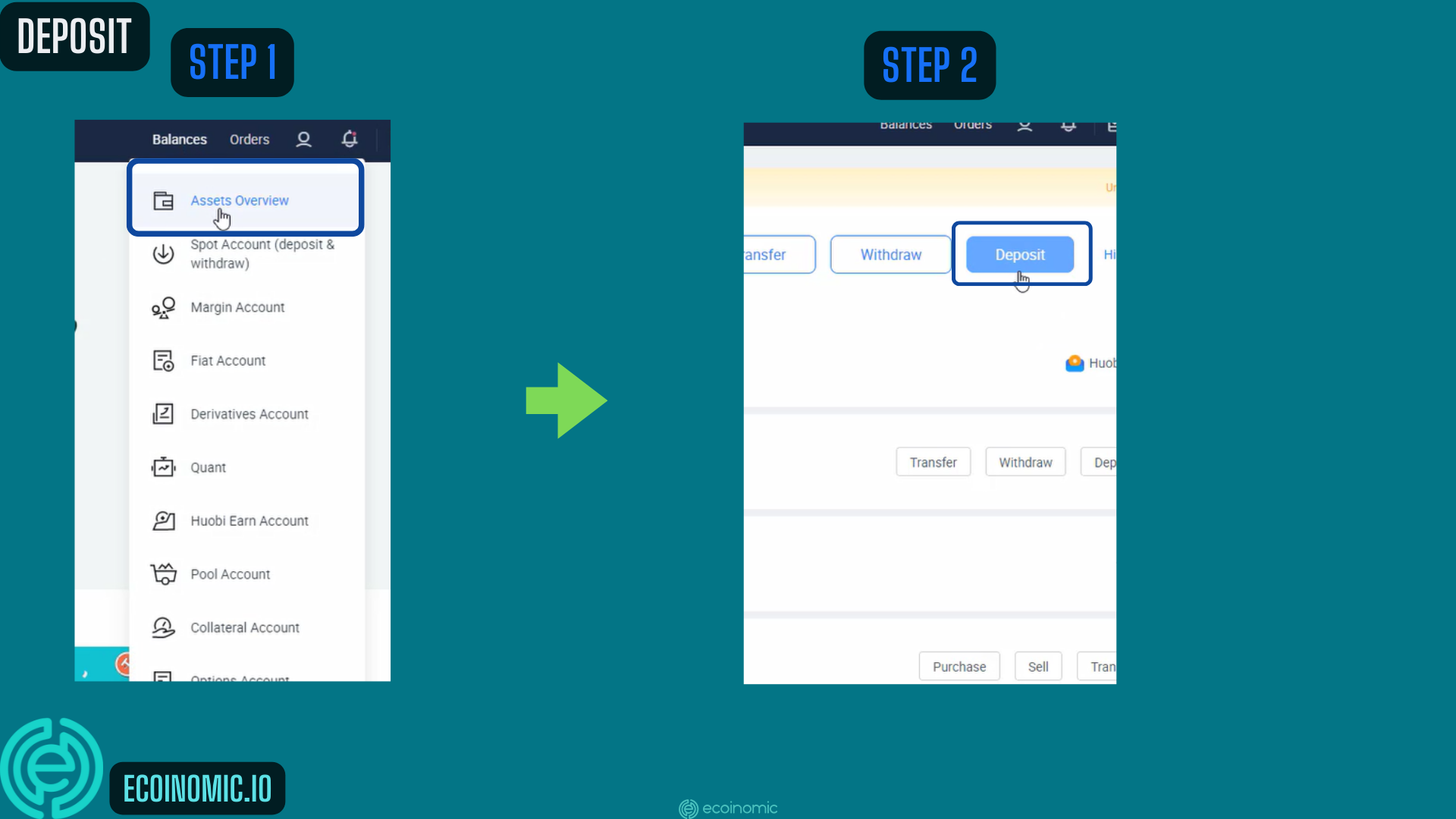 Step 3: Choose the token. Choose the chain that is compatible with your asset, then copy the Wallet ID.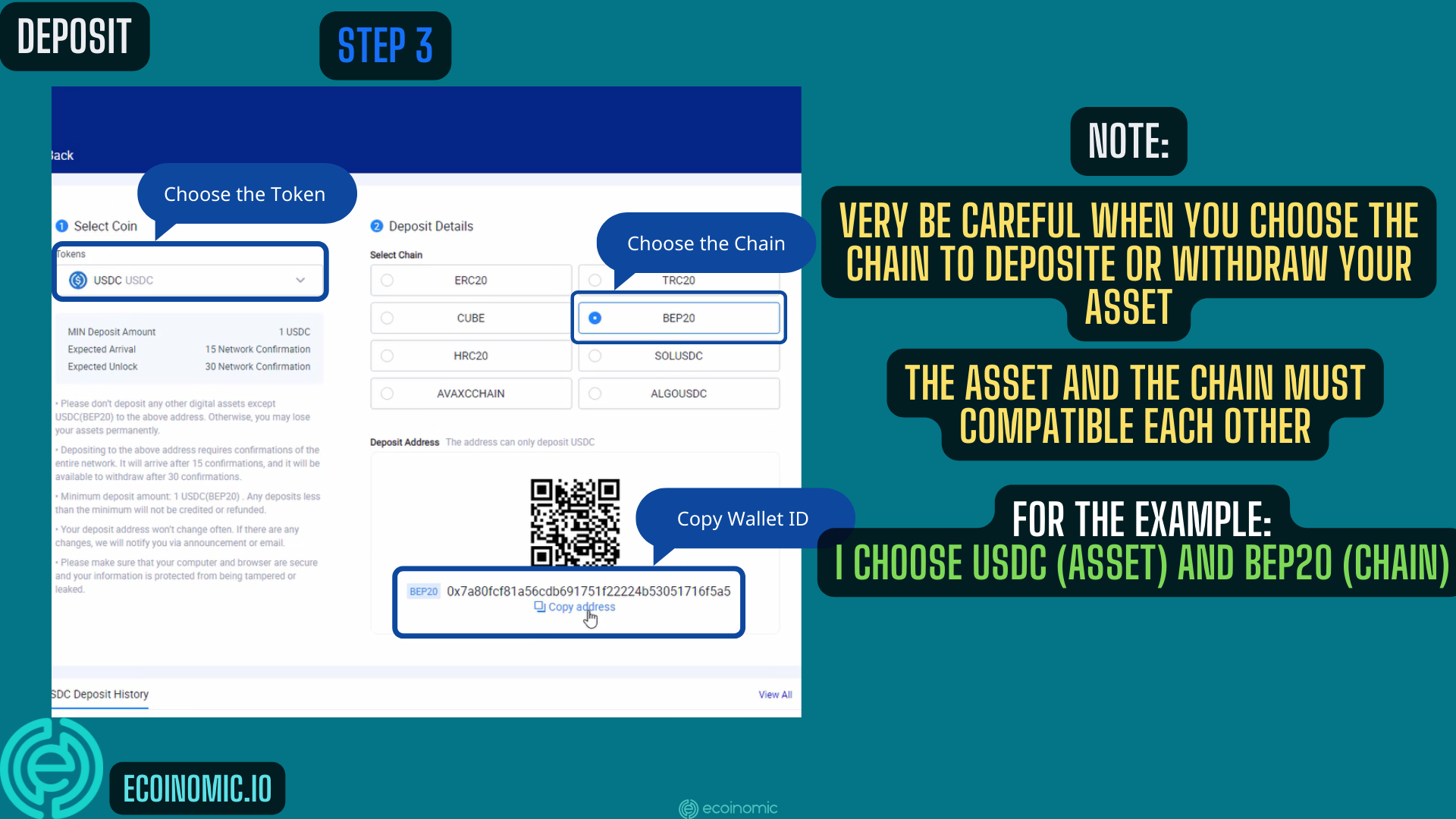 Step 4: Go to your Metamask Wallet. Choose the coin that you want to send and click Send.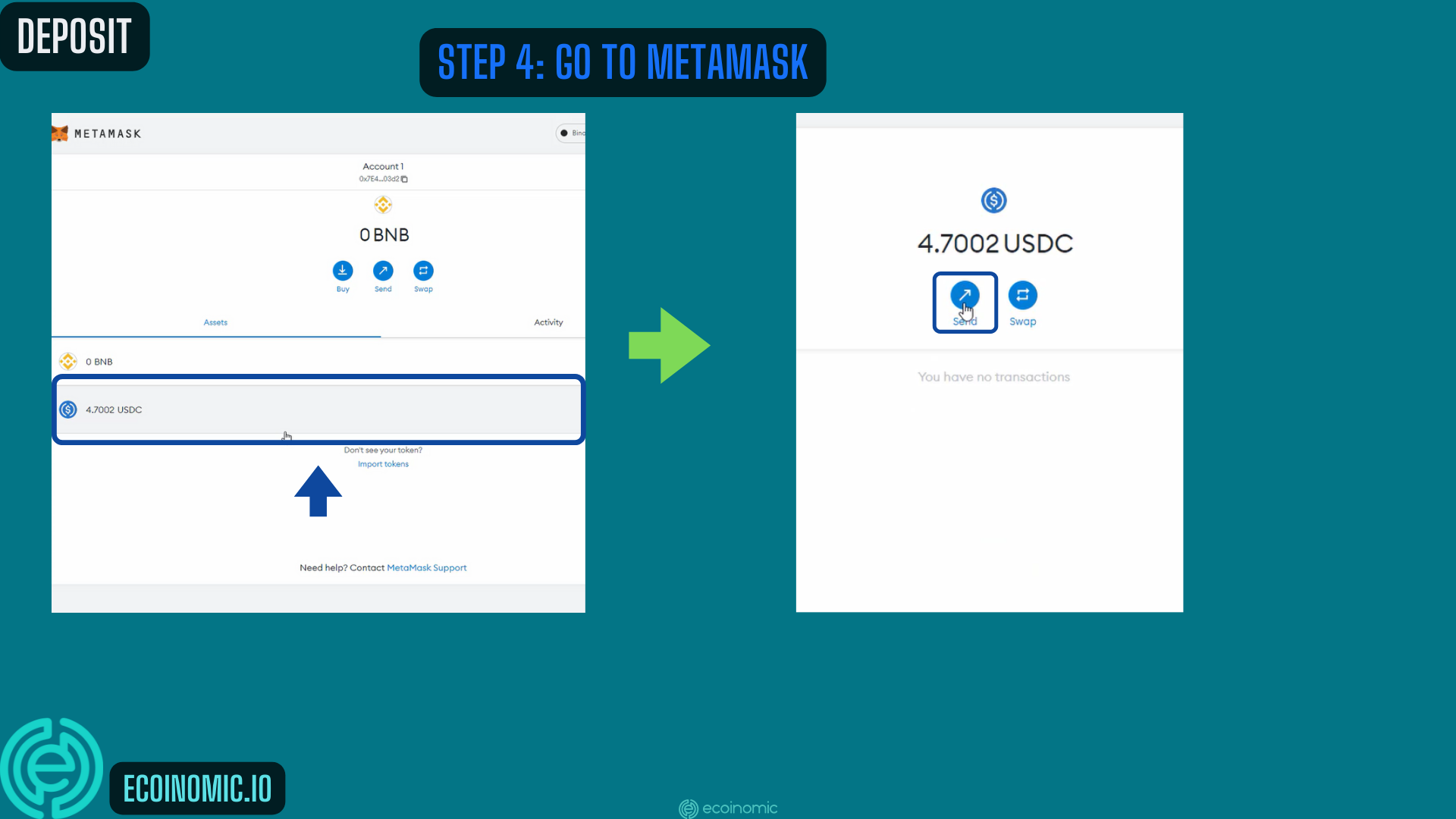 Step 5: Paste the Wallet ID you have copied and enter the number of tokens that you desire to deposit. Then click Next. Check the information carefully and click Confirm.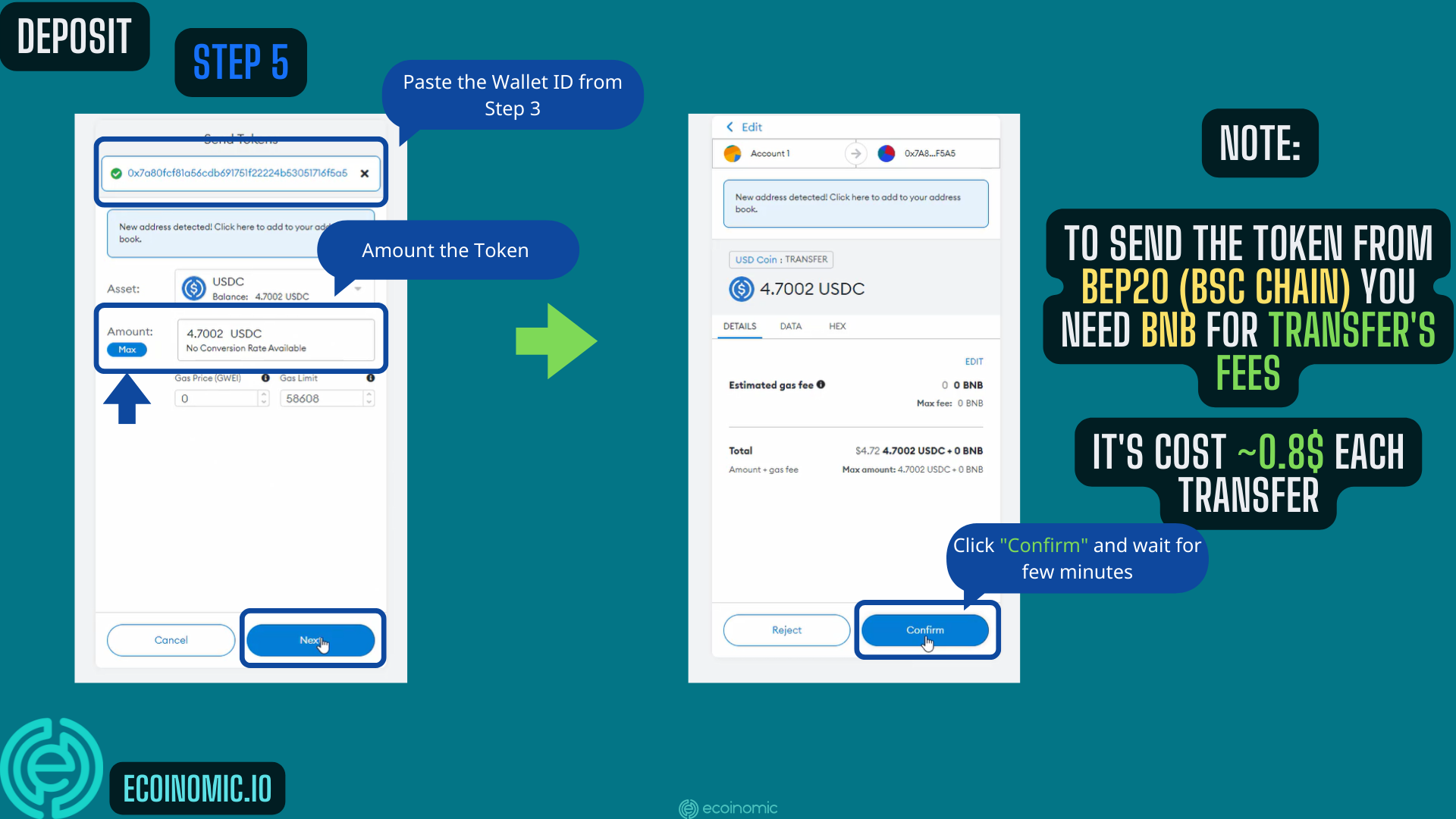 The system will handle your request for a few minutes. On the other hand, you must pay about $0,8 for each transfer.
Withdrawing money on Huobi Global
Withdrawing money on Huobi Global exchange is also uncomplicated, you do that by following these steps:
Step 1: Like depositing, in the section Balances on Huobi's homepage, click Assets Overview.
Step 2: Choose Withdraw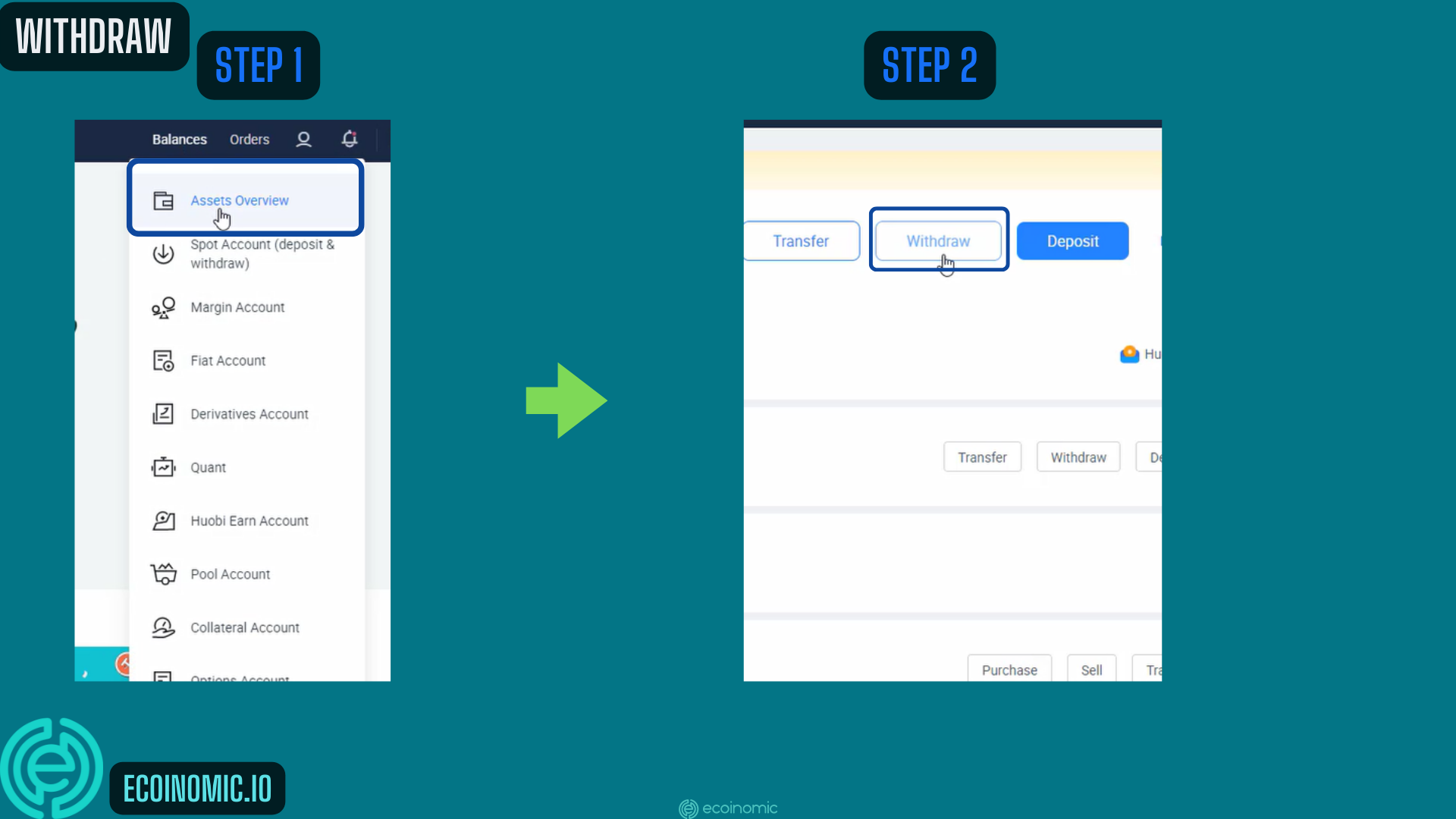 Step 3: Choose the token and paste your Wallet ID. Choose the Chain and enter the amount of token that you want to withdraw. Then click Withdraw.
Step 4: Click Confirm after checking all of the withdrawal details carefully.
Step 5: Enter your GA Code from Google Authenticator, E-mail Verification Code, and click Confirm.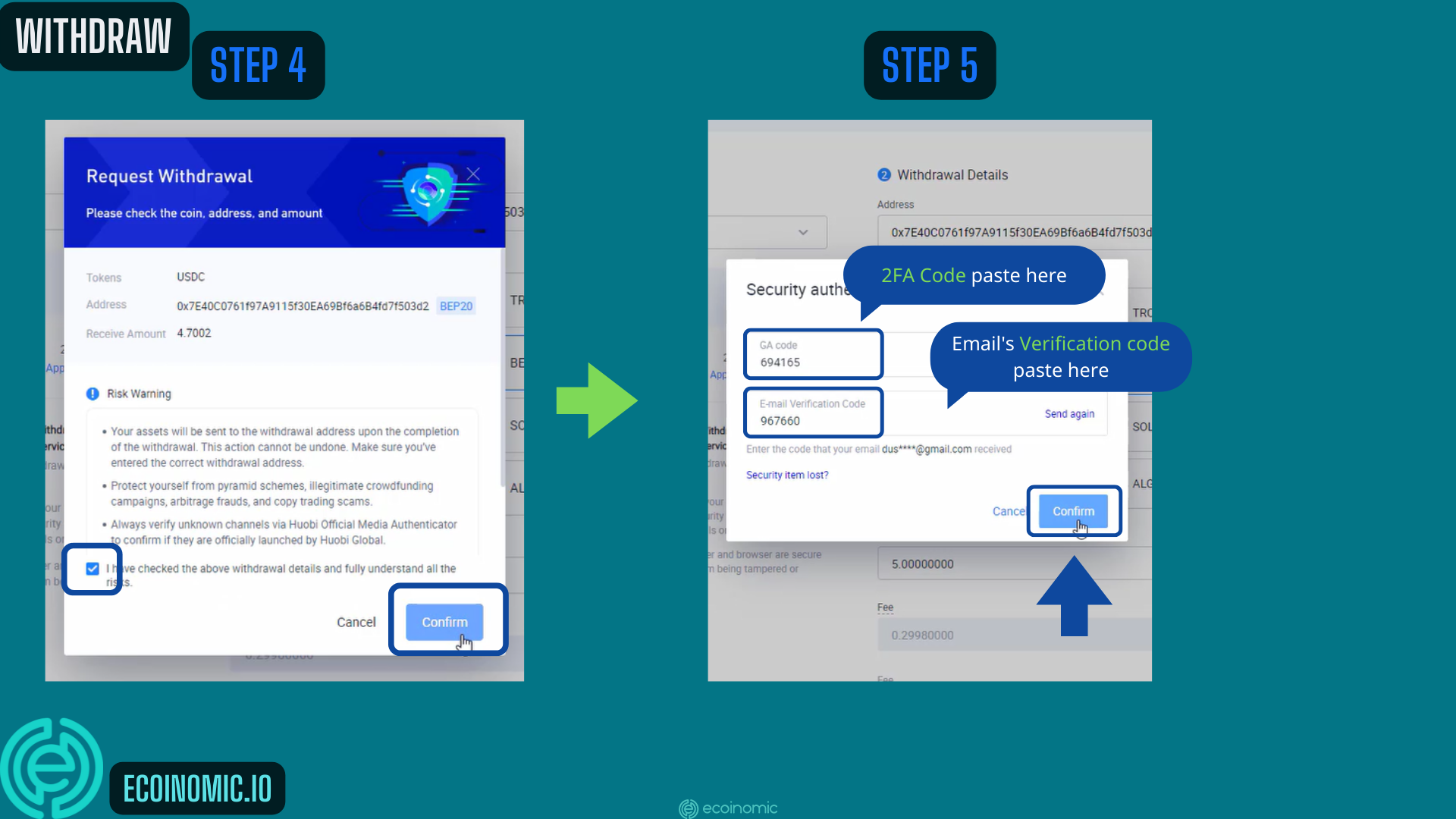 Your request is in processing. It will be done in a few minutes.
Spot trading guide on Huobi exchange
Buy coins on Huobi
Step 1: Choose Spot Trading on the homepage of the Huobi exchange.
Step 2: Search the name of the coin in the search bar and choose the pair of coins that you want to buy.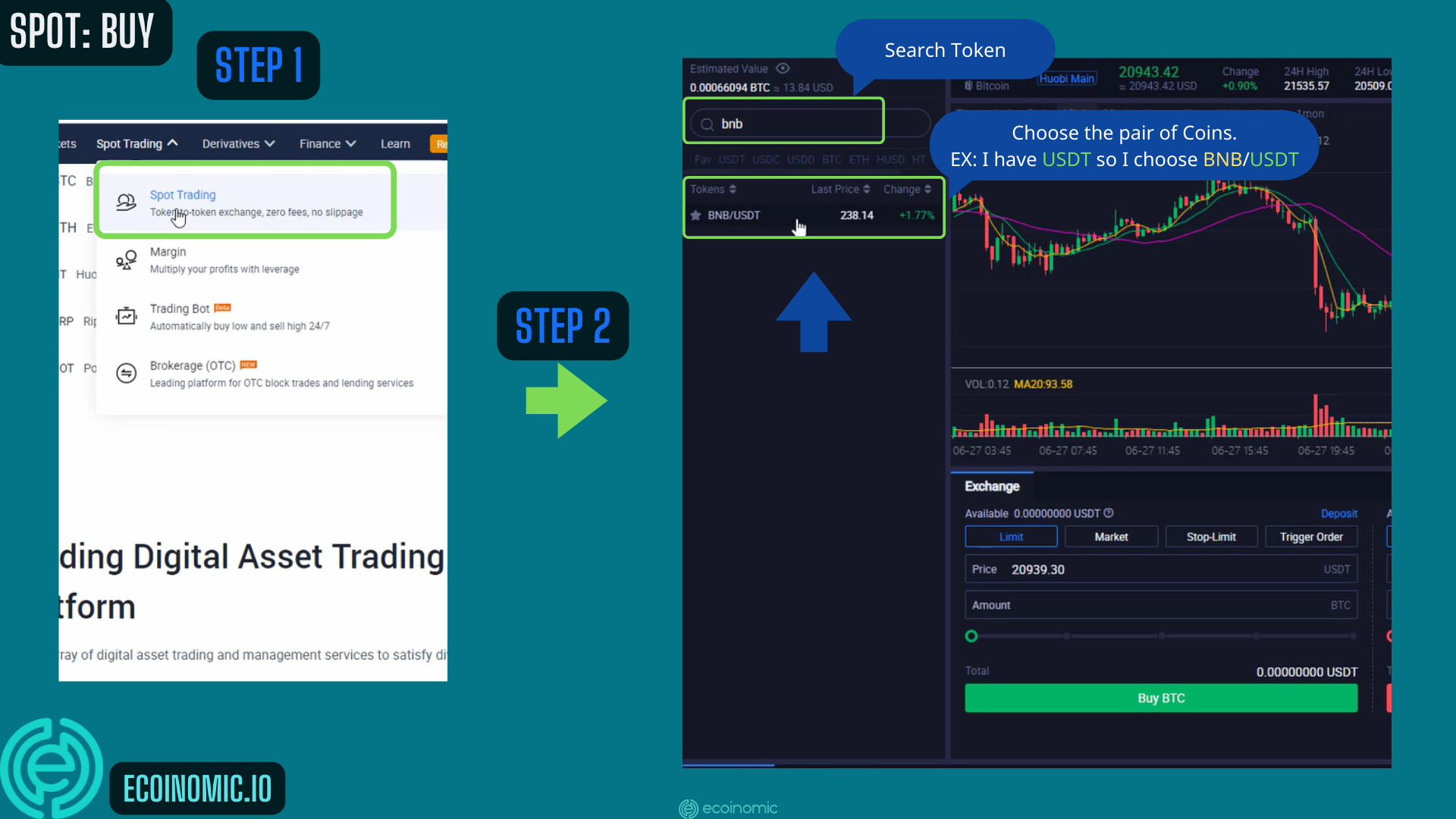 Step 3: Before buying, you must check the price of the coin carefully and enter the amount of coin you want in Amount or adjust the bar below in Buy BNB section. Then press Buy BNB.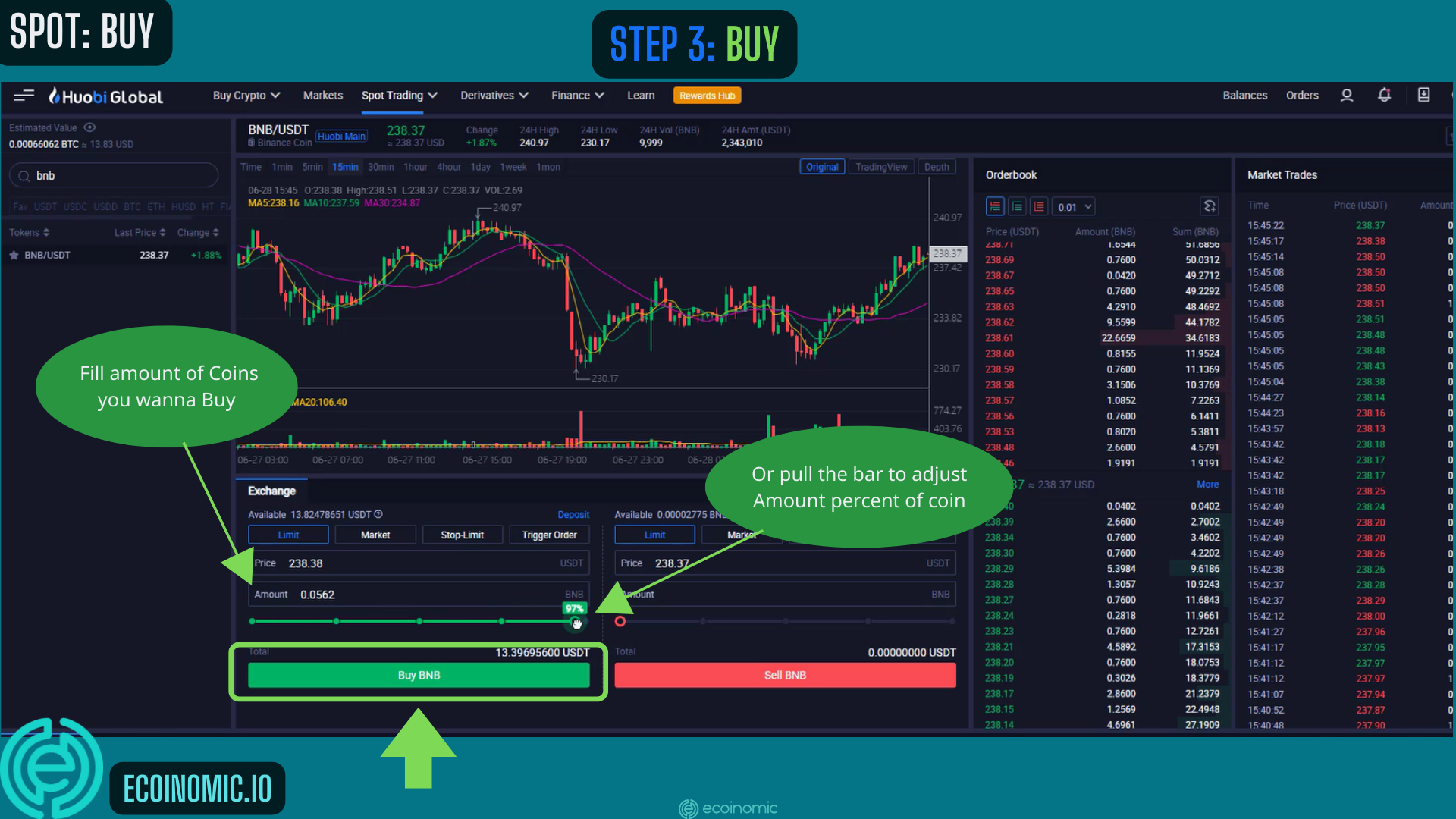 Sell coins on Huobi
The operation of selling coins is similar to buying. Instead of choosing the section Buy BNB, you choose Sell BNB. You have also to check the price of the coin carefully and enter the amount of coin you want in Amount or adjust the bar below. Then click Sell BNB.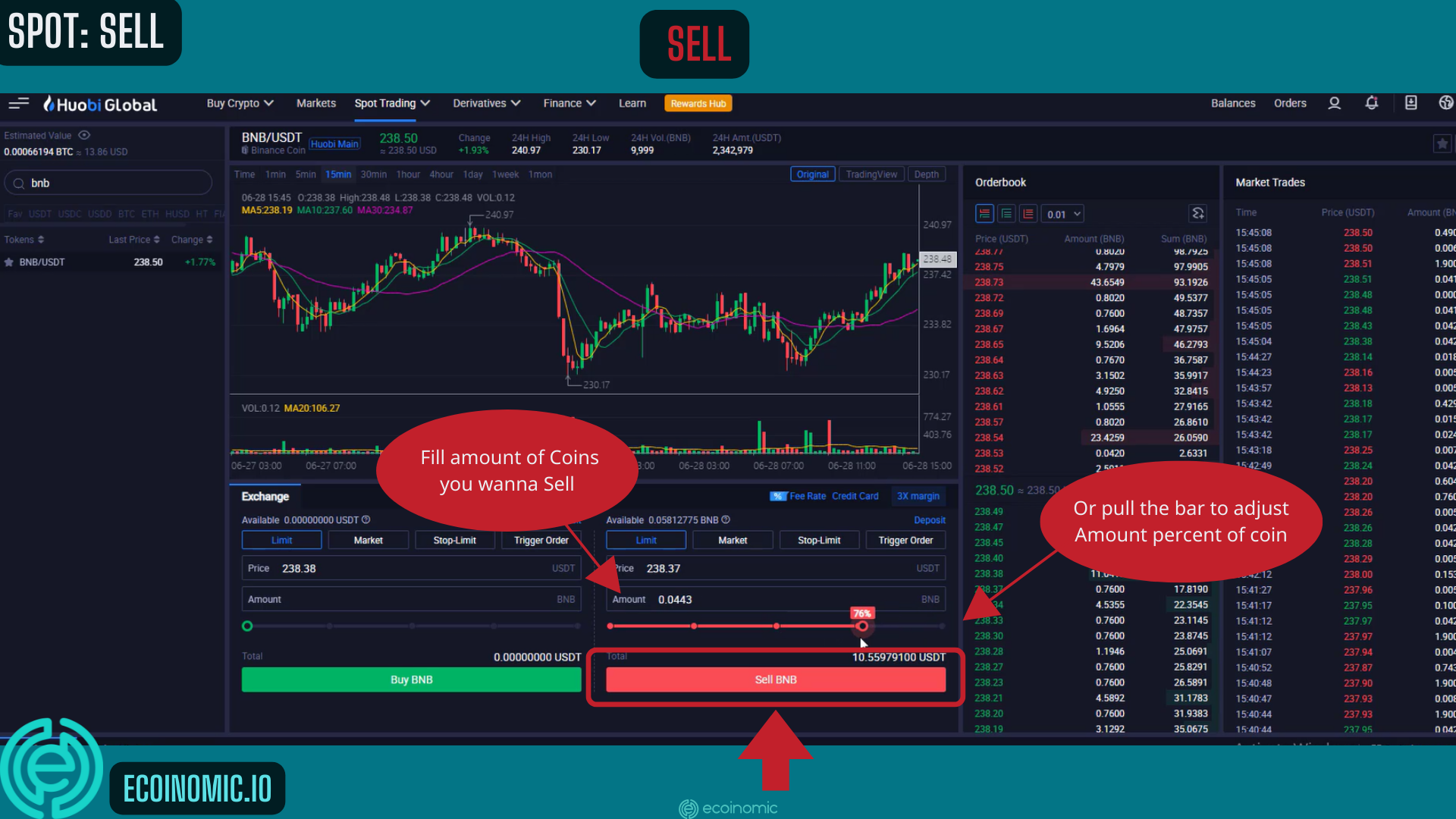 Frequently asked questions about Huobi flooring

Is Huobi a scam? Should I trade on Huobi?
Up to now, Huobi has not had any scams. Compared to many other exchanges, Huobi has an outstanding level of security that makes many traders and investors trust trading. Huobi states that:
Compared to many other exchanges, Huobi has a superior level of security. Huobi states that:
The exchange's risk control measures are developed by "composite man" like Goldman Sachs (the Bank dubbed the No. 1 Trader on Wall Street).
98% of funds are kept in multi-signature cold wallets.
Huobi has a decentralized trading structure and anti-DDOS attack system.
The exchange has a User Protection Fund, 20% of the exchange's revenue will be saved to this fund.
The exchange also has a Huobi Security Reserve with a total reserve of 20,000 BTC launched in 2018. This amount is set to be ready to deal with security accidents and to compensate for losses incurred from security incidents.
Has Huobi been hacked before?
In the past, there was information that the Huobi exchange was attacked by hackers and took away 12,000 BTC, but this information has not been verified. However, Huobi has an insurance fund in these cases, so the trader's money will be insured.
Is Huobi exchange prone to maintenance error?
Compared to other cryptocurrency exchanges, Huobi Global has less system maintenance. Before performing maintenance, the exchange will notify users via website, email, and mobile app. You will receive a notification when the exchange has completed the maintenance. Moreover, users will receive maintenance status updates, please visit the Telegram group or contact Huobi customer support team (support@huobigroup.com).
Does Huobi exchange support Vietnam?
In Vietnam, the cryptocurrency business is at a level that is neither banned nor legalized, so now you can safely trade and use Huobi.
What is Huobi coin?
Huobi Token (HT) is the official token of the Huobi exchange. It was built according to the ERC-20 standard and works on the Ethereum blockchain. HT was released on January 24, 2018, through ICO fundraising. On the official website, Huobi introduced:
"Huobi Group has developed HT based on a token system that is issued and managed via blockchain and can be used within Huobi as well as many contexts of the Huobi ecosystem. HT holders will enjoy the respective benefits of Huobi's entire ecosystem and receive ecosystem token incentives, as well as increased value due to the continuous redemption and destruction process."
Is it necessary for KYC to withdraw money when Huobi sign up?
You can still withdraw without KYC but will be limited to the number of coins/tokens when withdrawing.
What is the withdrawal and deposit limit when Huobi sign up?
Deposit: You can deposit as much as you want and there is absolutely no deposit fee.
Withdraw: When withdrawing, there may be a fee depending on the coin and the time of the market.
The maximum withdrawal limit without KYC of some typical coins is as:
BTC: 0.06 BTC
ETH: 2.5 ETH
USDT: 1500 USDT billion
LTC: 5 LTC
BCH: 0.6 BCH
To increase the transaction limit, you need to complete the identity verification and two-factor authentication procedures.
What fees are there on Huobi?
Huobi divides trading fees into two categories, one for ordinary traders and one for professional traders. 
Fees for common traders
Huobi exchange divides transaction fees into two types, one for general traders and one for professional traders.
Fees for general traders:
Applies to users who own less than 1,000 BTC
Huobi Global exchange will offer 6 different levels. The fee is 0.2% per transaction if the user pays in currencies other than the Huobi token (HT) (the original token of the Huobi Global exchange).
If users use HT to pay, the fee will gradually decrease based on the number of HT tokens they hold. Accordingly, the fee will range from 0.07%-0.18%.
Fees for professional traders.
Applicable to those who own more than 1,000 BTC
Huobi Global offers 9 different levels. Each level will need to combine the amount of BTC and the number of HT tokens that the user account holds.
Accordingly, the Maker fee ranges from 0.0097% – 0.0362%. The fee for takers ranges from 0.0193% – 0.0462%.
Conclusion
Huobi Global is an exchange representing China in the cryptocurrency trading market. It's also on the list of the top 3 biggest cryptocurrency exchanges in the world. Therefore, if you are looking for a diversified, reliable, and high-security exchange, Huobi will be a perfect option and worthy of consideration.
Hopefully, through this article, Ecoinomic.io have provided all the accurate and useful information on how to use and register Huobi for newbies.