What is CoinEx? Is it safe and reputable? In this writing, Ecoinomic.io will guide the most complete guide, on how to coinex sign up for newbies.
What is CoinEx?
CoinEx (COINEX TECHNOLOGY LIMITED) is a reputable, international provider of cryptocurrency trading services and a sub-brand of ViaBTC (Viabtc Technology Limited).
CoinEx exchange is a multi-functional platform that includes all the functions of the cryptocurrency market. CoinEx focuses on building the brand of a highly secure, stable, and efficient digital currency exchange for global users.
The platform provides low fees and high-security services. Moreover, it includes many advanced trading charts, which are built for both beginners and advanced users.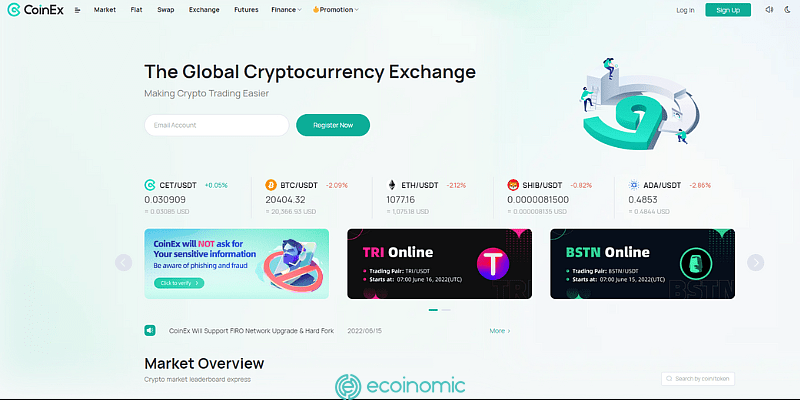 CoinEx exchange scale
By 2022, after 5 years of development, CoinEx has reached 3 million users in more than 200 countries and regions. Now the exchange supports more than 16 languages. Customer service is available in more than 2,000 communities. The cryptocurrency exchange also recorded 46,367,548 USD in 24-hour trading volume and reached 2,932,605.0 hits.
On CoinEx, you can currently trade a total of 584 with 898 trading pairs in 5 markets. Currently, CoinEx also supports a variety of languages such as Chinese, English, Russian, Japanese, Korean, and Vietnamese for Vietnamese users.

The history of CoinEx Exchange
In December 2017, CoinEx was established in the UK and headquartered in Hong Kong. It becomes the first exchange capable of supporting BCH ONLY trading pairs.
On January 1, 2018, CoinEx launched its native token CET. By July 2018, CoinEx even surpassed Binance with a daily transaction volume of up to 1.5 billion USD (according to CMC statistics).
In February 2019, CoinEx launched Accelerator, a service created to promote and support Blockchain projects. By May 2019, ViaWallet was launched. On September 9, CoinEx became one of the most prosperous product management platforms worldwide.
In November 2019, CoinEx Chain became the world's first high-performance dedicated blockchain.
May 2020: Officially established ViaBTC Group with the entire ecosystem including mining pool, wallet, exchange, and CoinEx Chain.
On March 3, 2021, CoinEx carried out a global expansion strategy, put the CoinEx Smart Chain testnet into operation in May, and officially launched the CoinEx smart chain in June with OneSwap as the first category set on CSC
Who is CoinEx's founding team?
Haipo Yang is the founder of CoinEx. He is known for being one of the earliest Bitcoin investors. He also led the research and development team at ZeusMiner, a China Cryptocurrency Mining Company, a top 3 miner in the world.
Although CoinEx doesn't list founders on its website, the core team of CoinEx is mostly from well-known internet and financial companies around the world. They are mainly the earliest cryptocurrency experts with experience in the R & D field, operations, and services in the crypto industry.
CoinEx Exchange Ecosystem
CoinEx is considered one of the exchanges with the most diverse ecosystem in the industry, including CoinEx Exchange, CoinEx Chain, ViaBTC Pool, OneSwap, and ViaWallet
CoinEx Exchange: Professional currency exchange, that supports perpetual contracts, including spot, margin, and other derivatives.
ViaBTC Pool: One of the world's largest cryptocurrency mines with more than 3 million global users.
Smart Chain CoinEx: Upgraded from CoinEx Chain. This is a chain of smart contracts for decentralized transactions with high execution performance, low transaction costs, and perfect compatibility with the Ethereum ecosystem.
CoinEx OneSwap: A decentralized trading platform based on smart contracts, listing cryptocurrencies without permission, supports AMM and order book models.
CoinEx ViaWallet: allows users to store 36 major cryptocurrencies on 6 different chains in a wallet. Moreover, users can stake, and use DApps and CoinEx DEX at ViaWallet. In the near future, the wallet will also integrate crypto-to-crypto and crypto-to-fiat transactions with instant transaction speed with credit card payments.
Exchange Review before Exchange sign up
Advantages of CoinEx
Safety and stability: The stability of thousands of trade orders is guaranteed by the CoinEx exchange's top technical team, thorough security measures, and unique high-speed matching engine.
Professional and always in complete compliance with the law: CoinEx promises to have 100% reserves, and the exchange is legally registered in Estonia.
Always appreciate users' roles: Serve users worldwide with round-the-clock regular exchange services, multilingual assistance, robust community support, and knowledgeable customer services.
The intuitive, easy-to-use, and fully functional interface
High commission bonus program(Up to 40%): When inviting friends to trade on CoinEx, users can get up to 40% of transaction fees for Referral Reward.
Large ecosystem: Besides CEX, CoinEx also has CoinEx Smart Chain which is similar to BSC for DeFi development.
Providing a variety of trading types: spot, margin, OTC, or P2P on CoinEx.
Disadvantages of CoinEx
The CoinEx exchange has a poor Coingecko confidence score and is regarded as having illiquidity and the Fake Volume phenomena. Its 24-hour trading volume is just roughly $130 million. 
Despite having a vast ecosystem, CoinEx has had relatively modest growth because of its tiny user base and stiff competition from other significant exchanges.
Instructions for registering a CoinEx account
If you Coinex sign up by phone, you need to download the Coinex app from the Appstore or Ch Play.
When Coinex sign up with a computer (PC/ laptop), click the Register CoinEx button below or do the following steps.

Step 1: Access the CoinEx exchange's homepage by the link https://www.coinex.com/register?refer_code=wg7qf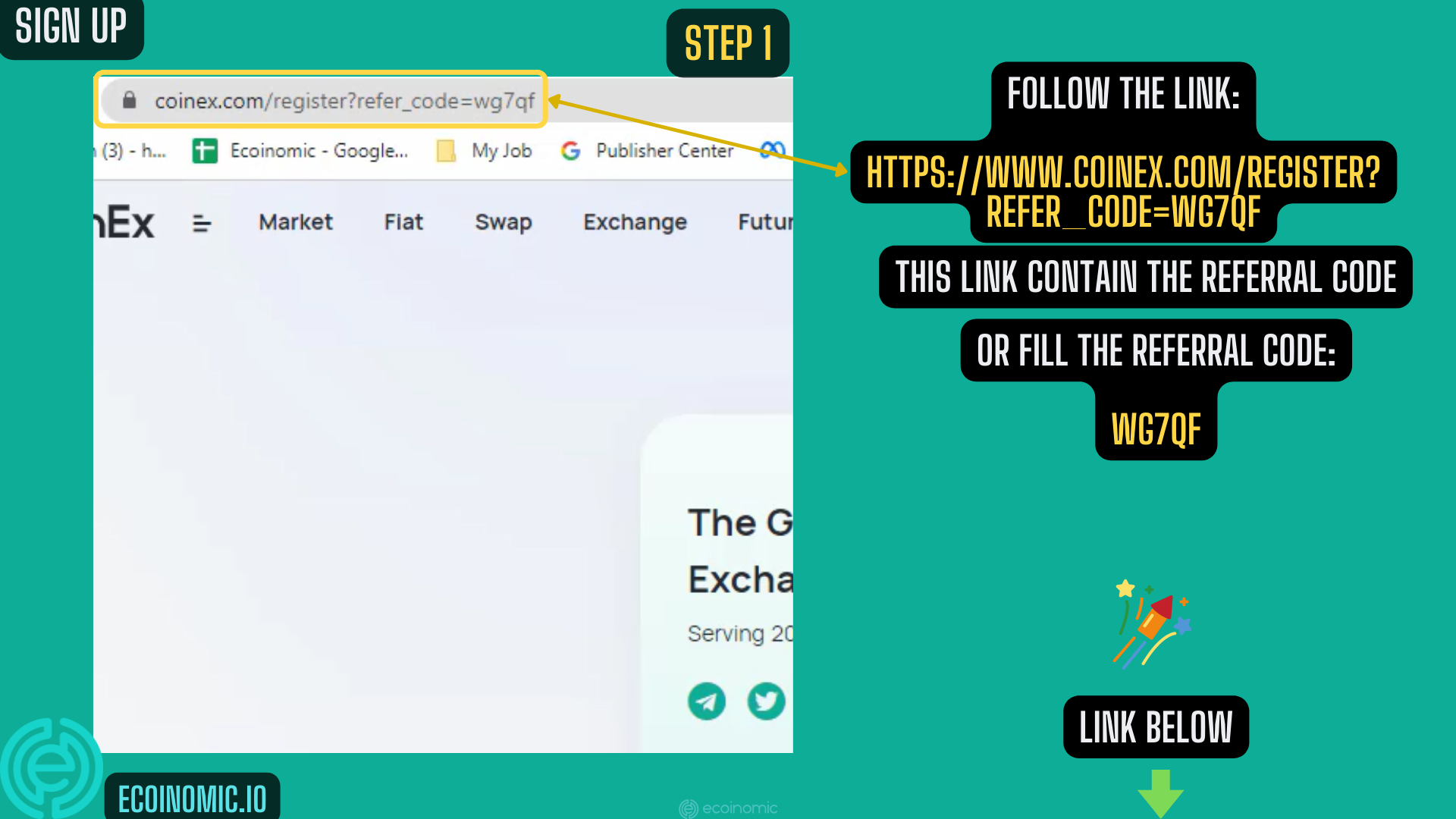 Step 2: Enter your Email and password. Then click Sign Up.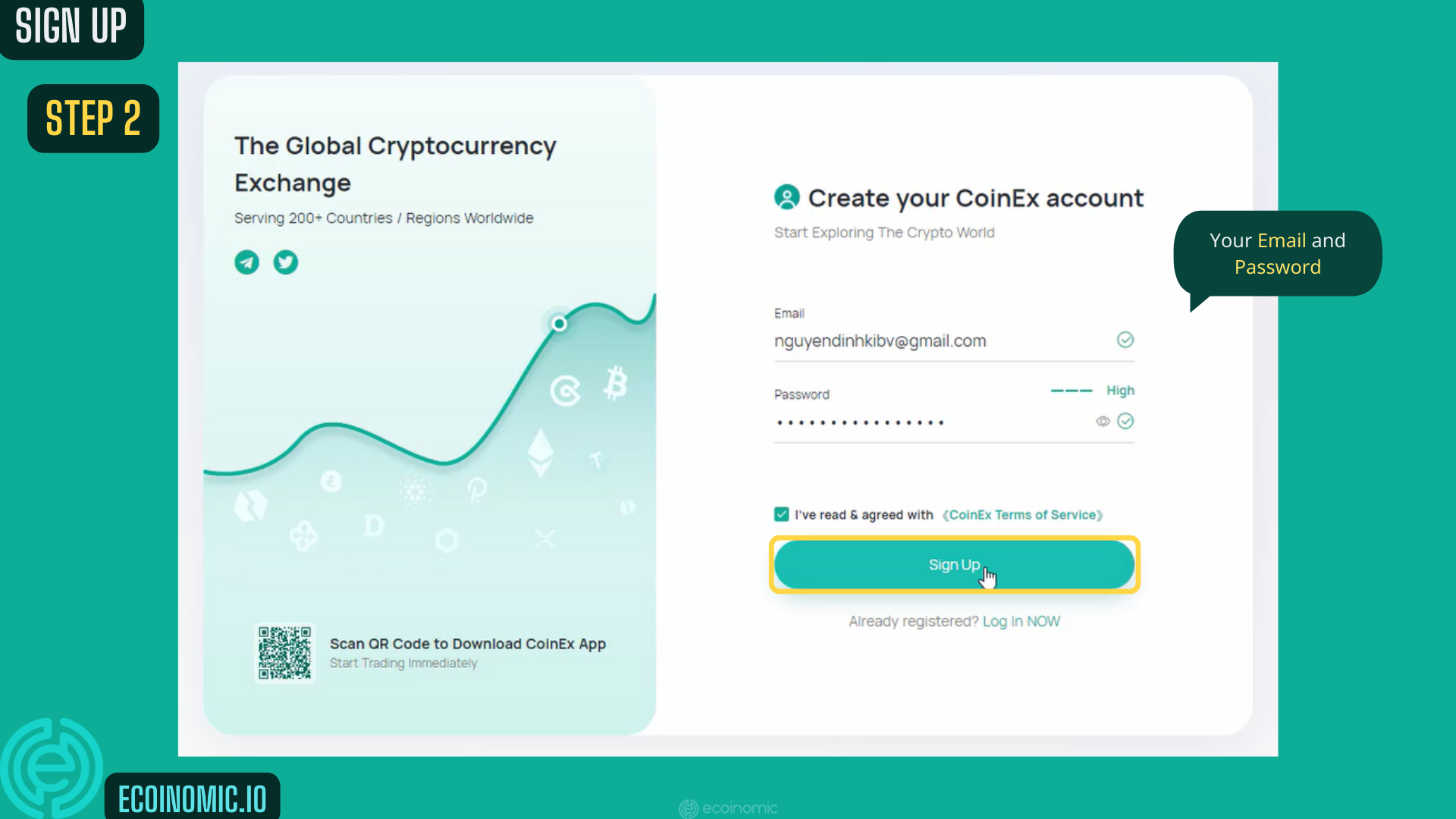 Step 3: Make an authentication request with a Captcha by completing the puzzle.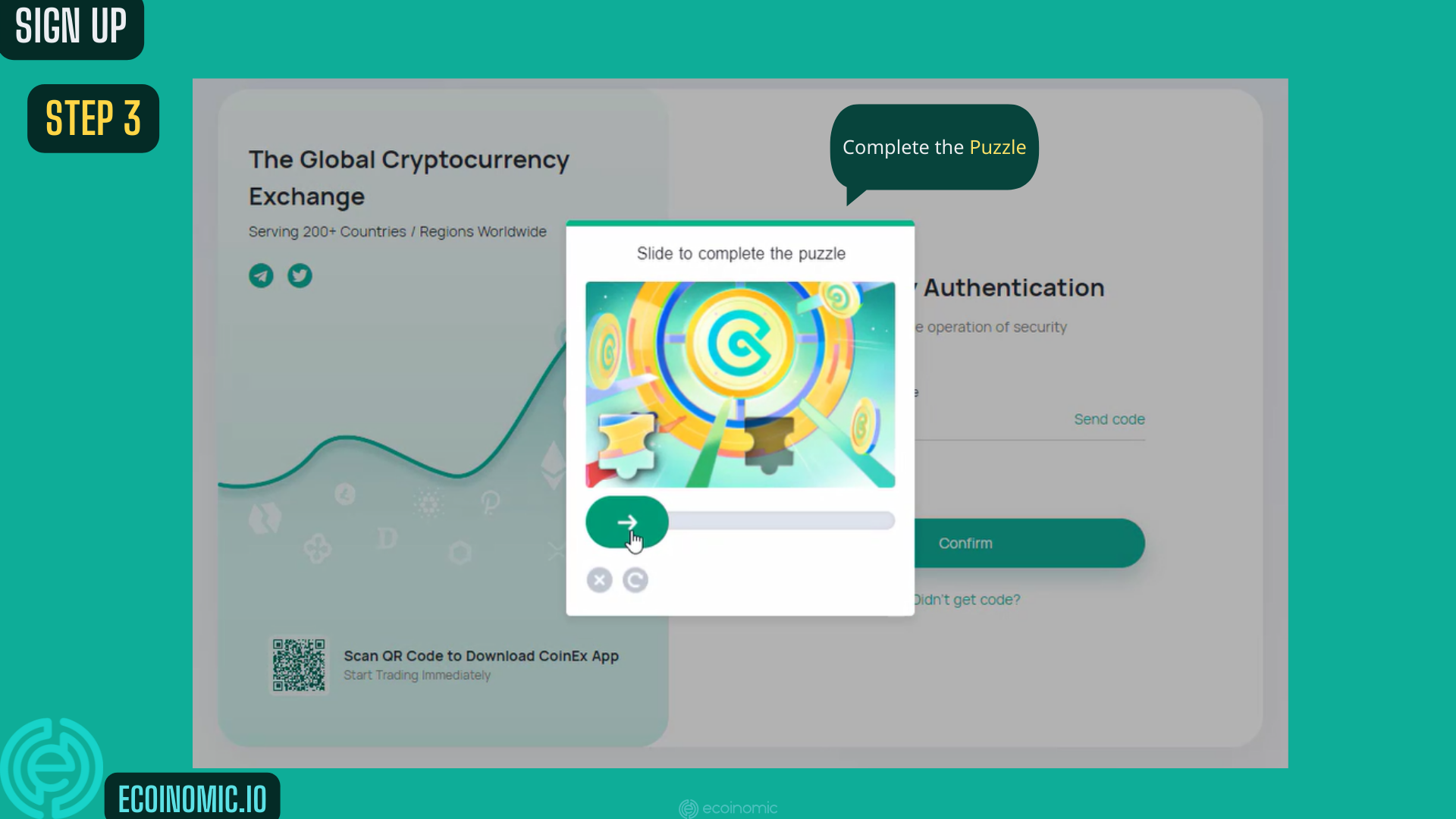 Step 4: Fill in the 6-digit code that you have received in your email and click Confirm.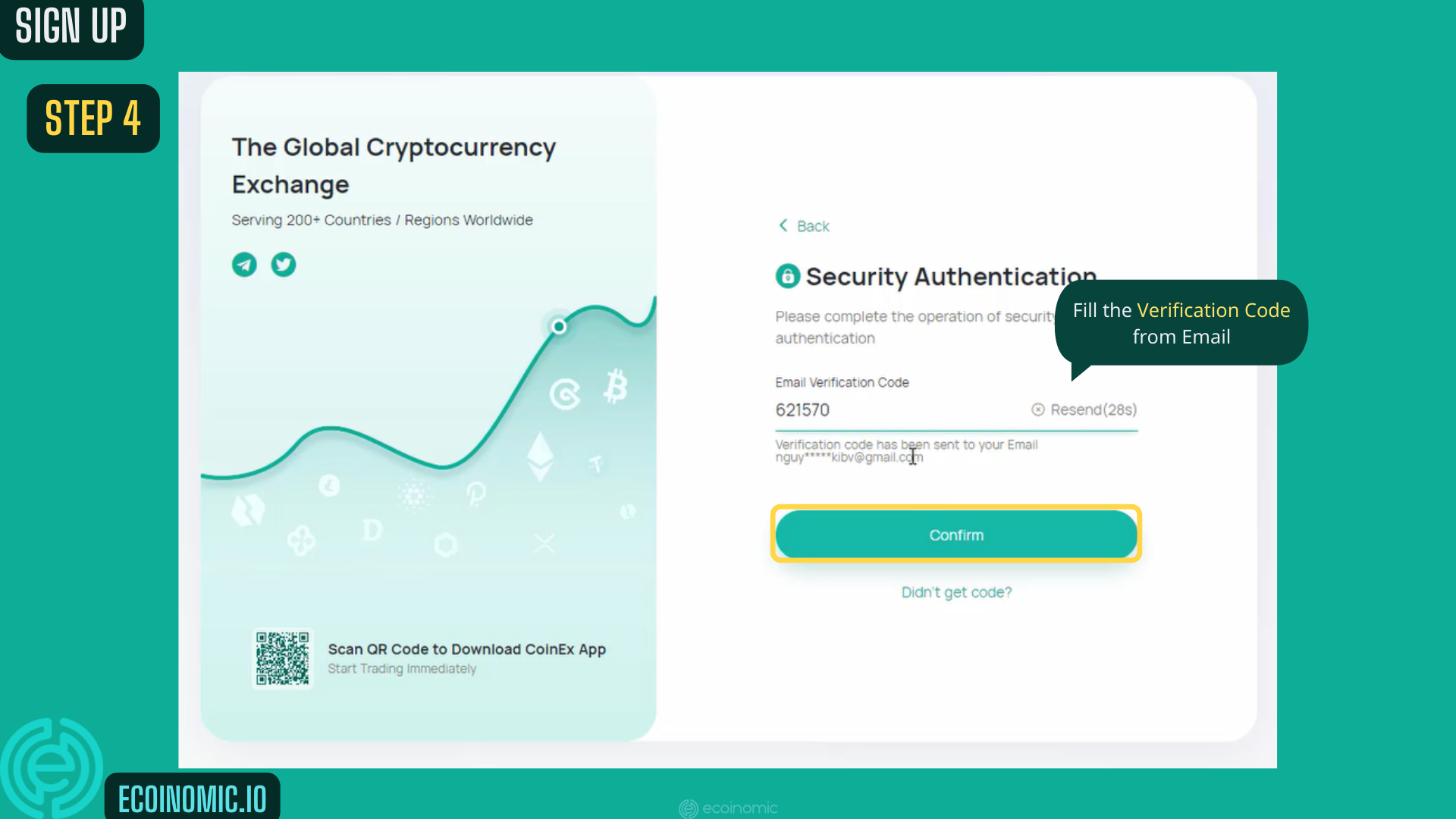 Your registering process is done.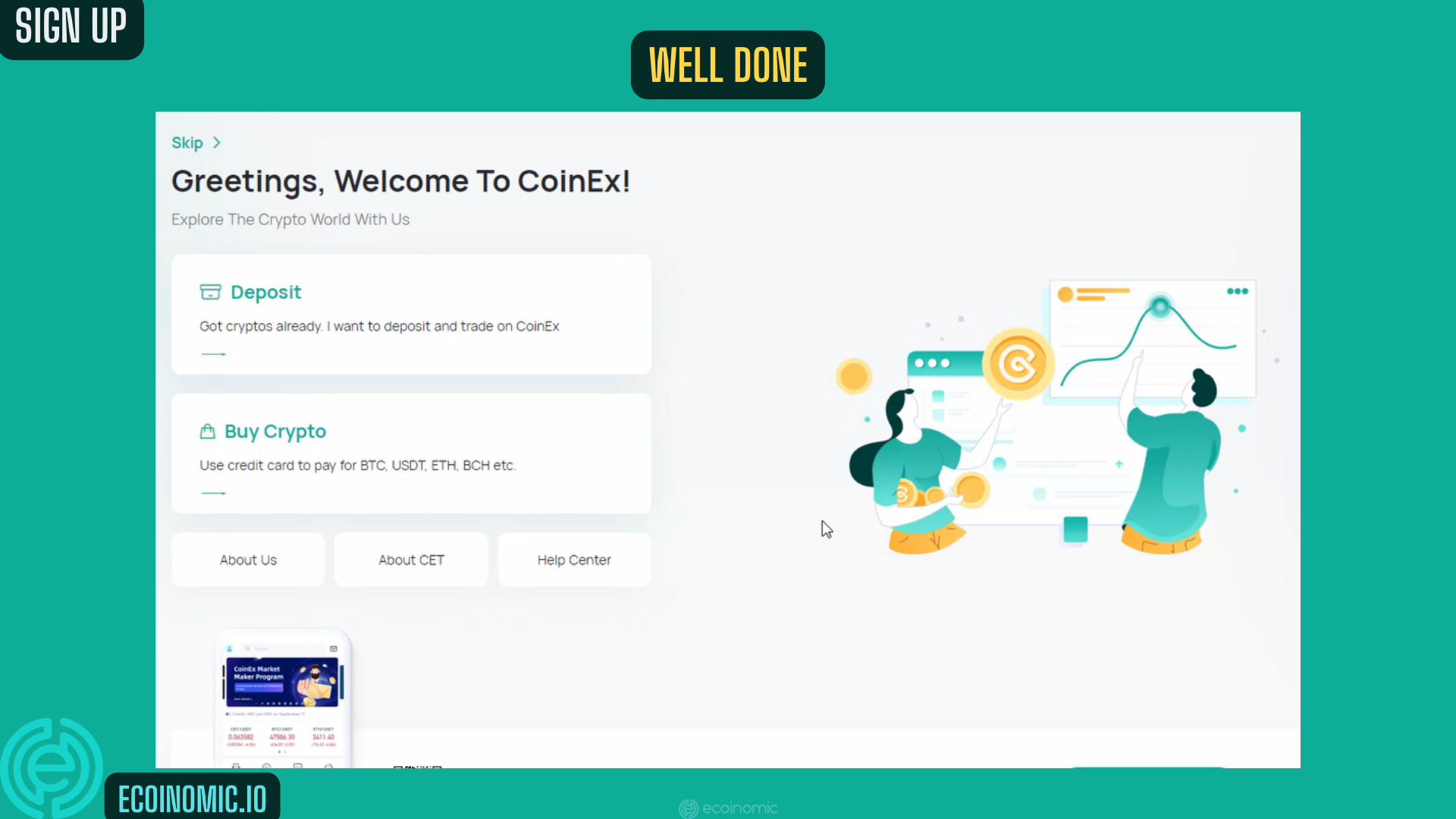 Account security guide when CoinEx sign up
Preparation: 
Commonly used email address.

Photos of the ID card or driving license: a photo of the front, a photo of the back, and a selfie photo with the front.

A smartphone has the Google Authenticator Application.
Identity Verification Guide – KYC after Coinex sign up
KYC (know your customer) is the process of collecting and identifying information related to the customer. The basic information that is usually collected is a portrait photo, ID number, Passport, address, etc. to eliminate unqualified people.
To KYC your account on CoinEx, you do the following:
Step 1: On the homepage of the CoinEx exchange, click Account and choose Account Settings.
Step 2: Choose Bind. In this step, you have to confirm your email and your telephone number. Enter the verification code via your Email and SMS.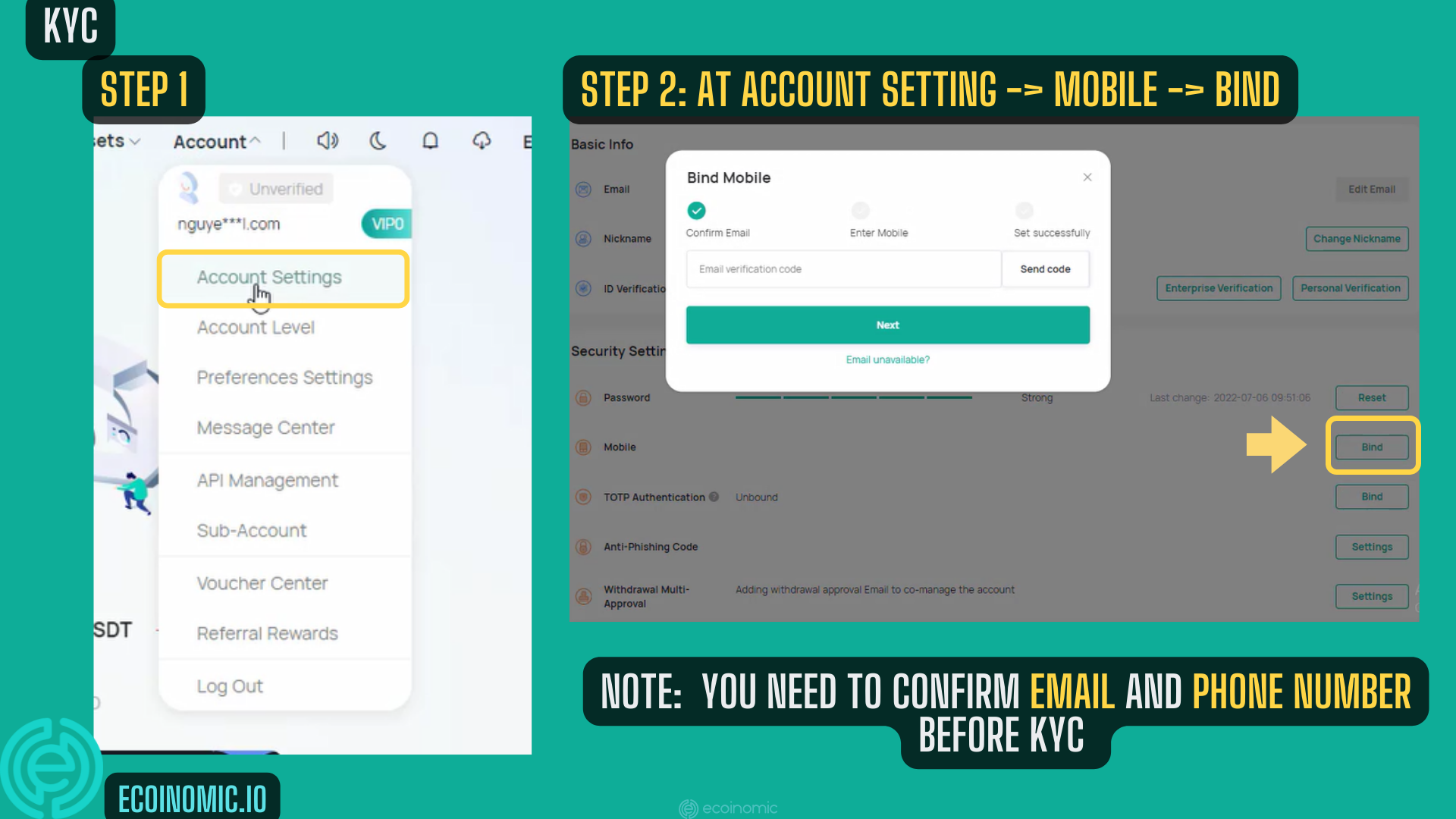 Step 3 + Step 4: Enter the verification code via your Email and SMS.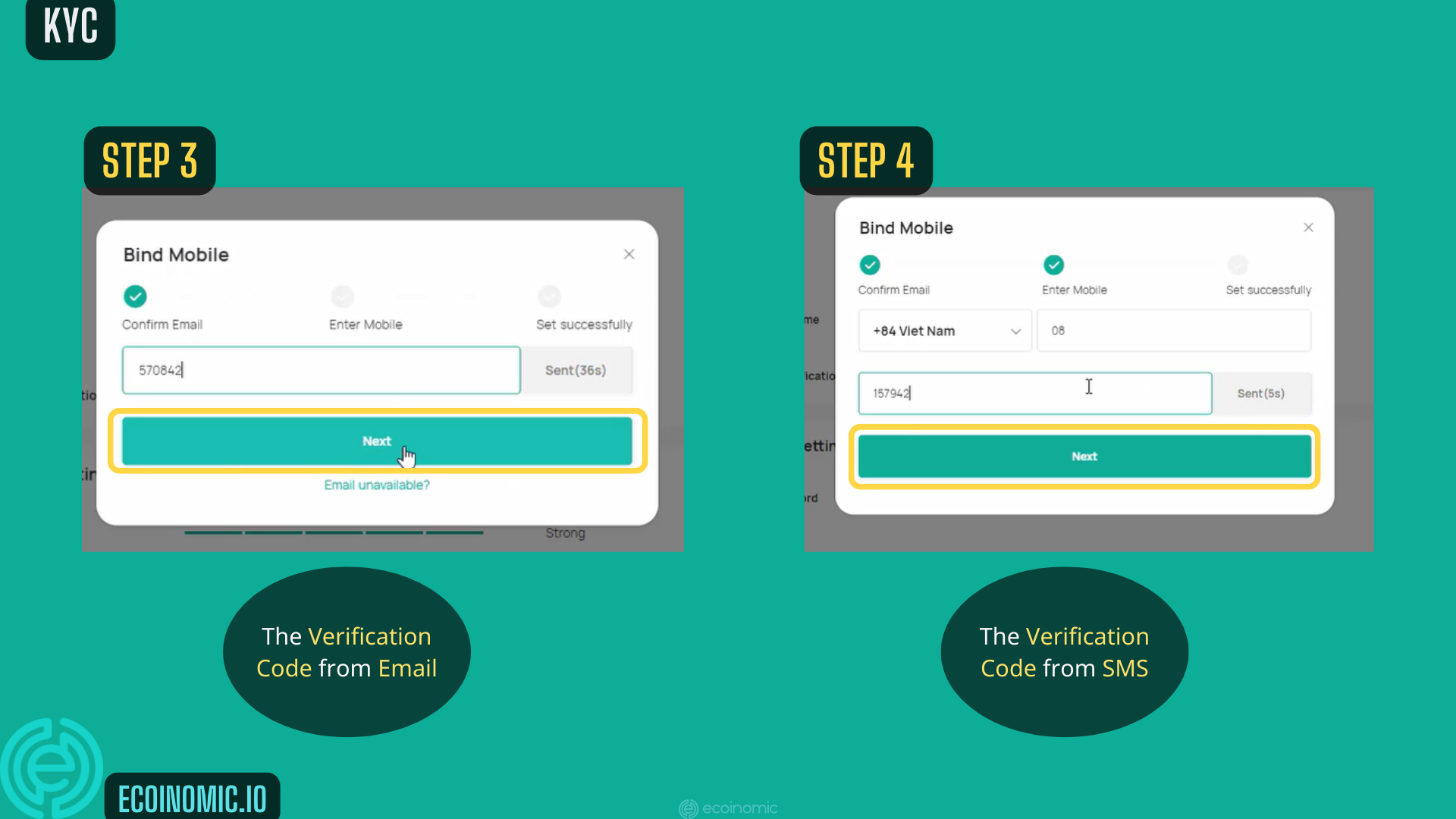 Step 5: Choose Personal Verification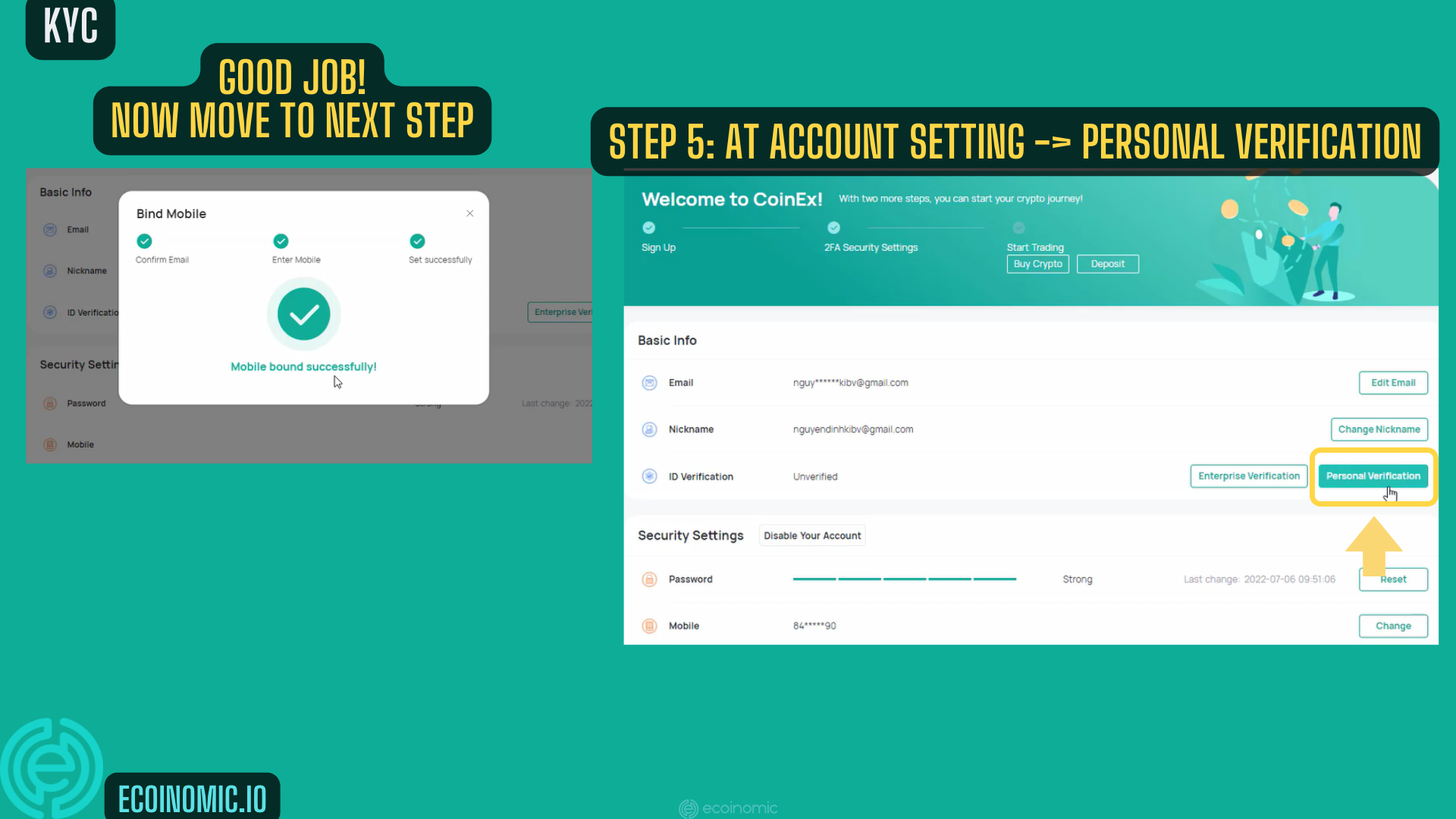 Step 6: Your personal information is going to be completely confidential. Click I'm all set for ID Verification to start.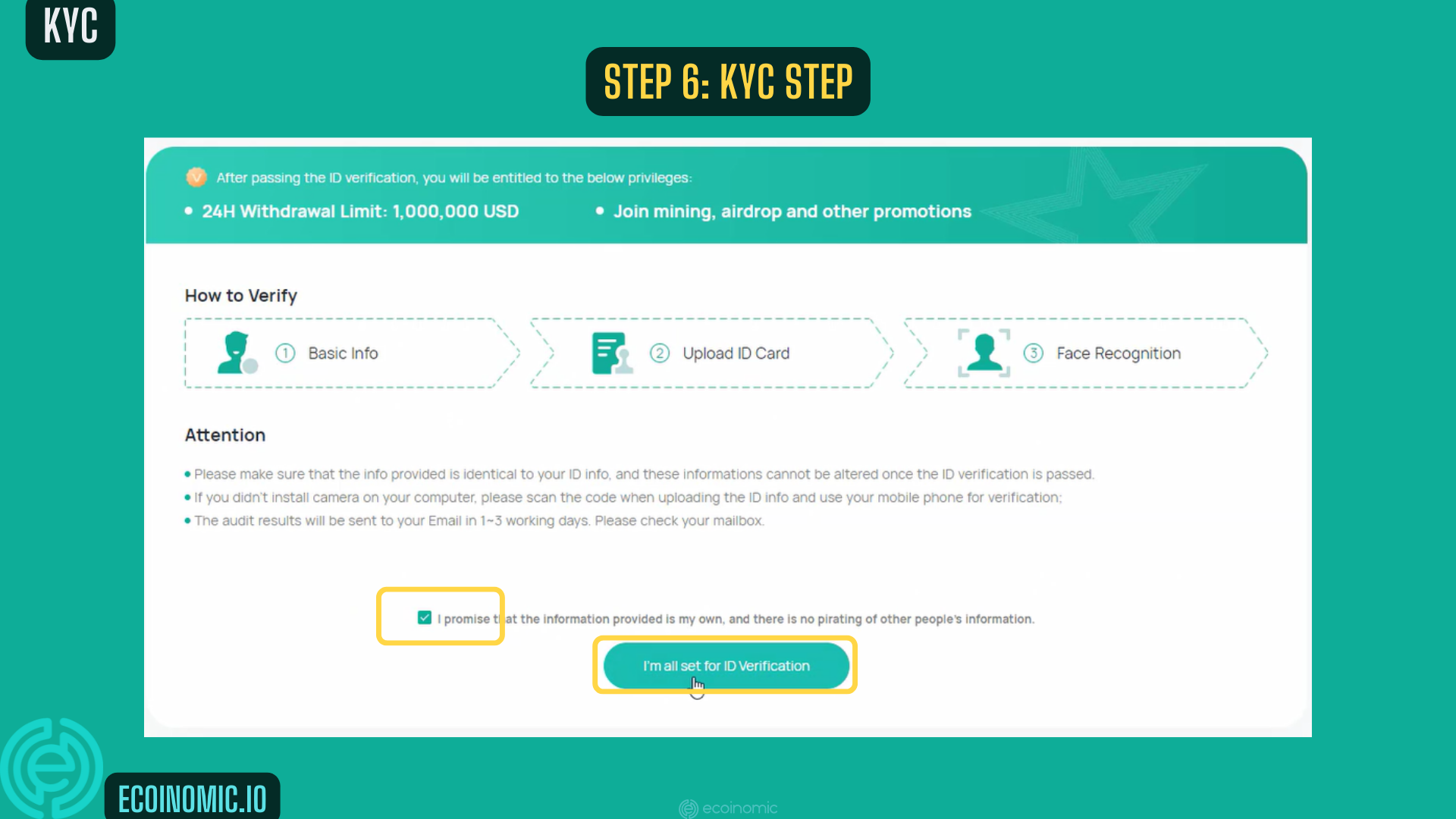 Step 7: Select your Nationality. In this step, you have to choose an ID document for KYC by selecting one of three options (ID card, Passport, or Driver's license). Then enter your information in the sections below and click Next.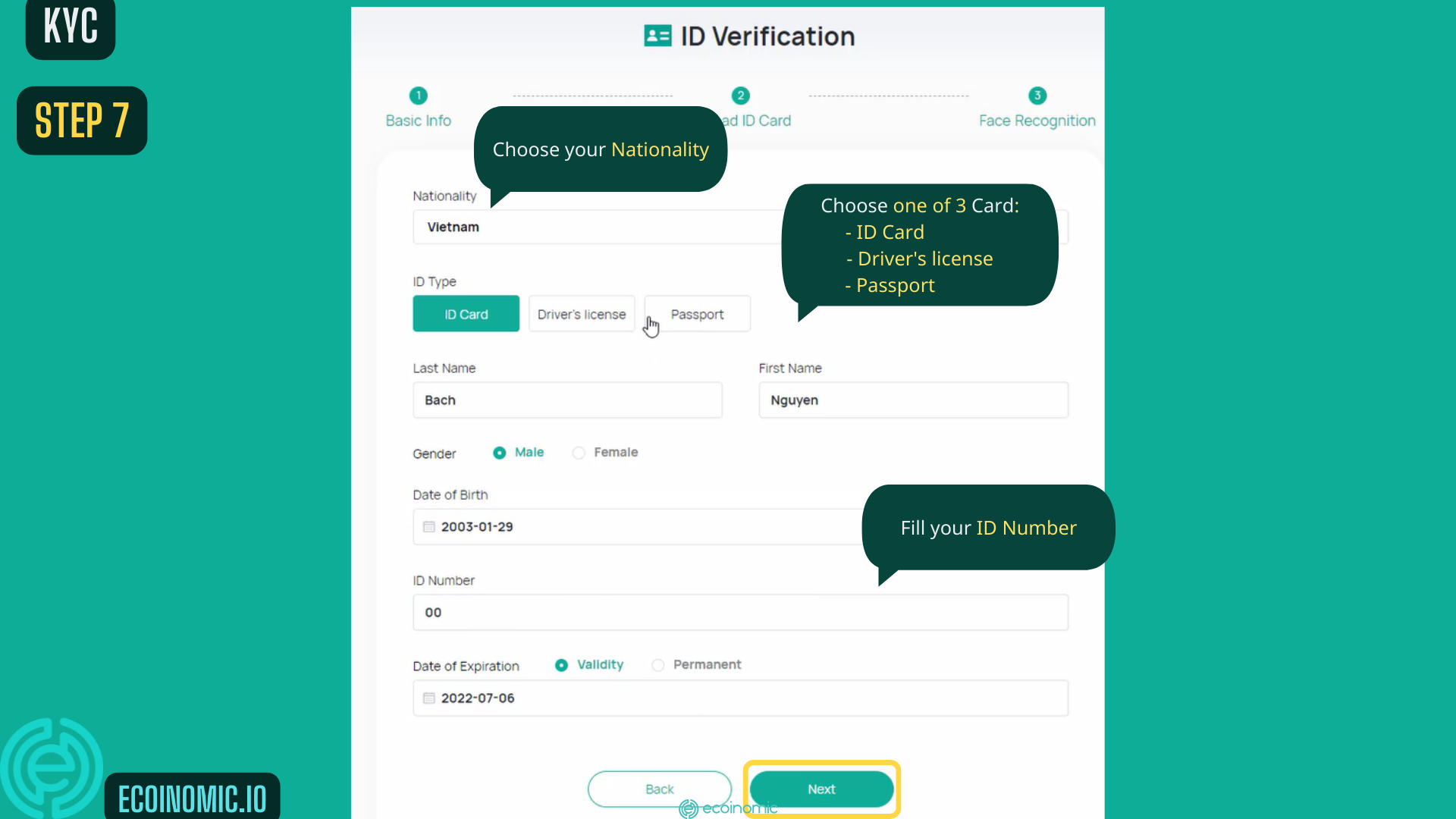 Step 8: Choose one of these methods to upload photos.
Step 9: Take a photo of your ID document on the front side (ex. ID card). The photos must be bright, clear, and uncut then click Confirm.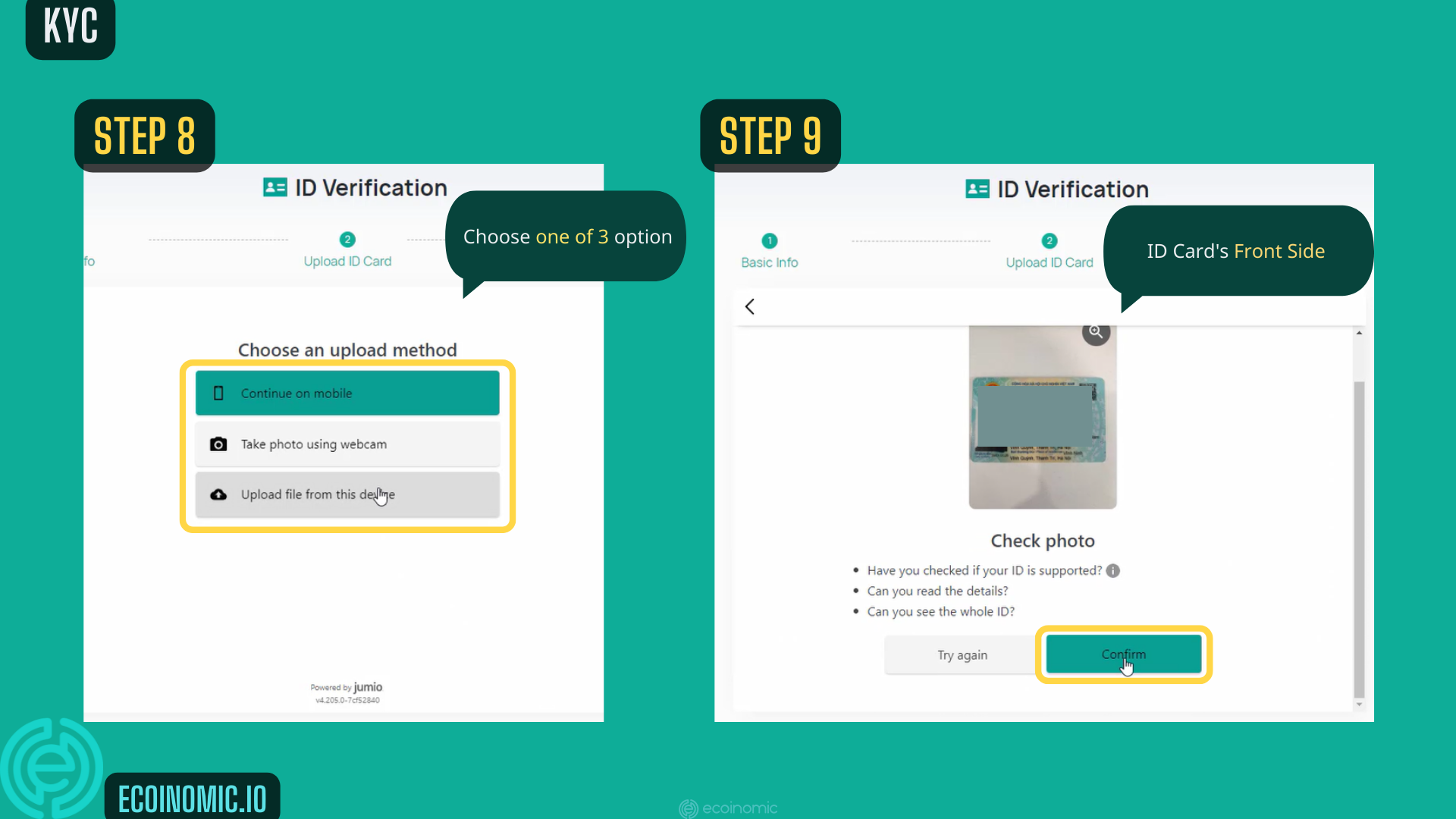 Step 10: Similarly, take a photo of the ID's back side. Click Confirm
Step 11: Click Start to do Face Recognition.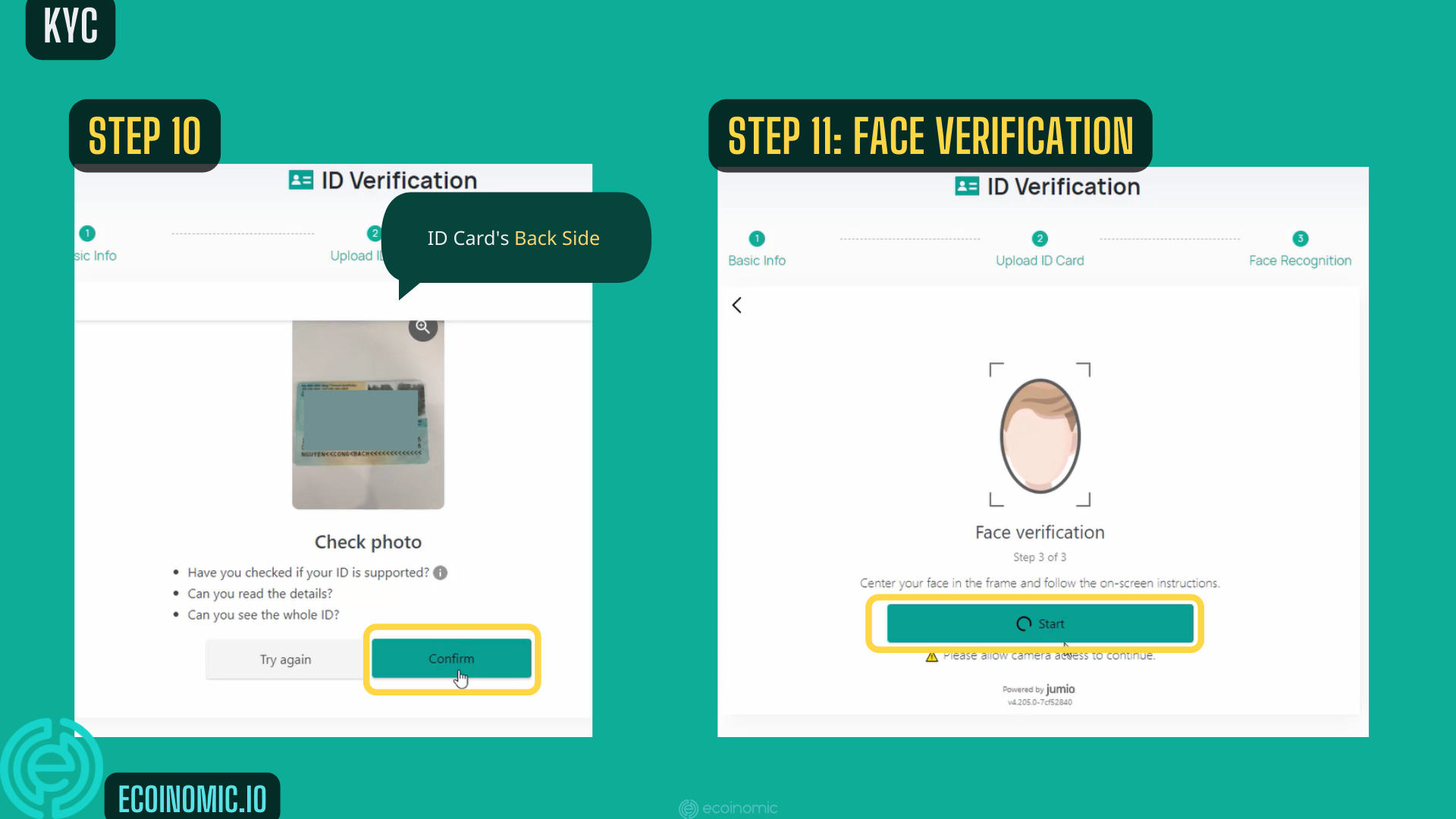 Step 12: Keep your face in the oval frame. 
Step 13: Wait for a moment. The system will compare them automatically.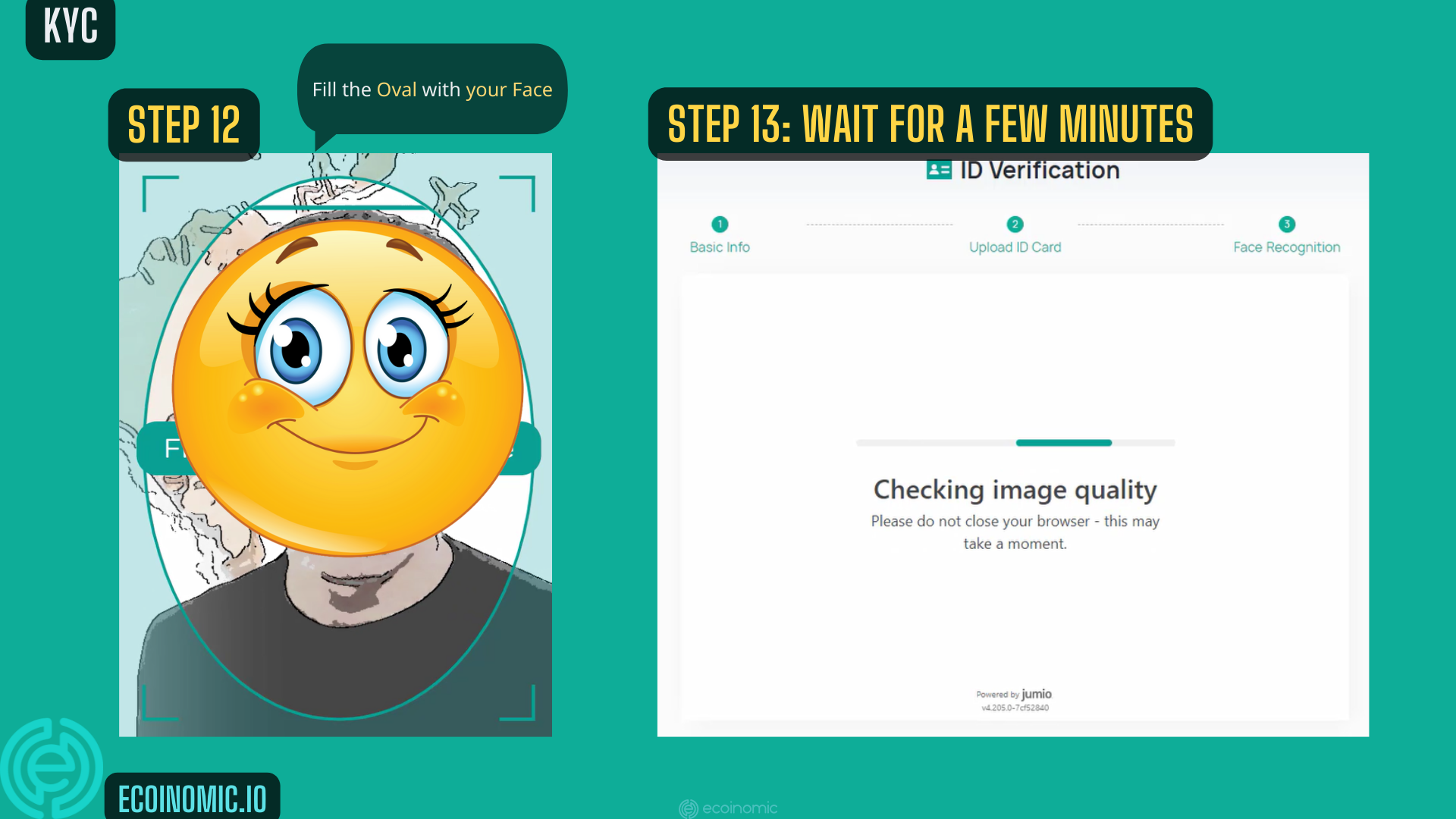 You have successfully requested KYC. You will see a confirmation mark for personal Verification in section ID Verification.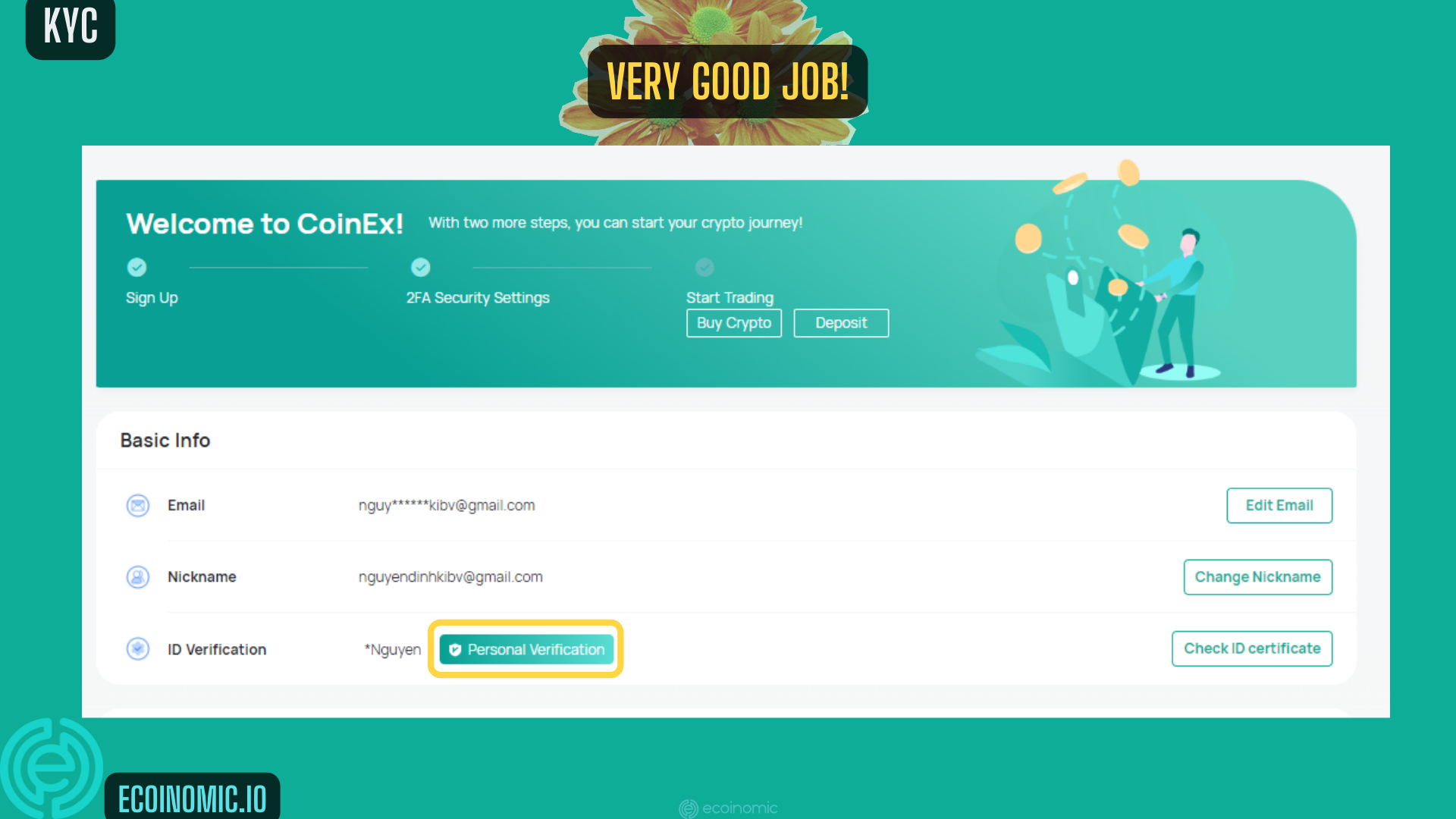 Google Authenticator (2FA) Setup Guide when CoinEx sign up
Google Authenticator is an application that automatically generates a random 6-digit code to log into your account. However, these 6 numbers only last for 30 seconds and will change to 6 other numbers on their own.
To set up Google Authenticator, follow these steps:
Step 1: On the homepage of the CoinEx exchange, click Account → Account Settings.
Step 2: Choose Bind in section TOTP Authentication.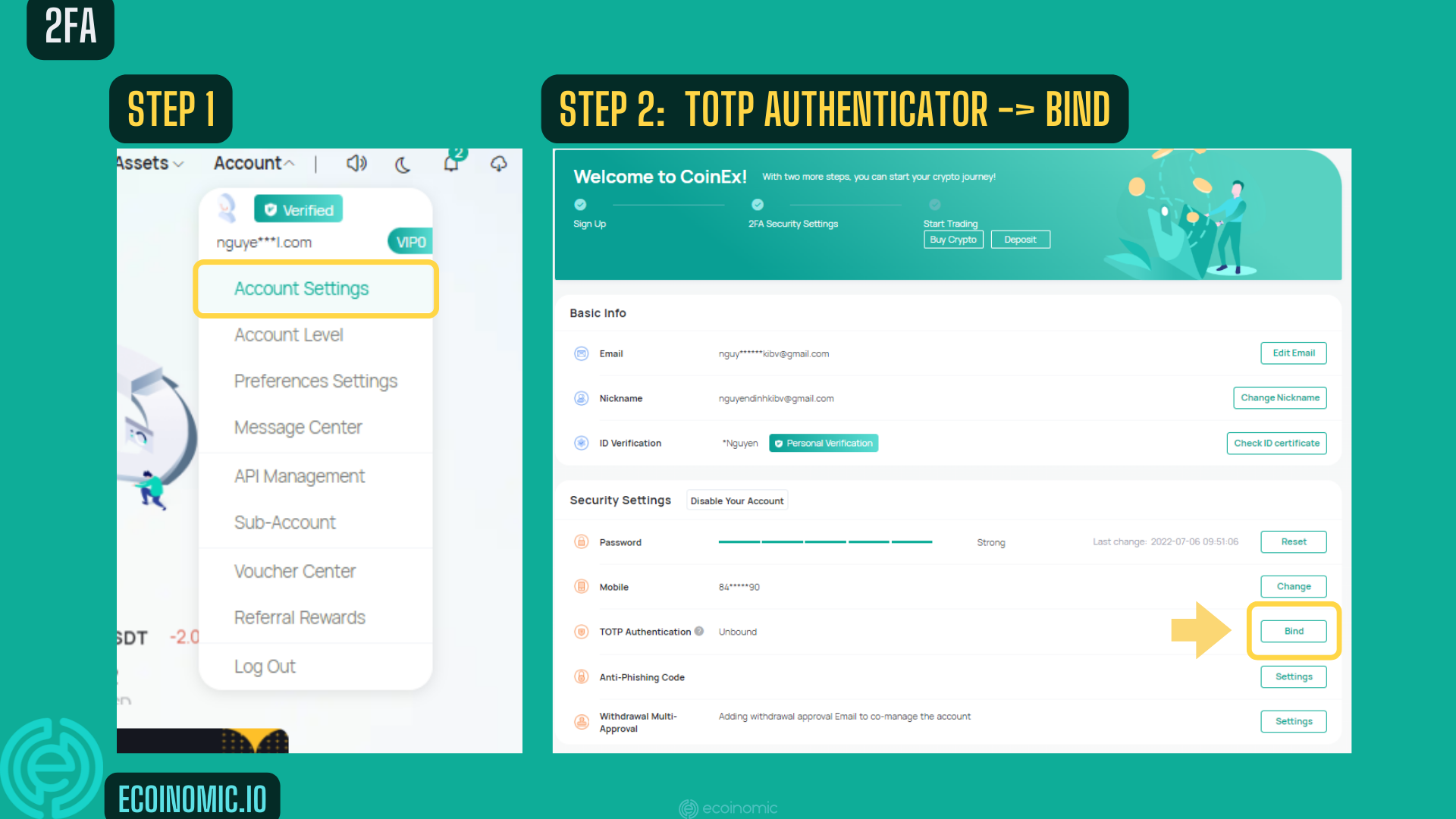 Step 3: Click Send Code and enter the Code that you have received via SMS.
Step 4: Similarly, enter the Code that you have received via your email.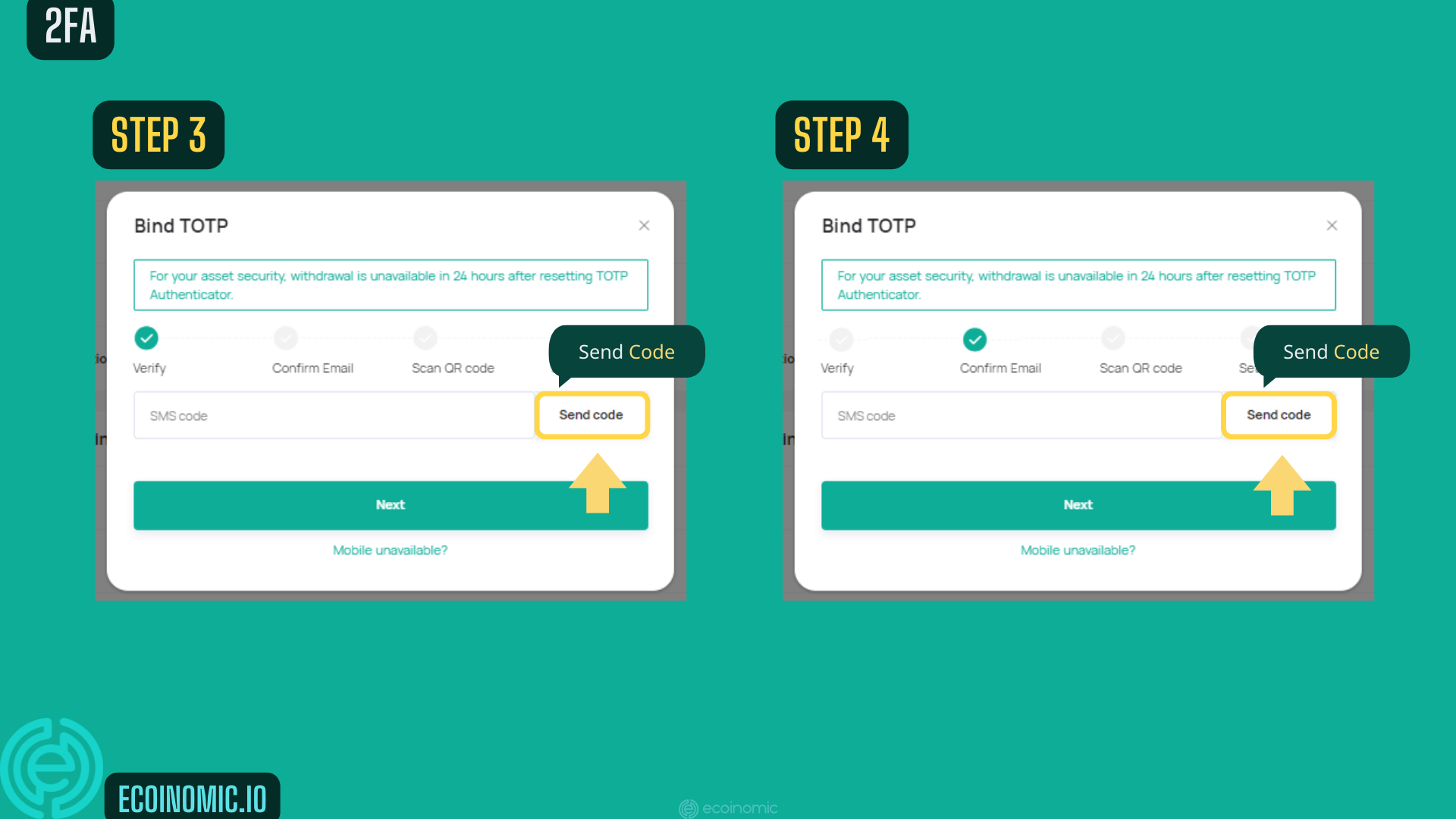 Step 5: Copy the QR Code
Step 6: Setup and activate Authenticator on Google Extensions if you haven't used it before. Open it and click the pen symbol. Click plus sign. Then choose Manual Entry. Name the Code, for example, CoinEx 2FA. Then paste the QR Code you have copied to Secret and click OK.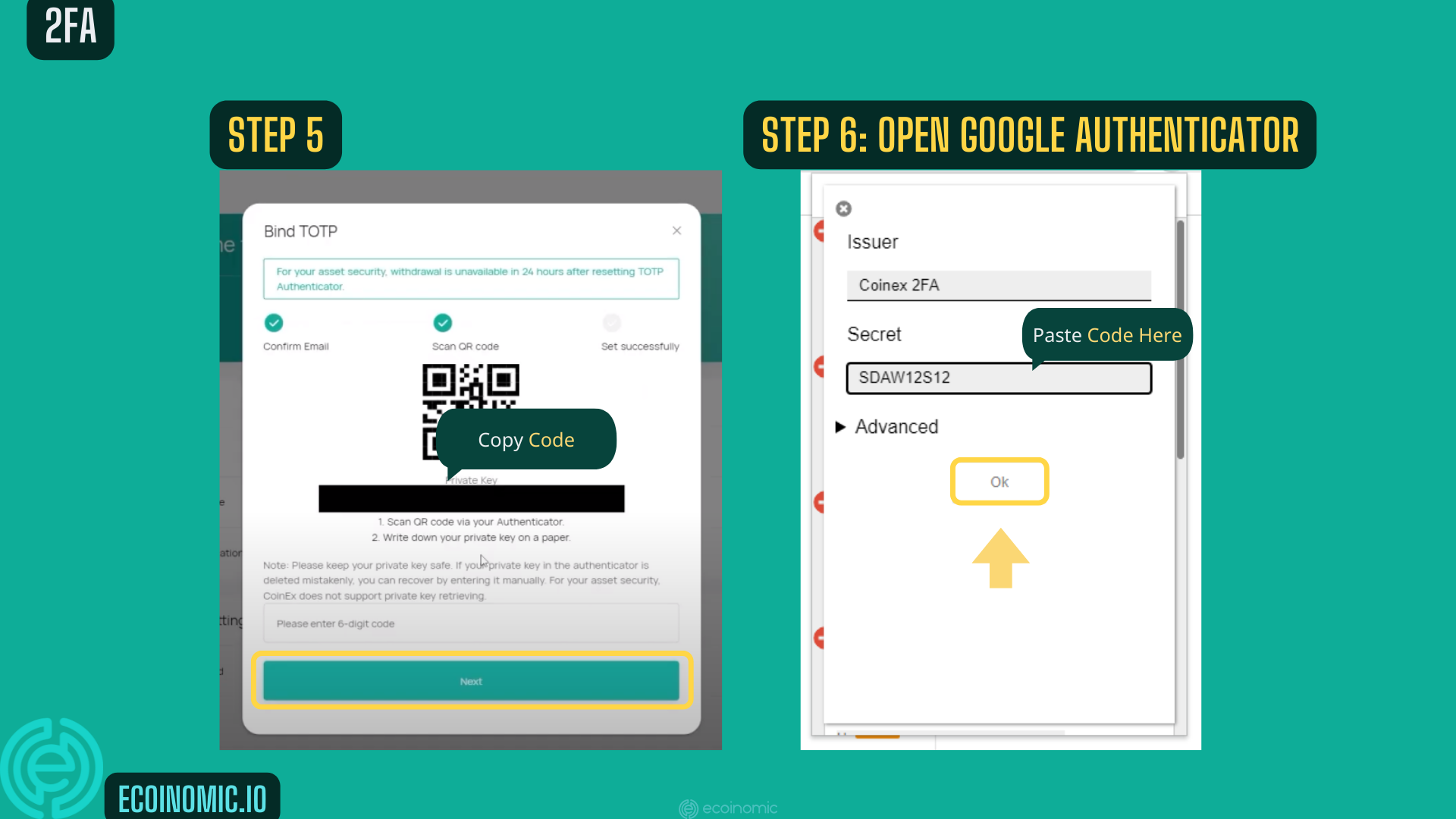 Step 7: In this step, you'll see a random 6-digit code, copy it and paste the code into spaces. Then press Next.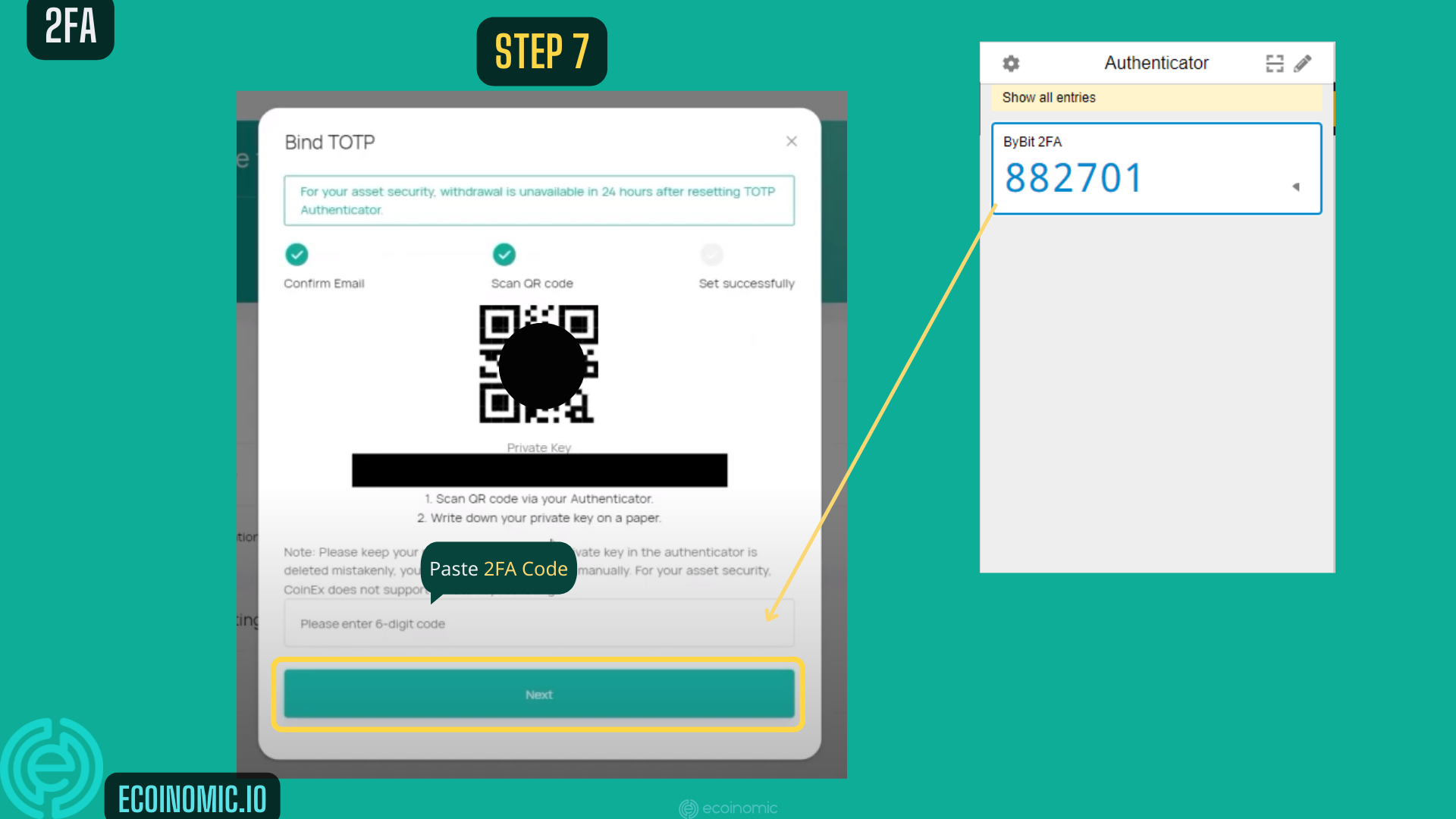 Your KYC process is done. You'll see a successful notification.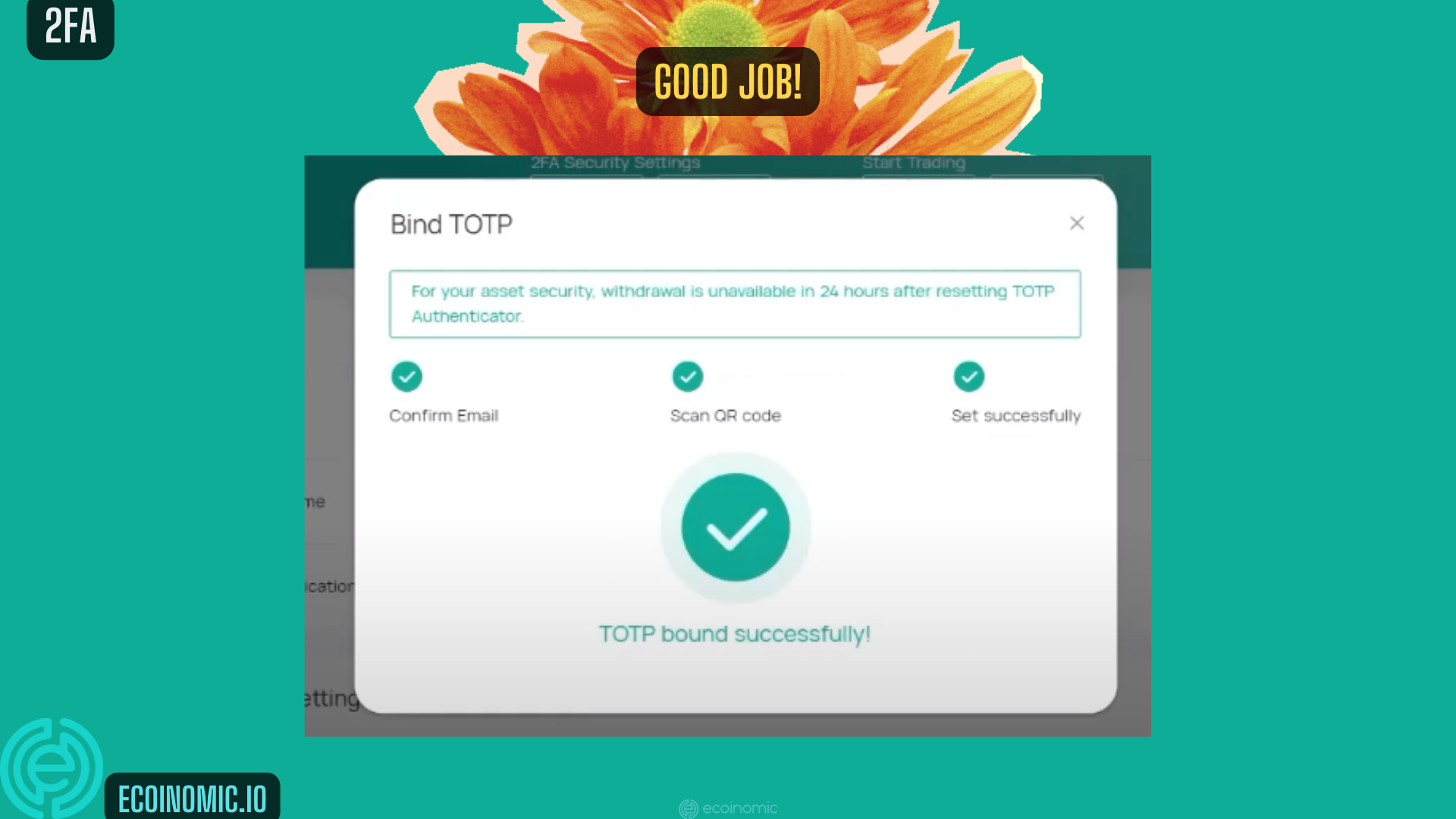 Instructions for depositing and withdrawing money when CoinEx sign up
Depositing money on CoinEx
Step 1: On the CoinEx exchange's homepage, click Assets → Deposit.
Step 2: Choose the coin. Choose the chain compatible with your asset, then copy the Wallet ID.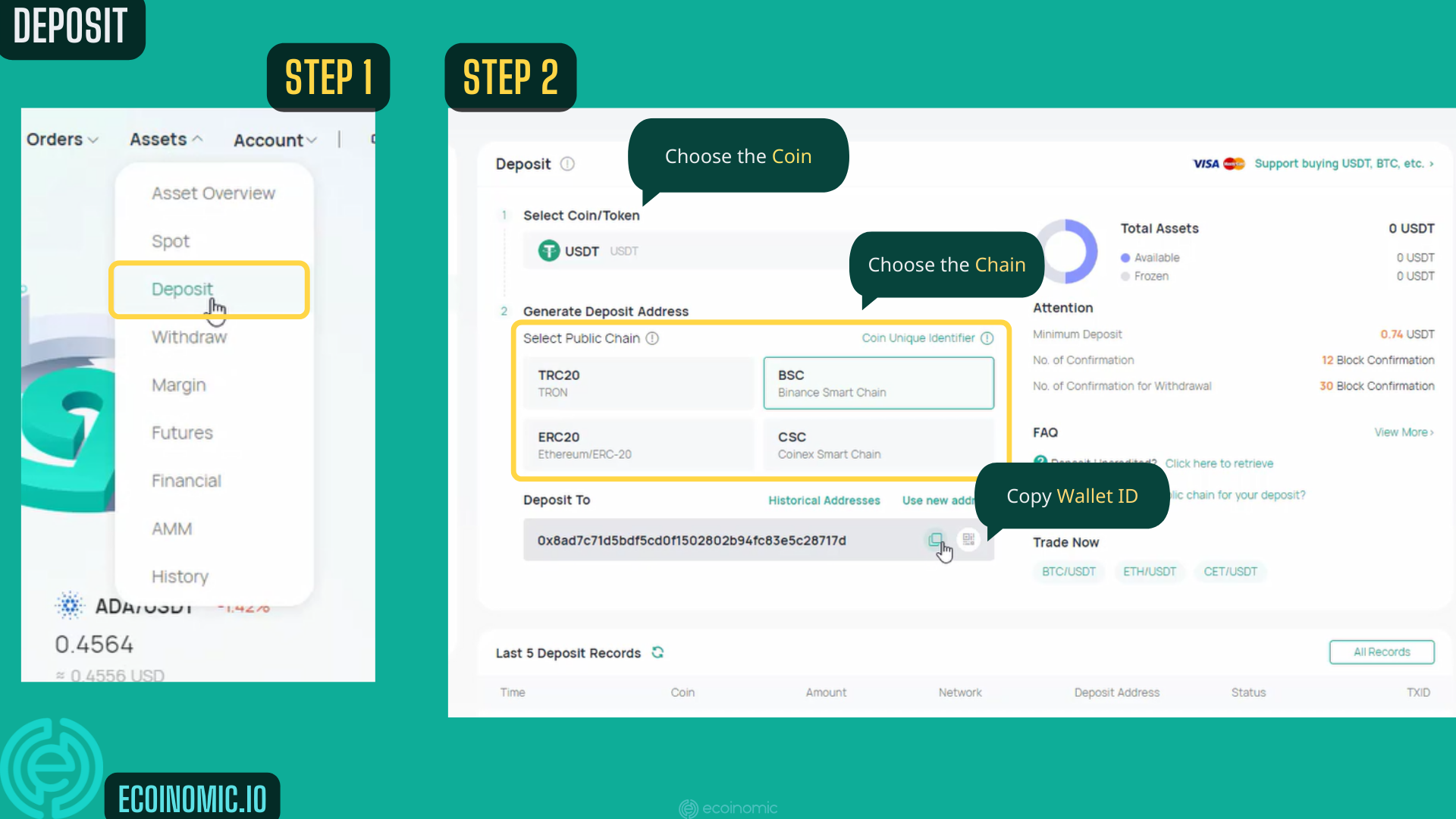 Withdrawing money on CoinEx
Withdrawing money on CoinEx exchange is also uncomplicated, you do that by following these steps:
Step 1: On the CoinEx exchange's homepage, click Assets → Withdraw.
Step 2: Choose the coin. Enter the amount of coin that you want to withdraw. Choose the chain that is compatible with your assets, then paste your Wallet ID and click Withdraw.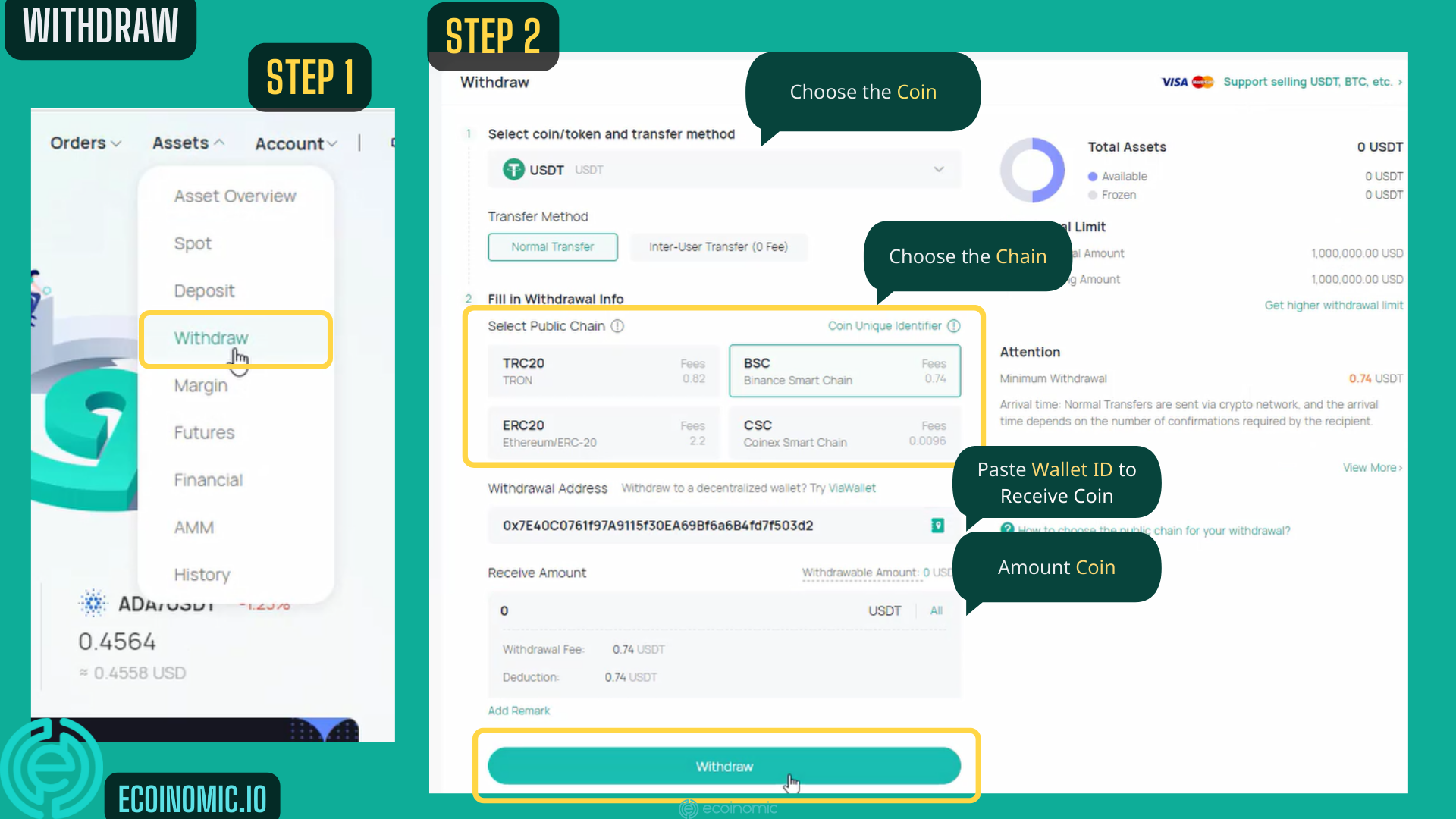 Spot trading guide on CoinEx
Step 1: On the homepage of CoinEx exchange, choose Exchange
Step 2: Search the name of the coin in the search bar and choose the pair of coins you want to buy.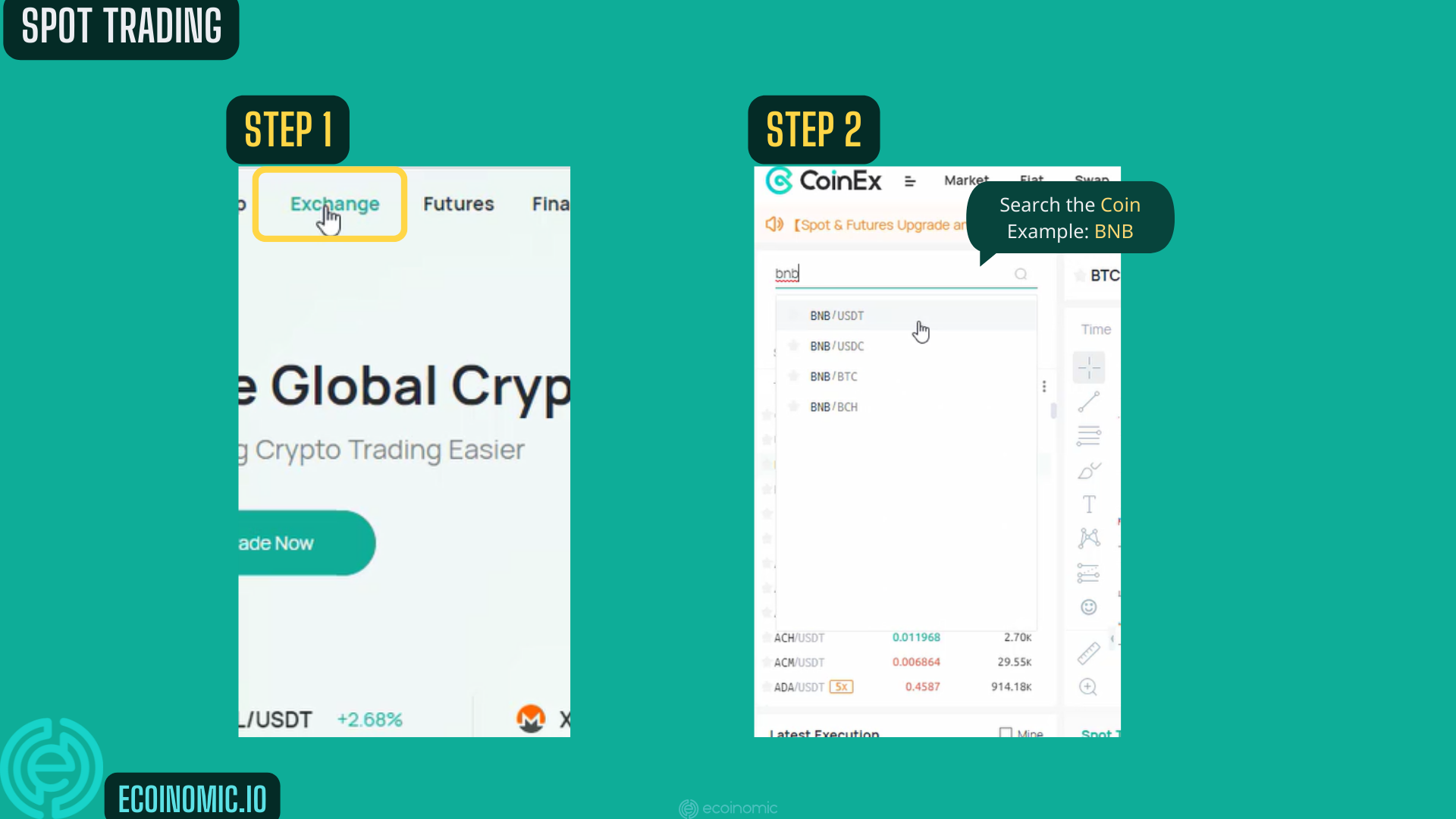 Buy Coins
Before buying, you must check the price of the coin carefully and enter the amount of coin you want in Amount. Then press Buy BNB.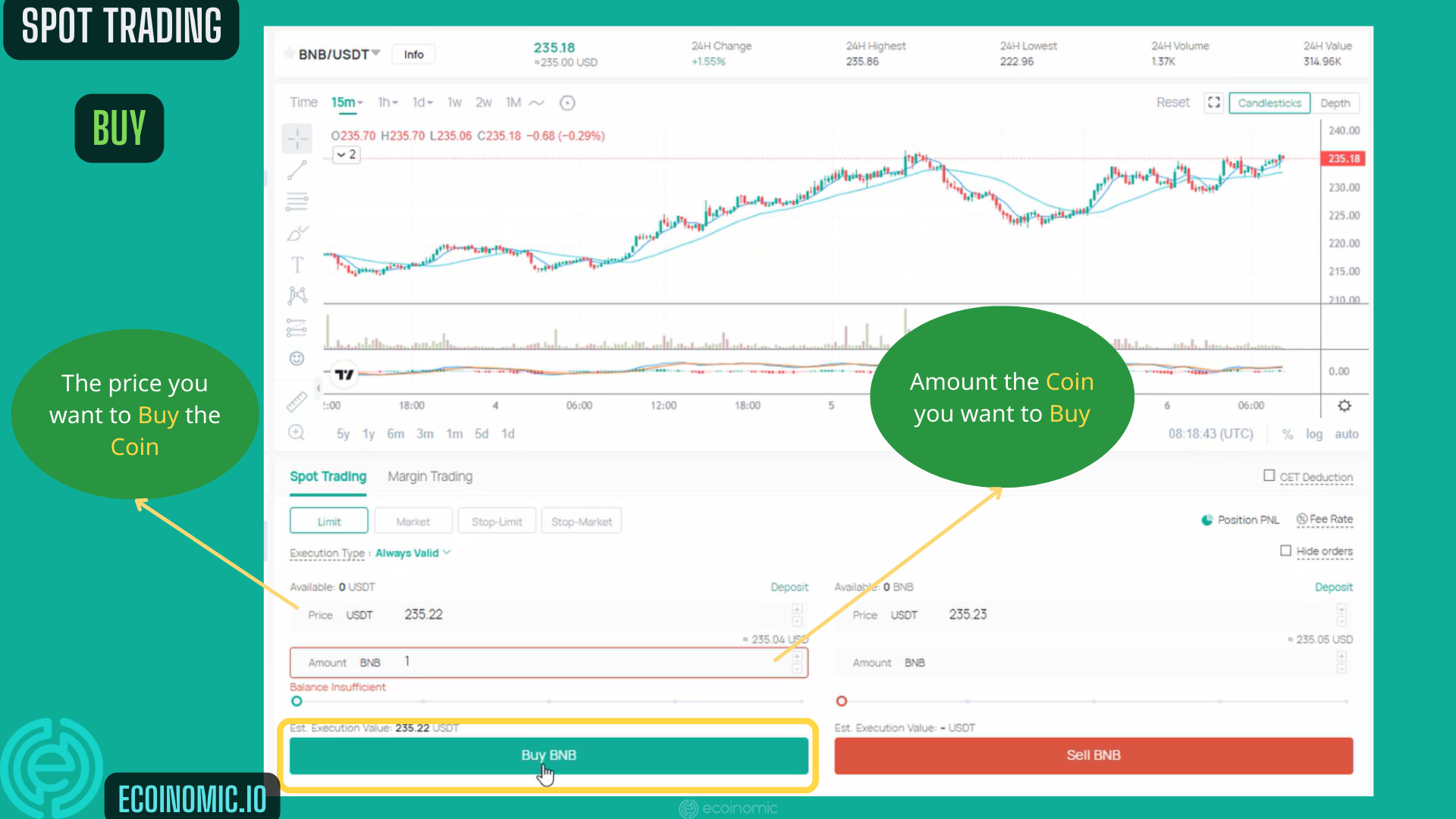 Sell Coins
The operation of selling coins is similar to buying. You have also to check the price of the coin carefully and enter the amount of coin you want to sell. Instead of clicking Buy, you click Sell BNB.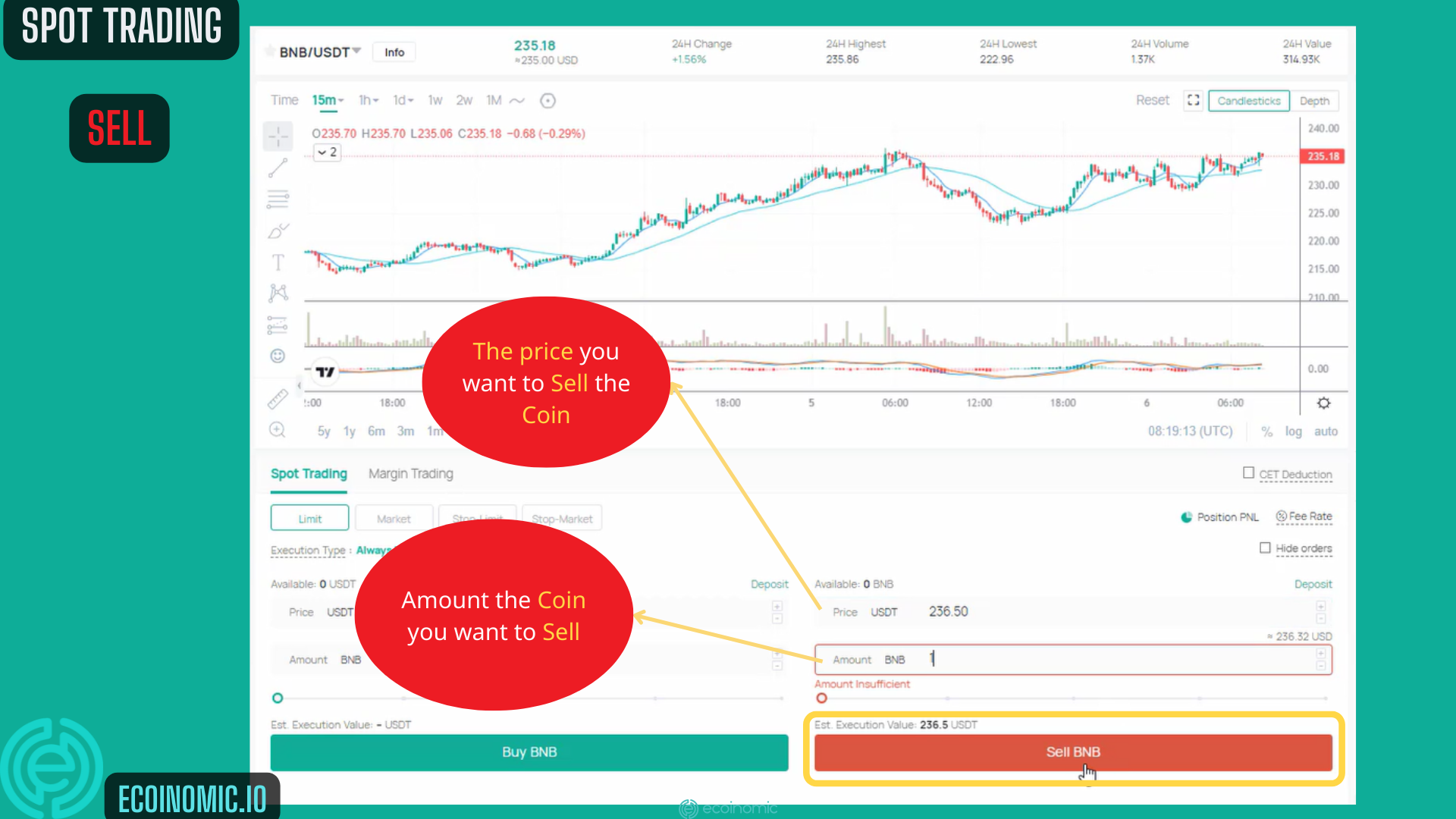 Frequently questions when CoinEx sign up.
Is CoinEx reputable? Should I trade on CoinEx?
CoinEx is sponsored by Mining Pool ViaBTC, considered a reputable BTC mining pool from Hong Kong. Therefore, the fact that CoinEX is a scam is completely unfounded.
Has CoinEx ever been attacked?
Regarding security and safety factors, the CoinEx exchange is one of the reasonable choices because the exchange has never been attacked before. CoinEx is purpose-designed to allow virtual currency investment channels using advanced SSL protocols, multi-signature wallets, and two-factor authentication (2FA) systems to provide security at all times.
Which country's CoinEx exchange? Does it support Vietnam?
CoinEx is registered in Hong Kong. However it is a professional cryptocurrency exchange service provider with a global scale of operations. Currently, the CoinEx exchange supports many different languages and includes Vietnamese.
What is CoinEx token?
CET Token is considered a private token of CoinEx exchange. This coin was created to maintain and develop the system and reduce transaction fees. In the future CoinEx will also use CET as an intermediary coin for trading like BTC, USDT and ETH.
Is it necessary for KYC to withdraw money when FTX sign up?
CoinEx doesn't request KYC, it offers spot and margin trading as well as perpetual contract trades. Customers will only need to complete the KYC verification process if they wish to withdraw more than $10,000 in 24 hours.
What is the withdrawal and deposit limit?
If your account has been successfully KYC, your daily withdrawal limit can be up to maximum 1,000,000 USD.
What types of fees are available on CoinEx?
Deposit fees: Depositing on CoinEx is free of charge
Withdrawal fees: This fee will be charged for each cryptocurrency and also for each different token. For example, BCH withdrawal fee is free while BTC withdrawal fee is 0.0001 BTC and ETH withdrawal fee is 0.1 ETH.
Transaction fees: The transaction fee that applies to all kinds of transactions on CoinEx is 0.1%.
What is CoinEx app on Android and iOS?
Coinex currently supports 3 versions: desktop, Android, and the iOS operating system. You can download applications directly from the exchange's official website or search in the App Store or Google Play.
Conclusion
Objectively speaking, CoinEx is a very respectable cryptocurrency exchange on the market with many potential factors. Even with the modest restriction of not accepting cash payments, CoinEx is still an exchange that new players in the industry should take into consideration. Hopefully, by the article, you are sure that you understand clearly the CoinEx exchange and how to CoinEx sign up.