What is Kucoin Exchange? How to use Kucoin? Full instructions on how to trade coins, deposit and withdraw funds, and Kucoin sign up from A-Z right here!
What is KuCoin?
KuCoin is a centralized financial exchange that ranks among the top 5 exchanges having the largest cryptocurrency trading volume in the world in 2022. Besides the basic trading options, the platform provides margin trading, futures, and P2P trading. Users can also select between Staking and Lending their cryptocurrencies to earn rewards.
Compared to some of its competitors, KuCoin produces low transaction fees, making it an attractive option for participants.
KuCoin exchange scale
Since its founding in 2017, KuCoin has grown into one of the top 5 largest global cryptocurrency exchanges by trading volume, with over 118 million USD in daily trading value from over 10 million users in more than 200 countries.
KuCoin currently provides services in most countries around the world, which includes Turkey, India, Japan, Canada, the United Kingdom, and Singapore and the others.
KuCoin's trading website also supports 17 languages, including English, Russian, Korean, Dutch, Portuguese, Chinese, Vietnamese, Turkish, Italian, Malaysian, German, French, Spanish Nha, Indonesia, Hindi, and Thailand.

The history of KuCoin
Funds were raised for KuCoin development through ICO from August 13 to September 1, 2017. During this time, KuCoin issued its own KuCoin Shares (KCS) token, which was used to generate special offers, transaction discounts, and a share of exchange profits. In less than 20 days, Crowdsale succeeded as KuCoin raised nearly $20,000,000 in bitcoin for 100,000,000 KCS. The ICO price for one KCS token is equal to 0.000055 BTC.
2019 was a big upgrade year for the KuCoin platform. In February, the exchange updated its interface to the 2.0 platform, an upgrade that includes more features such as a new API, advanced orders, etc.
In June, KuCoin also launched KuMEX, later renamed KuCoin Futures. At the end of 2019, KuCoin also introduced margin trading up to 10x leverage.
KuCoin continues to expand its ecosystem in 2020, including the launch of the PoolX liquidity trading market as well as the KuCloud one-stop exchange solution. In February, the exchange also launched a spot trading service. In addition, KuCoin has significantly increased the number of fiat currencies supported to buy crypto through the "Buy Crypto" with bank card option. On June 24, 2020, KuCoin announced that their P2P crypto marketplace supports buying and selling via PayPal, as well as several more convenient fiat payment methods.
KuCoin's founding team
Michael Gan (CEO):

He worked as a technical expert at Ant Financial (Alibaba Group) with extensive knowledge of financial solutions like Alipay. He has taken over several positions as a senior partner in well-known Internet companies such as MikeCRM and Kf5.com, etc.

Eric Don (COO):

He was a senior researcher in the internet and architecture system. He has over 10 years of work experience in the internet industry. In addition, he has held CTO positions and senior partner positions at several prominent IT companies such as Youling, Fengzheng Lianxian, and Ruiyun Wulian, etc.

Kent Li (operations director):

He was a specialist in developing strategic operations, while he held important positions such as executives and architects at a number of internet companies. He is also the regional supervisor of the REAP project initiated by Stanford University in Asia.

John Li (Head of Business Group):

He is president of Jianbang Media and manages more than 30 groups of consumer finance buying and selling service centers in China focusing primarily on consumer finance.

Top Lan (CTO):

He is a technical expert in the Open Source Community. He is also a manager of several popular open-source projects on Github. He completed the design and implementation of the Kucoin financial trading system.

Jack Zhu (Chief Marketing Officer):

He is the Southwest Regional Marketing Manager of iBOX PAY and leads a marketing team with more than 300 employees.
KuCoin exchange Ecosystem
KuCoin currently supports the execution of many types of transactions:
KuCoin Spot Trading
KuCoin Margin Trading: KuCoin allows leveraged trading up to x10 with KCS coins. Therefore, it helps investors to take advantage of the knowledge of technical analysis and Fundamental Analysis to get maximize profits. 
KuMEX – Contract/Futures Trading KuCoin: KuMEX is a Derivative product of KuCoin. It makes users depositing money from an external wallet and trading easily. Moreover transfering assets from KuCoin is able to trade derivatives. This helps users take advantage of the trader accounts available on KuCoin. Therefore, users needn't transfer funds to the wallet and then transfer to a new exchange.
KuCoin Soft Staking: As KuCoin's own staking service, simply deposit coins (in the staking program) and receive rewards. With this amount of coins users can freely participate in trading and withdraw from the exchange at any time.
KuCoin Lending: A Crypto lending product for holders that want to earn more passively from the coin holding.
IEO – KuCoin Spotlight: KuCoin's exchange token sale program. The participants will be allowed to buy tokens of IEO projects with KCS, KuCoin exchange's coins.
KCS – KuCoin Share: KuCoin exchange's coin. 
KuCoin P2P Fiat Trade: Provides a service to convert from fiat to cryptocurrency by Peer-to-Peer transaction freely. There are also fast payments, secure transactions, professional and reliable sellers, and a variety of payment methods globally and regionally in over 50 fiat currencies via P2P, credit cards, etc. 
KuCoin Trading Bot: A free trading tool that helps users save time and resources and improve their profits. It's the equivalent of configuring a bot that works 24/7 with the trading strategy.
POOL-X Earn KuCoin: a PoS Mining platform that supports crypto key transactions sponsored by Kucoin. 
KuCoin KCC: A decentralized public blockchain with high performance with the purpose of solving the problems of low performance and the high cost of existing public blockchains. Thereby it provides users with a faster, more convenient experience at a lower cost. 
KuCoin Win: It also belongs to the KCS ecosystem platform that combines entertainment with tokens, which allows participants to access to the initial token distribution of blockchain projects.

KuCoin Exchange Review
Advantages of KuCoin
The KuCoin exchange has a variety of features, even integrating a lottery.

KuCoin exchange supports many different languages and currencies.

The liquidity of KuCoin exchange is always in the top 10 exchanges with the largest trading volume in 24 hours.

The exchange supports Bot trading with lots of strategies.

The information on the exchange is presented clearly on the homepage, it's easy for users to find them.

Staking feature is exclusive to Pool-X products, currently, no exchange has this feature.

KuCoin has a mobile application that supports both iOS and Android operating systems.

Compared to other major exchanges, KuCoin has a low transaction fee (0.1%) and is free of charge for withdrawal and deposit fees.
Disadvantages of KuCoin
Users can't customize the light/dark interface on the homepage. Each interface of different products will have different light / dark options. That is quite annoying.

Withdrawal operations require too many kinds of passwords. That makes users feel inconvenienced when they carry out.
KuCoin sign up guide
KuCoin sign up operation is easy. You can create a successful account in just a few steps. If you KuCoin sign up by phone, you need to download the KuCoin app on the Appstore or CH Play. If Kucoin sign up with a computer (PC/laptop), click on the Register Kucoin button below to access the correct website of the exchange.

In another way, do the following steps to KuCoin sign up:
Step 1: Access the KuCoin exchange's homepage, and click Sign Up.
Step 2: Choose section Email. Enter your Email and password. Please don't forget to enter the ref code PQ8c2w to get 500 USDT for free. Then click Sign Up.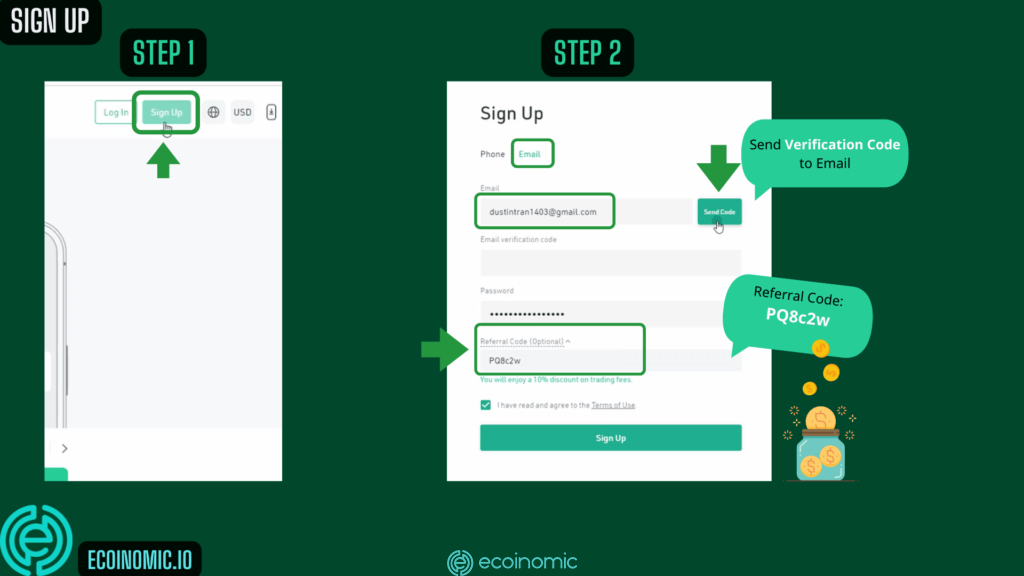 In another way, access the website by the link https://www.kucoin.com/ucenter/signup?rcode=PQ8c2w to get the same preferential treatment.
Step 3: Click to confirm the Captcha code, and select all images following the request) and click Verify.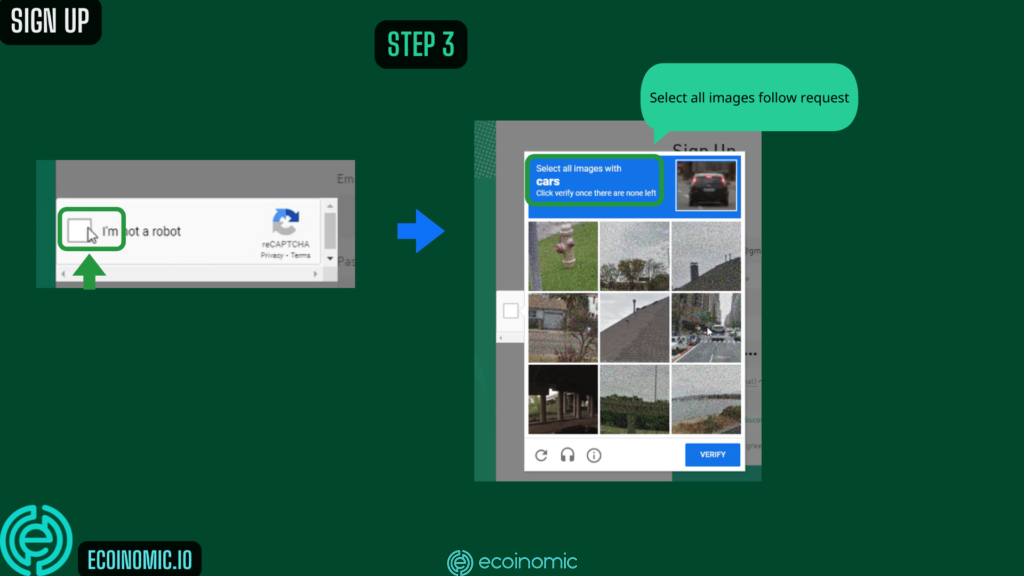 Step 4: Fill the 6-digit code that you have received in your email into E-mail Verification Code and click Sign Up.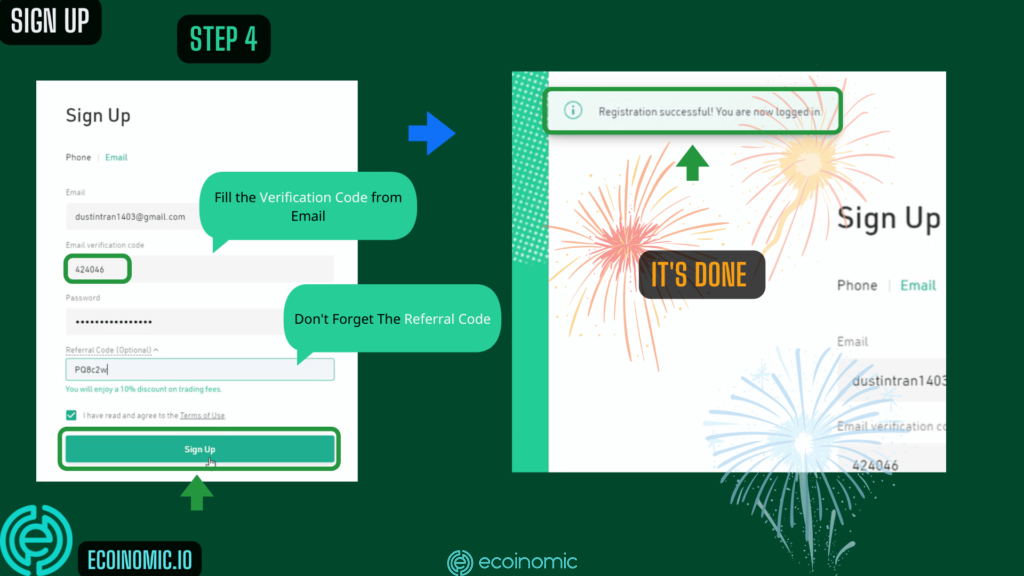 Account security guide after KuCoin sign up
Preparation before KuCoin sign up: 
Commonly used email address.

Photos of the ID card or driving license: a photo of the front, a photo of the back, and a selfie photo with the front.

A smartphone has the Google Authenticator Application.
Identity Verification – KYC when KuCoin sign up
KYC is the process of collecting and identifying information related to the customer. The basic information that is usually collected is a portrait photo, ID number, Passport, address, etc. to eliminate unqualified people.
To KYC your account on KuCoin, you do the following:
Step 1: On the homepage of the KuCoin exchange, click the profile symbol and choose KYC Verification.
Step 2: Click Start Verification
Step 3: Enter your first name, last name, and your location. In this step, you have to choose an ID document for KYC by selecting one of three options (ID card, Passport or Driver's license). Then enter your ID number.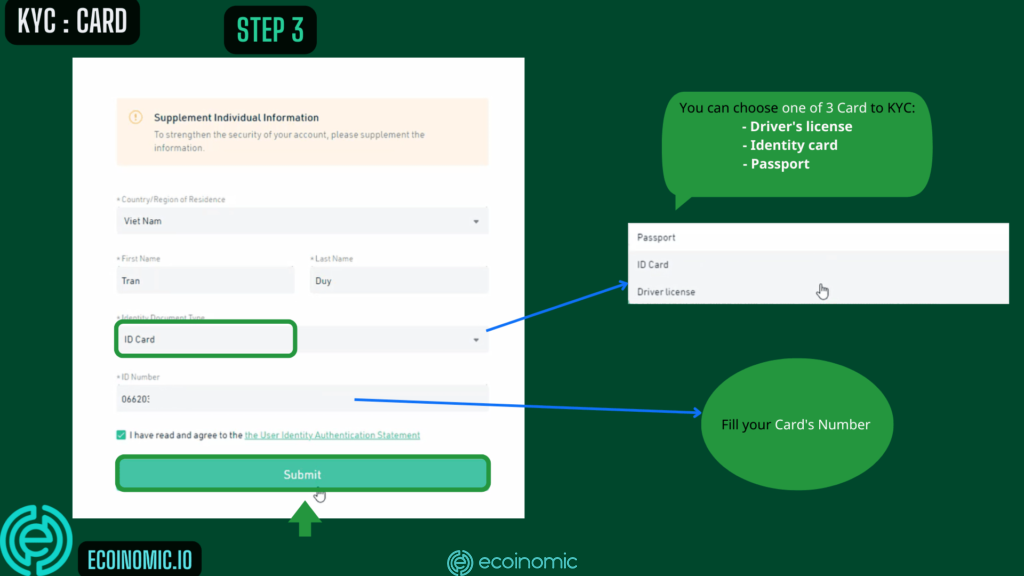 Step 4: Click Start Verification. 
Step 5: You can download the application by scanning the QR code for KYC on your phone or click manual review to continue this process on PC.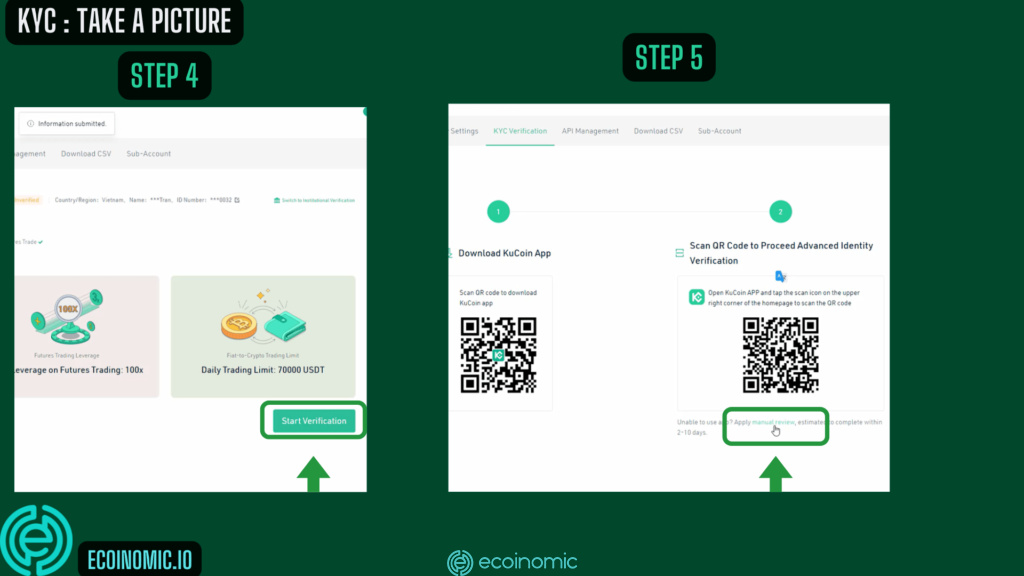 Step 6: Take photos of your ID document on both sides (ex. ID card). The photos must be bright, clear, and uncut then upload the photos.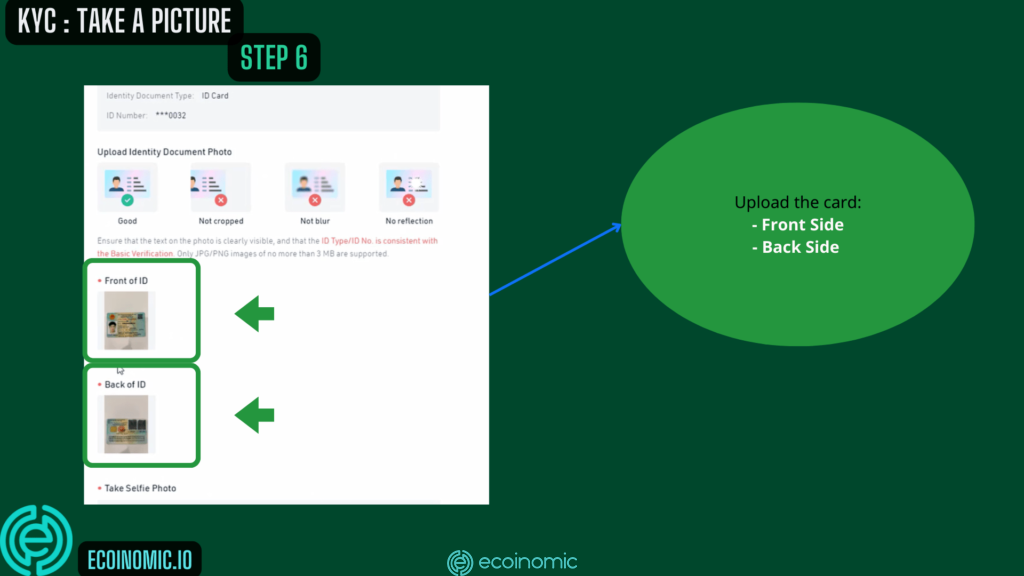 Step 7: Take a selfie photo with the handwritten note containing a handwritten signature, your verification code and the current date then upload it and click Submit.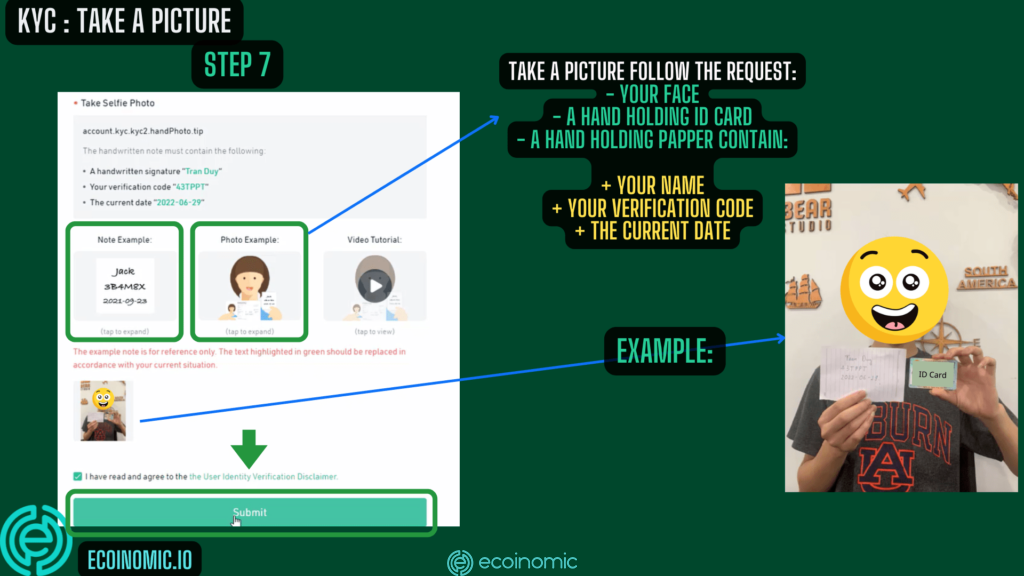 Step 8: Check the information carefully and click Confirm. You have successfully requested KYC.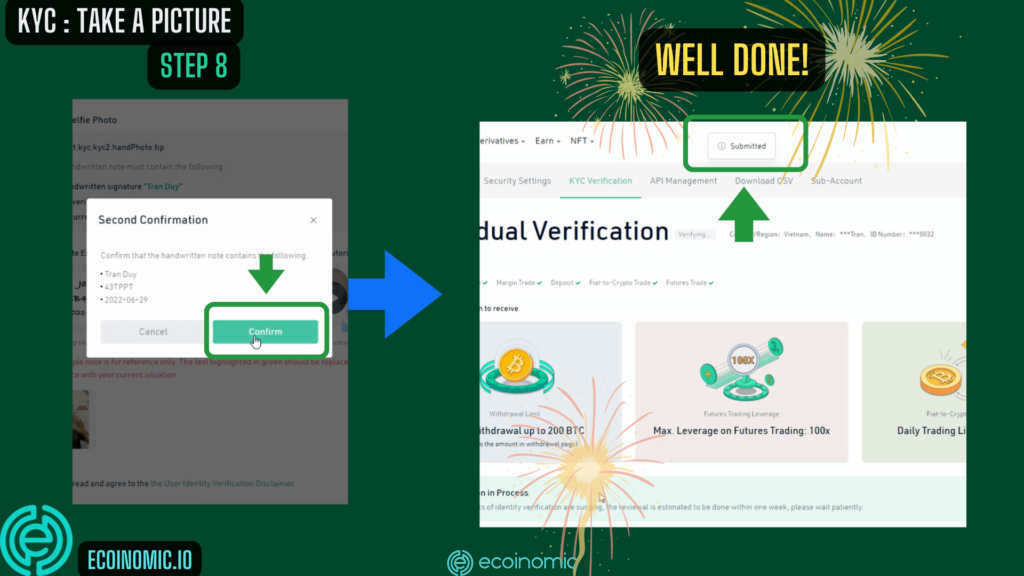 Google Authenticator (2FA) setup guide when KuCoin sign up
Google Authenticator is an application that automatically generates a random 6-digit code to log into your account. However, these 6 numbers only last for 30 seconds and will change to 6 other numbers on their own.

To set up Google Authenticator, follow these steps:
Step 1: On the homepage of FTX exchange, click your profile, then choose Account Security.
Step 2: Click Configure in section Google Verification.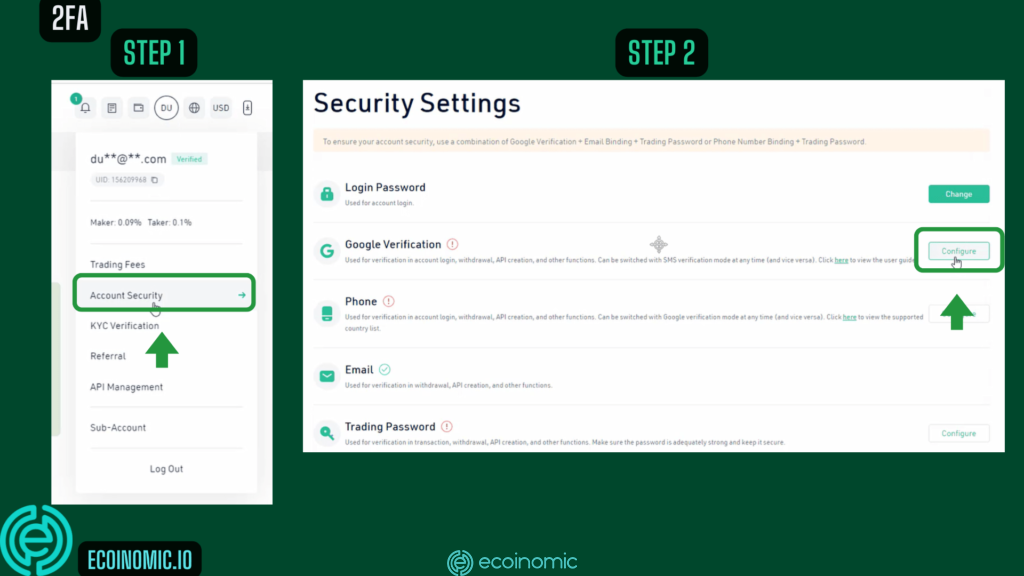 Step 3: Click Send Code. You're going to receive a verification code via your email. Enter it and click Next.
Step 4: Copy the QR Code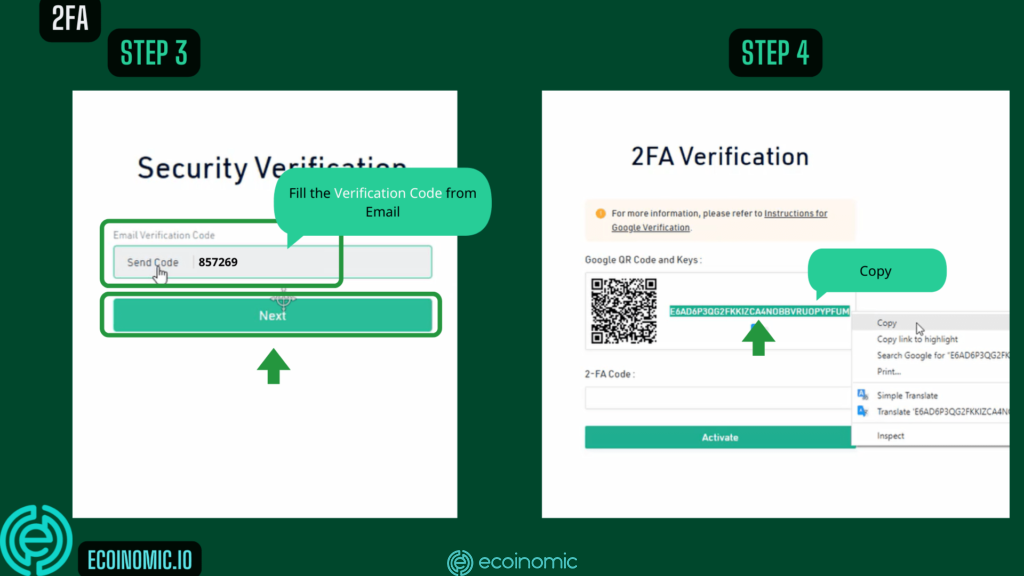 Step 5: Setup and activate Authenticator on Google Extensions if you haven't used it before. Open it and click the pen symbol. Click plus sign. Then choose Manual Entry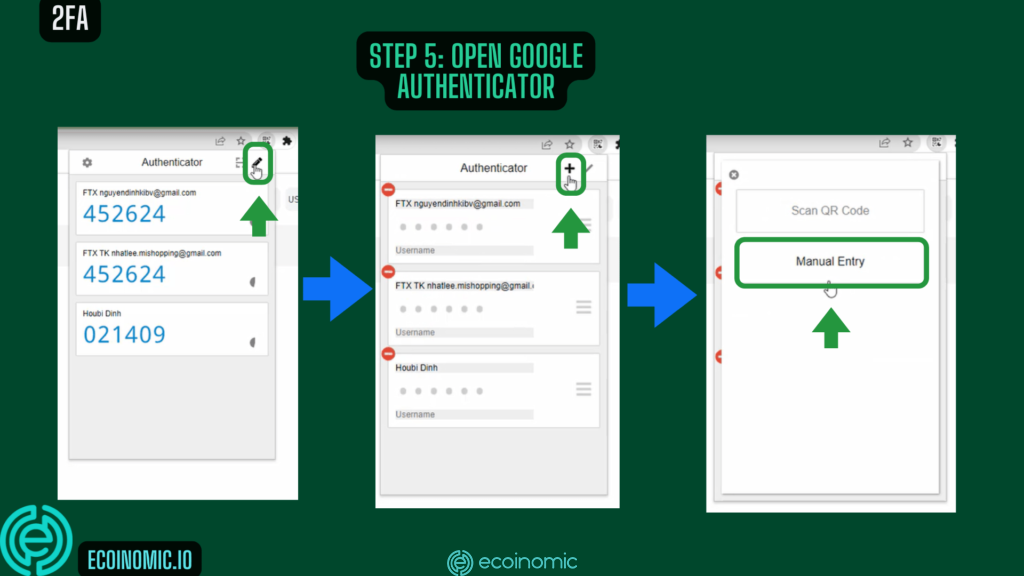 Step 6: Name the Code, for example, Kucoin 2FA. Then paste the QR Code you have copied to Secret and click OK.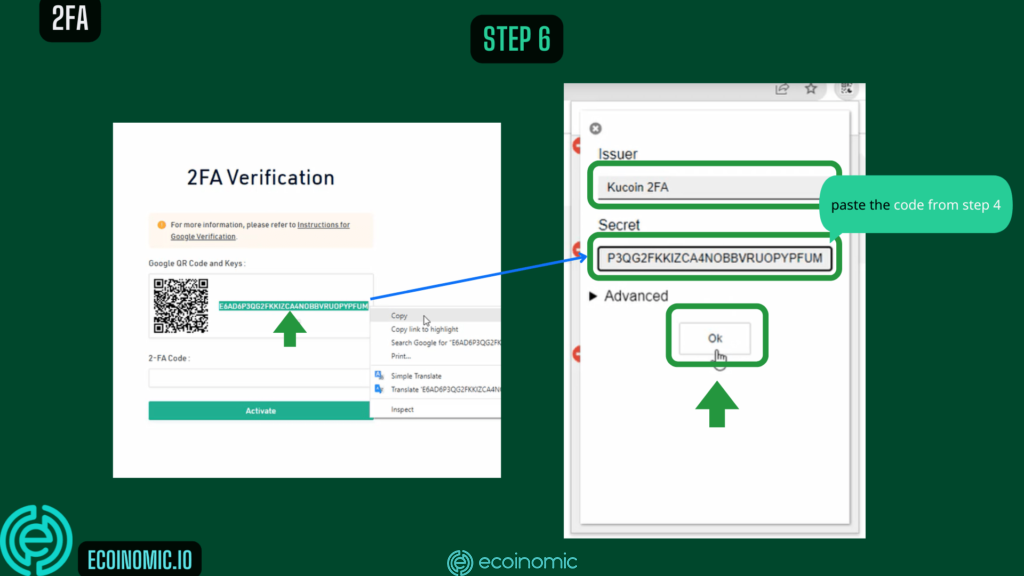 Step 7: In this step, you'll see a random 6-digit code, copy it, and paste the code to 2-FA Code. Then press Activate.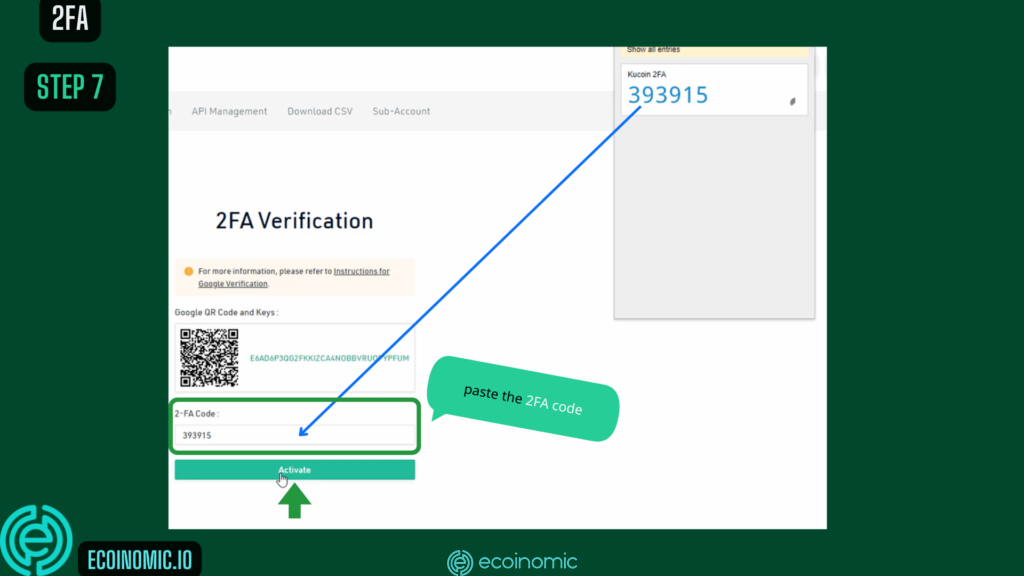 Depositing and withdrawing money when KuCoin sign up
Depositing money on KuCoin
Step 1: On the KuCoin exchange's homepage, click Wallet symbol.
Step 2: Choose Deposit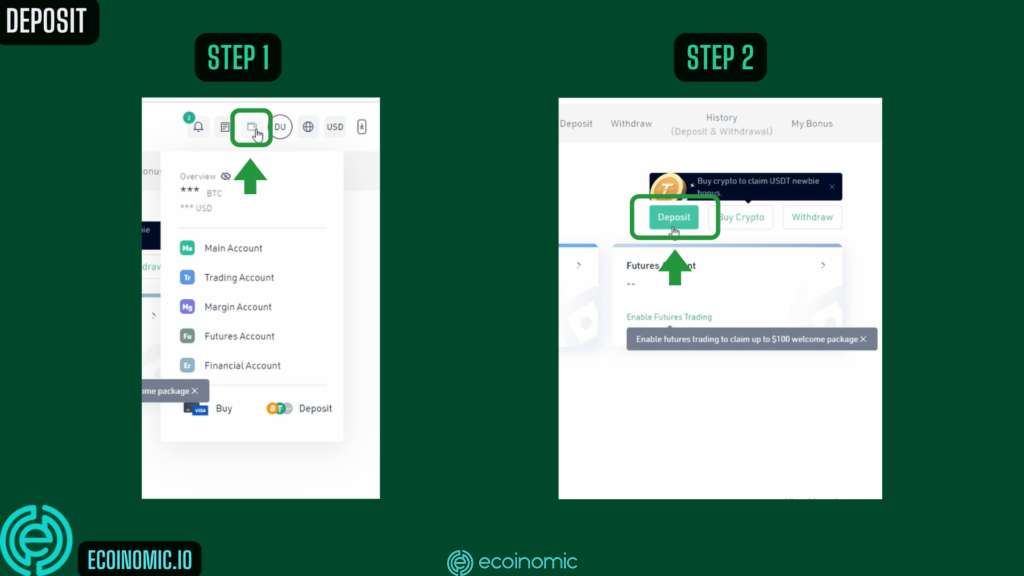 Step 3: Choose the coin. Choose the network that is compatible with your asset, then copy the Wallet ID.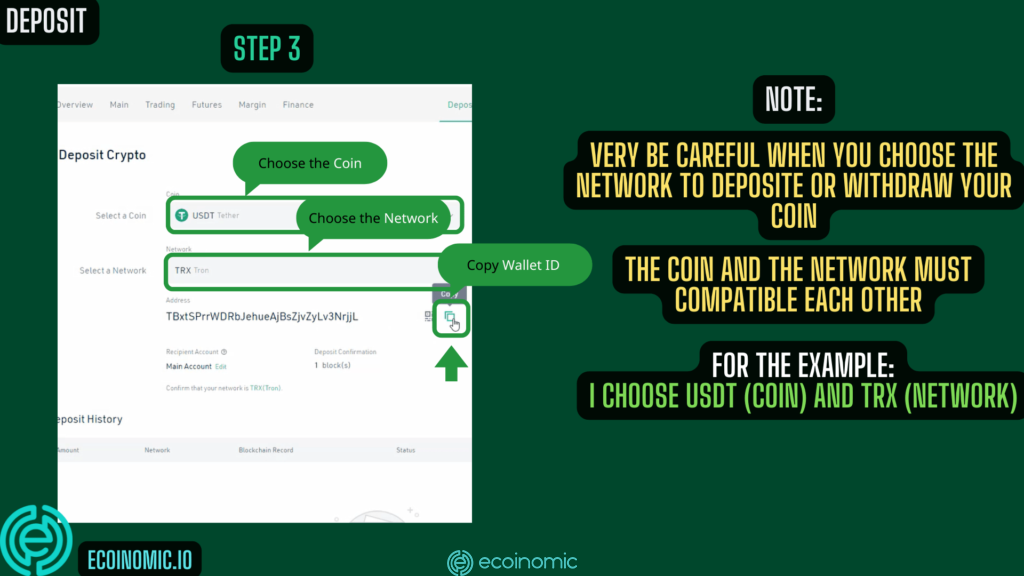 Step 4: Go to another wallet (ex. FTX wallet). Choose the coin, and network then paste the Wallet ID that you have copied. Enter the amount of coin that you want and click Withdraw.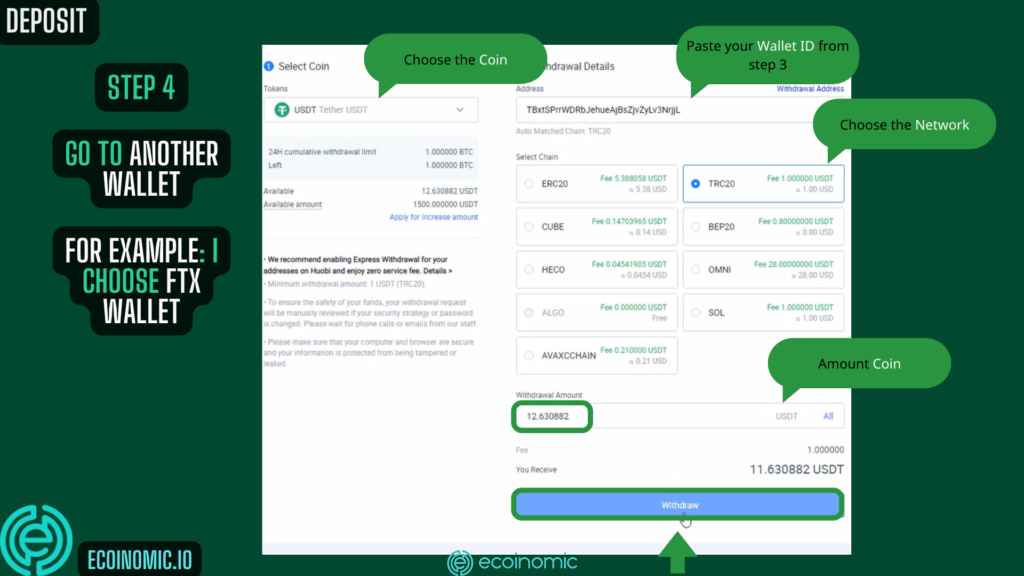 Your assets will be transferred from FTX wallet to KuCoin exchange.
Withdrawing money on KuCoin
Withdrawing money on KuCoin exchange is also uncomplicated, you do that by following these steps:
Step 1: On the KuCoin exchange's homepage, click Wallet symbol and choose Withdraw.
Step 2: Choose the coin that you want to withdraw. Paste your wallet ID. Then choose the Network and enter the amount of coin. Click Withdraw.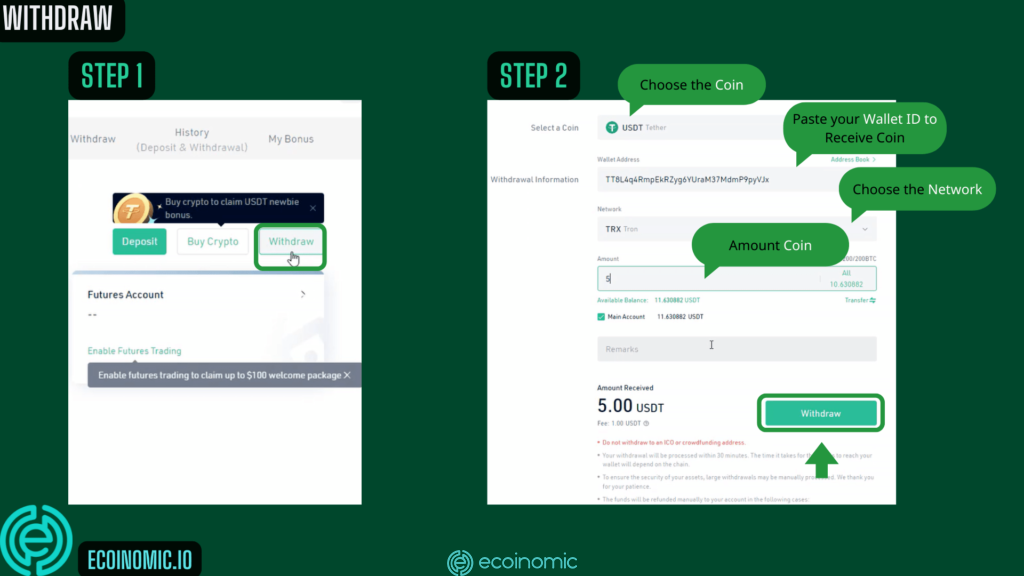 Step 3: Click Confirm Withdrawal after checking all of the details carefully.
Step 4: The window Security Verification will appear. Enter Trading Password. Click Send Code to receive, then enter Email Verification Code. You must also enter your GA Code from Google Authenticator and click Submit to complete.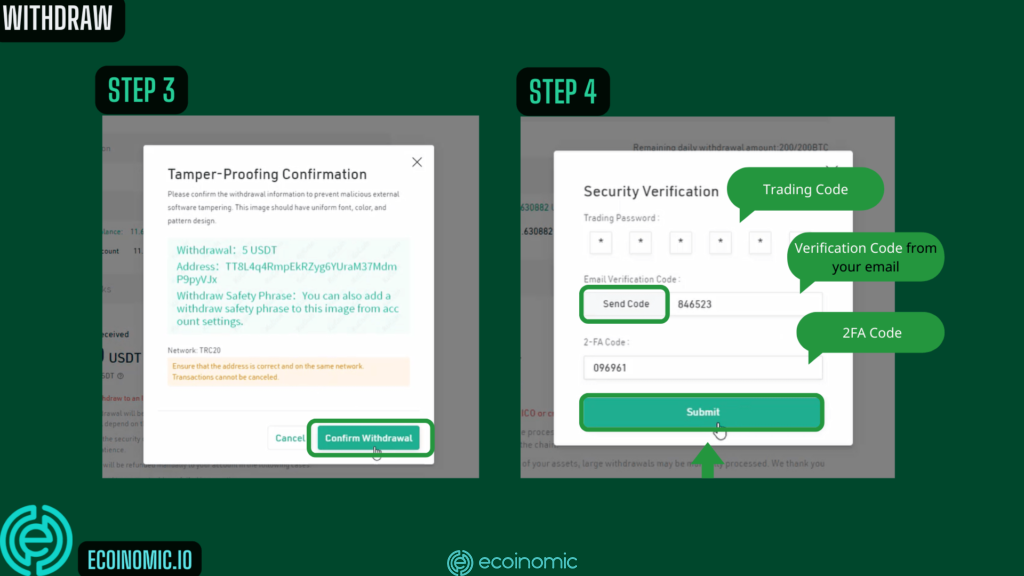 How to trade coins when KuCoin sign up
Transfer coins to Spot wallets when KuCoin sign up
After Kucoin sign up, to make a spot trade, you have to own a certain amount of coins in your trading account. Therefore, you must transfer the coin from the main account to the trading account. To do that, follow these steps:
Step 1: Go to your KuCoin wallet. In Asset Overview, click Transfer in section Main Account.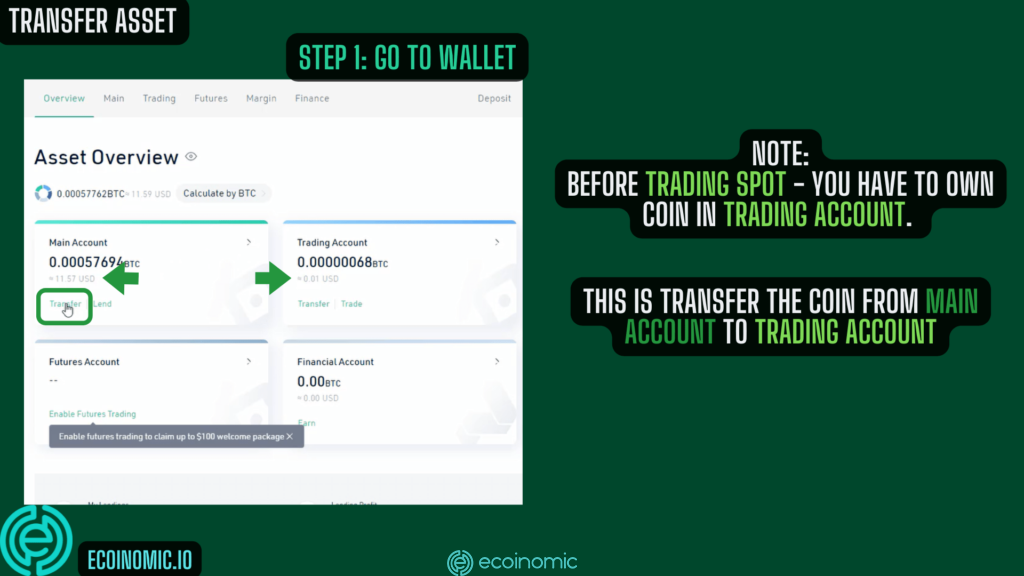 Step 2: Set the direction of money transfer from the Main Account to the Transaction Account by adjusting the arrow. Enter the amount of money you want to transfer and click Confirm. The asset has been transferred to your Trading Account.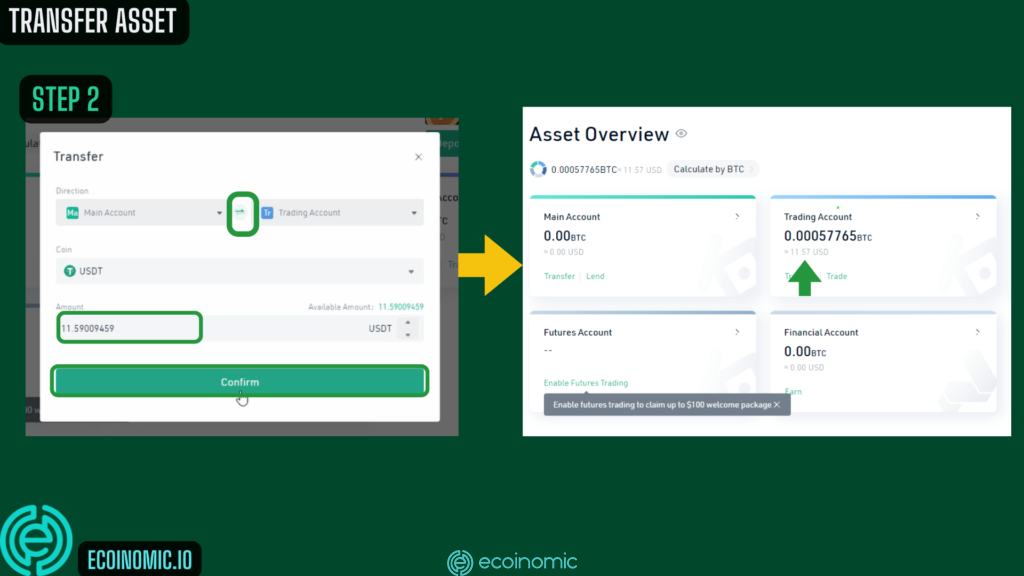 Buy coins on KuCoin
Step 1: Choose the section Trade on the homepage of Kucoin exchange, then click Spot Trading.
Step 2: Search the name of the coin in the search bar and choose the pair of coins that you want to buy.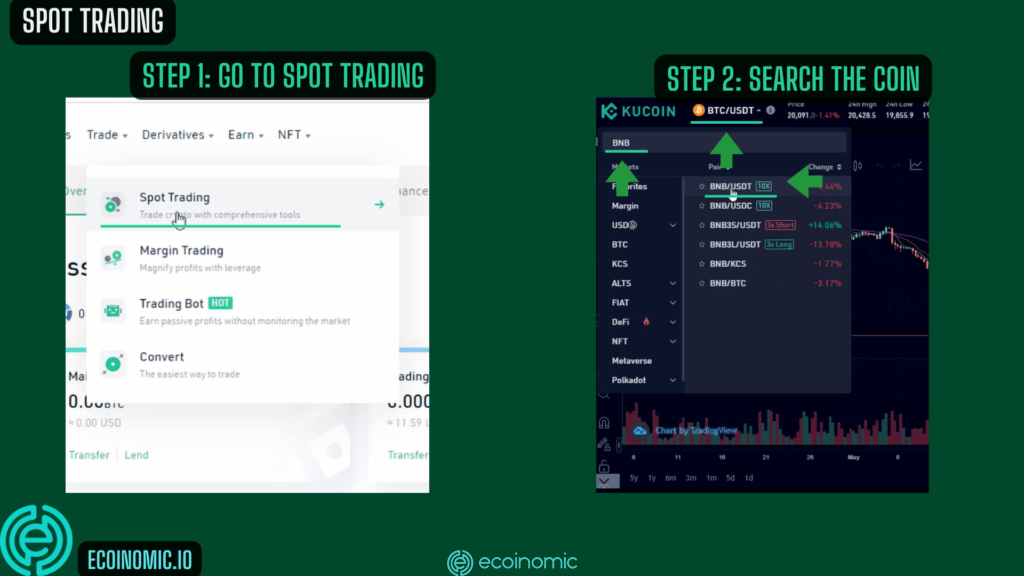 Step 3: Before buying, you must check the price of the coin carefully and enter the amount of coin you want in Amount in Spot section. Then press Buy BNB.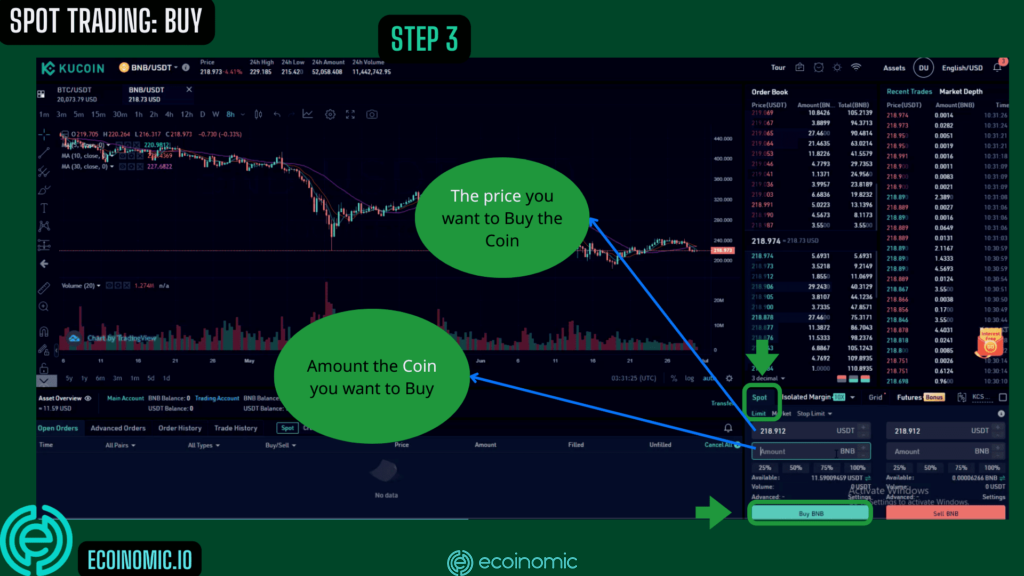 Sell coins on KuCoin
The operation of selling coins is similar to buying. You have also to check the price of the coin carefully and enter the amount of coin you want in Amount. Instead of clicking Buy, you click Sell BNB in section Spot.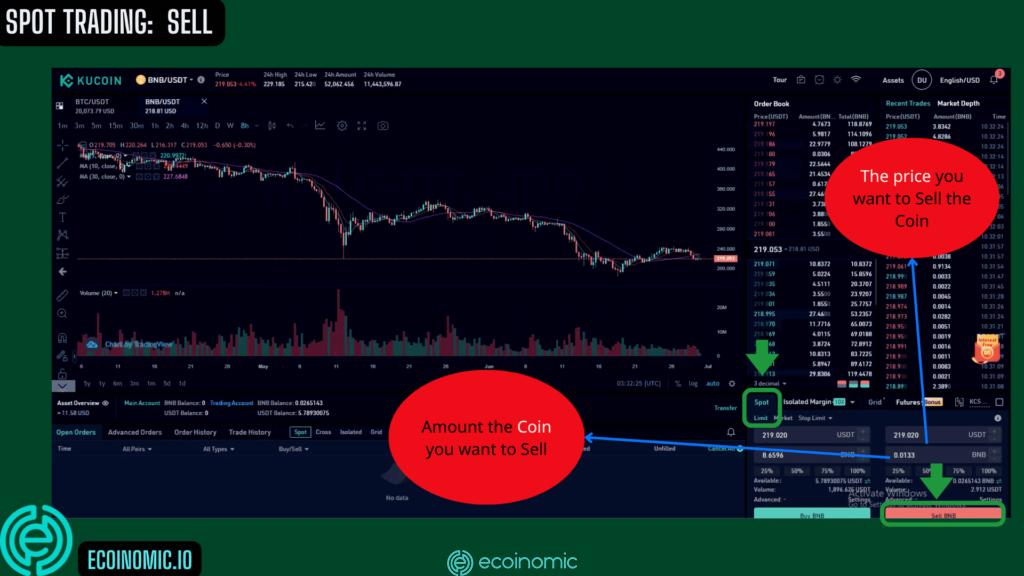 Frequently asked questions when KuCoin sign up

Has KuCoin ever been hacked?
In September 2020, KuCoin announced that it had lost $275 million worth of cryptocurrencies, including $127 million in ERC20 tokens used in Ethereum smart contracts. CEO Johnny Lyu said the hackers obtained private keys from the exchange's hot wallet. The majority of tokens are then restored and the remaining 16% are insured, so all customers are refunded.
After the attack, the exchange strengthened security measures such as adding a risk management system, and restructuring the network security department. KuCoin is still considered one of the most popular crypto exchanges.
Which country's KuCoin exchange? Does it support Vietnam?
KuCoin was founded in Hong Kong but now provides services in most countries around the world, including Vietnam. Therefore, Vietnamese investors can use this exchange to buy and sell coins.
What is a KuCoin exchange's coin?
KuCoin is one of the few exchanges that is currently issuing its own cryptocurrency, KuCoin Shares (KCS) is issued on the Ethereum blockchain platform according to the ERC20 standard. Therefore it is favored to dedicate a separate market to trading coins/tokens other than KCS.
Is it necessary for KYC to withdraw money when KuCoin sign up?
Kucoin does not require KYC to trade, but without KYC, you can only withdraw only 2 BTC/day.
Is KuCoin a scam? Should I trade on KuCoin?
Since the beginning of 2022, there has been no scam or attack on the Kucoin exchange that has lost customers' funds. In the worst case, Kucoin will freeze compromised trading wallets and roll out new wallets.
The Kucoin Board of Directors assures: "If any of the user's assets is affected by a cyber security incident or hack, it will be fully covered by the Kucoin insurance fund."
KuCoin exchange uses the most advanced crypto transfer protocols when moving data in the system. The exchange also has some internal procedures for handling special customer information. KuCoin also has personal authorization in place to prevent any scams.
Therefore, KuCoin is one of the reputable Bitcoin exchanges with low costs and high security.
What is the withdrawal and deposit limit when KuCoin sign up?
Depending on whether there is KYC or not, the deposit and withdrawal limit will be different. If KYC is successful, the withdrawal limit will be up to 500 BTC.
The withdrawal limit in 24 hours depends on what level you are at (from level 0 – level 12) and KCS holding volume, BTC trading volume in the last 30 days.
What types of fees are available on KuCoin?
Deposit fee: free
Withdrawal fee: Depends on market fluctuations from time to time and depends on the regulations of the exchange for each coin/token
Transaction fee: Pay transaction fee with KCS to enjoy a 20% transaction fee discount. For Spot trades, fees are calculated based on the base coin of that trading pair. For example, with KCS/BTC, the fee rate is based on KCS.
What is the KuCoin app on Android and iOS?
KuCoin now has the app in the App Store and Google Play, you can find the app on both platforms with the name KuCoin.
Summary 
Although KuCoin is a relatively new exchange in the cryptocurrency market, the platform is trusted by a lot of users. Currently, the options for trading pairs are somewhat limited, but the exchange maintains the integration of all the most popular cryptocurrencies.
With competitive transaction fees, KuCoin is more and more developed and capable of becoming a competitive exchange in the market.
Hopefully, with the above information provided by Ecoinomic, you have the answer to the question of what is KuCoin, and how to KuCoin sign up and use it. Wishing you a successful trade on this exchange.