For beginners, it's hard to review crypto exchanges. So what is Bybit? Is Bybit legit and How to Bybit sign up? Let's find out below!
What is Bybit?
Bybit is a cryptocurrency exchange that specializes in Derivative products. Bybit's users can trade derivative crypto that focuses on leveraged trading. It's able to leverage up to 100x on BTC/USD and ETH/USD trading pairs.
The exchange also provides perpetual contracts at spot prices. On the other hand, Bybit exchange also focuses on transaction speed, customer service as well as the best trading experience for traders. These are the best aspects that make Bybit one of the exchanges trusted by many users.
Bybit exchange info
Headquartered in Singapore, Bybit is an exchange registered in the British Virgin Islands. The platform supports traders from all over the world including North America, Europe, Russia, Japan, Korea, and Southeast Asia. The founding team consists of experts from the forex industry, investment banks, and early blockchain adopters. With over 6 million users and multi-language support, Bybit is currently one of the top 3 cryptocurrency exchanges in the world.
Bybit is a partner of the Oracle Red Bull Racing Formula 1 team and e-sports teams such as NAVI, Alliance, Astralis, and Virtus.pro; German football club Borussia Dortmund and Japanese football club Avispa Fukuoka.

The history of the Bybit exchange
Although Bybit was originally incorporated in Singapore in March 2018, the company has established its headquarters in the British Virgin Islands and is registered as Bybit Fintech Limited. Backed by a powerful aggregator and extensive infrastructure, the platform experienced complex, unpredictable fluctuations in the historic trading of digital currencies in May 2021. unharmed, with an increased rate of up to 99.9%. On March 17, 2022, Bybit won the Best Cryptocurrency Exchange Award at the Crypto Expo Dubai (CED)
Bybit Exchange Ecosystem
Bybit exchange is one of the exchanges with a diverse ecosystem with a full range of products for new investors and investors with many years of experience in the market.
With a Bybit account, you can participate in using the products:
Bybit P2P: It takes only three transaction steps and absolutely no fees. Bybit's P2P is a simple and secure trading platform. Promote the purchase and sale of assets at the best price agreed between the two users. The exchange currently supports more than 300 payment methods, including debit cards, credit cards, and direct cash payments. Customers who are Vietnamese are not allowed to accumulate more than 500 USDT without verifying their identity. Currently, Bybit only supports P2P transactions with USDT. Note, the bank account name must be the same as the account name registered on Bybit, it is not allowed to Borrow other people's bank accounts when doing P2P transactions.
Fiat Bybit: Currently only USDT and USDC are supported for Fiat deposits. BRL and ARS are two fiat currencies used to pay for transactions and Bybit does not charge any fees. When trading fiat money, users are not required to KYC and there is no limit on the amount of deposits. Money will be transferred to the Funding wallet after 1-2 minutes of the transaction.
Bybit Express: A method to buy USDT, BTC, and ETH with Fiat money via bank transfer, credit card, or MoMo/ZaloPay for Vietnamese customers.
Bybit Spot Trading: Sell and buy a digital currency with three types of orders: Market order, limit order, and conditional order. Buyer and seller must pay immediately when buying or selling. After completing the purchase, the coin will stay in the Spot wallet and you can get a huge profit if the value of that coin increases. After the sale ends, the sold tokens will be converted to USDT, USDC, USD, DAI, or BTC depending on the previously selected trading pair, and stored in your wallet.
Margin Trading Bybit: This is a form of financial leverage that involves borrowing capital from exchange to increase a user's initial capital and enhance their position. This method gives huge profits and also carries a relatively high risk if you have no trading experience.
Leveraged Tokens Bybit: Before trading, Bybit exchange will ask you to watch an introductory video about leveraged tokens to better understand them. In general, the trading method is similar to Spot and easy to use. The leveraged token is a high-risk product, the account burn rate is lower than Margin Trading and the profit is not much because of low leverage.
Bybit Launchpad: Investors can pre-purchase the project's token before it goes on public sale. KASTA, REAL, and CBX are three projects that have been listed on Bybit and have very high profitability.
ByVotes Bybit: Receive a listing vote when meeting the requirements for trading volume or position. If the listing vote wins, you will receive an airdrop. This reward is: Your number of votes/(Total number of votes *Total bonus) and will be deposited into Spot wallet.
Bybit Bot Trading – Grid Bot: The system automatically places orders to buy and sell according to a predefined price range and generates profits thanks to market fluctuations. The bot trades 24/7 and the average rate of return is 12.221% APR. However, it is currently only supported on Spot trading.
Bybit derivatives trading:
USDT Perpetual: Perpetual Contract Using USDT as Margin
Eternal & Future Inverse: A perpetual futures contract that uses coins as collateral
USDC Perpetual: Perpetual Contract Using USDT as Asset
USDC Option: Option contract with USDC as margin
Bybit Copy Trading: Copy trades from experts to easily earn better profits. If you are a seasoned trader or KOLs register to become an expert on Bybit. From June 7, 2022, take-profit and stop-loss will be supported on Copy Trading platform.
Bybit Savings: Earn interest from saving your favorite coins, so choose tokens with flexible terms and attractive APY.
Dual Asset Bybit: A speculative tool that makes money predicting the price trend of a crypto asset within a preset timeframe. At maturity, you will receive USDT or BTC, ETH, or BIT…. depending on the outcome of the transaction. The type of crypto asset you will receive is based on the ratio of the settlement price to the benchmark price.
Settlement Price: The spot price of assets like BTC, ETH, and BIT – quoted in USDT – when your bundle ends.
Estimated Benchmark: The spot price of assets like BTC, ETH, and BIT – quoted in USDT – when your product bundle starts.
Bybit Liquidity Mining: Become a liquidity provider and profit from swap fees in the pool, adding or withdrawing liquidity at any time.
For example: At Bybit exchange, you can get 15.13 USDT/month for investing 1000$ in BTC/USDT Liquidity Pool with APY 6.1% – 18.4%
DeFi Mining Bybit: Cheap fees, good security
Example: Stake USDT get Curve with annual net profit ranging from 3% to 5%, minimum participation amount is 100 USDT, 7-day Staking cycle
Bybit Launchpool: Earn free tokens by staking. To participate, you must complete KYC level 1. Daily profit will not be automatically reinvested.
Bybit NFT: Users can list and trade NFTs with ETH, BIT, XTZ, USDT, and cannot use other tokens for trading.

Who is the founding team of Bybit?
The Bybit exchange was founded by Ben Zhou, who founded his own Fintech empire called XM and took over the position of CEO for 7 years. Currently, XM is rated as the leading brokerage service provider.
Bybit's team is mostly experts from the forex market. In particular, Bybit's Developers Team has worked at several organizations such as Morgan Stanley, Tencent, Ping'an Bank, and Nuoya Fortune.
Review Bybit exchange
Advantages of Bybit exchange
The investment interface is simple for traders to participate. The exchange also always focuses on product development to optimize the user's experience.

Uninterrupted transactions up to 99.99% (capability to match 100,000 transactions per second)

Customer service supports 24/7.

Regularly organize competitive events to encourage investment.

The exchange doesn't require investors to identify KYC. Therefore making the security of trader information safer.

Support multi-platform

The website interface supports the Vietnamese language.

High-security feature: 100% of assets are stored in cold wallets

Provide API services for traders who want to use a third party for trading.
Disadvantages of Bybit exchange
The exchange doesn't have an exclusive exchange coin.

OTC trading is not available.
Guide Bybit sign up from A-Z
If you Bybit sign up by phone, you need to download the Bybit app on the Appstore or Ch Play to your device.
In the case Bybit sign up with a computer, click on the Register Bybit button below to go to the Bybit account creation page.

In another way, following these steps:
Step 1: Access the website by the link https://www.bybit.com/vi-VN/invite?ref=4RKXQ7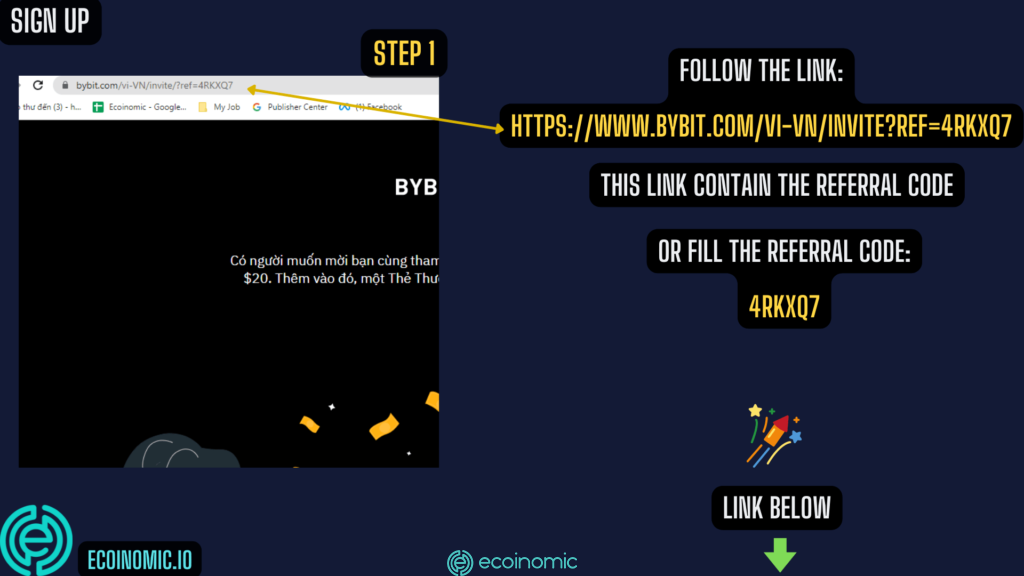 Step 2: Click Sign Up Now. Enter your Email and password (must be 8-30 characters, at least one lowercase, one uppercase character and one number). Please don't forget to enter the ref code 4RKXQ7. Then click Continue.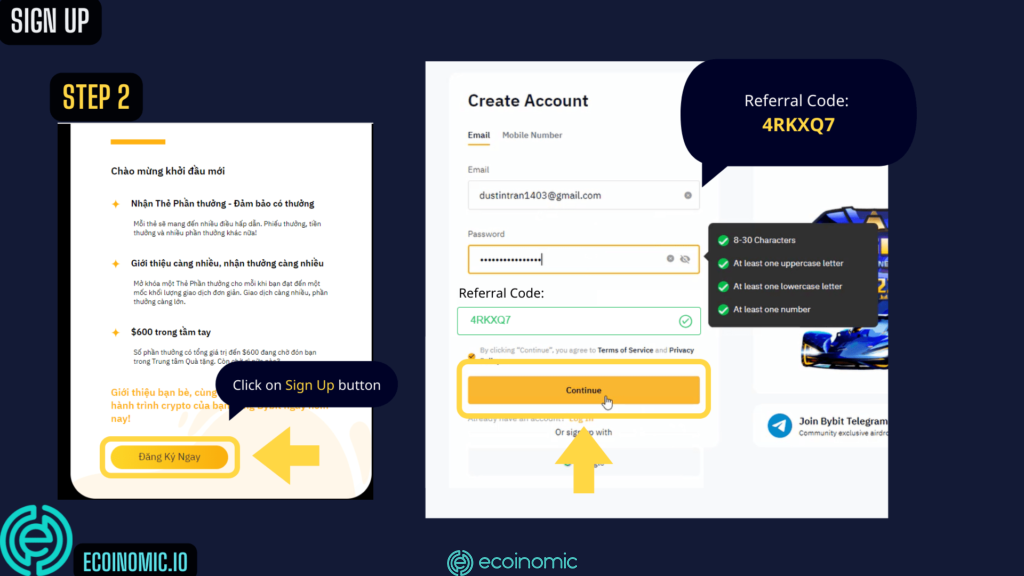 Step 3: A window appears with a list of restricted countries, click No if you are not in those countries or regions. Then make an authentication request with a Captcha by completing the puzzle.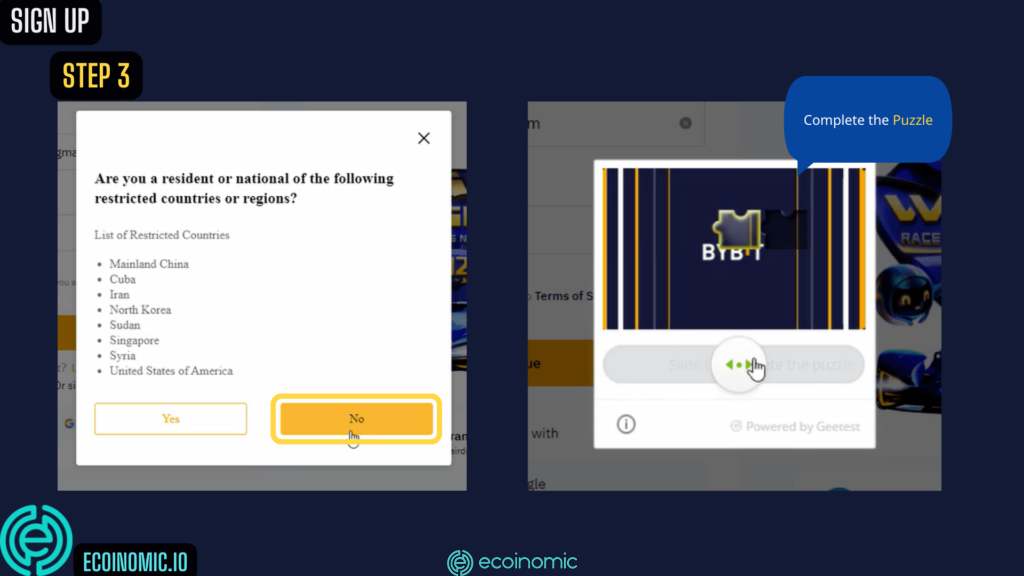 Step 4: Enter the verification code you have received via your Email. This registration process is done. You'll see a Welcome to Bybit screen.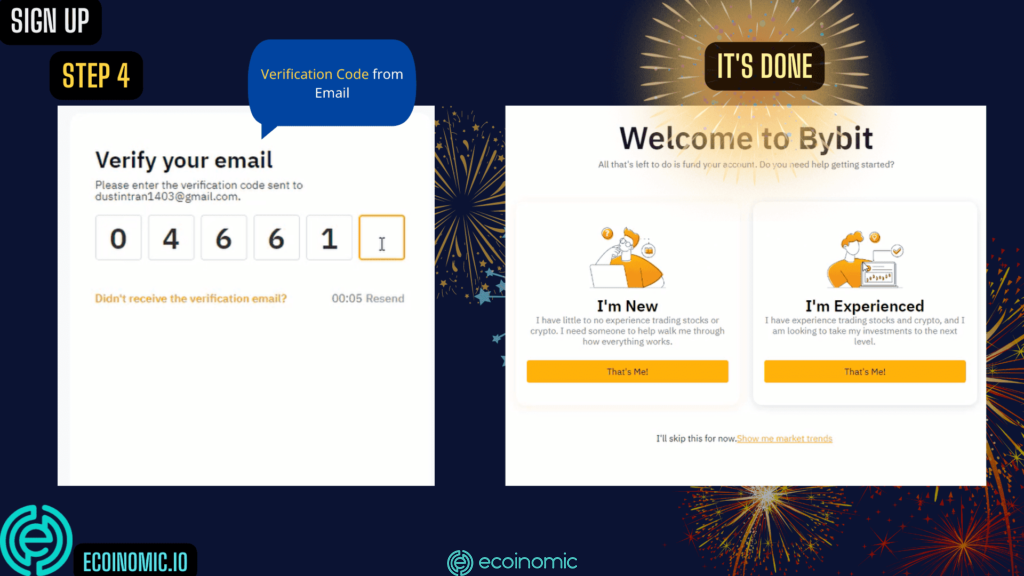 Bybit Account security guide
Preparation: 
Commonly used email address.

Photos of the ID card or driving license: a photo of the front, a photo of the back, and a selfie photo with the front.

A smartphone has the Google Authenticator Application.
How to KYC (Know your customer) when Bybit sign up
KYC is the process of collecting and identifying information related to the customer. The basic information that is usually collected is a portrait photo, ID number, Passport, address, etc. to eliminate unqualified people.
To KYC your account on Bybit, you do the following:
Step 1: On the homepage of the Bybit exchange, choose the Profile symbol and click Account & Security.
Step 2: Click Verify Now in the section Identify Verification.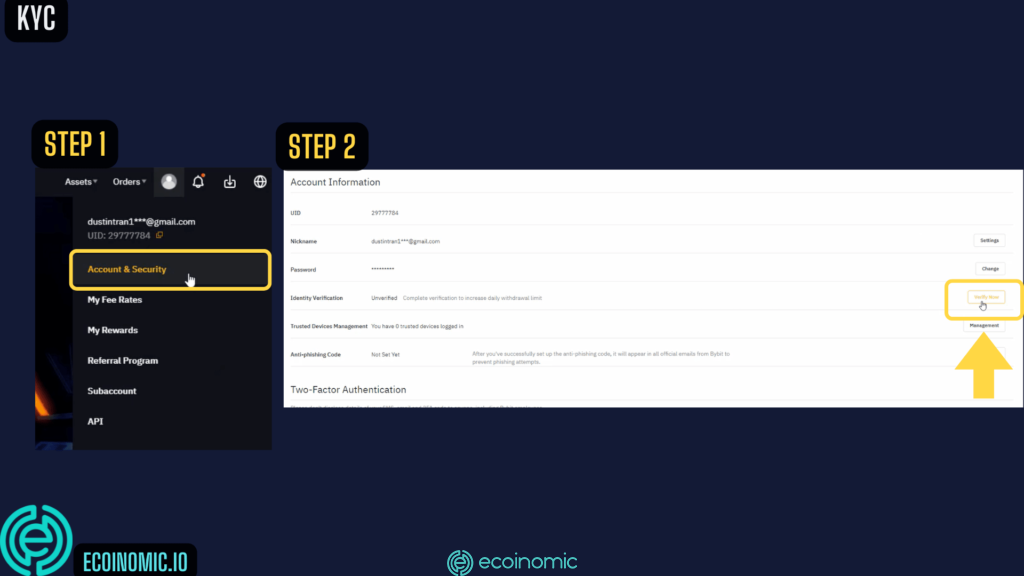 Step 3: Click Upgrade
Step 4: Choose your nationality and click Next.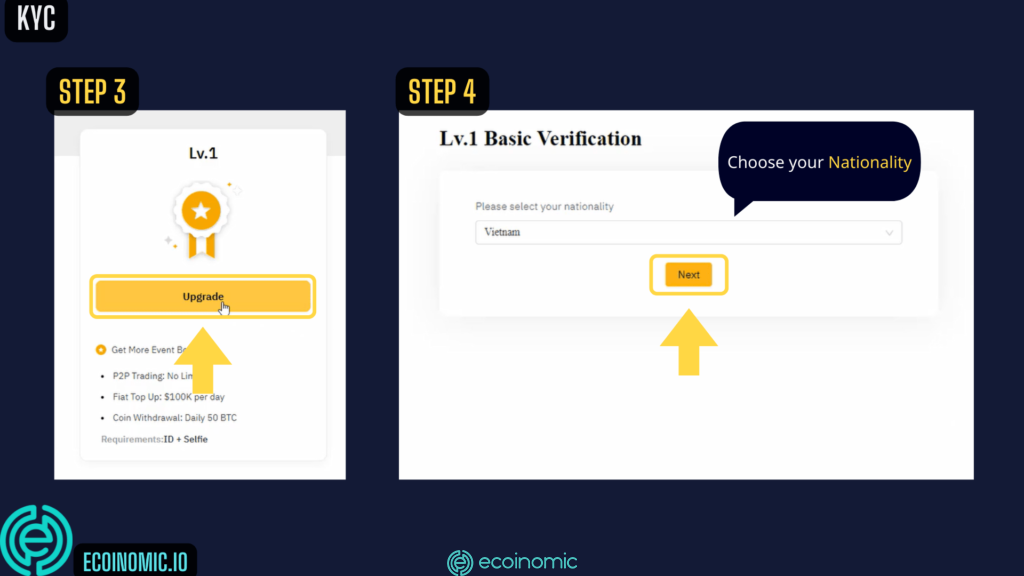 Step 5: Select your country or region. In this step, you have to choose an ID document for KYC by selecting one of three options (ID card, Passport, or Residence permit). Then click Next.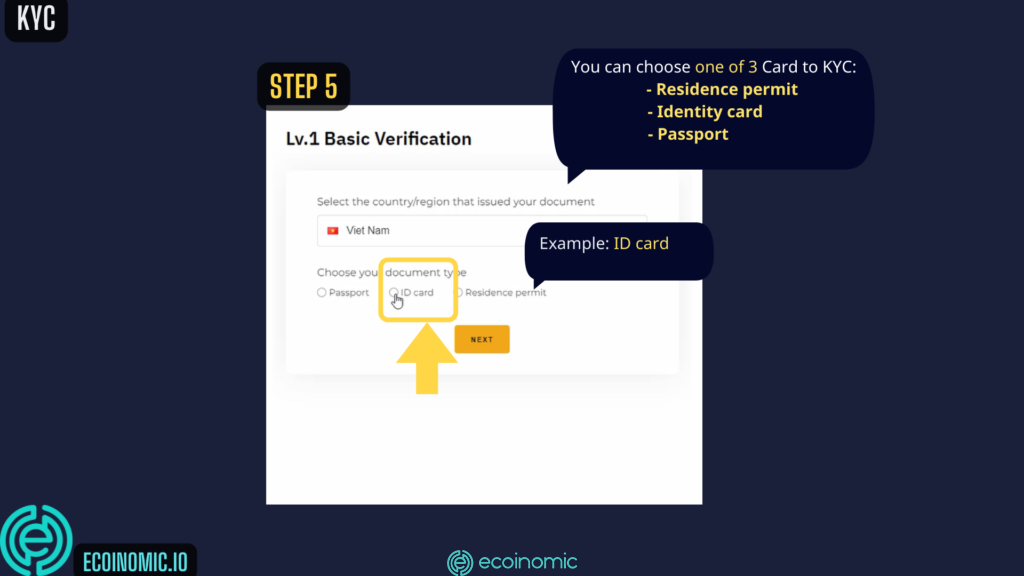 Step 6: Take photos of your ID document on both sides and upload them (ex. ID card). The photos must be bright, clear and uncut then upload the photos. Click Next. Then click I'm ready.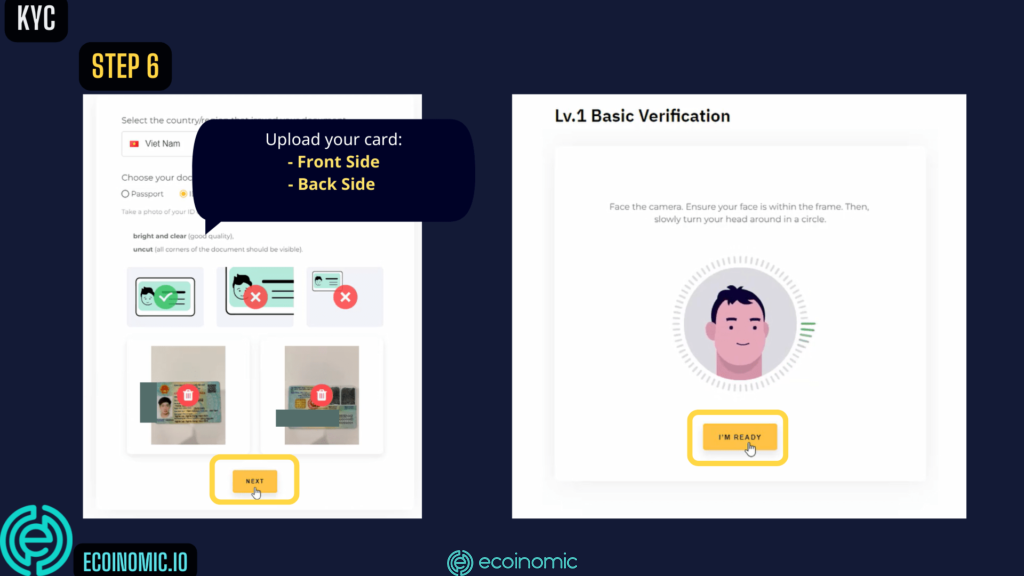 Step 7: Keep your face in the square frame.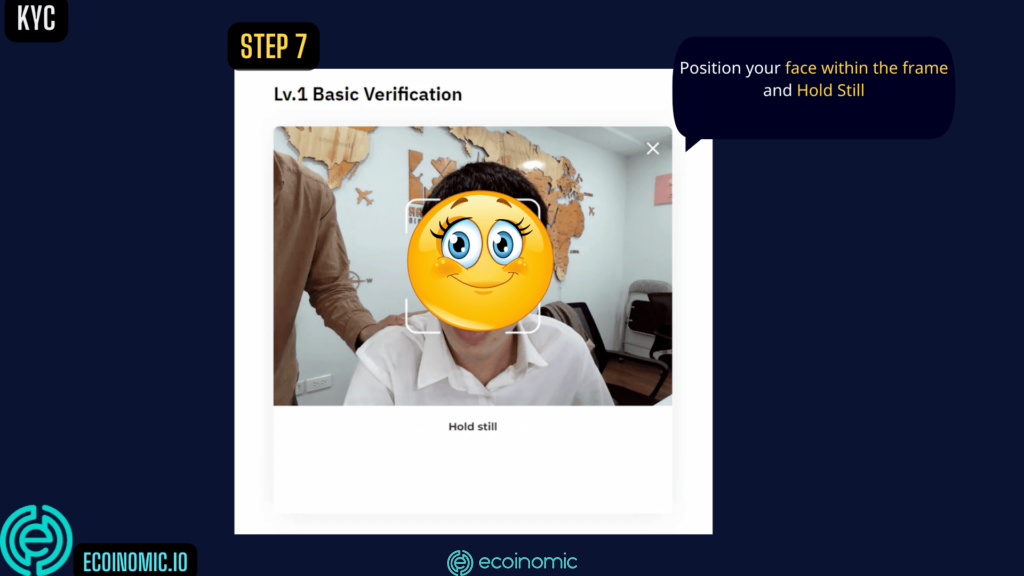 Step 8: Roll your head slowly, in a circular motion. You will receive a notification if the operation is successful.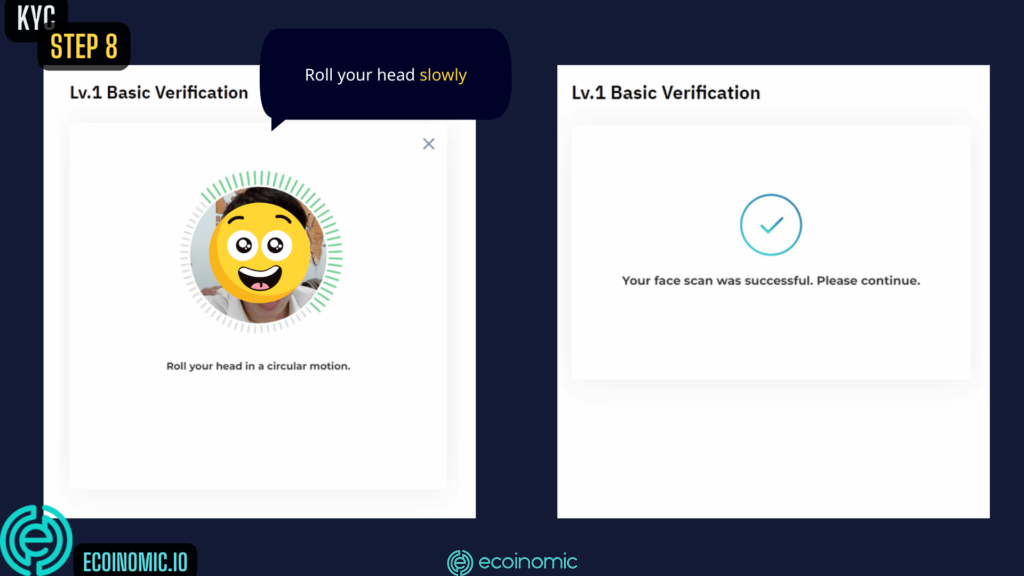 Step 9: Check the information carefully and click Next. Your request is in process.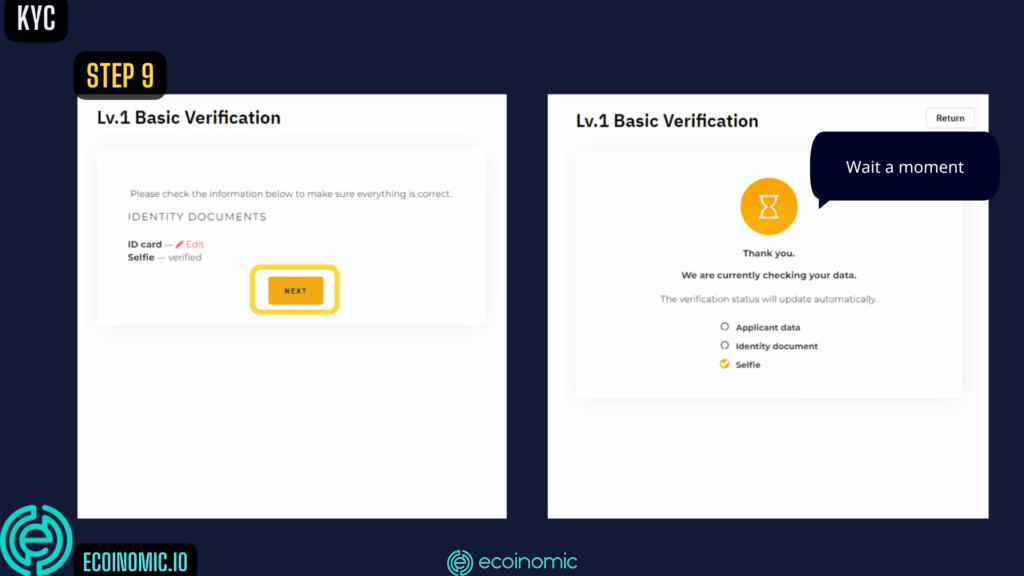 After a few minutes, you will receive a notification of the completion.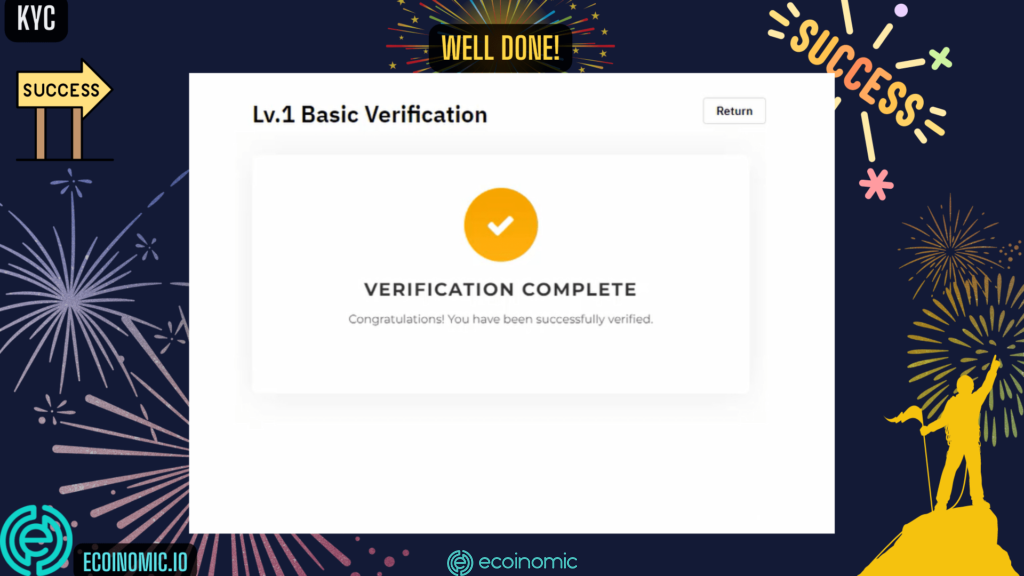 Google Authenticator setup when Bybit sign up
Google Authenticator is an application that automatically generates a random 6-digit code to log into your account. However, these 6 numbers only last for 30 seconds and will change to 6 other numbers on their own.
To set up Google Authenticator, follow these steps:
Step 1: On the homepage of the Bybit exchange, choose the Profile symbol and click Account & Security.
Step 2: Click Settings in the section Google Two Factor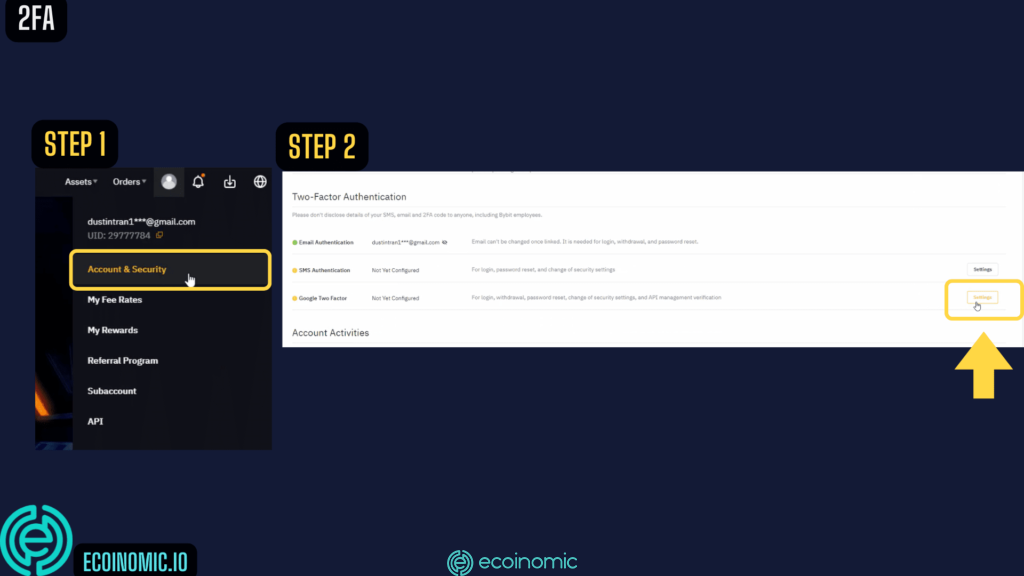 Step 3: Click Send Verification Code. You're going to receive a code via your email. Enter it and click Confirm.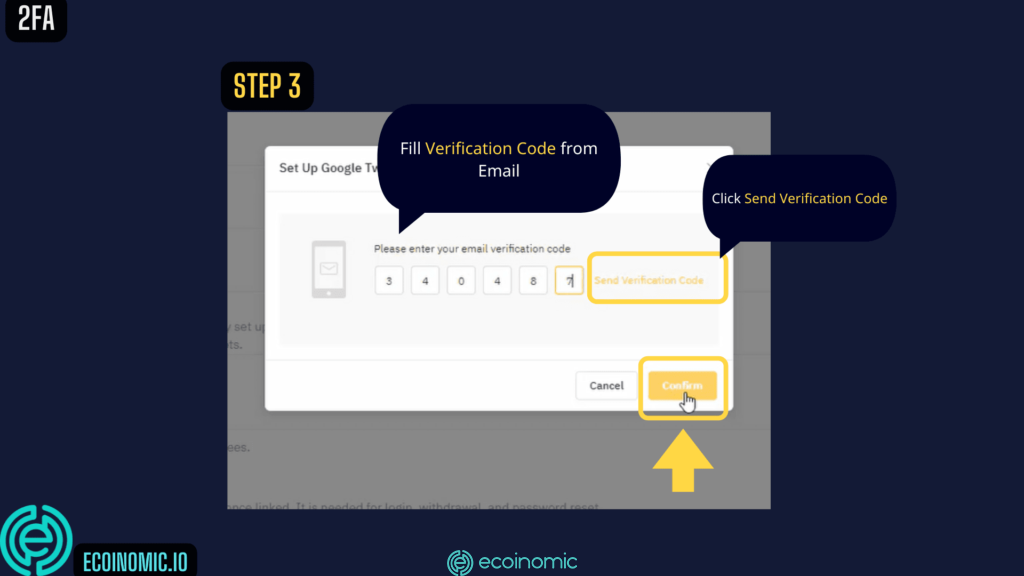 Step 4: Copy the QR Code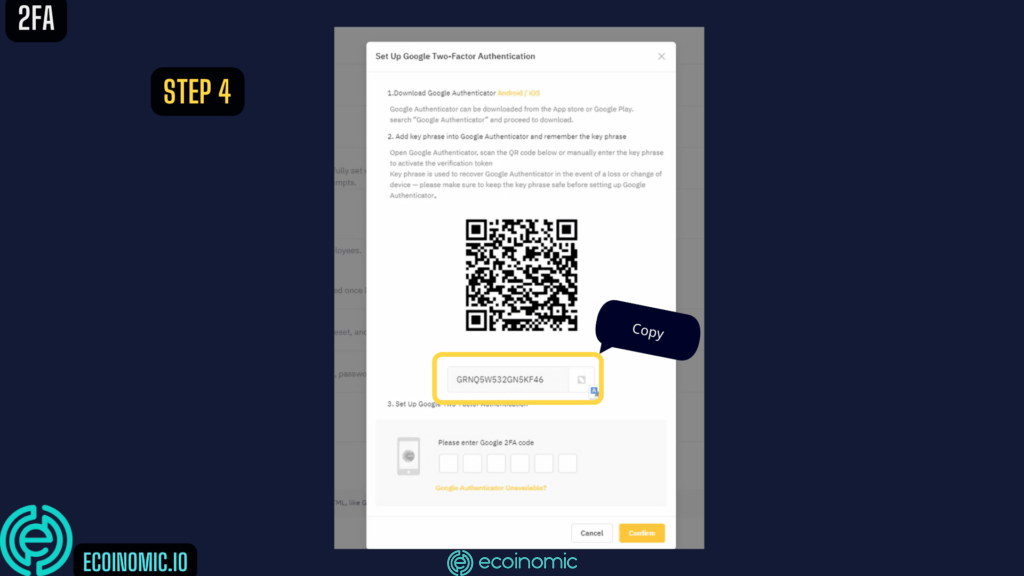 Step 5: Setup and activate Authenticator on Google Extensions if you haven't used it before. Open it and click the pen symbol. Click plus sign. Name the Code, for example, ByBit 2FA. Then paste the QR Code you have copied to Secret and click OK.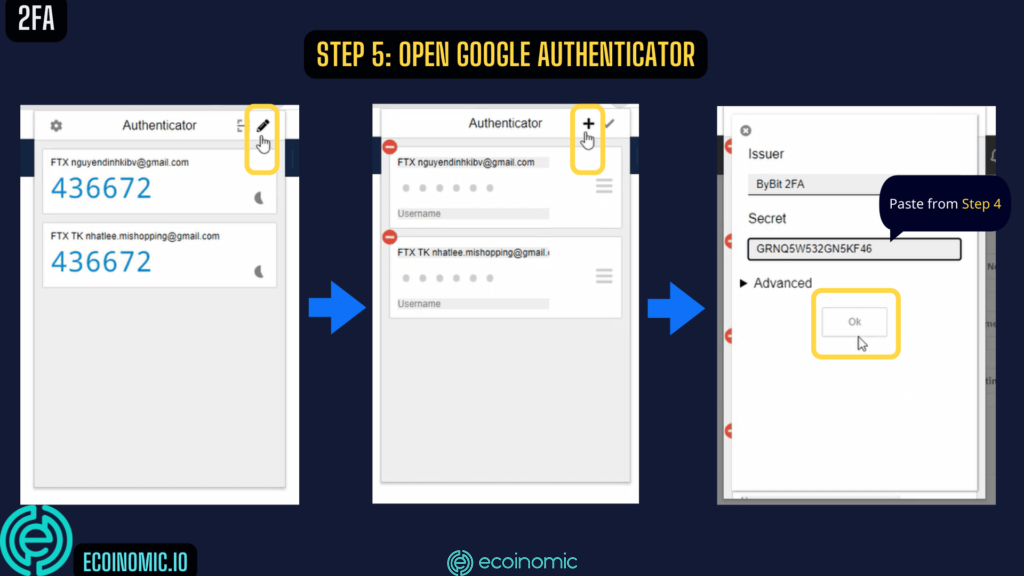 Step 6: In this step, you'll see a random 6-digit code, copy it and paste the code to 2FA Code. Then press Confirm. This process is done.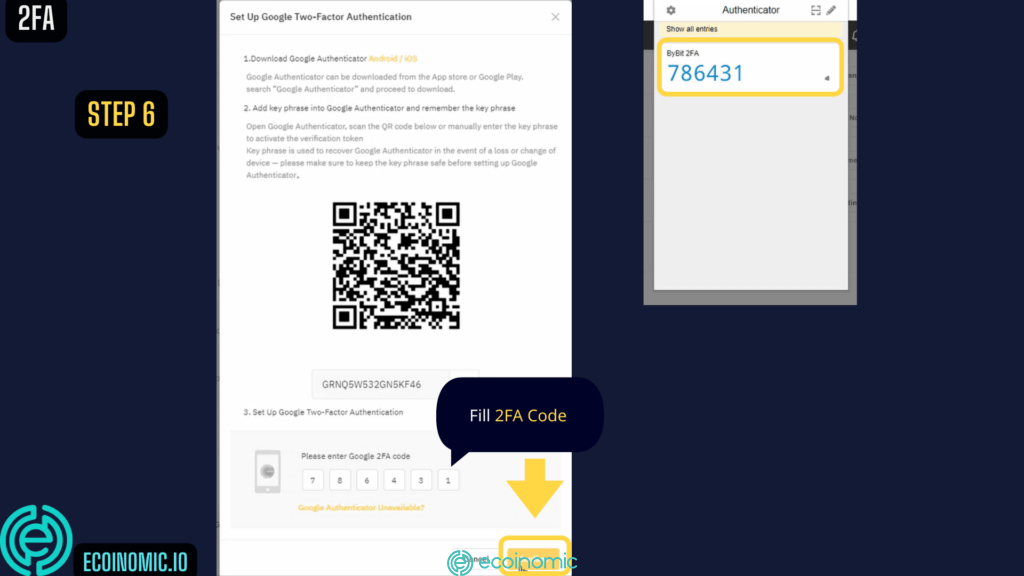 Instructions for depositing and withdrawing money when Bybit sign up

Bybit Deposit
Step 1: On the Bybit exchange's homepage, click Assets → Asset Overview
Step 2: Choose Deposit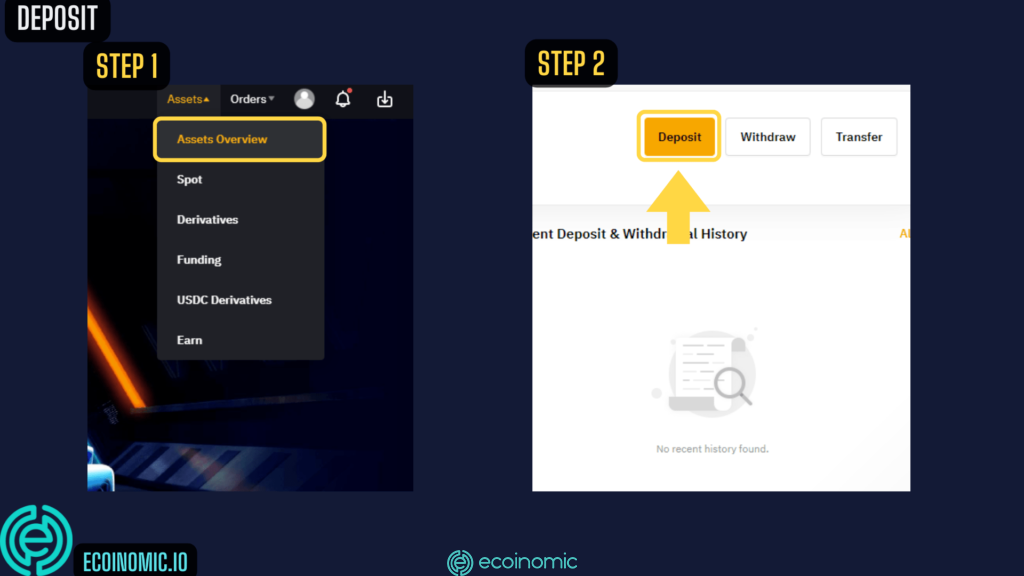 Step 3: Choose the coin. Choose the chain that is compatible with your assets, then copy the Wallet ID.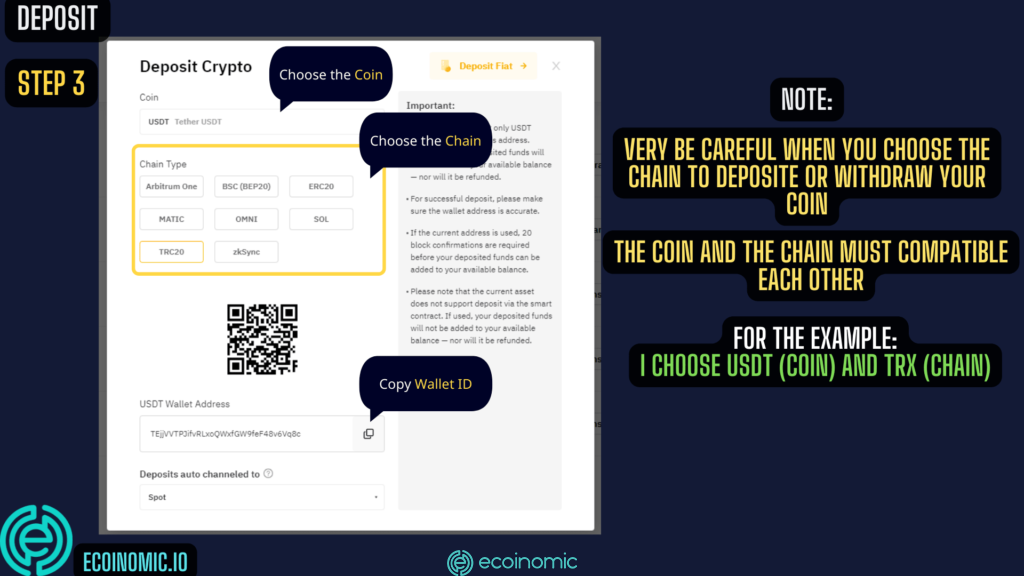 Bybit Withdrawals
Withdrawing money on Bybit exchange is also uncomplicated, you do that by following these steps:
Step 1: On the Bybit exchange's homepage, click Assets → Asset Overview
Step 2: Choose Withdraw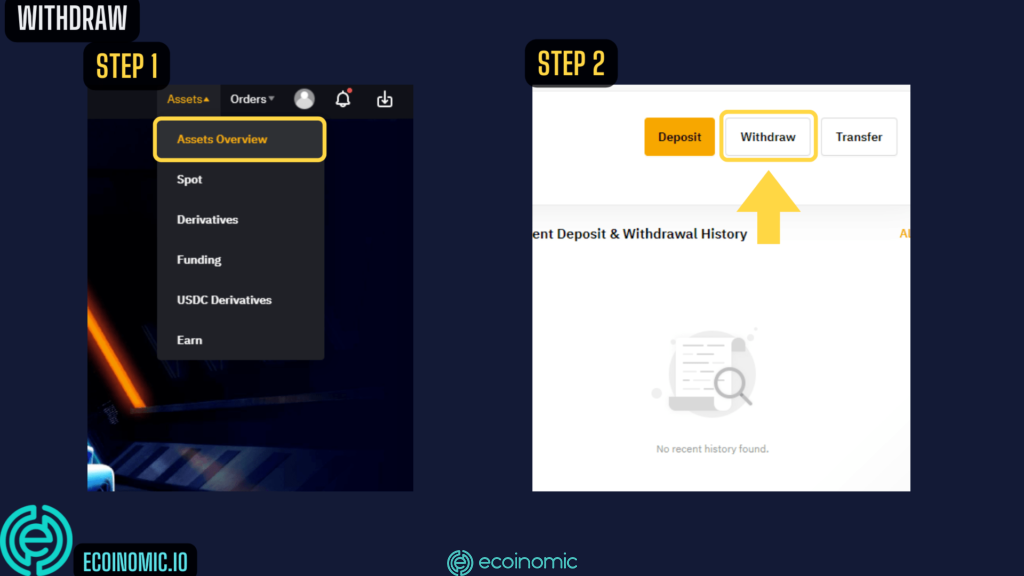 Step 3: Choose the coin. Enter the amount of coin that you want to withdraw. Choose the network that is compatible with your assets, then paste your Wallet ID and click Submit.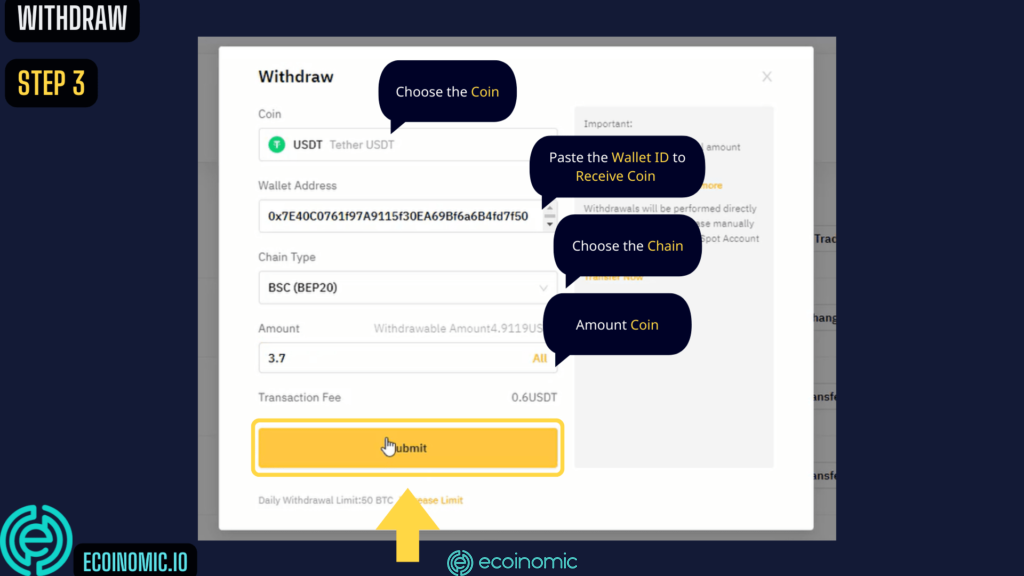 Step 4: Click Send Code to receive a verification code via your email, complete the puzzle then enter it. You must also enter the 2FA Code from Google Authentication.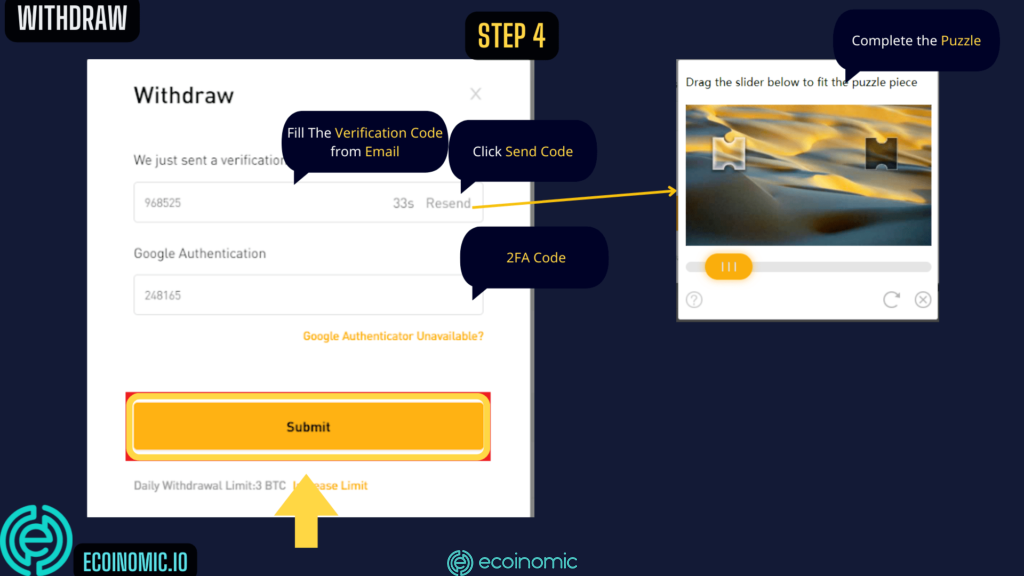 Instructions for spot trading
Transfer money to Spot Bybit wallet
Before making a spot trade, you have to own a certain amount of coins in your Spot wallet. Therefore, you must transfer coins from the Derivatives to the Spot wallet. To do that, follow these steps:
Step 1: On the Bybit exchange's homepage, click Assets → Asset Overview
Step 2: Choose Transfer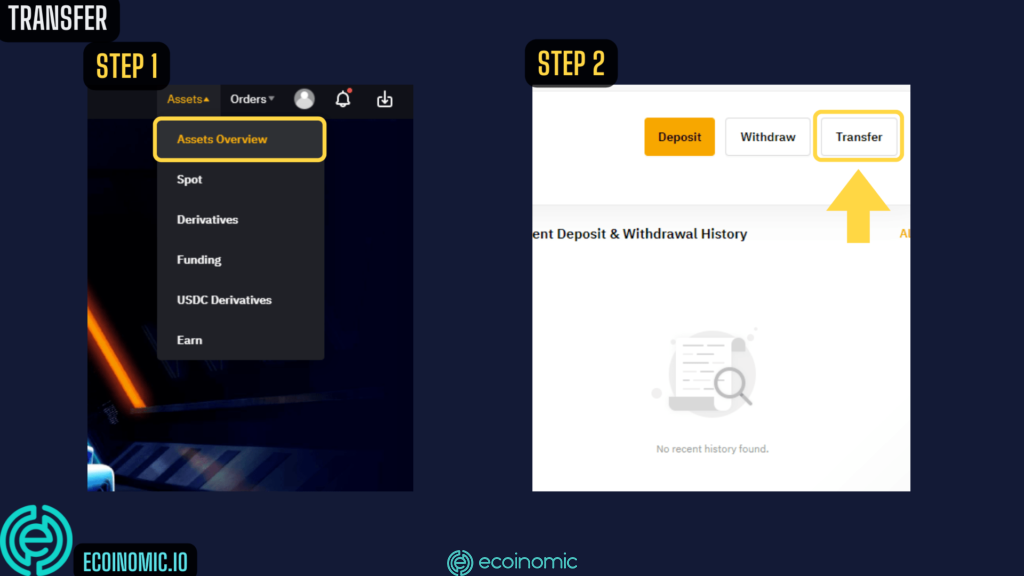 Step 3: Set the direction of money transfer from the Derivatives to the Spot by adjusting the arrow. Enter the amount of money you want to transfer and click Confirm. The asset has been transferred to your Spot wallet.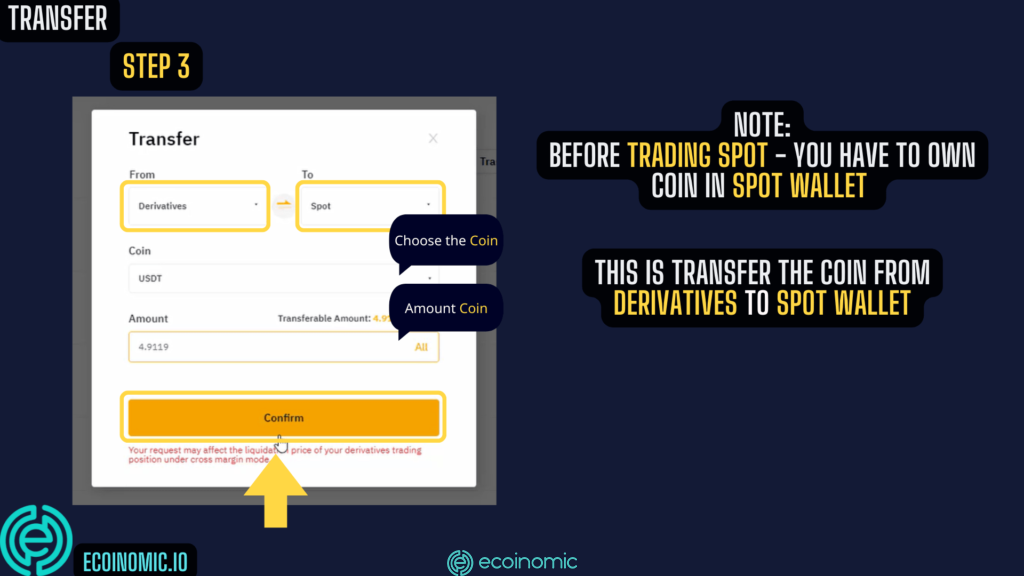 Buy coins on Bybit using the Limit order
Step 1: On the homepage of Bybit exchange,  search the name of the coin on the search bar and choose the pair of coins that you want to buy.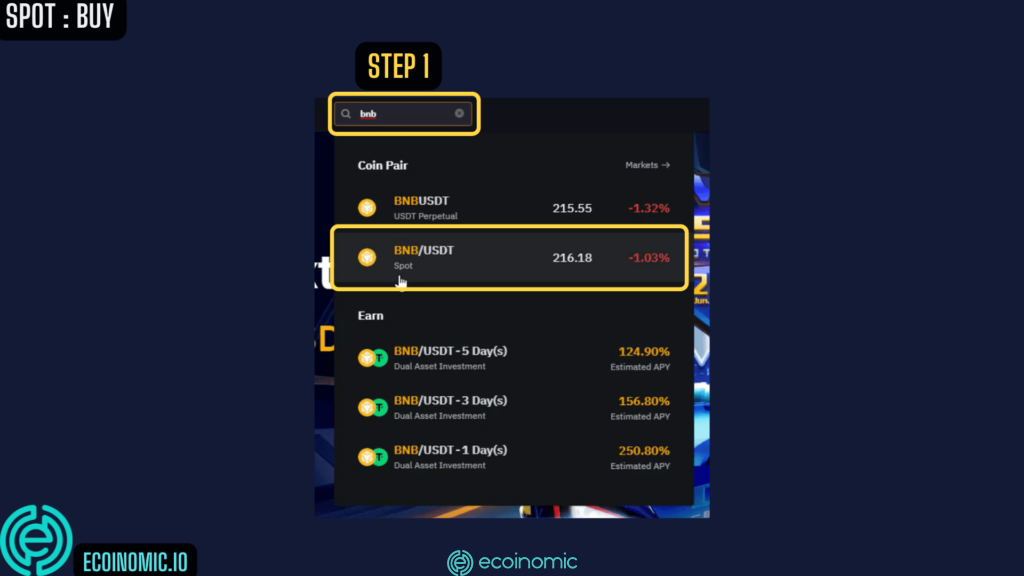 Step 2: Before buying, you must check the price of the coin carefully and enter the amount of coin you want in Quantity or adjust the bar below in Buy section. Then press Buy BNB.
Sell coins on Bybit using limit order
The operation of selling coins is similar to buying. Instead of choosing the section Buy, you choose Sell. You have also to check the price of the coin carefully and enter the amount of coin you want in Quantity or adjust the bar below. Then click Sell BNB.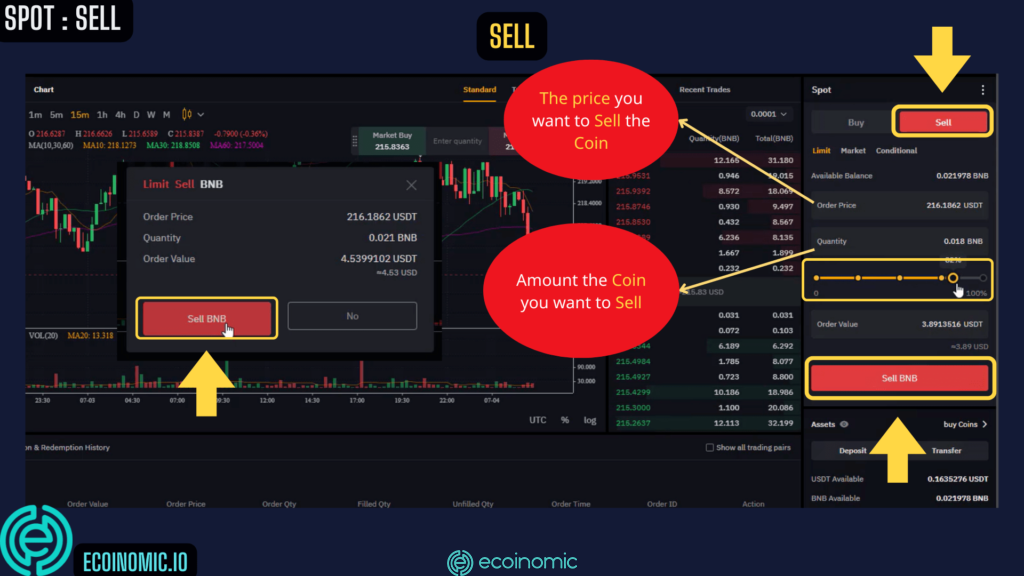 Frequently asked questions when Bybit sign up

Is FTX exchange prone to maintenance errors?
Currently, the Bybit exchange has not undergone any system maintenance.
What is Bybit native token (coin)?
Bybit has not formed an exclusive exchange coin.
Is it necessary for KYC to withdraw money when FTX sign up?
Users can withdraw money on Bybit without KYC. But if you want to withdraw more than 2 BTC per day, you need to complete KYC verification.
What is the withdrawal and deposit limit when Bybit sign up?
Withdrawal Limit: Traders can see the minimum withdrawal amount and withdrawal fee displayed on each withdrawal window.
Deposit Limit: All coins have no minimum deposit requirement, except SOL. Deposits less than 0.01 SOL will not be credited to your account and will not be withdrawn.
Is Bybit legit? Should I trade on Bybit?
Looking at the founding team, we can see the appearance of Mr. Ben Zhou – who has held the position of CEO of XM for more than 7 years, so it is somewhat believable for the founding origin of this exchange.
Furthermore, Bybit is a partner of Formula 1 team Oracle Red Bull Racing as well as e-sports teams like NAVI, Alliance, Astralis, and even Virtus.pro or German football clubs Borussia Dortmund & Club Avispa Fukuoka Japanese football. It proves that the exchange operates openly and has strong finances.
Has the Bybit exchange ever been attacked?
It has been 4 years since the market launched, but Bybit has never been hacked, proving that Bybit's technical experts have done a pretty good job of keeping customers' accounts secure and safe.
What are the fees for Bybit sign up?
Bybit's Maker Taker Fees: Bybit distinguishes between maker and taker fees according to how fast the matching operations are. (Taker Fee: Order Value × Taker Fee Rate; Maker Fee: Order Value × Maker Fee Rate)
Transaction fees on Bybit: Traders will enjoy many benefits from the exchange if they join the Bybit VIP or Loyalty program.
What is Bybit app on Android, and iOS?
Bybit is now available in the App Store and Google Play, you can find Bybit on both platforms.
Conclusion
Bybit is one of the safest and fastest derivatives exchanges you can find in the crypto market. This exchange is always present at all events in the crypto community to increase users' trust. Moreover, the platform supports multilingual clients and offers a dedicated account manager. Bybit always wants to make sure anyone can get started in the simplest way.
In the writing, Ecoinomic has provided you with an overview of Bybit – a new exchange for Vietnamese investors, and gives instructions on how to use and Bybit sign up. If you are looking for a secure exchange, a friendly interface, easy to use, and low trading fees, the Bybit exchange is the perfect option.