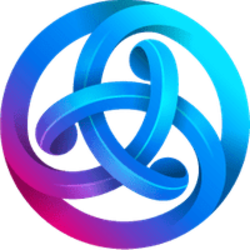 AstarASTR
Astar Price (ASTR)
Low: $0.0503 High: $0.0516
Market Cap
$270,220,882.00
Volume / Market Cap
$0.02
Circulating Supply
$5,280,196,934
Loading Data
Please wait, we are loading chart data
| Date | Price | Volume | MarketCap |
| --- | --- | --- | --- |
| # | Exchange | Pair | Price | Volume (24h) | Updated | Trust Score |
| --- | --- | --- | --- | --- | --- | --- |
Loading facebook comment(s)
What is Astar?
Astar Network (formerly known as Plasm) is a DApp hub that supports EVM, WebAssembly, and layer 2 solutions such as ZK Rollups on Polkadot. With the goal of becoming a multi-chain Smart contract platform, supporting multiple blockchains and virtual machines, Astar allows developers to create any application on an open source, scalable and Web 3.0 compatible infrastructure.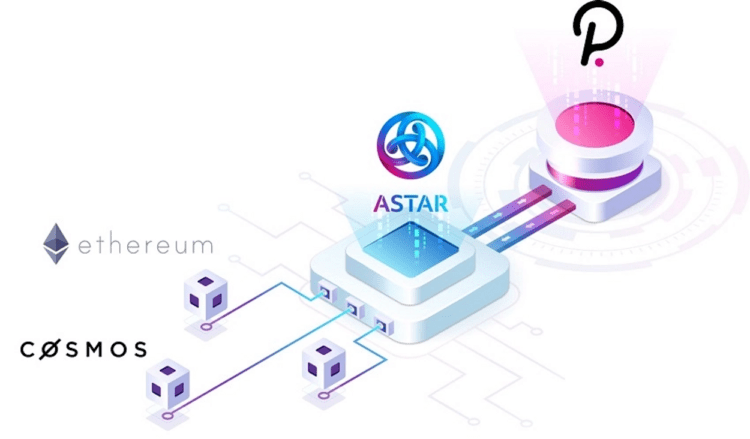 Highlights of Astar
Astar offers the ultimate solution that solves the problems of scalability, interoperability and rewards for developers.
Scalability: Astar improves fast transaction speed with cheaper transaction costs, faster confirmation process.
Interoperability: Astar is compatible with Polkadot, offering interoperability between smart contracts written in multiple languages.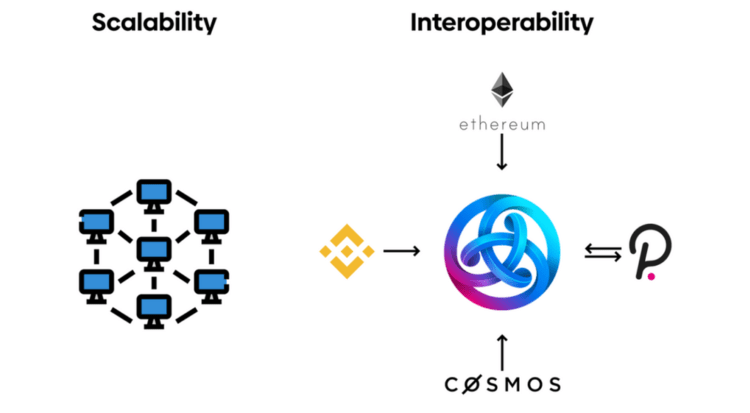 Astar (ASTR) Token
Token Metrics
Token Name: ASTR
Ticker: ASTR
Blockchain: Astar blockchain.
Token type: Governance & Utility
Total Supply: 7,000,000,000 ASTR
Circulating Supply: 3,819,701,489
Token Allocation
Users and initial investors: 30%
Parachain Auctions: 20%
Protocol development: 10%
Early Financial Assistance Partners: 10%
Founding team: 10%
Parachain Auction Reserve: 5%
On-Chain DAO: 5%
Marketing: 5%
Staff: 5%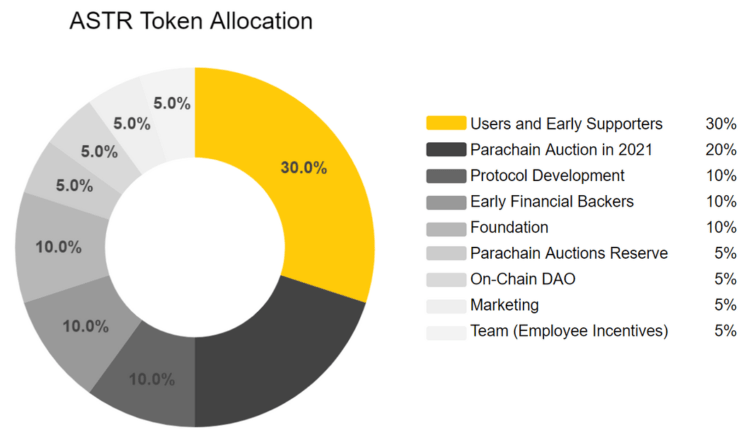 Token Use Cases
ASTR is a utility token of the Astar network with 3 main functions as follows:
Payment of transaction fees**:** ASTR is used to pay gas fees and execute smart contracts.
Governance: ASTR token holders have the right to participate in voting for referendum activities on the network and nominate council members.
Staking DApps: ASTR holders can stake ASTR on DApps to receive tokens. Besides, DApps developers will receive rewards based on the amount of staking. App developers will receive ASTR from creating smart contracts and infrastructure for the Astar community.
Roadmap
Q1 – 2022
Astar Network Launch
Anyswap bridge integration into Astar portal
Astar portal redesign
Astar Incubator Program
Build2Earn proposal for donations
DApps Staking Build2Earn tokenomics
Collator Monitoring
FinOps Infrastructure
ZK-Plonk Web3 Grant Fund
Ink contract support! on parachain
XCM integration
Astar Packing
Set up tools for EVM.
Q2 – 2022
Add Arthswap to Astar Portal
Improved Astar Portal performance
A learning center for Dapp developers
XCM Client Library
Indicators measuring staking performance on Dapp
New Astar homepage
On-chain governance
Support Ask! and other WASM contract languages
WASM Contract Tool
xVM protocol test with EVM.
Q3 – 2022
Integration of key bridges with Astar Portal
Layer 2 Developer Tools
Staking administration on Dapp
Test the application running on Layer 2
xVM protocol test with WASM
Testing staking multiple tokens on Dapps
Q4 – 2022
Astar's consensus mechanism
Astar Academy Certificate
xVM client library
Support for XCM Staking Dapps
Partnerships with Layer 2 projects
xVM protocol test with XCM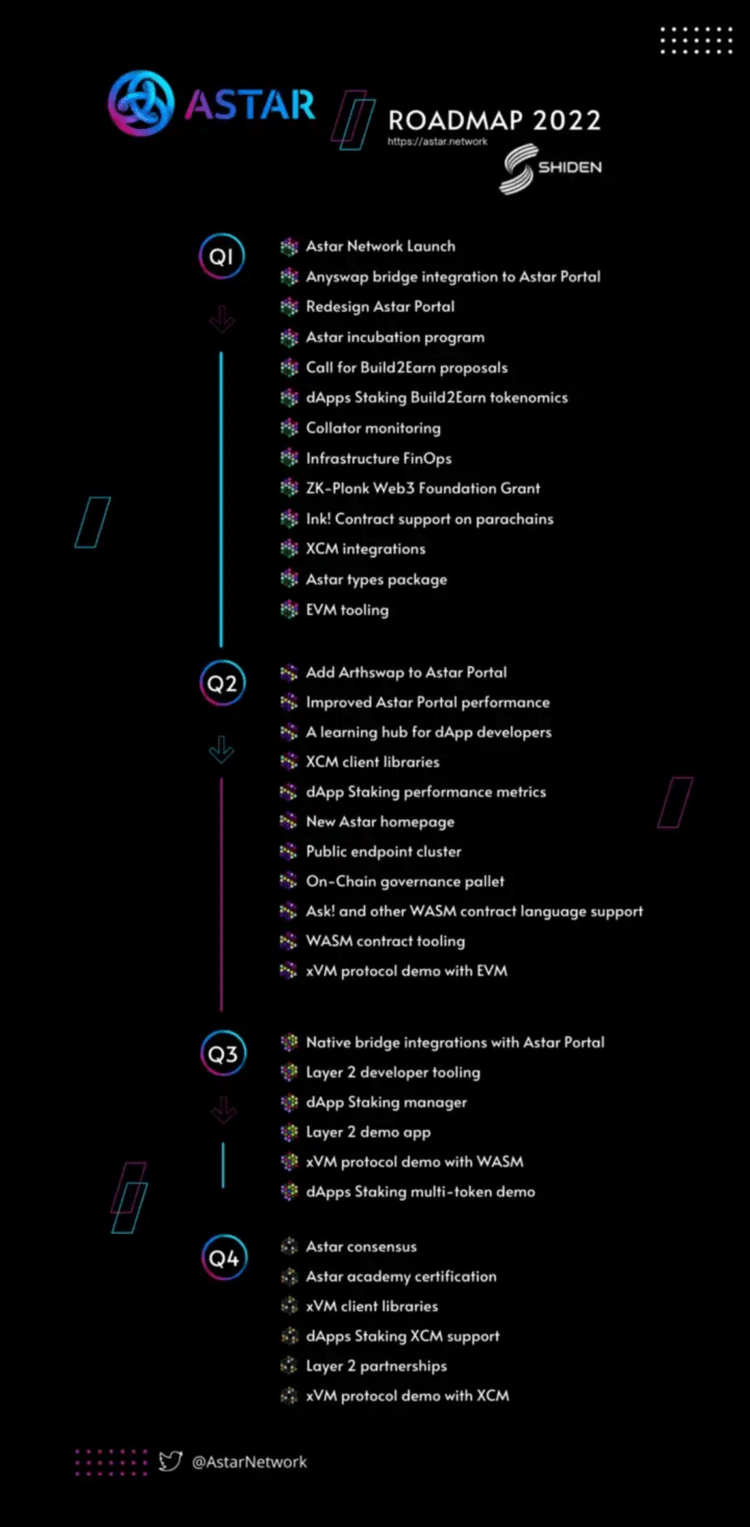 Development team
Astar Network is built and developed by a team of experienced engineers in the field of blockchain technology and cryptocurrency market such as Sota Watanabe, Takumi Yamasshita, Masaharu Uno and Task Ohmori,…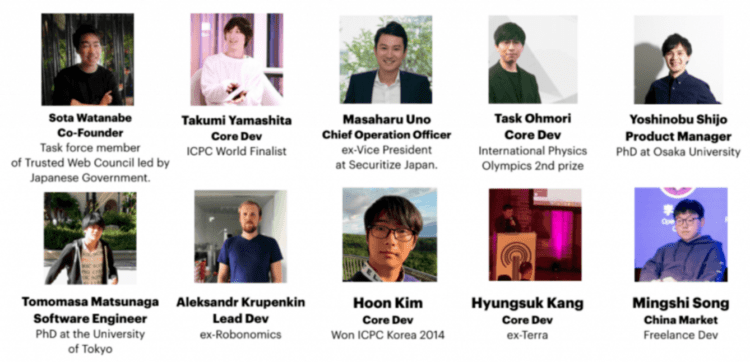 Investors, partners
Stake Technologies, the company behind Plasm Network and Shiden Network, raised $10 million in a funding round led by Fenbushi Capital. On 6/9/2021, the project announced to spend 30 million USD to build the Astar/Shiden ecosystem development fund with a value of $ 30 million. Besides, Astar Network cooperates with many famous investment funds such as Binance Labs, Longhash Venture, Block Dream Fund, Hashkey Capital, Stake Technologies, Paka, Digital Finance Group,…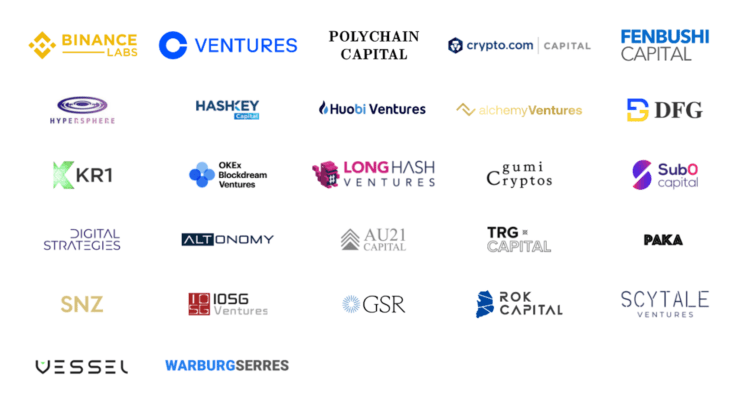 Conclusion
With scalability and compatibility between different blockchains, Astar Network promises many development prospects in the Polkadot ecosystem, empowering DApps developers through the Build2Earn reward mechanism. It can be seen that ASTR is a potential investment in the future, but traders need to learn about the project and carefully consider the factors of opportunity and risk to make the right decision.