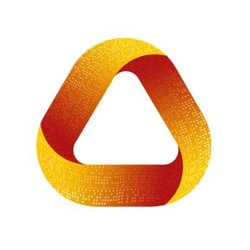 AutomataATA
Automata Price (ATA)
Low: $0.0836 High: $0.0868
Market Cap
$35,625,794.00
Volume / Market Cap
$0.065
Circulating Supply
$425,989,022
Loading Data
Please wait, we are loading chart data
| Date | Price | Volume | MarketCap |
| --- | --- | --- | --- |
| # | Exchange | Pair | Price | Volume (24h) | Updated | Trust Score |
| --- | --- | --- | --- | --- | --- | --- |
Loading facebook comment(s)
What is Automata Network (ATA)?
Automata Network is a decentralized protocol that provides secure middleware solutions for dApps, supporting multi-chain. Automata Network's core products include 1RPC, 2FA Guru, NFTFair, AnyDAO, and XATA.
Leveraging state-of-the-art encryption and privacy protection algorithms, Automata Network enables anonymous voting, Miner Extractable Value (MEV) minification, and many other security features.
The protocol uses native tokens – ATA is a governance token and a utility token.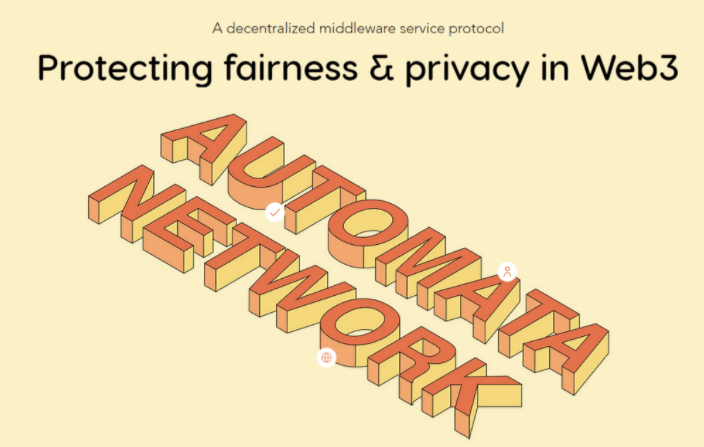 Highlights of Automata Network
Automata Network gives users four outstanding advantages, including:
Minimize MEV values ​​with multi-chain supported anti-front-running. Accordingly, the order of transactions is undisclosed and completely confidential, Automata's approach does not rely on any bribes or miners' modifications to settle the MEV.
Ensure fairness when launching NFT in the market, prevent leakage of NFT information and its rarity.
Supports multi-chain admin operations and privacy customization
Disable Phishing attacks , help protect access to accounts and users.
How does Automata Network work?
Automata Network develops tools related to security and supports the web3 ecosystem.
1RPC
1RPC is a forwarding proxy that shields user data before it reaches existing RPC endpoints. This is a tool that provides technical solutions used to ensure user data is not tracked and collected, namely metadata obfuscation, random sending, multiple call segregation, etc.
2FA Master
2FA Guru is a blockchain-based authentication solution that protects access to accounts and protects users by providing secure 2FA.
NFTFair
NFTFair is a fair launch NFT platform that helps the project interact with the community without exposing product data.
Features on NFTFair are intended to ensure that NFTs are distributed fairly. Ordinary users can avoid being run by speculators, trading bots first.
AnyDAO
AnyDAO supports projects in DAO governance through a wide selection of features.
Options include creating proposals for community participation, anonymous or public voting, voting timing, and many other settings. Voting can be done through NFT, LP tokens or Substrate account balance.
XATA
XATA is a Fair Liquidity protocol that minimizes the impact of MEVs.
XATA arranges transactions in a defined, unbiased order. On the protocol, users can directly view the previous number of tokens due to MEV protection.
Malicious actors cannot inject new transactions into the output of XATA due to signature mismatch, nor can they delete ordered transactions, since transactions are broadcast across the network.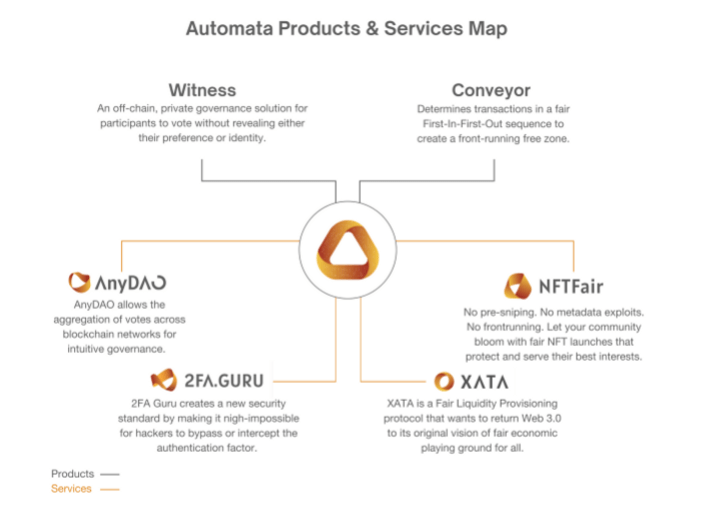 Automata Network (ATA) Token
Token Metrics
Token name: Automata Network
Ticker: ATA
Blockchain: Ethereum, Polygon, BNB Chain
Contract: 0xa2120b9e674d3fc3875f415a7df52e382f141225
Circulating Supply: 329.417.861
Total Supply: 1.000.000.000
Tokenomic
Token Allocation
Automata Network's Total Supply of 1,000,000,000 tokens is distributed as follows:
Seed Sale: 5%
Strategic Sale: 6%
Strategic Partners and Advisors: 5%
Team: 15%
Ecosystem and Dev Community: 30%
Protocol Reserve: 35%
Binance Launchpool: 4%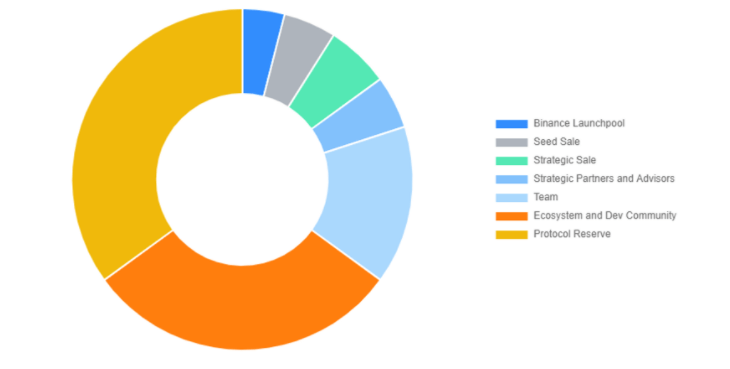 Token Sales
| | | | |
| --- | --- | --- | --- |
| Round | Amount | Raised | Token Price |
| Seed Sale | 50.0M | $1M | $0.02 |
| Strategic Sale | 60.0M | $2.4M | $0.04 |
Token Use Cases
Governance: ATA is a governance token that helps token holders vote on project change proposals
Mining rewards: miners earn ATA tokens by running applications and performing transactions for users on the network.
Protocol fees: users pay a fee for the storage and computation work of miners.
Geode Allocation: users can use ATA tokens to participate in Geode auctions.
Roadmap
Issue and put into operation Automata Network's ATA token
Launch Token Bridge – a bridge that allows users to convert between ATA tokens on ERC20 and native ATA.
Scaling community-maintained Nodes and integrating explorers, wallets, and exchanges.
The middleware services developed by Automata will be integrated into the network.
The network is upgraded to Nominated Proof Of Stake to grow the network with external validators. The rewards will be distributed to validators and token holders.
Development team
Automata is built by researchers and developers with extensive industry experience, with team members having previously worked at Zilliqa, LongHash.
Chua Zheng Leong – Co Founder: graduated from National University of Singapore and has many years of experience in data analysis and programming.
Deli Gong – Co Founder: used to work at Zilliqa as a team leader to build infrastructure in web3, graduated from National University of Singapore and Zhejiang University majoring in Computer Science.
Samantha Koh – CMO: former CMO of LongHash Venture, with many years of experience in Marketing.
Investment funds
Automata Network has raised $3.4M to build and develop the project from many well-known investors in the market such as Binance Labs, Divergence Labs, IOSG Ventures, Jump Crypto, KR1, …

Summary
Automata Network (ATA) is a potential project in the field of privacy and privacy from on DeFi, with many applications for users and web3 projects. Follow Ecoinomic.io to update the latest information and knowledge about blockchain projects in the market!