BitTorrentBTT
BitTorrent Price (BTT)
Low: $< 0.0000001 High: $< 0.0000001
Market Cap
$365,365,956.00
Volume / Market Cap
$0.026
Circulating Supply
$951,421,714,286,000
All Time High
$0.00000300
Loading Data
Please wait, we are loading chart data
| Date | Price | Volume | MarketCap |
| --- | --- | --- | --- |
| # | Exchange | Pair | Price | Volume (24h) | Updated | Trust Score |
| --- | --- | --- | --- | --- | --- | --- |
Loading facebook comment(s)
What is BitTorrent (BTT)? Details of BTT cryptocurrency
BitTorrent was originally a platform developed for Peer-to-Peer file sharing on the internet by Bram Cohen and David Harrison in 2001.
In 2019, BitTorrent was acquired by Tron Foundation and continues to develop the platform with the advantages of blockchain technology. The project then issues its own token, BTT, which serves as an extension of the protocol and as a reward for incentivizing people to participate in the network.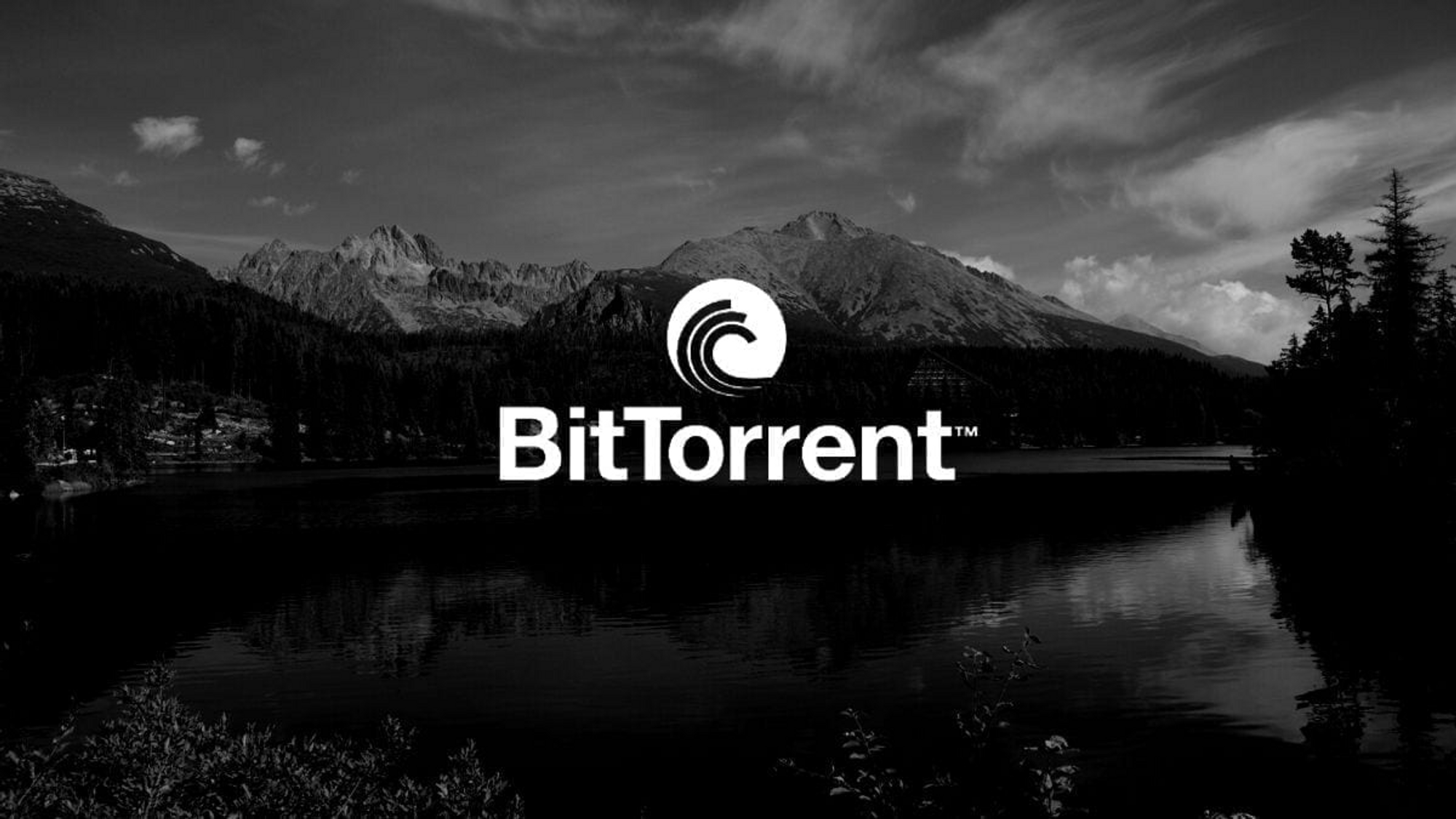 How BitTorrent Works?
BitTorrent is a software to connect different parties to a network to handle requests to share files. The transaction will start when the user requests data from the providers who host the files on their computer.
Providers will split them down into different parts. If a users want to download a files, they will receive portions of the data from various providers.
The combination with blockchain technology and the creation of the BTT token, makes the project a distributed network,  compensating providers while increasing the efficiency of sharing large files to reduce server and network impact.
Users can also use BTT tokens to pay data custodians for access to special data sources, improved data download speeds and remote storage requirements.
Architecture
The transfer of file on BitTorrent's system relies on its technology while the network relies on Tron's blockchain to maintain records of all transactions involving BTT tokens.
Once the user's request is agreed with the data provider, a payment channel will be created on the Tron blockchain to facilitate payments to the providers, based on the piece of the file they have shared.
Once the service is complete, these payments are bundled up, settled and logged on the Tron blockchain.
Decentralized Applications
The platform also leverages smart contracts on Tron's network to create various decentralized applications to further improve service quality.
BitTorrent (BTT) Token
Token Metric
Token name: BitTorrent
Ticker: BTT
Blockchain: Tron
Standard: TRC-20
Contract: TAFjULxiVgT4qWk6UZwjqwZXTSaGaqnVp4
Total Supply: 990.000.000.000.000
Circulating Supply: 947.962.000.000.000
Token Allocation
Binance Launchpad: 6%
Private sale: 2%
Seed Round: 9%
TRON Airdrop: 10.1%
BitTorrent Protocol Airdrop: 10%
Team & BitTorrent Foundation: 19%
Tron Foundation: 20%
Ecosystem: 19.9%
Partnership: 4%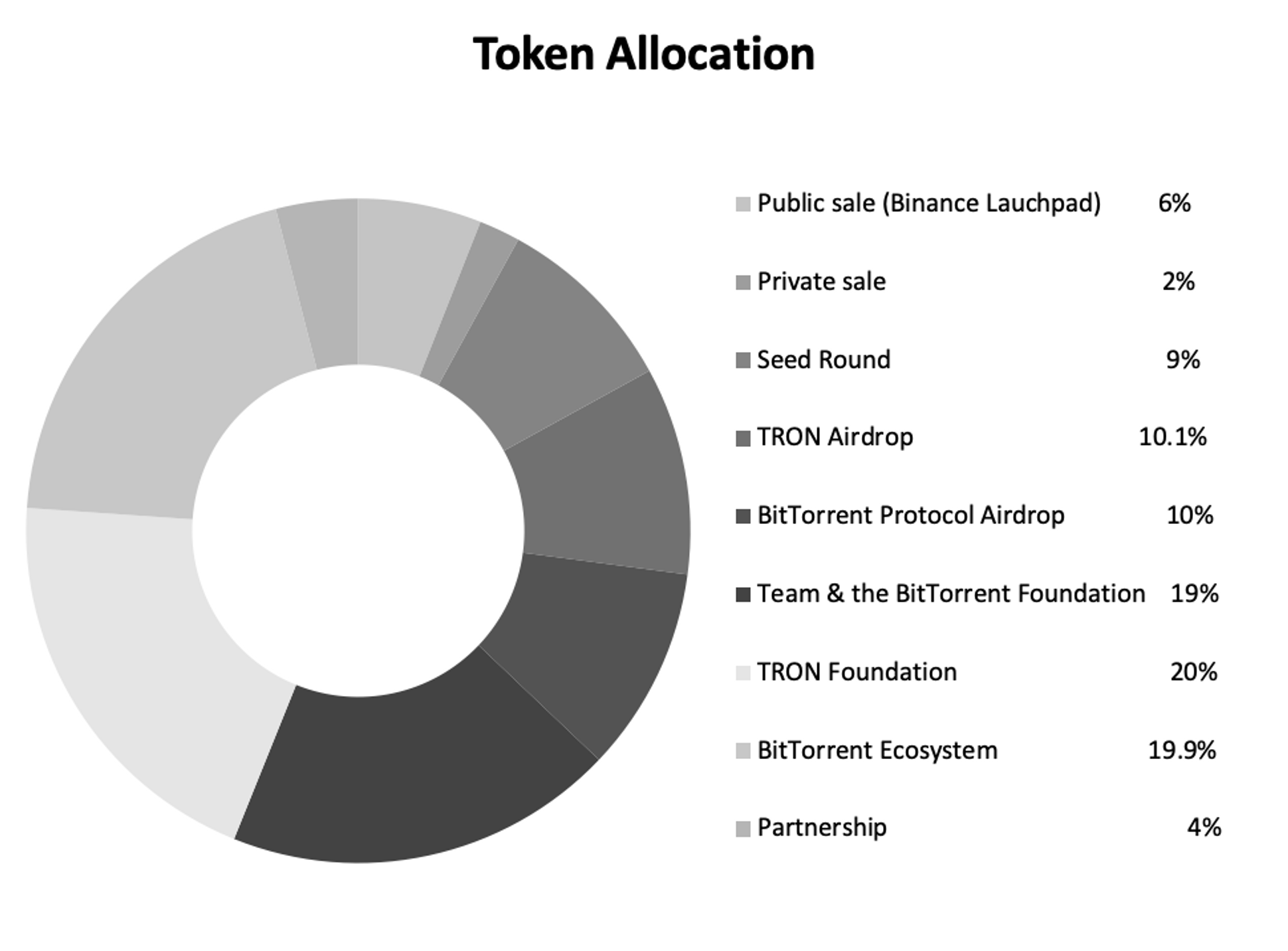 Token Sale
| Round | Allocation | Price | Raised |
| --- | --- | --- | --- |
| Seed Sale | – | 9% | – |
| Private Sale | $0.000177 | 2% | $19.320.000 |
| Public Sale (IEO) | $0.00012 | 6% | $7.200.000 |
Token Use Case
Pay service fee
Support content creators
Paying Airdrop monthly to the holders
Rewards for active contributors
Team & Backer
When participating in the blockchain field, the project is developed by the Tron Foundation – one of the most experienced organizations in the industry, led by Justin Sun. BitTorrent has also received investment from Binance Labs.
Conclusion
BitTorrent is one of the projects that attracts a lot of attention in the blockchain community because the product is used by many users around the world. The integration with blockchain technology also provides a fair run economy for all participants on the platform.