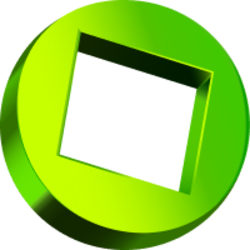 BlockWalletBLANK
BlockWallet Price (BLANK)
Low: $0.0265 High: $0.0283
Volume / Market Cap
$0.074
Circulating Supply
$41,574,316
Loading Data
Please wait, we are loading chart data
| Date | Price | Volume | MarketCap |
| --- | --- | --- | --- |
| # | Exchange | Pair | Price | Volume (24h) | Updated | Trust Score |
| --- | --- | --- | --- | --- | --- | --- |
Loading facebook comment(s)
What is BlockWallet?
BlockWallet (formerly known as BlankWallet) is an Ethereum–based, non-custodial browser extension wallet, ensuring user privacy.
BlockWallet has built a security system for cryptocurrency transactions, allowing users to hide the amount and origin of assets held.
Using cryptographic proof, BlockWallet will create a Smart contract for users to send and mix cryptocurrencies. When a user requests a withdrawal, BlockWallet creates a new wallet address that is not associated with the user's history on the blockchain.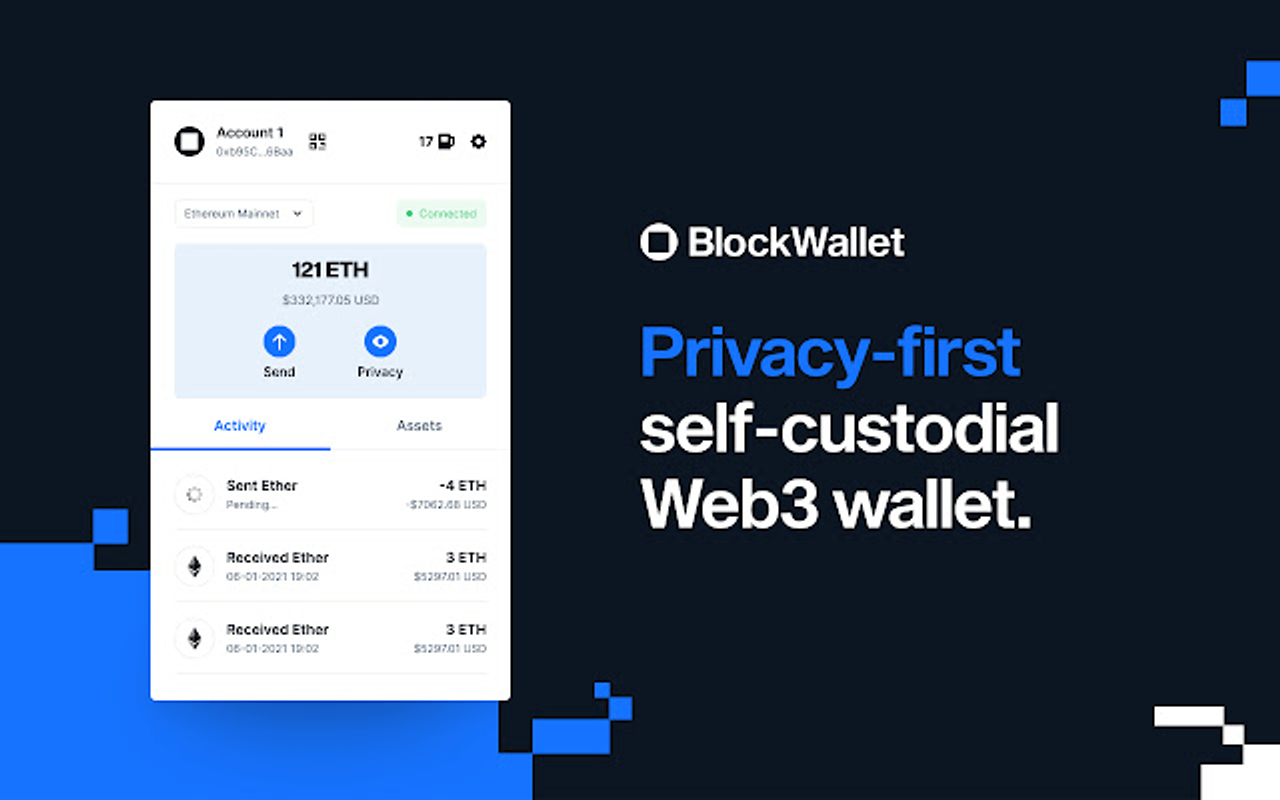 Highlights of BlockWallet
BlockWallet offers ultimate solution for privacy security, integrating many outstanding technologies and features such as:
Anonymity: Users have the option to hide or show wallet balances to others. BlockWallet uses smart contracts that ensure all information about transaction history is only visible to the owner. Only when authorized, users are able to access and manage assets.
No KYC: BlockWallet does not require users to perform KYC and verify identity, the history of withdrawal or deposit transactions will not be recorded.
User-friendly browser extension.
How does BlockWallet work?
BlockWallet is based on Tornado Cash's infrastructure, providing additional security that prevents tracking user activity on both off-chain and on-chain media. Smart contracts allow transactions to be sent to the node provider or interact with dApps, ensuring users remain completely anonymous during the deposit and withdrawal processes.
Deposit transaction
User needs to create a transaction secret in order to proceed with the deposit. Then, send Pedersen Hash of a nullifier, the secret, and the funds you want to deposit to the smart contract.
A hash is a one-way function that allows users to easily derive a hash from a secret code, but cannot obtain a secret code from a certain hash. This mechanism ensures that when a user claims ownership of a particular secret, they can only withdraw a certain amount from the contract.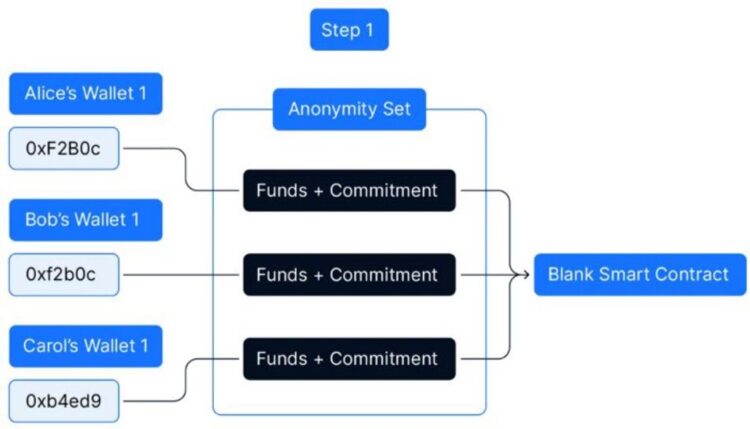 Withdrawal transaction
Users can proceed with withdrawals when confirming possession of a specific secret of a commitment.
zk-Snark technology helps users verify the deposit of smart contracts, while securing information about the specific amount of deposits. When a user requests a withdrawal, BlockWallet creates a new address, which is not directly associated with the deposit address.
The anonymity set includes a list of pending withdrawals at specific denomination. The greater the number of transactions in the anonymity set, the higher the privacy.

BlockWallet integrates the anonymity set into the new browser extension wallet easily and seamlessly. Users don't need to write down passphrases or create several wallets manually.
BlockWallet (BLANK) token
Token Metrics
Token Name: BLANK token
Ticker: BLANK
Blockchain: Ethereum, Polygon
Token Standard: ERC-20
Contract:
Token type: Utility
Circulating Supply: 41,574,316
Total Supply: 125,000,000
Token Allocation & Token Release Schedule
Private Round: 28%. In particular, vesting 20% on TGE, 8% for month 1-2, then 7% for month 3-6, 6% for month 7-12.
Public Sale: 1.5%. All tokens are unlocked at TGE.
Marketing/Listing: 10%. In particular, vesting 25% on TGE, 7.5% for month 1-8, then 5% for month 9-12.
Liquidity/ Adoption Incentives: 32%. In particular, vesting 10% on TGE, 7.5% for month 1-5, then 5% for month 6-16.
Team: 12%. In particular, tokens are locked for 1 year, then distributed 10% in the first month of each quarter and 7.5% each other month.
Advisor: 4%. The token is locked for 1 year, then distributes 10% in the first month of each quarter and 7.5% each other month.
Project Development Fund: 12.5%. The token will be locked for 1 year, then distributed 10% in the first month of each quarter and 7.5% each other month.
Token Sales
| Round | Amount | Raised | Token Price |
| --- | --- | --- | --- |
| Private sale | 35.000.000 | $1,802,500 | $0.0515 |
| Public sale | 1.875.000 | $120,000 | $0.064 |
Token Use Cases
BLANK is the native token of the platform, playing an important role in the Block Wallet ecosystem with the following utilities:
Reduced service fee: BLANK token holders receive a reduced service fee when using the platform's security features. The discount will depend on the number of tokens held:

1,000 BLANK tokens: 10% off
5,000 BLANK tokens: 15% off
10,000 BLANK tokens: 25% off

Token burning: 50% of the fees collected from smart contracts are used to buy BLANK tokens back from the market and conduct token burning to reduce the circulating supply, positively impacting the token price.
Incentives for liquidity provider: The project will allocate 50% of the fee collected to reward liquidity providers, encouraging liquidity maintenance for ETH/BLANK pairs on Uniswap.
Referral mechanism: The platform applies a token reward mechanism when referring new users and conducts airdrops to expand the accessibility and popularity of tokens.
Exclusive access: BLANK token holders get access to a limited number of features and participate in an early testing environment such as alpha or beta beta testing of the wallet.
Roadmap
On January 19, 2022, Blank officially changed its brand name to BlockWallet and directed many project development activities such as:
Release a free NFT collection for community members.
Launch a Staking platform that allows holders to stake BLANK tokens to receive rewards.
Launch a store for selling crypto assets.
Launch anti-phishing feature, ensuring users interact with the official BlockWallet extension.
Integrate swap on the platform.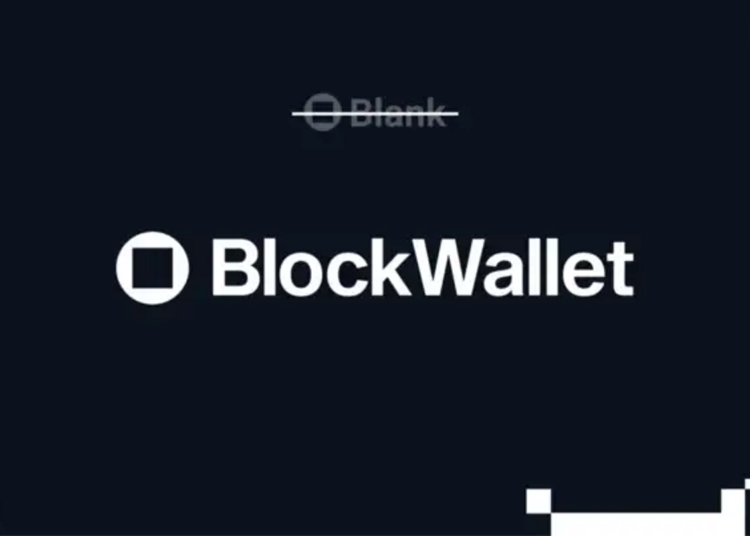 Development team
Aleksandras Gaška – CEO: Served as an operations advisor at Mintlayer, a business developer at carVertical, operations manager at Monetha and community relations manager at Mysterium.Network.
Iman Hossini – CTO: Have more than 6 years of experience in the field of cryptocurrencies.
Investment Funds
BlockWallet has attracted the attention of many investment funds as well as the participation of many famous projects such as Woodstock, GBV, Spark, x21,…

Frequently Asked Questions with BlockWallet
Where is BlockWallet (BLANK) traded?
BlockWallet (BLANK) is traded on well-known platforms such as Uniswap, SushiSwap,…
Is BlockWallet good investment?
BlockWallet marks an important step forward in securing privacy and anonymity for users. Compared to MetaMask and Tornado.Cash wallets, BlockWallet has many outstanding features with an automatic deposit mechanism, a revenue sharing model, and referral and reward systems.
As the issue of security in the cryptocurrency market comes to the forefront, BlockWallet project attracts many investors in the crypto community. However, before making an investment decision, users need to thoroughly research and evaluate the potential in the short and long term, and plan to control risks flexibly. The article is for informational purposes only, Ecoinomic.io will not be responsible for your investment decisions.