DecentralandMANA
Decentraland Price (MANA)
Low: $0.593 High: $0.624
Market Cap
$1,096,028,669.00
Volume / Market Cap
$0.082
Circulating Supply
$1,824,390,760
Loading Data
Please wait, we are loading chart data
| Date | Price | Volume | MarketCap |
| --- | --- | --- | --- |
| # | Exchange | Pair | Price | Volume (24h) | Updated | Trust Score |
| --- | --- | --- | --- | --- | --- | --- |
Loading facebook comment(s)
What is Decentraland?
Decentraland is a virtual reality (VR) platform that runs on the Ethereum blockchain. This allows users to experience, create and monetize the platform.
Specifically, Decentraland can be considered a virtual world. In this world, you can freely buy land, build, develop, earn money and completely own this "world".
Decentraland includes:
A Decentralized Ledger for Land Ownership.
A protocol for describing the contents of each parcel of land.
A peer-to-peer network for user interactions.
Highlights of Decentraland
Perhaps the interesting thing about Decentraland is its historical division. Like world history, it predicts the development stages of each era.
Stone Age – Stone Age (June 2015)
Bronze Age – Bronze Age (March 2017)
MANA Token Sale – Open to sell MANA Tokens (August 2017)
Terraform Event – ​​Terraform Event (Q3/2017)
Iron Age – Iron Age (Q4 2017)
Silicon Age – Silicon Age (2018)
Stone Age – Stone Age
In June 2015, Decentraland began the Stone Age. This is a proof of concept ownership for Non-Fungible Token (NFT).
In this project, a 2D grid of pixels was created, each pixel containing metadata that identifies its owner and describes the color of the pixel. Decentraland works only in your browser and uses a P2P network over WebRTC.
Bronze Age – Bronze Age
In March 2017, Decentraland began development of the Bronze Age, a 3D virtual world divided into parcels of land.
The owner of each plot of land can link them to a hashrate that points to a file using a modified Bitcoin blockchain.
Iron Age – Iron Age
The next version of Decentraland, creating social experiences in an economy powered by existing classes of land ownership and content distribution.
During the Iron Age, developers created applications in Decentraland and distributed them to other users to generate revenue. The Iron Age will implement peer-to-peer communication, highly interactive content, and a fast cryptocurrency payment system for transactions.
Silicon Age – Silicon Age
In early 2018, Decentraland entered the silicon era with a fully immersive VR world.
You can go to casinos, watch live music, attend seminars, shop with friends, start a business, test drive cars, visit underwater resorts, etc. 360 degree virtual world.
How does Decentraland work?
According to the project's whitepaper , Decentraland's protocol consists of three main layers:
Consensus layer : Used to keep track of who owns virtual goods and land in the game.
Land content layer : A decentralized storage system for uploading content and documents, such as music files.
Real-time layer : To enable interaction and communication within the game.
MANA is a key component of the Decentraland ecosystem. MANA allows users to buy and trade a variety of in-game goods, including avatar clothing. To vote on how the virtual world will develop in the future, crypto holders can also convert their MANA into wrapped MANA (wMANA) and deposit it in the DAO wallet. 1 MANA is equivalent to 1 vote.
Each LAND holder will represent a single parcel of land in Decentraland, with voting rights, but they are not forced to convert or deposit their tokens into the DAO. LAND costs an average of $3,000 to $60,000 on Opensea depending on location. The largest purchase recorded on the platform to date was made in July 2021 for $913,228.20 by US investment group Republic, which owns 259 real estate lots.
What is MANA coin?
MANA coin is the coin of the Decentraland platform, built on Ethereum with the ERC-20 token standard . MANA was created to serve players in Decentraland, they use MANA to buy land, pay for services and assets on the platform.
What is Decentraland's Tokenomics (MANA)?
Key Metrics MANA
Token Name: Decentraland
Ticker: MANA
Decimals: 18
Blockchain: Ethereum
Token Standard: ERC-20
Token type: Utility Token
Audit: CertiK
Total Supply: 2.193.539.027 MANA
Circulating Supply: 1,86 tỷ MANA
MANA Token Allocation
Crowdsale (ICO): 40%.
Decentraland Foundation: 20%.
Team & Early Contributors: 20%.
Community & Partners: 20%.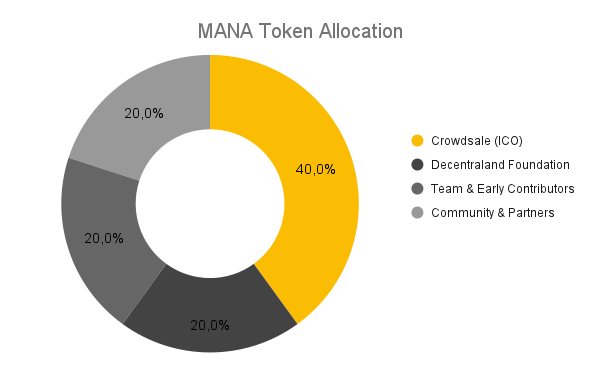 MANA Token Sale
Decentraland decided to sell 40% of the total supply to the market in August 2017 with the selling price increasing by 5% every day.
After 9 days of token sale, Decentraland raised ~$25 million for the Crowdsale round.

MANA Token Inflation
Decentraland decided to use the Continuous Token Model for their MANA token.
Specifically, MANA tokens will have an Inflation rate of 8% in the first year of issuance and then gradually decrease over time.
The inflation rate is specified in the figure below: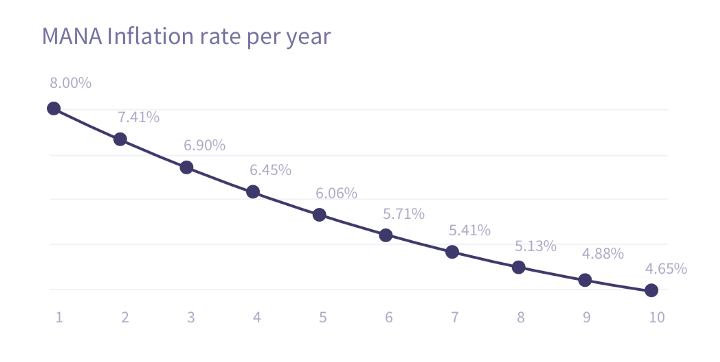 MANA Token Use Case
MANA tokens are used to buy and sell goods and services in Decentraland Genesis City.
At the same time, users must use MANA to buy LAND and that MANA will be automatically burned , causing the supply of MANA to decrease.
Who created Decentraland?
Decentraland was founded by Ari Meilich (Project Lead) and Esteban Ordano (Technical Lead). Previously, Ordano worked as a software engineer at Bitpay and founded Smart contract Solutions, Inc. Both founders also collaborate on the development of Stremium and Bitcore.

Funds invested in Decentraland
On March 17, 2021, Grayscale Investments announced the creation of five new investment funds, including Decentraland, to form the Grayscale Decentraland Trust. In the eight months since the foundation of the Trust, Grayscale owns $54.2 million in MANA assets.
Looking at Grayscale Investments' return on investment (ROI) over the investment period, it comes in at 1050.20%. Impressive statistics like these will be an important source of "inspiration" for those with large capital deciding to choose cryptocurrencies to invest. Of course, MANA Coin will also benefit from it.
In addition, in the first funding rounds, Decentraland also received investment money from the following funds: