Mask NetworkMASK
Mask Network Price (MASK)
Low: $2.540 High: $2.640
Market Cap
$210,747,572.00
Volume / Market Cap
$0.146
Circulating Supply
$82,112,500
Loading Data
Please wait, we are loading chart data
| Date | Price | Volume | MarketCap |
| --- | --- | --- | --- |
| # | Exchange | Pair | Price | Volume (24h) | Updated | Trust Score |
| --- | --- | --- | --- | --- | --- | --- |
Loading facebook comment(s)
What is the Mask Network?
Mask Network is a platform that enables users to effortlessly communicate encrypted communications, digital currencies, and even decentralized applications (DApps) (Defi, NFTs, DAO) via social networks without migrating, therefore establishing a decentralized applet (DApplet) ecosystem. To put it briefly, it aims to build a bridge between the old Internet and the New, Open Internet.
Mask is the bridge, Mask is the foundation, Mask is the meme.
Vision
Mask Network aims to connect Web2 (the current web) and so-called Web3 rather than developing a new platform, enabling the general public to use the better web within the existing mainstream platforms without the use of an API or centralized server.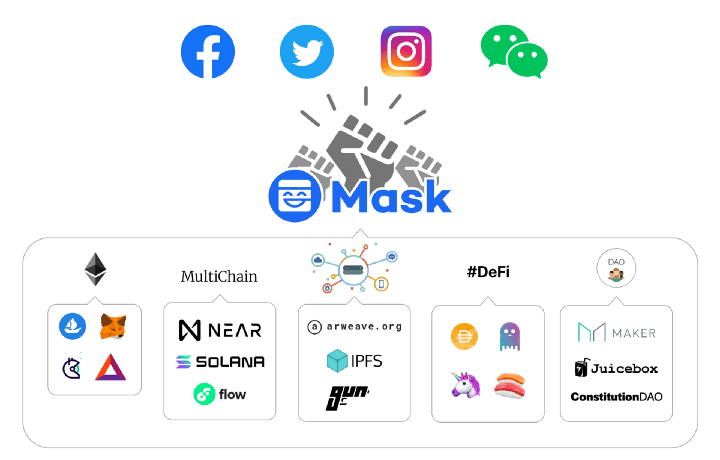 The modern internet consists of huge technologies following major techs, forcing users to practically cede control over their own autonomy and preventing even the smallest amount of breathing room between platforms. Many want to establish new ones to replace them.
Mask Network want to build something above them, not underneath them. They are able to complete the task thanks to cryptography and Web 3 technology, which includes Peer-to-Peer networks, decentralized storage, and blockchain.
Some 90% of global Internet users are social network users. Directly competing against those giants seems infeasible. What if we can create something over-the-top of them that people want? Lots of problems have arisen in social networks. Peer-to-peer networks, blockchain and decentralized storage, collectively denominated as Web 3, are giving us a silver lining.
How does the Mask Network work?
Its main behind-the-scenes operations include information interpretation and encryption for data transfer. Text, images, digital money, decentralized data storage, and even smart contracts might all be used in information transfer, which could result in the creation of a whole DApplet ecosystem.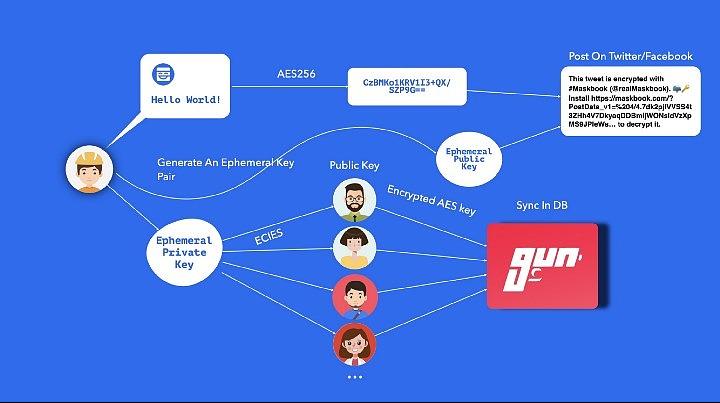 Encryption
Each user in the Mask Network has an unlimited number of "personas," each of which stands for a set of secp256k1 keys. A public post including the public key can be made or one can upload their public key to their social media networks. A pubkey-username mapping can be made in the local Mask Network database by other users by retrieving this public key.
Each post is encrypted by an AES256 key in GCM mode so only one unique cipher post can be posted onto the social network. This encryption procedure is end-to-end encrypted and decentralized. Mask don't support perfect forward secrecy yet but Mask Network will upgrade to support that soon.
Interpretation
Each cipher message/post is injected into the social platform's user interface, along with all the Mask Network components. Mask inject all these components into the original UI to reduce the strangeness to the existing users.
Upon seeing a cipher post on both Twitter and Facebook, Mask Network will decode the message and detect if the user is among the list being able to decrypt the message. If so, Mask Network will query the GunDB to get the encrypted AES key and decrypt it with the user's private key. Once done, the actual plain text will show up on the User Interface.
What is the MASK token? Tokenomics of MASK token
The native token of MaskDAO is MASK. The Mask Ecosystem is possessed by the DAO. Owners of MASK are MaskDAO members and as such have ownership rights within the Mask Ecosystem via the DAO. MASK, the native token, acts as a motivator for facilitating governance. There is one vote per MASK. More goods and services that would add value to MASK will be developed over time by the Mask Network team and ecosystem participants. In order to increase use cases for MASK, Mask Network will keep actively collaborating with leading Web 3.0 and DeFi initiatives, as Mask has done with MetaMask, Mirror, UniSwap, Uniswap, Transak, and others.
Token metrics and distribution
A total of 100,000,000 MASK tokens are created at genesis. Below is the information on the previous rounds and the distribution of the token before the upcoming Initial Twitter Offering of MASK.
Token name: Mask Network
Ticker: MASK
Blockchain: Ethereum
Token Standard: ERC-20
Audit: Certik
Max Supply: 100.000.000
Total Supply: 100.000.000
Circulating Supply: 68.200.000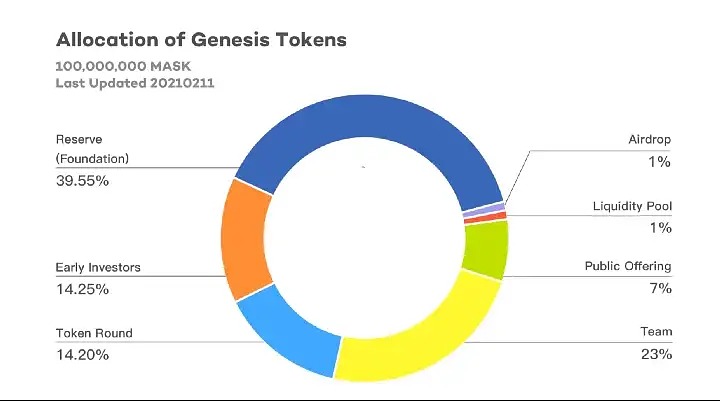 Token Supply Schedule
The amount of tokens that are now in circulation and are available for free exchange on the market is known as the circulating supply. Long-term lockups are in place for the bulk of the supply of MASK. The Public Sale of MASK, the liquidity pool, and the Airdrop make up the initial circulating supply. By month 36, the whole genesis supply will be made available.
As tokens unlock, the circulating quantity gradually rises, as seen in the graph below.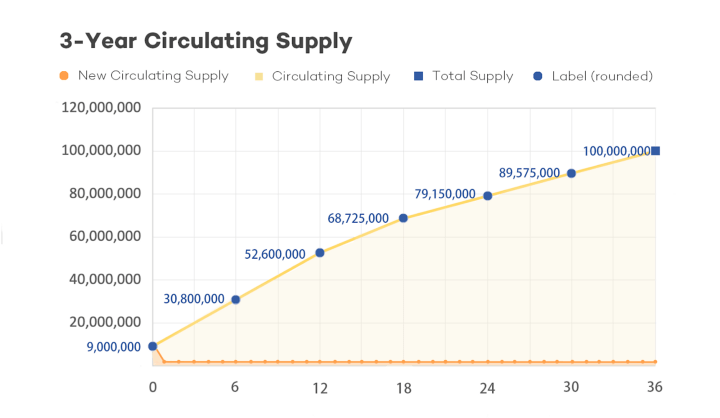 The table below shows the Circulating Supply for each year.

Category Details
MaskDAO is in charge of Foundation Reserve, which is employed for a variety of purposes, including but not restricted to offering grants to the community, fostering the development of the developer community, creating an ecosystem, offering grants for operations, and establishing collaborations and partnerships.
The same lock-up period of 36 months with a 6-month cliff applies to every team member.
The information about the 5 price levels at which Mask Network received investments over the years is mentioned below.

The airdropped tokens are not subjected to lock-up.
Community Public Offering
Distributing 7% of MASK's Total Supply in a two-stage public sale to involve more people in the process. Fixed price token sales using ITO with a 3% allotment of the total supply will be the first stage. With 4% of the overall supply allocated, the second stage is an auction using the Balancer liquidity bootstrap pool. The ITO stage may be regarded as an early bird discount. In the second stage, the true market worth of MASK will be determined. Public sale tokens are not subject to lock-up.
The team must add liquidity to the MASK Liquidity Pools because the first trading pair is on Uniswap. The Mask team will set up the first liquidity pool.
MaskDAO's governance
The MASK token holders that make up the MaskDAO are in charge of governing the Mask Network Ecosystem. It has the last say on all decisions involving MASK, its usage guidelines, and other Reserve fund-related issues. During the voting period, holders of MASK tokens can cast a vote by Staking their tokens on proposal contracts. Normally, a voting session is from one hour to three days long. During the voting period, votes may only be cast using MASK that has been locked in governance for the previous seven days.
Investors
Mask Network receives funding from a few well-known organizations:
Animoca Brands
LongLing Capital
Block0
Digital Currency Group (DCG)
Alameda Research

Roadmap of Mask Network
Mask Network Roadmap for 2019 and 2020
In the earliest version back in July 2019. The basic function it provides is sending and receiving encrypted posts (tweets/facebook posts) with access control. This is achieved without having a centralized server.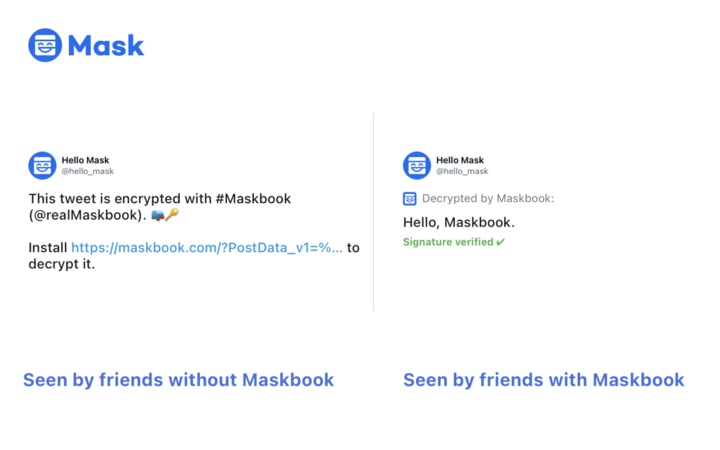 Text is a form of information, if you can send a text through the dialogue box, then you can send other things too, pictures, codes, contracts, apps, etc.  So in the next major version released in February 2020, Mask enabled payment. Specifically, It launched the Lunar New Year Red Packet campaign with MakerDAO and Vitalik Buterin also sent his 1st ETH giveaway red packets using Mask Network. It was able to add 2000+ active non-bot Dai holders in a matter of 3 days (10% of non-bot DAI holders back in Feb).  With the payment-enabled, it launched a feature that makes it simple to send crypto via Gitcoin Grants to Ethereum-based startups and support crypto for black lives.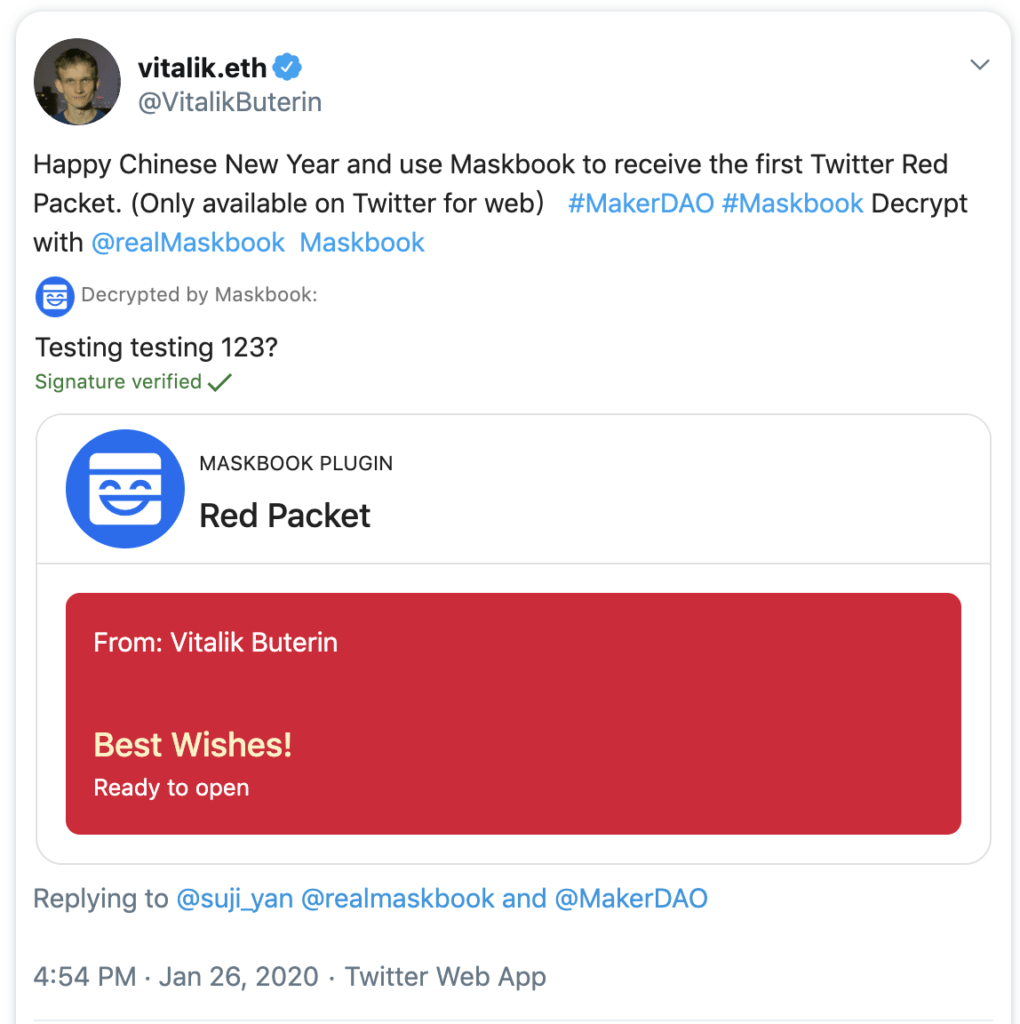 Mask Network Roadmap for 2022
Mask Network on the web browser and iOS device
Lucky Drops (previously known as Red Packets)
File transfers
ITO (Initial Twitter Offering)
MaskBox (NFT launchpad)
Strategic partnerships with ecosystem projects
Multi-Chain Integration. It currently supports:

Ethereum mainnet
BNB Chain
Polygon
Arbitrum
xDai/Gnosis
Fantom
Solana
Avalanche
Aurora
Flow
Mask Network Plans for 2022
Instagram integration
Optimization of Facebook & Minds.com
Improve and develop social graph functionalities
Launch Next.ID, a digital identity system developed by Mask Network
Launch Mask Network ecosystem fund with strategic investors (will reveal soon)
Integrating DApps through community bounties, to support the Mask Network ecosystem growth
Adding greater multichain support
DAO voting and Forum and exploring an efficient governance model
Mask Network's long-term mission
Co-creating the MaskDAO, where anyone who is or wants to become a strong holder or strong contributor of – $MASK can participate and be organized into a highly efficient self-governing builder and trading community
Strategic Investment with projects in relevant fields – SocialFi, DeFi, metaverse, GameFi, etc. Our strategic investment fund now is one of the largest investors in the Web3 social space, largely enhancing the ecosystem of Mask Network.
FAQs about Mask Network?
Where does the crypto price info come from?
Mask Network supports price charts by CoinMarketCap, CoinGecko, and UniSwap Info.
Does Mask Network charge a fee on swaps?
No, It doesn't charge any fee.
Where can I use Mask Network?
Mask Network is now available on Facebook, Twitter, Minds.com
Where can Mask Network be traded?
You can trade Mask Network on Binance, Nominex, and BingX. Popular trading pairs for Mask Network in the market include MASK/USD, MASK/CAD, MASK/AUD, MASK/GBP, MASK/INR, and MASK/PHP.