What is OPX Finance?
OPX is a fork from GMX.IO – a new Decentralized exchange designed to provide multiple trading and liquidity features for many large-cap cryptocurrencies.
Products of OPX exchange:
Spot trading with swap and limit orders
Trade perpetual futures with up to 30x leverage on long and short positions
Dynamic pricing is provided by Chainlink Oracles and prices are updated according to exchanges with high liquidity.
Advantages of OPX.Finance
Low transaction fees
Large order size also has no impact on the price
There are two full products: spot trading and leveraged trading
Protects positions from liquidation when the price changes suddenly so it is safe for traders who prefer to use the leverage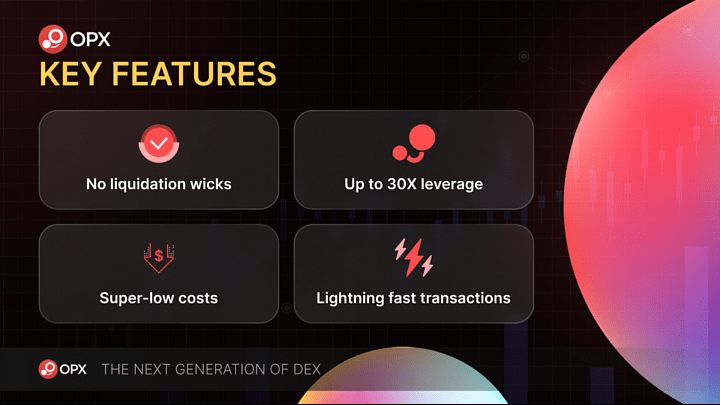 OPX.Finance features a multi-asset pool that allows the platform to have shared liquidity across all the assets it supports. When you trade with OPX, the price is using ChainLink Oracle and FastPriceFeed (aggregation tool from major DEX and CEX exchanges), regardless of the number of tokens in the pool so users can swap large volumes without affecting affect prices.
Why is OPX.Finance built on the Optimism blockchain?
With low latency, gas fees are down 90x compared to gas fees on Ethereum.
Scalability: Thanks to OVM, DApps on Ethereum can switch to optimism easily.
Security: Layer 2 still inherits the strict security level of Ethereum Layer 1.
Arbitrum is also a Layer2 of Ethereum and GMX is having strong development, OPX is expected to become GMX of Optimism when inheriting all its technology.
What is an OPX token?
Token metrics
Token name: OPX.Finance
Ticker: OPX
Token type: Governance token và utility token
Blockchain: Optimism
Max supply: 3,000,000 OPX
Total Supply: 833,333 OPX
Token allocation
555,532 OPX Presale
138,883 OPX as initial liquidity
138,883 OPX for DEV & Marketing (1-year vesting)
Presale information OPX
Number of tokens: 2,000,000 OPX
25% – raise fund
75% – provides liquidity
Time: 22:00 on November 2, 2022, to 10:00 p.m. on November 9, 2022 (or achieve Hard Cap)
Launch price: $1
Minimum commitment amount: $10
Minimum commit amount to get pioneer privileges: $500
Valid tokens to commit USDC on Cronos, Polygon. USDC, BTC, ETH, OP on Optimism

Fees distribution
OPX liquidity provider: 65%
OPX DAO: 35%
Governance and Voting
OPX administration will receive 35% of the fees collected from the protocol. Users must lock their DarkCrypto NFT and OPX tokens to vote on how this fund should be distributed:
Profit Sharing: This section is for all veOPX staker
VeOPX is the management program for OPX DAO. Anyone who stakes OPX and OPX NFT in the governance house will receive an NFT ID with the corresponding amount of veOPX. veOPX holders will have the right to vote on governance proposals. Rights and strength are determined by OPX NFT level, number of OPX and token lock time.
OPX NFT is a limited collection of unique and programmatically generated characters from more than 160 possible traits and handcrafted by OPX's most innovative digital artists. Their digital-specific tools enable a whole new creative workflow and unique special effects when making collections.
Project's own liquidity: This fund is used to buy back OPX and add liquidity
Dev Treasury: This section is Dev Fund for development
Buyback and burn: Buy back OPX and burn forever.
DarkCrypto DAO: This section returns to the DarkCrypto Foundation
Token use case
OPX is a utility and governance token. Holders are encouraged to hold tokens for a long time with many attractive rewards. OPX holders can participate in voting to decide on profit distribution and new development direction for the project. Additionally, OPX can be used for all DarkCrypto Foundation App utilities (Dark Roll, Dark Lottery, DarkVerse games, etc.)
OPX.Finance founding team
OPX Finance was founded by the DarkCrypto Foundation. DarkCrypto Foundation is the multi-chain dApps of the DarkCrypto ecosystem and was founded by DarkCrypto Finance, a DeFi application on Cronos. DarkCrypto Finance was launched in January 2022 and six months after its launch, TVL has reached $270 million.
At the DarkCrypto Foundation, DAOs are used to invest in other projects to generate profits and distribute them back to the Foundation. Part of the profits is used to strengthen the DAO fund, while the rest is reallocated to DCF holders in the form of USDC.
Project Roadmap
Currently, the project has implemented the following roadmaps:
Launch Presale and NFT Free Mint
The beta release was followed by product versions of OPX Exchange
Issue Governance Voting OPX DAO for profit distribution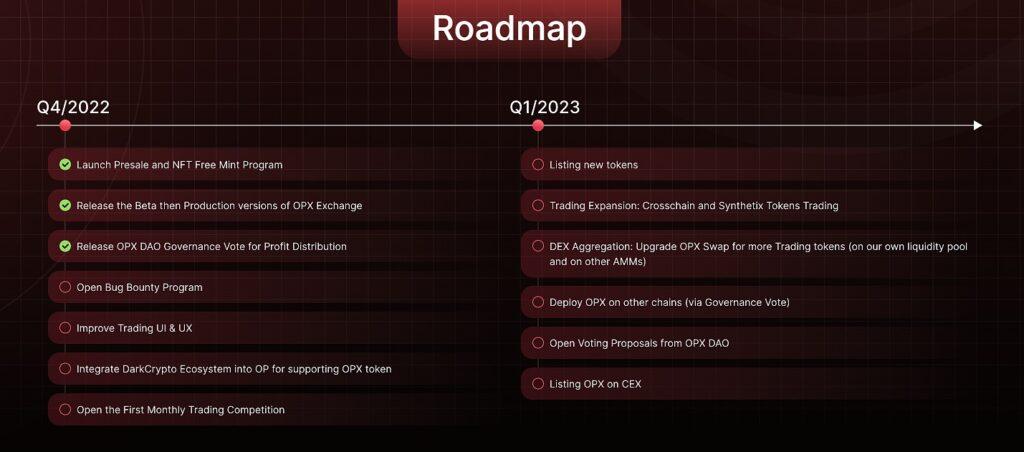 Frequently asked questions with OPX Finance
Compare OPX.Finance with GMX and Uniswap V2
Unlike other DEXs, OPX Finance allows token holders to vote to decide the direction of project development. In addition, it also overcomes the limitations of the decentralized exchanges that came before it.