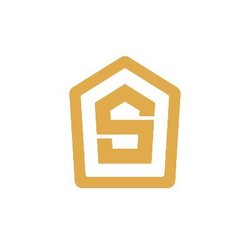 ShentuCTK
Shentu Price (CTK)
Low: $0.4348 High: $0.4542
Market Cap
$41,138,851.00
Volume / Market Cap
$0.062
Circulating Supply
$94,096,250
Loading Data
Please wait, we are loading chart data
| Date | Price | Volume | MarketCap |
| --- | --- | --- | --- |
| # | Exchange | Pair | Price | Volume (24h) | Updated | Trust Score |
| --- | --- | --- | --- | --- | --- | --- |
Loading facebook comment(s)
What is Shentu (CTK)?
On August 31, 2021, the CertiK Chain project was renamed Shentu Chain. Since the launch of the Mainnet in November 2020, the chain has grown at a rapid pace while being at the forefront of crypto-asset security and assurance.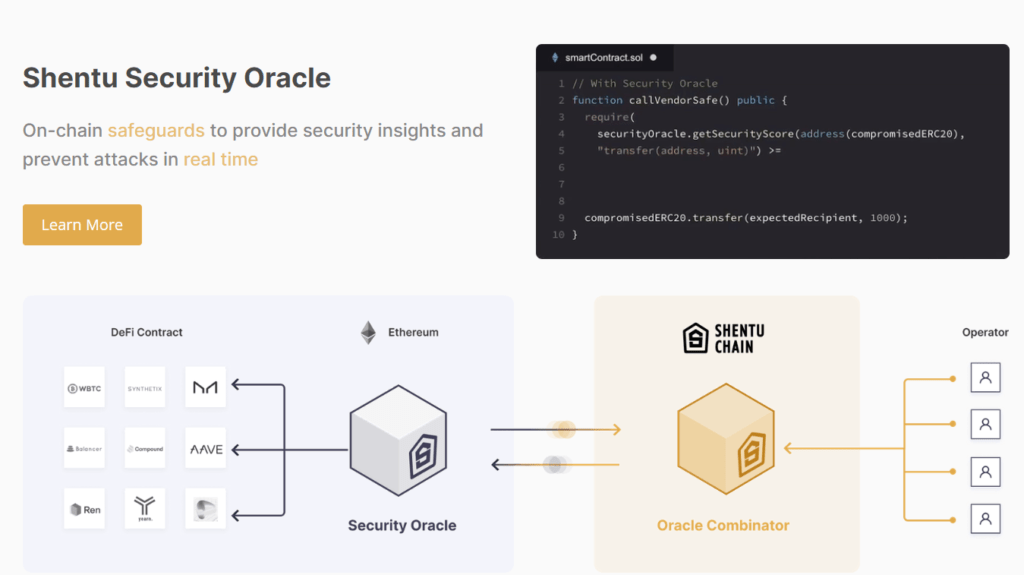 Shentu Chain is a Delegated Proof of Stake (DPoS) blockchain built with the Cosmos SDK. It aims to act as a blockchain infrastructure platform and decentralized applications can be built securely.
What is the technology of the Shentu Chain?
Security Oracle: Protect on-chain transactions and protect crypto projects from malicious attacks by conducting real-time security checks, powered by a network of miners. decentralized mining.
ShentuShield: Provides flexible, decentralized refunds for lost, stolen or inaccessible crypto assets of any blockchain network due to security issues. By leveraging Shentu Chain's real-time Secure Oracle score and governance system, a decentralized membership network can provide collateral, receive rewards, and vote on validation requests. Take ownership to protect the blockchain community.
DeepSEA: A secure programming language and VM-compatible compiler toolbox by Shentu Chain, along with Ethereum WebAssembly and Ant Financial's AntChain
Shentu Virtual Machine (CVM): Fully compatible with the Ethereum Virtual Machine (EVM), CVM allows users to access, test, and combine Smart Contracts and blockchain security information. This allows smart contracts to change their behavior based on the security certificates of other smart contracts. For example, a loan contract can only provide a loan to a DAO contract if it demonstrates provable security.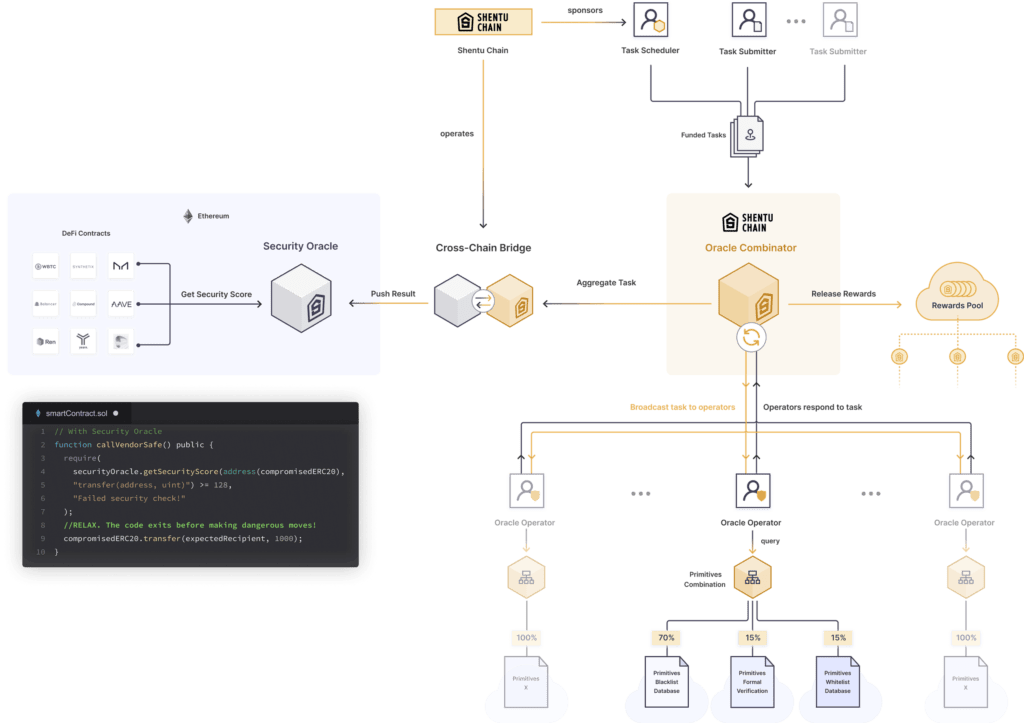 The leadership team of Shentu Chain
Founded in 2018 with the original name CertiK, CTK was developed by two computer science professors from two famous universities in the US.
Professor Zhong Shao has more than 25 years of experience at Yale University.
Professor Ronghui Gu has nearly 5 years of teaching experience at Columbia University.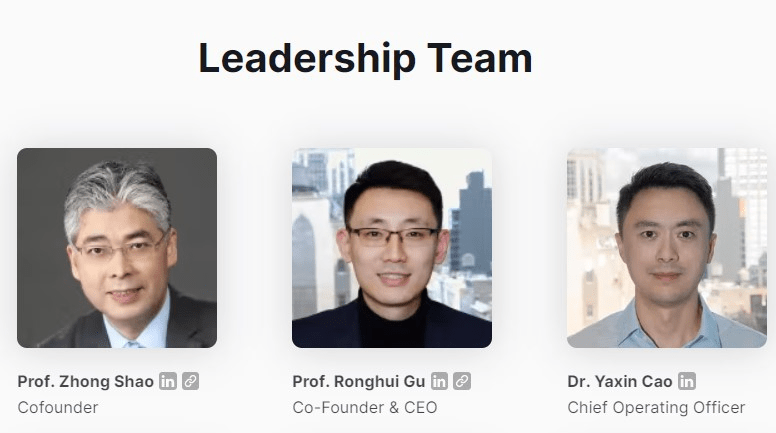 What is CTK token?
CTK key metrics
Token Name: Shentu
Symbol: CTK
Token Type: BEP-20
Audit: CertiK
Total supply: 114,835,133
Total circulating supply: 87,543,766
CTK Allocation
Binance Launchpool: 1.5%
Private Sale 1: 29%
Private Sale 2: 9%
Team: 10%
Foundation: 25%
Community Pool: 17.5%
ShentuShield Pool: 8%
Initial Cycle. Supply (initial total supply): for liquidity on exchanges: 22,100,000 CTK (22.10%)
Token sale
| Round | Token Amount | Token Price | Raised |
| --- | --- | --- | --- |
| 1 | 29,000,000 CTK | 0.77 USD | 22,330,000 USD |
| 2 | 9,000,000 CTK | 1.90 USD | 17,100,000 USD |
The project has raised 39.43 million USD from two private token sales, in which 38.00**%** total CTK supply was sold at 0.77 USD/CTK and 1.90 USD/CTK .
Token unlock schedule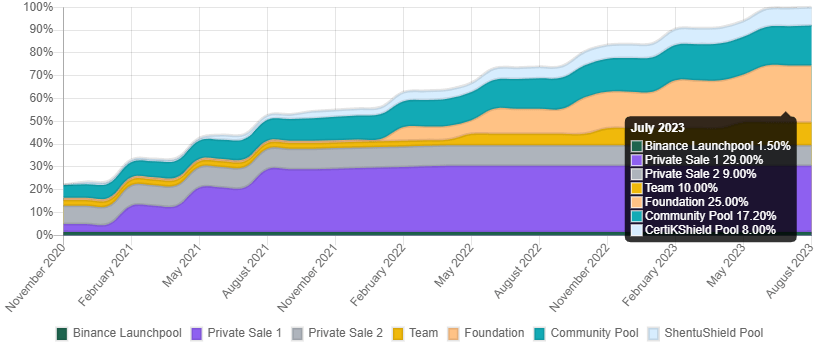 CTK token usecase
CTK is the native utility token of the platform and is used in the following use cases:
Gas consumption: for Smart contract operation
Staking: for network consensus
Reward: when joining the Security Oracle network
Collateral and chargeback: for ShentuShield
Community voting: for decentralized network governance
Investors and partners of Shentu Chain
Investors
Coinbase Ventures
Kenetic Capital
Arrington XRP Capital
Spark Digital Capital
DFG Capital
Goldman Sachs
AU21 Capital
Partner
CertiK's ecosystem is supported by major industry partners such as Bitman, Huobi , OKX , CoinMarketCap…
Summary
Known as a company specializing in auditing Smart contracts for crypto projects, Certik is a security blockchain platform built with the goal of raising the security standards of DApp and Blockchain. Shentu chain is a cross-chain protocol with secure scoring and decentralized chargebacks for building secure blockchains and applications.