VoxiesVOXEL
Voxies Price (VOXEL)
Low: $0.1281 High: $0.1343
Market Cap
$15,893,569.00
Volume / Market Cap
$0.181
Circulating Supply
$120,057,907
Loading Data
Please wait, we are loading chart data
| Date | Price | Volume | MarketCap |
| --- | --- | --- | --- |
| # | Exchange | Pair | Price | Volume (24h) | Updated | Trust Score |
| --- | --- | --- | --- | --- | --- | --- |
Loading facebook comment(s)
What are Voxies Tactics?
Voxies is a free-to-play 3D tactical RPG on the blockchain. Voxies' primary gameplay is similar to traditional RPGs and strategy games, but it's powered by blockchain technology and ownership is at the heart of the game's core concepts. As a team strategy game, the player can control multiple characters in the game, and each character represented by Voxies is owned either directly as an NFT or offered to the player for free by the game.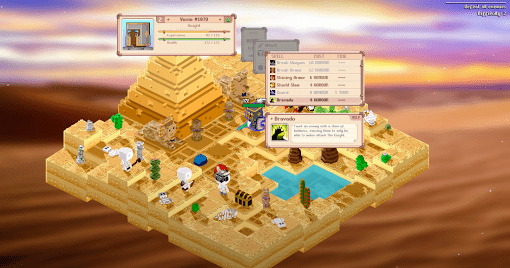 Players are not required to have crypto experience and do not need to own NFT Voxie to play and to earn Voxel tokens through in-game activities. Voxies will be more likely to be accepted by players as players are not required to have any capital to get started.
Voxies in-game mechanics (marketplace, gear crafting and PvP battles) will be the main demand driver for VOXEL tokens.
Voxie Tactics will be free to play for any player who wants to enjoy the game. All players will be able to play, earn, and own VOXEL, as well as in-game NFT items.
Players will be able to decide if they want to use the assets they own in the game or take any of the following actions with their items:
Sell
Transaction
Loan
Crafting (passing their items)
What is NFT Voxies?
Voxie NFT includes 10,000 original Voxie characters with 20 species, 10 races, 20 companion pets, loads of physical attributes, multiple weapons, items, and visual aesthetic elements. No two Voxies in the NFT series are alike.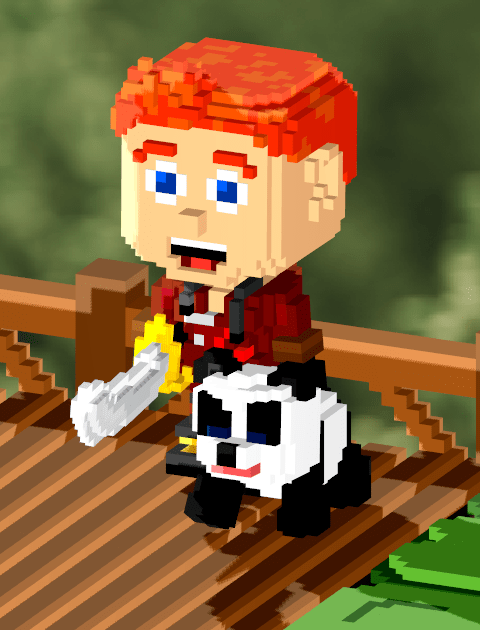 Functions of NFT:
Higher percentage of in-game rewards (NFT items and VOXEL tokens) through RNG (random) improved in Explore mode.
Gain access to some weapons and items already in the NFT.
Some Voxies in the NFT series already have companion pets, so there will be no need to find companion pets in the game to support some gameplay elements.
Certain rarer Voxie NFT species and races will only be available to Voxie NFT holders.
The initial 10,000 Voxie NFT will be minted only once like creating a new generation Voxie NFT.
Voxie Team
The team behind Voxies is AlwaysGeeky Games with over 15 years of game development experience and they have worked at studios around the world such as EA Games, Warner Brothers Games and Ubisoft.
They are contributors to AAA-rated game projects such as the Assassin's Creed franchise, the Farcry franchise, and Mortal Kombat 11.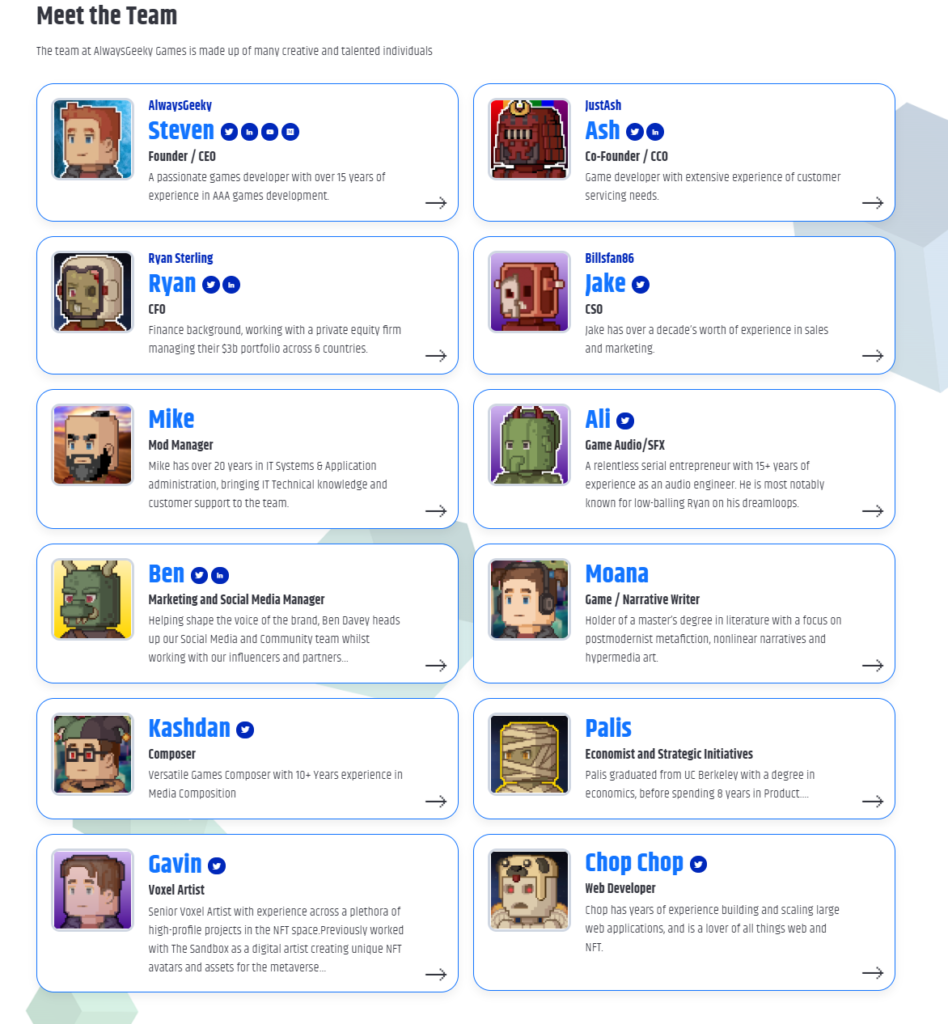 What is Voxies Token (VOXEL)?
VOXEL is an ERC-20 standard token. Users can earn them by playing the game Voxie Tactics in various game modes. VOXEL holders can exchange this token for items on the Voxie Tactics marketplace (weapons, armor, consumables, etc.). Holders will also be able to craft items using their tokens and consumables, as well as use VOXEL to pay for participation in the PvP Voxie Tactics arena.
Key information about VOXEL
Token Name: Voxies
Symbol: VOXEL
Token Standard: ERC-20
Blockchain: Polygon
Audit: CertiK
Total supply: 300,000,000 VND
Total circulating supply: 36.100.000
Token Allocation
In total there will be 300,000,000 VOXEL and they will be distributed into the following categories:
Type

Number of VOXEL

Percentage of total tokens

Play to Earn rewards (Q1/2022 – Q4/2027)

150,000,000 

50%

Voxie NFT Community




Token Distribution (August 2021 – January 1, 2022)

6,000,000 

2%

Initial Public/Private Sale

45,000,000 

15%

AlwaysGeeky Games

72,000,000 

24%

Advisory Board

15,000,000 

5%

Ecosystem & Growth Fund

12,000,000 

4%
VOXEL token release schedule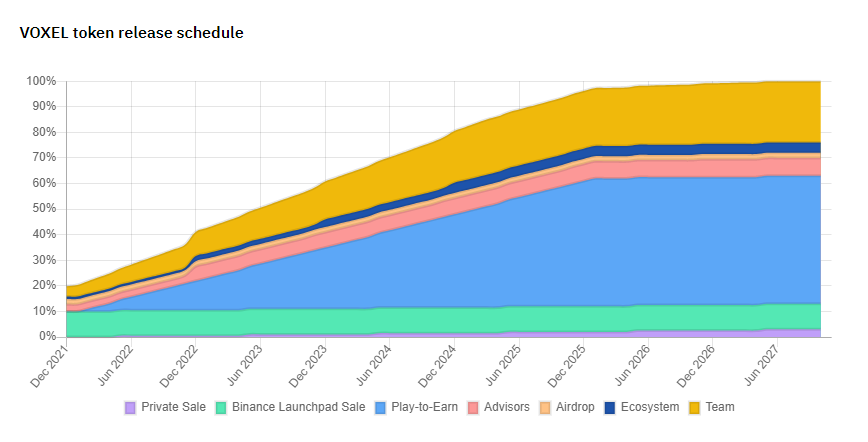 About VOXEL IEO
Token Name: Voxies (VOXEL)

Raised: 6,000,000 USD

Hard Cap per participant: $15,000 (75,000 VOXEL)

Total Supply: 300,000,000 VOXEL

Total tokens allocated to Binance Launchpad: 30,000,000 VOXEL (10% of total supply)

Public Sale Price: 1 VOXEL = 0.2 USD (BNB price will be determined before registration)

Format Sale: Register

Support Token: BNB

Registration time: 06:00 AM (UTC) December 14, 2021 – 09:00 AM (UTC) December 14, 2021
VOXEL token utility
VOXEL token will have the following uses:
NFT Holders: Used to reward holders of Voxies NFT and the number of rewards will depend on the rarity of the NFT.

Battle: Participating in competitions or completing in-game tasks will be rewarded with VOXEL Tokens.

Redeem: Convert VOXEL Tokens into in-game items at Voxies Tactics Marketplace (like weapons, armour, consumables, …).
Voxie's Investor
Voixie is a P2E game project funded by the Binance Labs fund and listed on Binance Launchpad.
Voxie Tactics' Roadmap
Here is the game's development roadmap: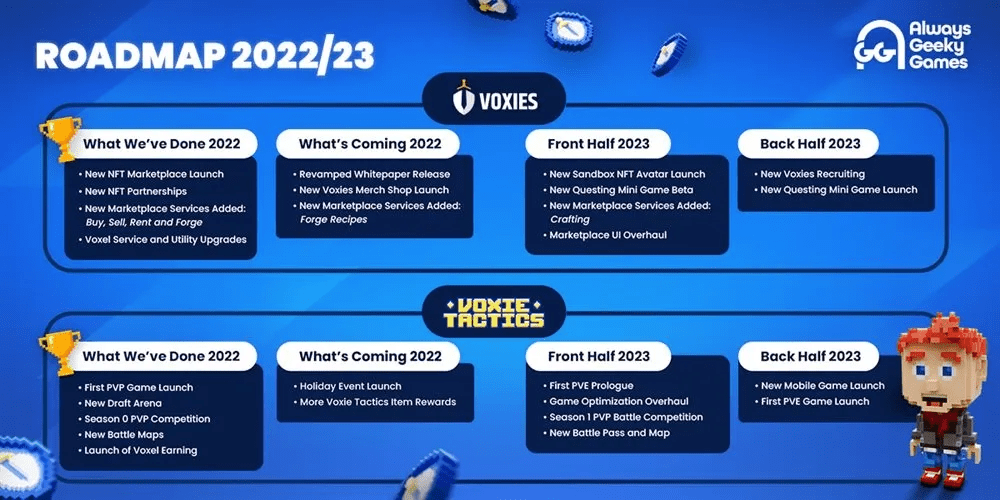 Summary
Voxie game is free to play and Play to earn tokens. Players can then use these tokens to upgrade various features in the game, such as adding items and buying more pets. This is an addictive and entertaining game similar to a Puzzle.