Wombat ExchangeWOM
Wombat Exchange Price (WOM)
Low: $0.0343 High: $0.0357
Volume / Market Cap
$0.096
Circulating Supply
$111,829,036
Loading Data
Please wait, we are loading chart data
| Date | Price | Volume | MarketCap |
| --- | --- | --- | --- |
| # | Exchange | Pair | Price | Volume (24h) | Updated | Trust Score |
| --- | --- | --- | --- | --- | --- | --- |
Loading facebook comment(s)
What is Wombat Exchange?
Wombat Exchange is a decentralized exchange aimed to address users' stablecoin trading needs. It allows users to improve the capital efficiency on the BNB chain with the following features:
Make the algorithm more gas efficient
Allow single-sided liquidity provision
Get rid of the same-liquidity constraint for assets in the same pool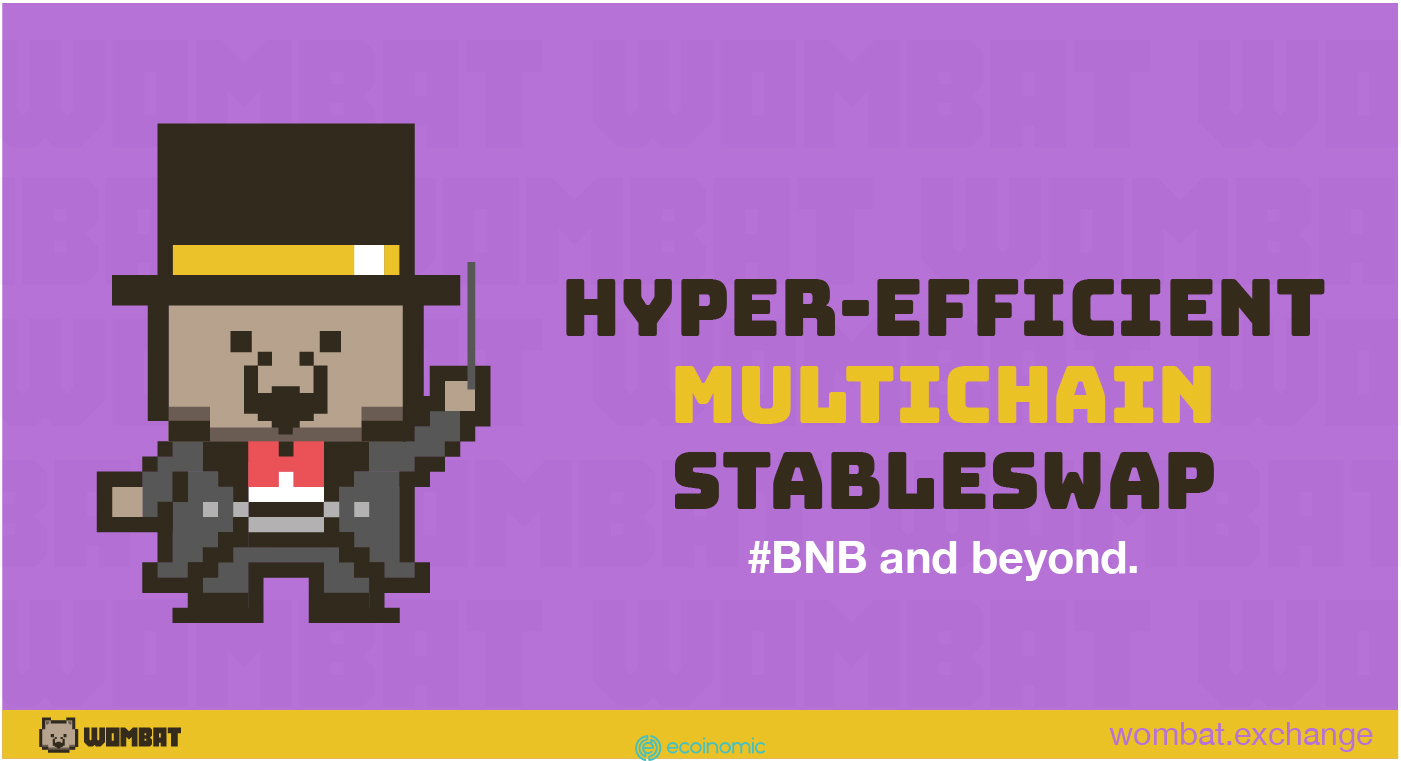 What makes Wombat unique?
There're four significant benefits that Wombat brings:
Scalable Equilibrium: Innovate

coverage-ratio-based

stableswap mechanism to remove scalability barriers, which allows the possibility of achieving 100% capital utilization with no impermanent loss.

Slippage minimization

: Wombat adopts the asset-to-liability model; slippage is negated until higher transaction amounts and reduced when it occurs.

User-Friendly UI/UX

: Simple and accessible interface with pure single token pool design.

Foundation for DeFi to build upon

: A pure single-token pool design enables single-token LP tokens, ideal for borrowing and lending protocols and trading platforms to build on top of.
How Wombat Exchange works?
Wombat uses Coverage Ratio to manage the its liquidity pool. This feature makes it possible for the project to offer rhe best slippage and single-sided Staking since our Liquidity Pools can reach and maintain equilibrium much easier than our market peers.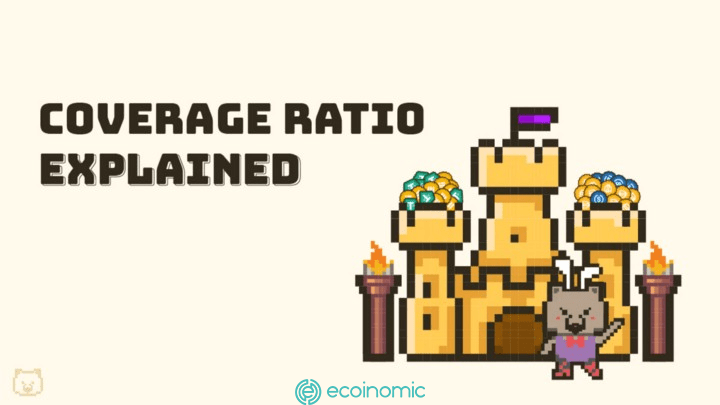 Consider the following example:
The initial BUSD Liquidity Pool contains 1000 BUSD (i.e. there will be 1000 amount of assets and liabilities). Assuming the protocol received a deposit of 200 BUSD from the user before being swapped for 400 BUSD to USDT.

When 200 BUSD is deposited, both the asset and liability increase by the same amount since Wombat has gained BUSD for swapping (asset) and owes BUSD to the depositor (liability), the coverage ratio of BUSD is unchanged. When the swap occurs, 400 USDT will be put into the pool and 400 BUSD taken out, this action will increase the coverage ratio of USDT and BUSD is decreased.
Yield Farming
Wombat's protocol uses WOM to incentivize users to provide liquidity. Users can stake stablecoins and get WOM as rewards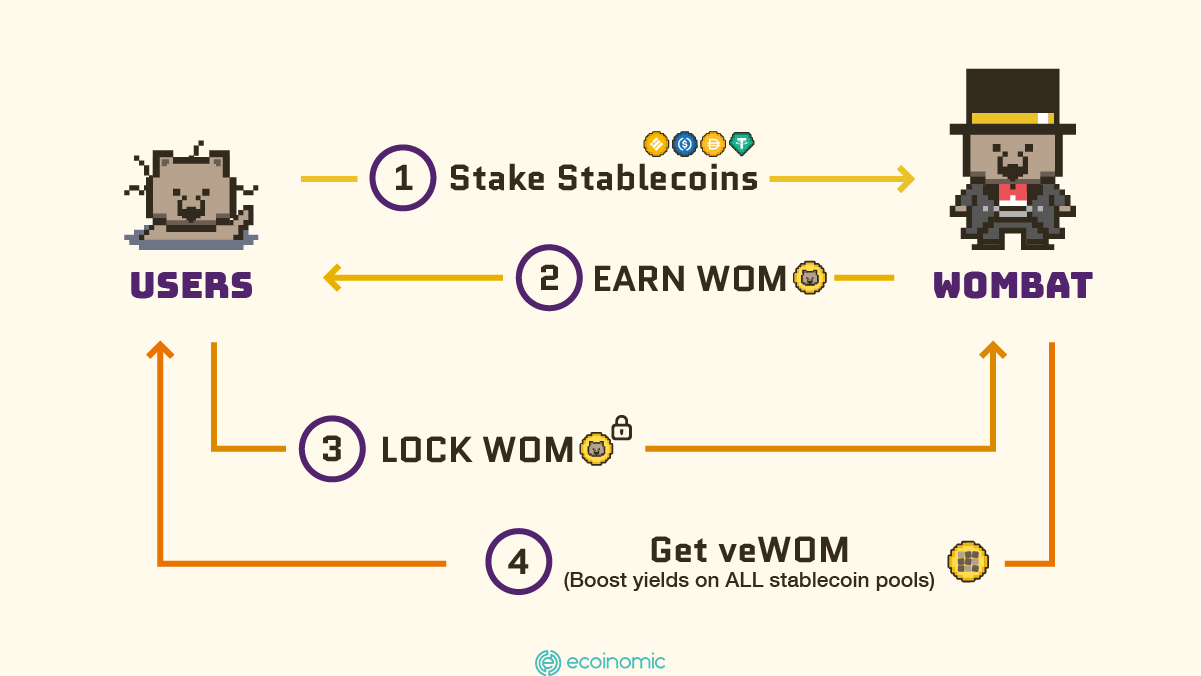 Invariant Curve
Invariant Curve gives Wombat advantages including:
The number of assets in a pool is unlimited. One can add and remove assets on the fly.

The weight of assets is flexible. A protocol can emit more rewards to a token in the pool with higher buy pressure to selectively deepen liquidity.

Users can provide single-sided liquidity.
Wombat (WOM) Token
Token Metrics
Token name: Wombat Exchange
Ticker: WOM
Blockchain: BNB Chain
Circulating Supply: 22.482.592
Total Supply: 1.000.000.000
Tokenomic
Token Allocation
Private Sale: 7.5%
Strategic Sale: 3.0%
PancakeSwap IFO: 2.8%
Syrup Pools: 0.6%
Binance Seed: 5.0%
Binance Partnership: 15.0%
Team: 20.0%
Liquidity Incentive: 20.0%
Marketing: 0.1%
Treasury: 26.0%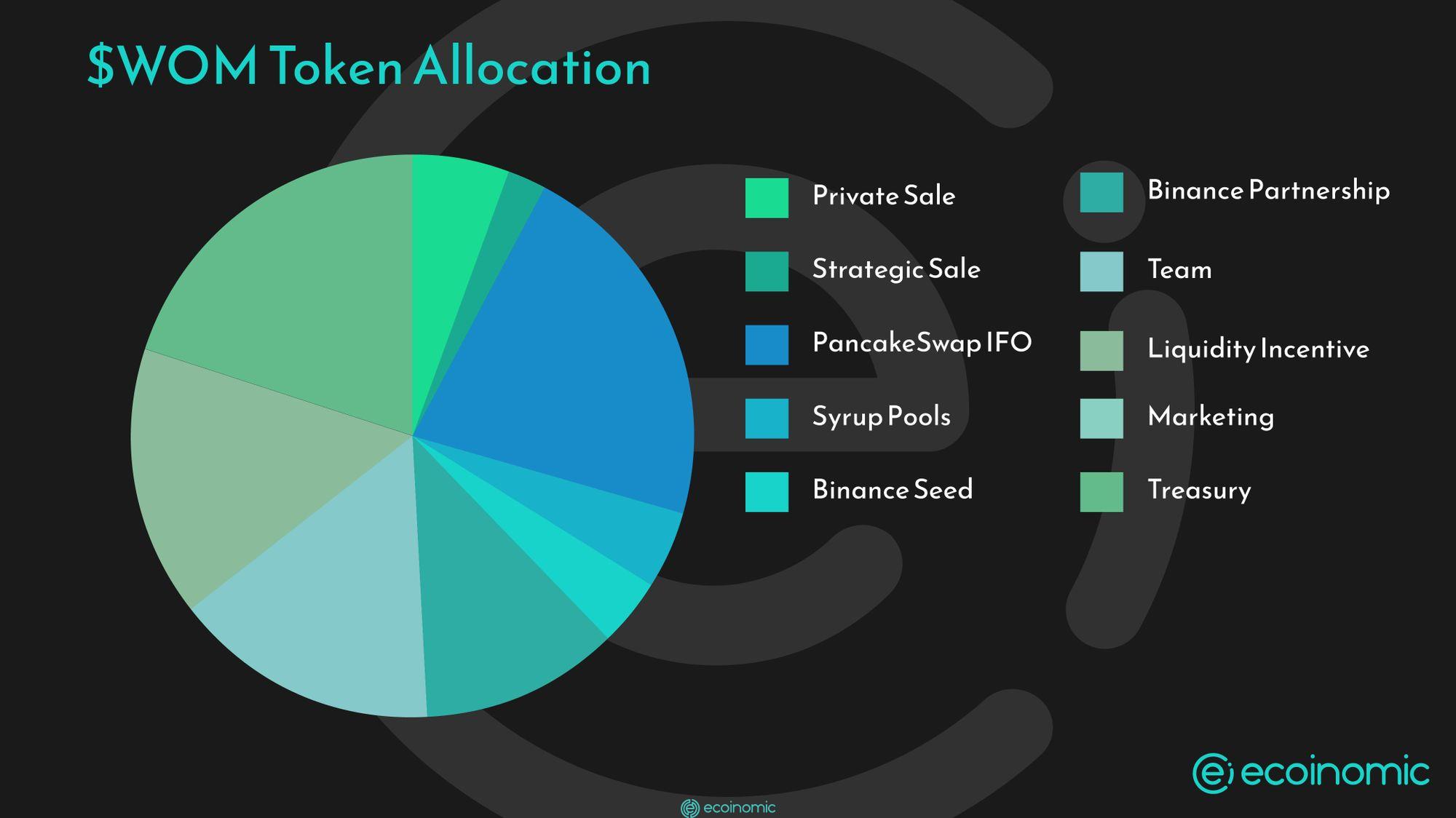 Token Sales
| Round | Amount | Raised | Token Price |
| --- | --- | --- | --- |
| Private Sale | 75.0M | $5.25M | $0.07 |
| Strategic Sale | 30.0M | $2.1M | $0.07 |
| PCS IFO | 28.0M | $2.1M | $0.075 |
Token Use Cases
Incentivize uses to provide liquidity
Staking
Governance
veWOM
veWOM is a token based on the escrowed voting model. Users can lock WOM for a period from 7 days to 4 years to receive veWOM. The longer the WOM lock time, the more veWOM users will receive.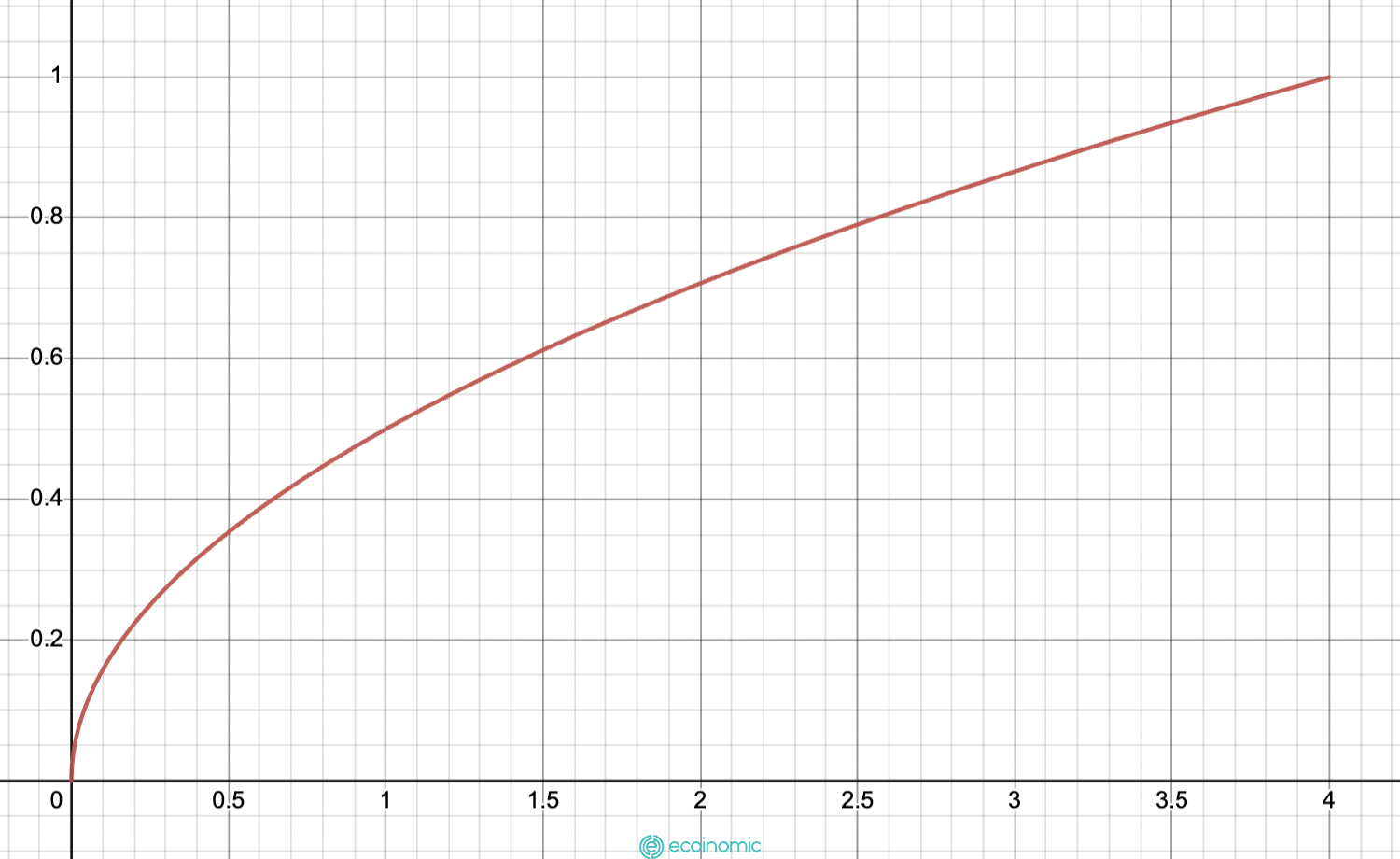 By owning veWOM users can receive additional WOM from Boosted Pool, a feature created to incentivize users to invest in the project long-term by rewarding users who provide liquidity as stablecoins to the protocol when also holds veWOM.
Users can have multiple locking positions (up to 10,000) with different locking periods and WOM amounts

Maximum veWOM held with a deposit equals 1x WOM staked for the deposit

After the expiration of a position, users can redeem WOM anytime. However, once redeemed, the respective veWOM is burned. i.e., your veWOM balance will continue to boost your rewards

after lock expiration

unless you redeem the underlying WOM

veWOM is not transferable or tradable
Roadmap
Q4 2022
Launch of veWOM governance and gauge voting

Launch of factory pool

Partnerships With Various Protocols
Q1 2023
Multichain deployment

Crosschain deployment with de-peg protection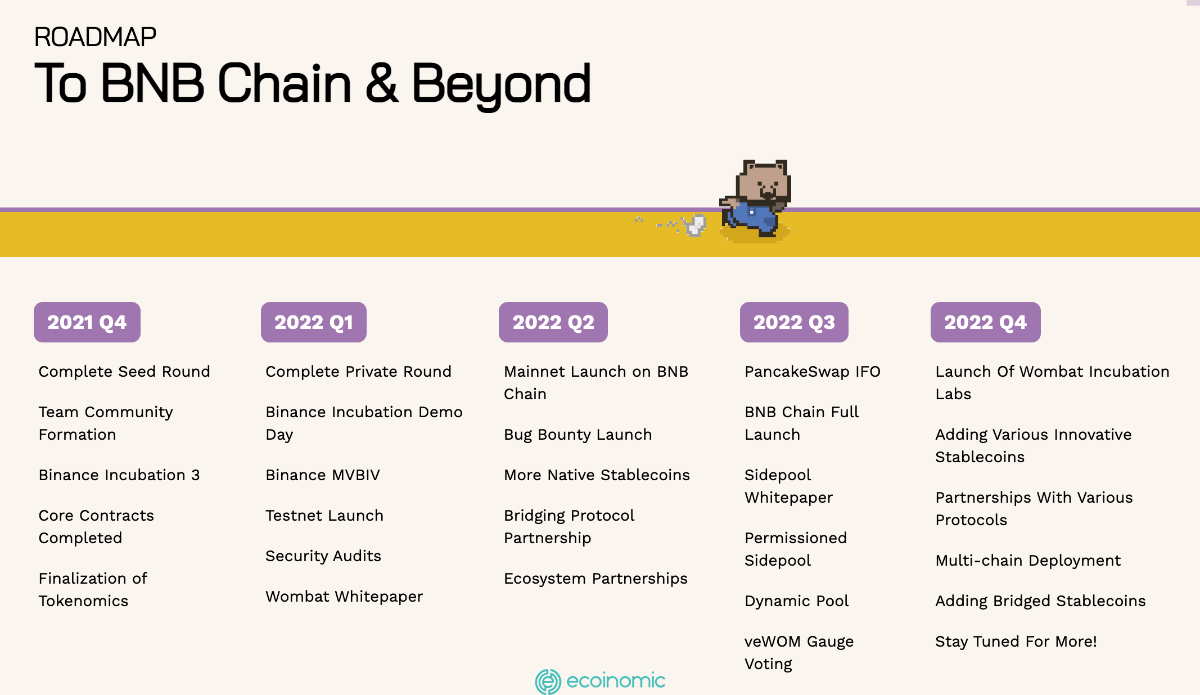 Team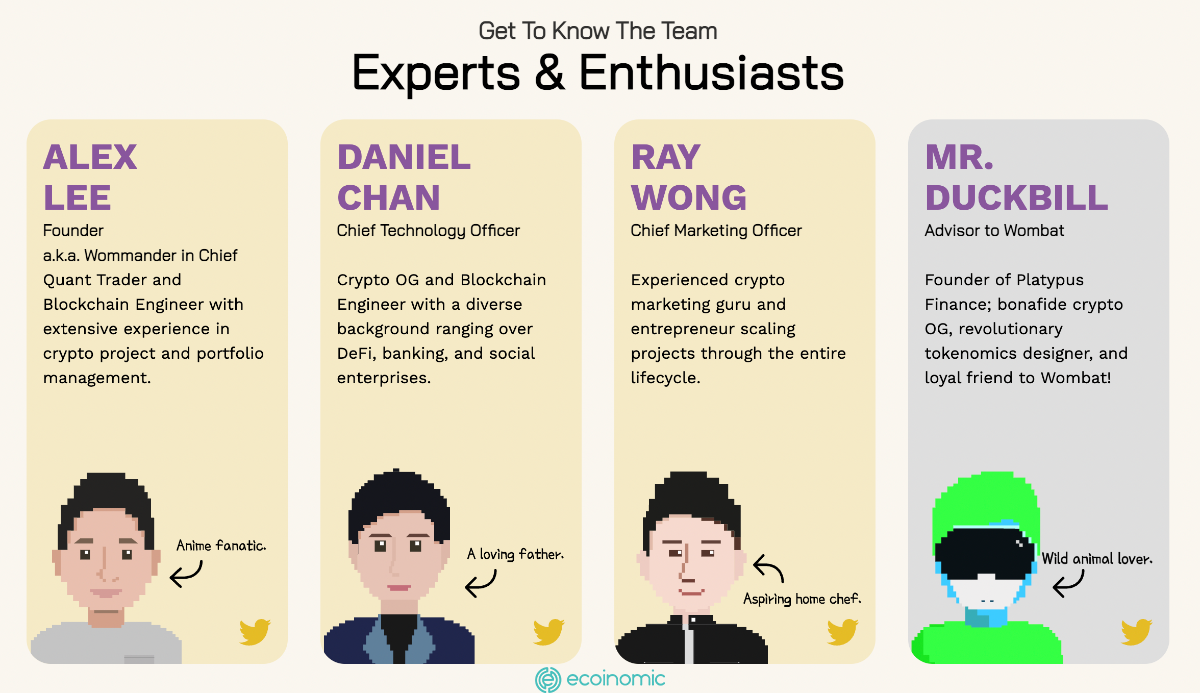 Backer
Wombat Exchange has raised $9.45M to build and develop the project from many investors in the market such as Animoca Brands, Hailstone Ventures, Binance Labs, Jump, Wormhole, GSR,…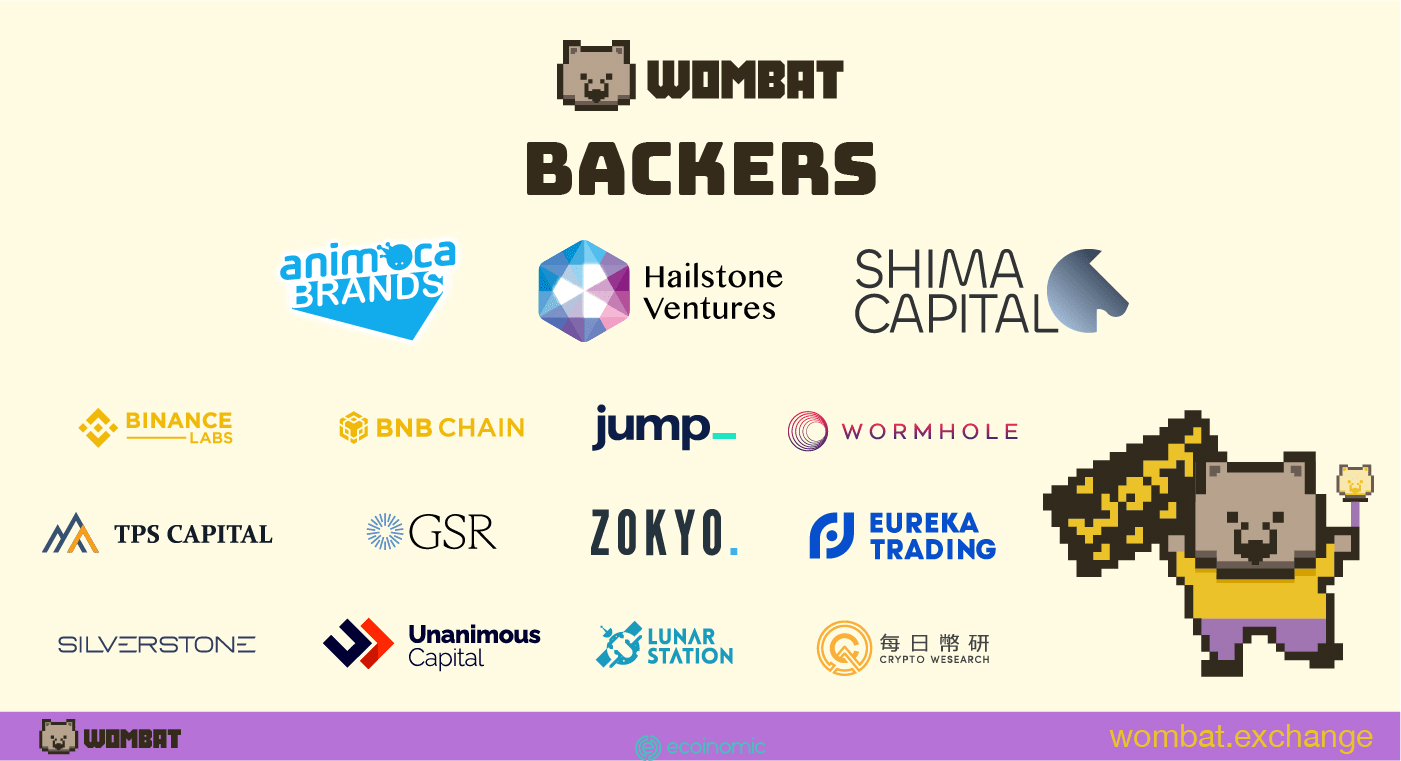 Wombat Exchange FAQ
How to buy Wombat (WOM)?
Currently, users can only buy WOM on DEX exchanges of the Binance Smart Chain ecosystem such as PancakeSwap, 1inch, Matcha.
Should invest in Wombat Exchange?
Wombat is showing itself to be an important piece of the BNB Chain ecosystem, as it effectively uses capital for users. Curve Finance on Ethereum has always been a top important protocol so Wombat can be considered as the missing element for better cash flow in BNB Chain.
However, to invest, users should have appropriate strategies to take advantage of all the features that the project offers.