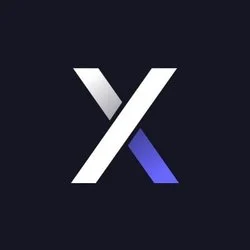 dYdXDYDX
dYdX Price (DYDX)
Low: $1.890 High: $1.930
Market Cap
$338,061,673.00
Volume / Market Cap
$0.054
Circulating Supply
$175,515,367
Loading Data
Please wait, we are loading chart data
| Date | Price | Volume | MarketCap |
| --- | --- | --- | --- |
| # | Exchange | Pair | Price | Volume (24h) | Updated | Trust Score |
| --- | --- | --- | --- | --- | --- | --- |
Loading facebook comment(s)
What is dYdX exchange?
The dYdX exchange was founded by an experienced programmer, Antonio Juliano. After just 5 years since its founding in 2017, dYdX has quickly become one of the largest decentralized derivatives exchanges (Derivative DEX) in the world in terms of market share and trading volume.
This trading platform applies a combination of decentralization and cutting-edge blockchain technology to financial instruments. The four main products of dYdX are Perpetual trading, Governance, Staking and NFTs.
The special feature of this exchange is that when customers' funds are deposited into their accounts, they will earn interest themselves because their assets are put into a global lending pool dedicated to each cryptocurrency. dYdX has an order book structure as opposed to AMMs like Uniswap. It allows borrowers to instantly acquire assets using collateral for a loan they already own. Lenders' assets are always kept safe by requiring borrowers to always have enough collateral in their accounts.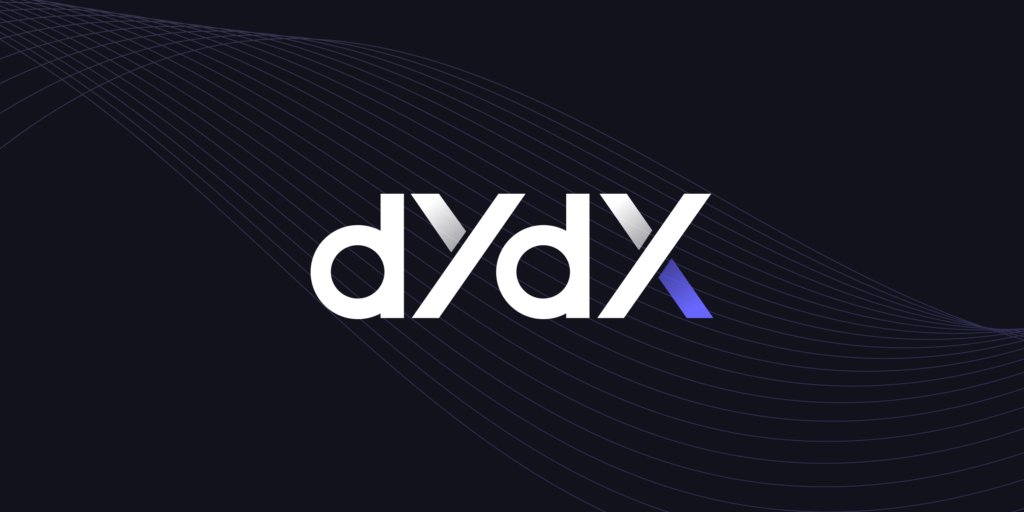 Technology of dYdX
dYdX's main focus on product development is a decentralized derivatives exchange (Derivative DEX) that allows traders to trade effectively similar to centralized exchanges (CEX) such as Binance or Bybit. To be powerfully optimized, dYdX has been built on a Layer2 based on StarkWare's extension mechanism, StarkEx, and the protocol's own perpetual Smart contract (dYdX's Perpetual smart contracts). This technology helps traders to trade quickly, minimizing latency, and low transaction fees.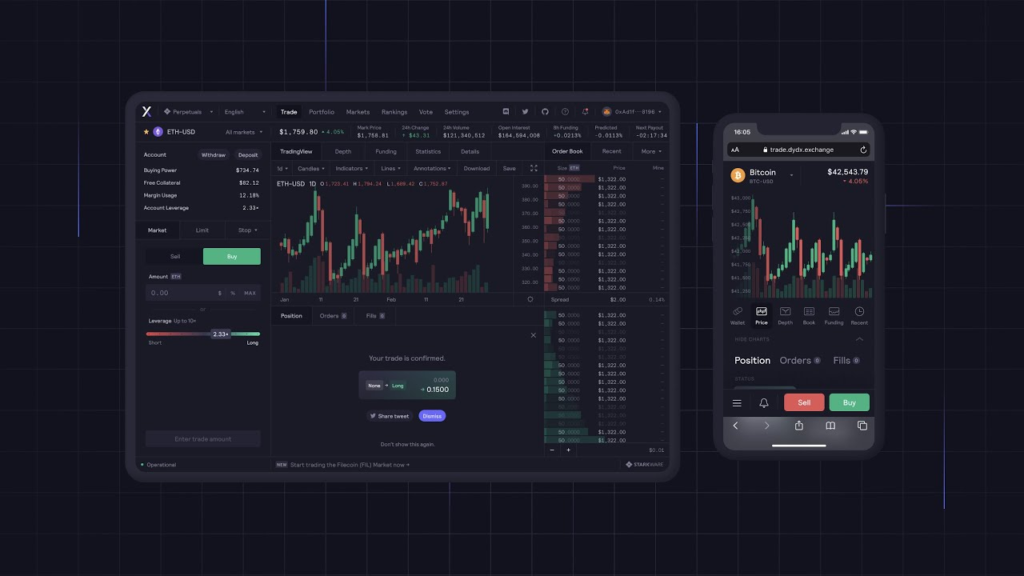 StarkWare zkSTARKS technology is developed using ZK-Rollup technology to help dYdX increase its ability to process transactions, while still inheriting the security capabilities of the Layer1, Ethereum network.
dYdX's integration with StarkWare is also combined with SNARK proof to keep data completely on-chain and without custody.
Transactions that are opened on dYdX will be settled on the Layer2 system, and then exported as Zero-Knowledge Proof which is periodically sent to an Ethereum smart contract to confirm the status of the transaction is valid. rate.
When trading on dYdX, users need to send USDC to the protocol as collateral. At this time, users can open many different trading positions because of the default protocol, positions are cross-margined. To use the separate margin feature, it is necessary to create a sub-account on top of the original account itself.
dYdX Chain
The first versions of dYdX, it was developed on the basis of StarkWare, but require technological improvements that are always developed over time to be able to give users the best product. So dYdX v4 was born with the goal of becoming a separate blockchain to become a completely decentralized protocol.
Cosmos is considered a Layer0 blockchain that allows developers to build their own blockchain and can easily connect to other blockchains in the Cosmos ecosystem.
Cosmos SDK toolkit and Tendermint Proof-Of-Stake consensus mechanism, are perfectly suitable for dYdX to become an independent blockchain with the advantages of decentralization, strong scalability, easy customization and high throughput.
This improvement also adds value to the project's native token – DYDX as it can become a staking token that helps protect the dYdX blockchain.
For dYdX v4, each validator will run an off-chain order book storage without committing to the on-chain consensus. However, the process of placing or cancelling orders still needs to be sent to the network like regular transactions on the blockchain. The order book that each validator stores will be equivalent. In real-time, orders placed by users are matched by the network. The transaction results will then be confirmed on-chain by block.
This allows dYdX to significantly increase the throughput of the network while remaining decentralized.
One big benefit of moving to Cosmos for users is that there is no need to pay gas fees for transactions, but there will still be a small fee to pay for transaction execution similar to the original version. legacy and centralized exchanges. This fee will go to validators vs stakes.
Being an independent blockchain with no relation to another blockchain or system allows dYdX holders to have complete control over the development of the protocol.
What is DYDX's Tokenomics?
DYDX (dYdX) is a layer2 protocol governance token, allowing the dYdX user community to share protocol management and work towards an enhanced protocol.
Token Metrics
Token Name: dYdX Token
Ticker: DYDX
Blockchain: Ethereum
Token Type: Governance
Circulating Supply: 135,973,626
Maximum total supply: 1,000,000,000
Token Allocation
During the first 5 years, the Total Supply of DYDX is distributed as follows: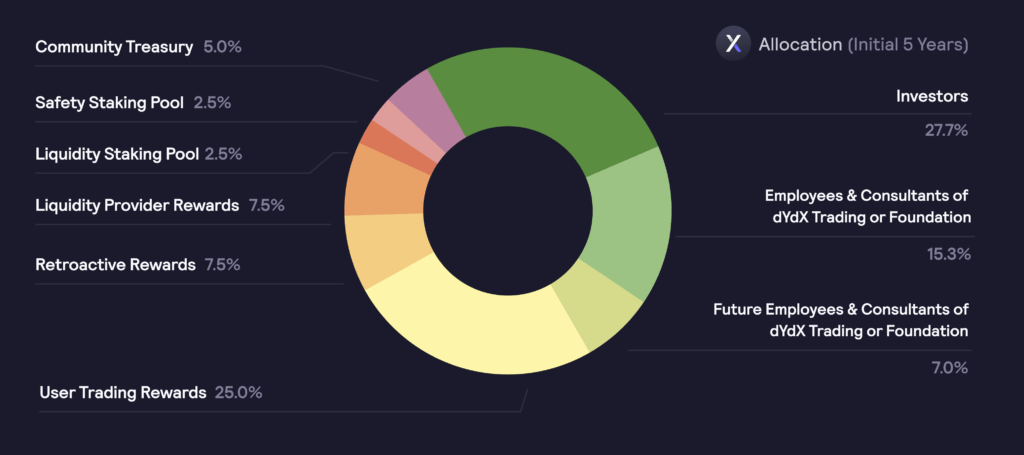 50% of the total supply equivalent to 500,000,000 DYDX is distributed to the community as follows:
25% (250,000,000 DYDX) is used as a trading reward and distributed to users trading on the dYdX Layer 2 Protocol. The trading reward has been reduced from 616 DYDX to 2,876,712 DYDX due to the community vote in favour of a 25% reduction in trading rewards. The remaining 958.904 DYDX will be in the reward pool and can be used by the community by admin votes.
7,5% (75.000.000 DYDX): Retroactive
7,5% (75.000.000 DYDX): Liquidity Provider
5% (50.000.000 DYDX): Treasury
2.5% (25,000,000 DYDX): Liquidity Module – users staking USDC into liquidity staking pool
27.73% (277,295,070 DYDX): Investor
15.27% (152,704,930 DYDX): Founders, employees, advisors and consultants of dYdX Trading or dYdX Foundation
7% (70,000,000 DYDX): Staff and future advisors of dYdX Trading or dYdX Foundation
After September 8, 2021, about 8.11% of the DYDX supply is used to create liquidity on exchanges.
The Inflation rate of DYDX is up to 2 %/year and can be used by management to increase supply. Inflation must be enacted through a governance proposal.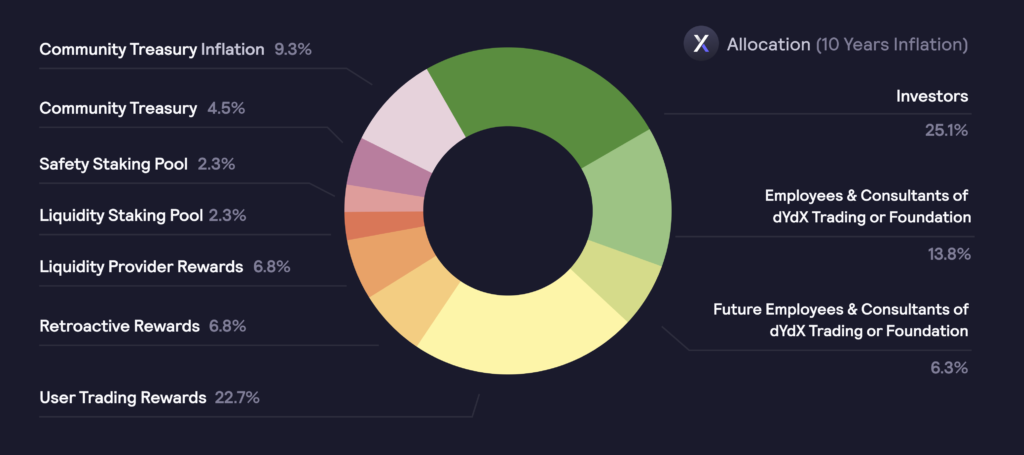 Token unlock
DYDX will be issued to shareholders, directors, officers, employees and consultants of dYdX Trading and the Foundation. All DYDX distributed to these parties will initially be subject to contractual agreements:
30% of DYDX will unlock 18 months after the launch
40% will unlock from May 19 to 24
20% will unlock from 25th to the 36th month
10% will unlock from month 37 to month 48
Token Use Cases
DYDX tokens will be used to:
Staking: The DYDX token will be used to provide liquidity in the protocol.
Get Products & monthly rewards: In the app by claiming on the dYdX exchange.
Voting: Used to propose and vote for important system changes.
Investors
DYDX has been invested by many famous funds and individual investors such as a16z, Paradigm, GSR, BainCapital Ventures and Brian Armstrong (CEO of Coinbase)…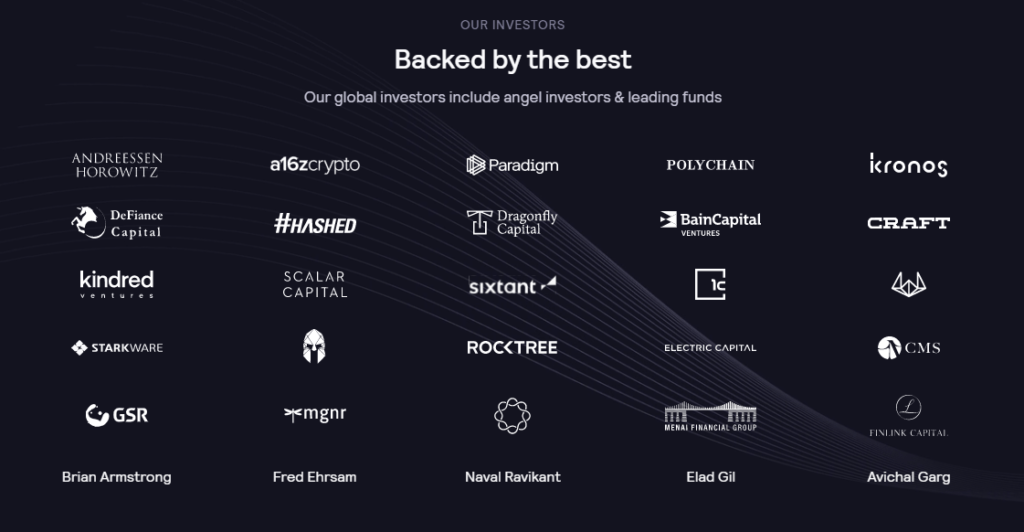 Founding team
Antonio Juliano is an experienced programmer with a background in blockchain technology. He is the founder and CEO of DYDX. He first entered the crypto space in 2015 when he got a job as a software engineer at Coinbase – a platform that provides cryptocurrency trading services. A Princeton University graduate with a degree in computer science, Antonio Juliano began his entrepreneurial journey and founded dYdX in early 2017.
Zhuoxun Yin is the head of operations at dYdX. He previously worked at Nimble  – a social sales and marketing CRM and at Bain & Company  – a consulting service. Zhuoxun Yin studied at the University of Queensland and holds a bachelor's degree in commerce.
Frequently asked questions about DYDX
Where can I buy DYDX?
DYDX is currently being traded on the following exchanges: Binance, Huobi, KuCoin, Gate.io, Kraken, Lbank, OKX, MEXC, Hotbit, Poloniex …
Should I invest in DYDX?
Recently, along with the collapse of the 3rd largest CEX exchange in the crypto market, FTX, users' confidence in CEX decreased. Their interest is gradually shifting to decentralized exchanges like DYDX and it is expected to attract more users in the future. If the trend of DeFi and the use of DEX exchanges become more and more popular, then DYDX will benefit from this and the token price may grow.
However, this is just the personal opinion of the writer, not investment advice, readers should analyze and learn carefully before participating. The cryptocurrency market is fraught with risks, so it is advisable to trade only with knowledge and experience.