To start trading on an exchange, the most important thing is to have a good knowledge of that exchange.
In this article, Ecoinomic.io will give you all the information about BingX, a CFD exchange which is considered as one of the best crypto exchanges in the digital asset industry.
What is BingX Platform?
BingX Exchange (formerly BingBon) is a Singapore-based cryptocurrency exchange that provides both derivatives and spot trading. BingBon successfully rebranded to BingX in 2020. The platform entered the crypto market in 2018 ensuring users invest in a simple, engaging and transparent way.
In addition, the platform also offers commodities, global indices, forex trading, automated copy trading, and other contract trading products.
BingX founders include pioneering experts from leading VC firms, financial institutions such as J.P. Morgin, Standard Chartered Bank, and Internet companies such as Google, Tencent, and Alibaba with over 10 years of experience in respective areas of expertise.
Ppros and cons of BingX
Advantage
Ease of use: BingX's user interface is easier to navigate than other exchanges. When it comes to buy/sell orders and stop loss/take profit, BingX is at the forefront of simplicity. New entrants to the market can use it proficiently. While orderbook exchanges frequently require you to set up profit/stop loss after opening a trade, BingX interface performs all operations before trading, clears all parameters.

High security: After 3 years of operation, BingX has proven itself to be a serious competitor to other exchanges.

Multi-device support: BingX supports both computers and phones.

High leverage: BingX allows users to use high leverage on BTC pairs up to x150. Similar to Binance, BingX has updated the leverage adjustment feature. Users can select the desired leverage level on the toolbar.

Copy trading: This is considered a notable feature of BingX. Copy trading attracts more users than other trading platforms. BingX creates a place where both copyeditors and users can benefit from activating duplicates.

Variety of trading pairs: In addition to trading cryptocurrency pairs, BingX also allows trading in other areas such as forex, commodities, and stock indices.

Buy Crypto: Users can trade and swap directly by Visa and OTC with our new buy crypto feature offering CFD brokers.

Spot: In 2021, BingX introduced spot buying functionality similar to the CEX exchange which gives users more choices.

Diversified assets: As of mid-2021, BingX offers several altcoins, including C98 and AXS.

Multi-languages: BingX supports many languages, including Vietnamese.
Disadvantages
High spread: The spread can be 1 – 2% in the absence of volatility, but can reach 5% during periods of high volatility.

Fiat currencies are not supported for trading.

U.S. traders cannot trade.

Little information about exchange security.

Poor customer service.
How to sign up for BingX
Signing up for the BingX exchange requires the followings:
Commonly used email addresses.

ID card, photo of front, back and 1 selfie with the front of ID card.

Your phone

pre-installed Authy or Google Authenticator app.
Step 1: Go to the BingX homepage, or click on the following link: https://bingx.com/en-us/invite/EITLOP/
Step 2: Select "login/register" in the top left corner.
Step 3: Choose your registration method. If you select Email, fill in the necessary information and the system will send the code to your email, you enter the code and click Register.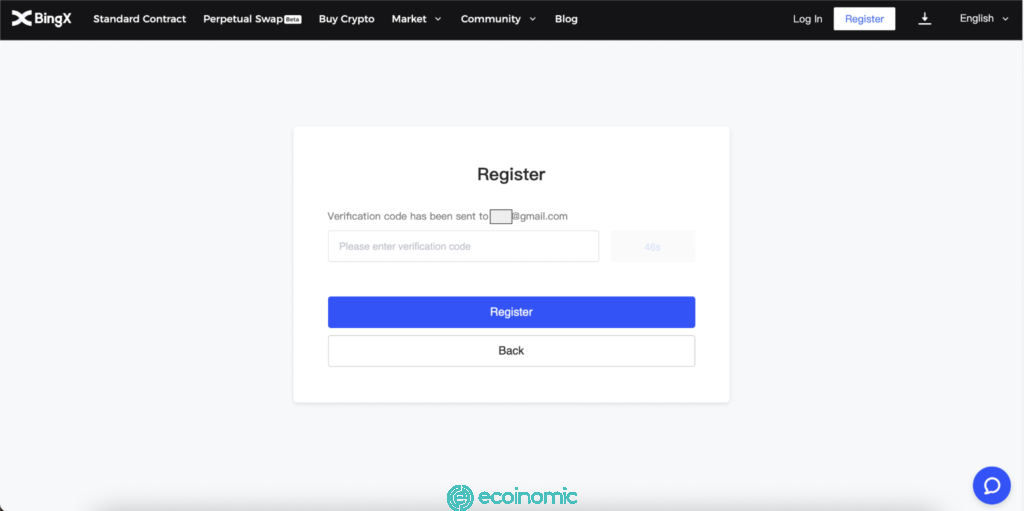 In addition, you can register for a BingX account with your mobile phone.
Step 4: Once you have successfully registered, you can make a deposit but take verification steps to keep your account secure.
BingX account security guide
To secure your BingX account you need to take a few steps. There are two ways to secure your account: identity verification – KYC and enabling 2FA.
Identity Verification – KYC
First you need to understand what is KYC? KYC (Know Your Customer) is the process of collecting identifying information such as a portrait photo, identity card number, passport, address,… about customers of a particular service.
The purpose of KYC is to prevent the use of certain services by unqualified individuals.
To implement KYC on BingX.com, you need take the following steps:
Step 1: On the homepage of BingX, click on the personal icon.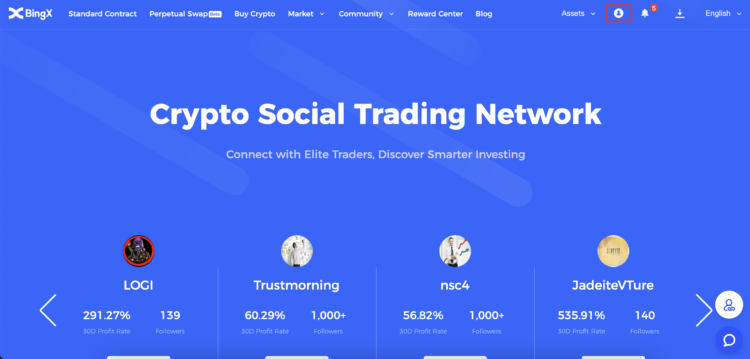 Step 2: Then select Identity Verfication.
Step 3: Fill in the documents you want to verify, then select Next.
Step 4: After selecting, you need to upload the front and back of your document photos to the corresponding boxes, then continue to select Next.
Step 5: Then proceed to take a selfie by clicking I'm Ready.
Check the information again, then click Next.
Step 6: Here is the finished interface, you just need to wait for the result.
Enable 2FA 2-step security
This is a useful step to increase the security of your account on the exchange, we recommend enabling 2FA.
Go back to the homepage and hover over the personal icon you did for KYCs, but select "Account and Security".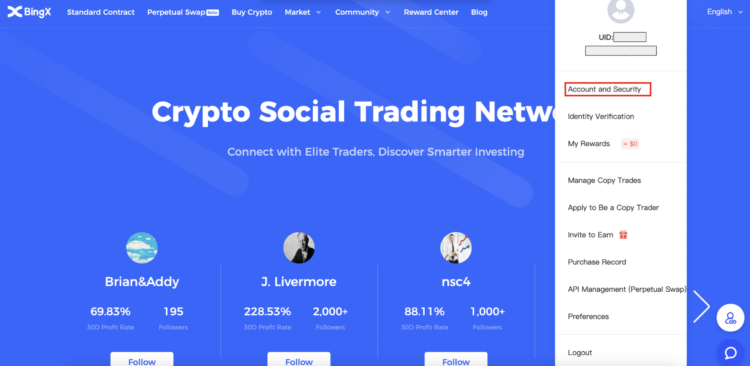 Then scroll down, click on the link in the Google Verification section.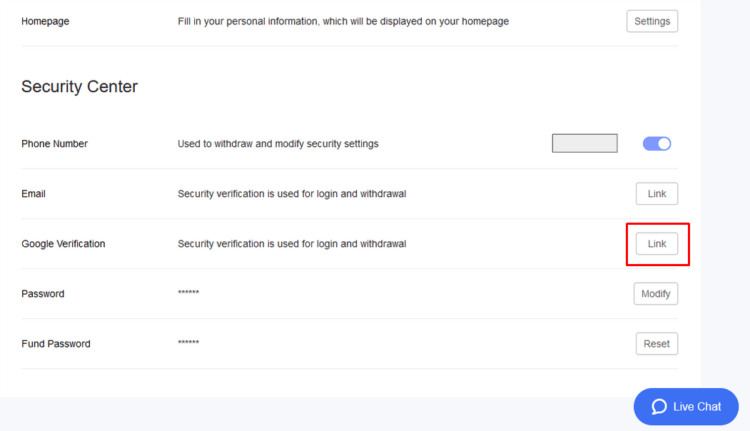 If Google Authentification is not available, download it depending on your device, then click Next. Beside that, you can still use Authy instead of Google Authentification.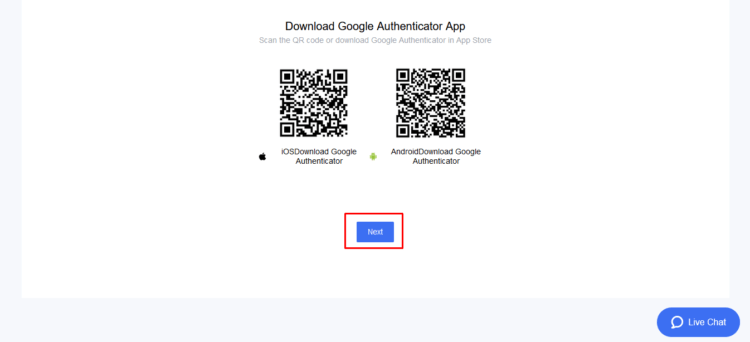 Copy this key to Google Authentification or scan the QR code.
Click Send to get the code on your phone, then enter it in the box and enter the Google Verification code in the box below. Finally click Submit to be complete.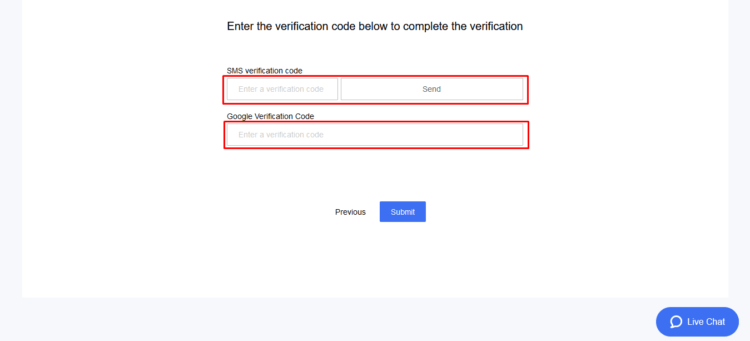 How to deposit and withdraw on BingX
Deposit
On the home page, click on Asset, select Deposit.
Tick the box to agree terms, and then click Confirm.
Select the asset you want to deposit, account, network and copy the address to send the asset to.
Withdrawals
The withdrawal steps are almost similar to the deposit steps. Instead of "Deposit", you choose "Withdraw".
You select the asset you want to withdraw, network, withdrawal address, quantity, remarks as shown below, then select "Submit".
Note: Above the "Submit" button, you need to pay attention to the transaction fee and the actual arrival.
How to trade on BingX
Standard Contract
You can enter derivatives trading with regular leverage. To trade, click on "Standard Contract" on the homepage.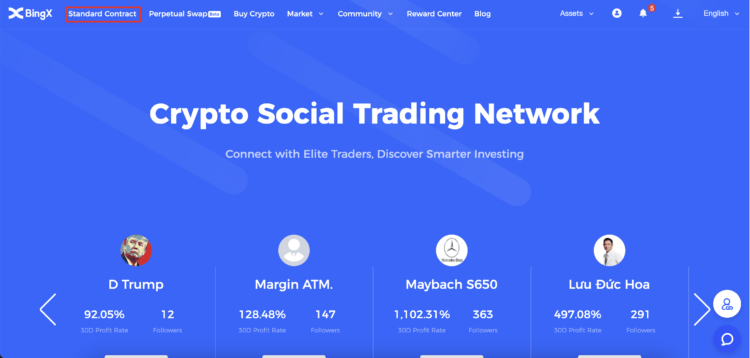 Here is a detailed image of how to place an order.
Where to choose assets.

Where to choose an account.

Where to select the Long/short order.

Where to choose Trigger (limit) or Market orders.

Where to enter the amount of the order.

You can drag here instead of manually entering the above amount.

Where to choose leverage.

Where to put the take profit point.

Where to put the stop loss point.
Quick convert
To quickly convert assets to USDT without going to the exchange, you can use the Exchange feature of BingX. Click on Market, select Convert.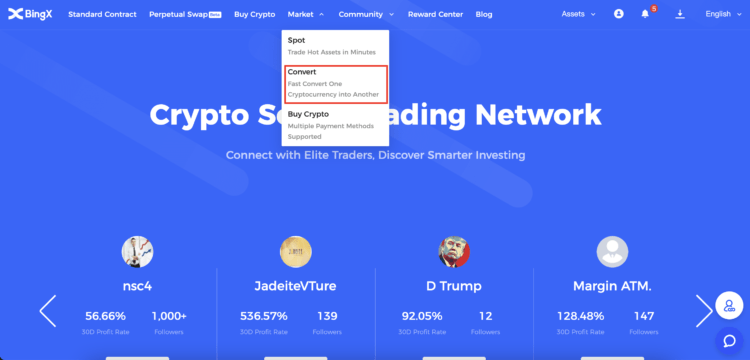 Select the asset, enter the amount you want to convert to USDT, and then click Convert.
Buy coin/token through Credit Card
You can buy coins/tokens through your Credit Card by clicking on Buy Crypto on the home screen or clicking on Market and selecting Buy Crypto.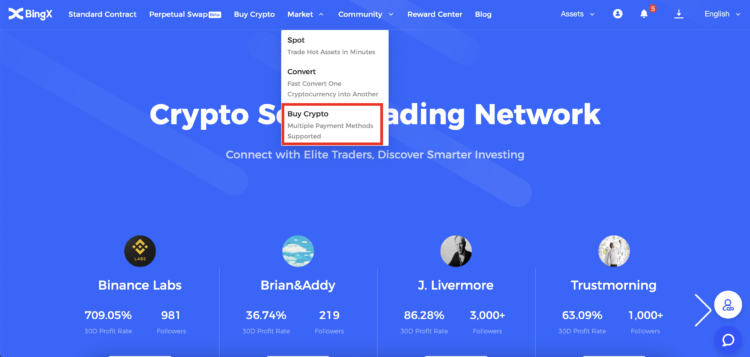 Select the asset, purchase method, enter the amount and click on Buy Now.
Check again the purchase quantity details above, if it is not correct, you can enter it again. Then, select the appropriate payment method and click Buy.
Tick the box to agree, then click Confirm.
Finally, enter the information depending on payment method to complete the process.
Copy trade
On homepage interface, click on Copy trade.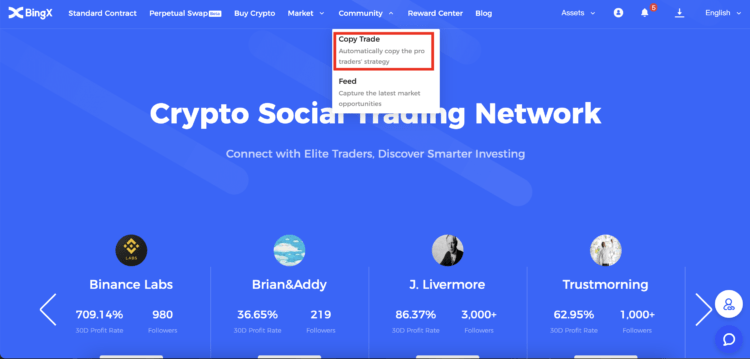 You can choose person you want to copy the order below, or you can search for a specific name at the top. The copy trading button displays the details of your copy trading information.
After selecting the appropriate person, click on "Copy trading". Next, select the asset you want to copy, the amount of copy each order, if you want to deposit, click "Deposit" below. 
Arbitrage Bot
Along with rebranding to BingX, the project launched Arbitrage Bot. This is a bot that helps users make profit by automatically buying low and selling high. Firstly, click Spot on the homepage.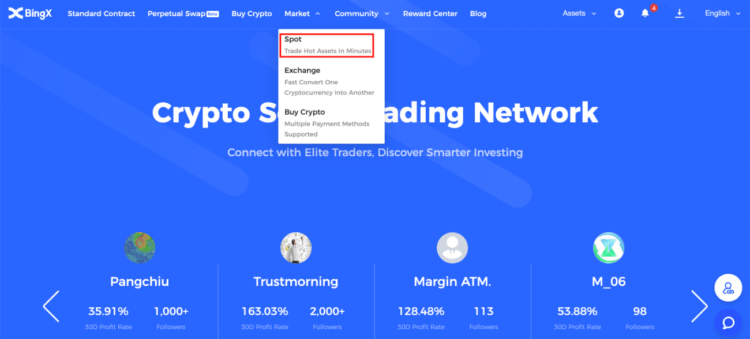 Select Arbitrage Bot.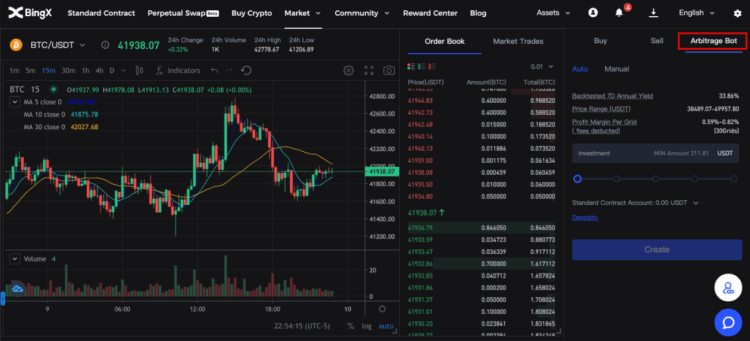 Choose Auto or Manual, then click Create.
After that, click Arbitrage Bot below to follow up.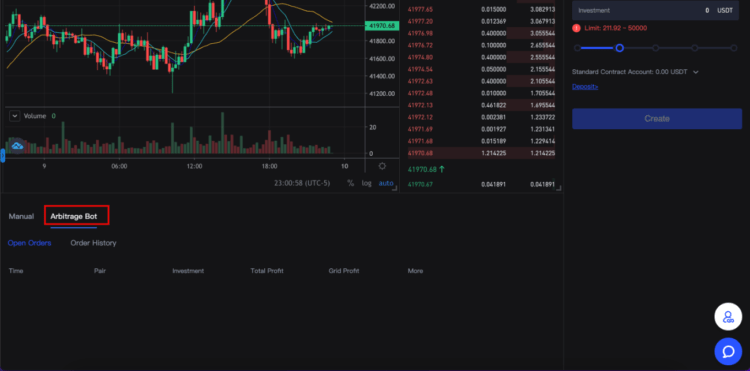 Frequently Asked Questions About BingX
Should I trade on BingX?
BingX's interface is simple and easy-to-use so you can try trading on BingX.
Is BingX exchange reputable?
BingX is a reputable exchange, licensed by the Financial Fraud Enforcement Division. Besides, BingX is licensed as an MSB.
How will the copy fee be calculated?
If you are a trader making transactions on Binance Futures, trading fees will be charged according to Binance's fee.
If you are a copy trader, a portion of the profits from profitable copying orders will be deducted by BingX to pay the trader you copy.
Conclusion
The interface on BingX is quite easy for both newbies and those who are familiar with the market. BingX is considered as the best CFD exchange today. Thus, Ecoinomic has introduced detailed features of BingX as well as guided how to use BingX exchange. If you have any questions, leave a comment below, we'll support you as soon as possible.