What is OTC? Have you ever heard of OTC trading? Currently in the crypto market trading over OTC is favored by many people because of its privacy. The article below will help you understand more about OTC and explain why you should trade here instead of the usual exchange.
OTC trading is offered by many of the world's leading crypto exchanges such as Binance, FTX, MEXC,…
What is OTC?
OTC stands for Over The Counter, which refers to stocks that are not listed on the exchange. This is a very common term in the stock market. In crypto, too, OTC denotes private transactions to buy/sell cryptocurrencies. OTC trading is favored by many, due to its privacy and low impact on the market.
With these "Whales" – often referred to as whales, OTC trading helps them find ways to buy or sell a large number of digital currencies. If the Whales trade directly on the exchange, their trading will be heavily affected if the price slips. Therefore, OTC is trusted by many people for individuals who have a large net worth and are preparing to make big transactions.
As noted in the crypto market, OTC trading volume is 2 to 3 times higher than the volume of transactions on other exchanges.
How does OTC trading work?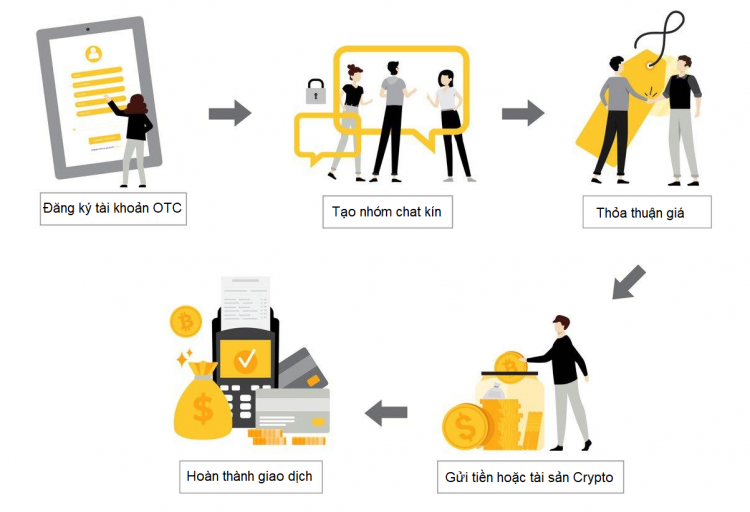 The nature of OTC trading is private and it exists on many levels from the individual to the organization:
On a personal level: OTC completes verbal agreements, maintained by trust between buyers and sellers.

At the institutional level: here OTC trading is often more complex, they maintain a network of cryptocurrency investors between sellers and buyers.
Advantages and disadvantages of OTC
Advantage
Compared to conventional exchanges, otc trading will have the following advantages:
No 3rd party: Compared to trading through the common exchange (CEX), OTC trading is not mediated. Sellers and buyers can trade directly with each other, which will help the two parties cooperate quickly and cheap transaction fees due to not taking many commissions.

High liquidity: OTC helps you buy/sell cryptocurrencies in large quantities without worrying about slippage. So users can easily convert their assets into cash.

Anonymity: When using the OTC market you don't need to share any personal data because you're already directly connected to the deal party. From there, OTC trading can be done on any medium such as chat, phone calls, emails,… You also don't need to register on any website or trading company.
Disadvantages
OTC also has certain disadvantages, you need to be aware before deciding:
It takes a long time: OTC trading is usually used for traders who want to buy/sell large volumes of coins. Therefore, you may be waiting a while to be able to complete the transaction successfully.

High risk ratio: Although OTC has few regulations, this is also the downside of this transaction. This means you will be at higher risk of being scammed. So check the trades carefully to minimize the risk on OTC.

Affected by price fluctuations: Since OTC trading is often with a large volume of coins, price fluctuations can affect the total asset value.
Why choose OTC over regular exchanges?
OTC has high privacy and liquidity so traders choose instead of regular crypto exchanges such as Binance or FTX. In particular, if you are looking to buy/sell large amounts of cryptocurrencies, then you should choose OTC, to limit slippage (slippage) causing price fluctuations. Moreover, you can have a better one-time trading price.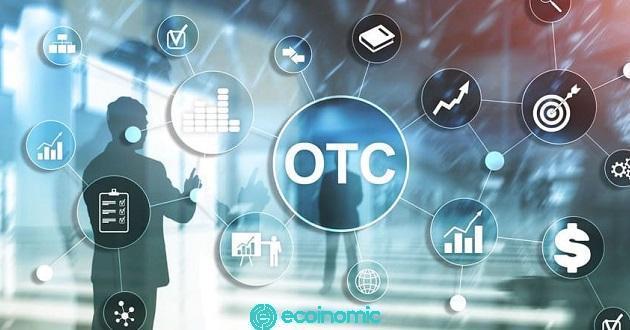 should only apply to highly liquid tokens/coins and have high transaction volume requirements of $50,000 to $1,000,000.
There are markets that only allow trading greater than 20 BTC, and the majority require their investors to trade equivalent to or at least $250,000 or more.
Why shouldn't you trade too small a number of coins in the OTC market?
For the majority of buyers and sellers in the cryptocurrency market, they are all directly involved in placing orders on centralized exchanges. This for investors who are exchanging large amounts of Bitcoin will bring a very expensive amount.
Let's say you're preparing to buy a large amount of Bitcoin worth $1 million, or if you're ongoing an ICO trying to sell bitcoin for $1 million back. You are in need of buying and selling large amounts of Bitcoin on the exchange, then this type of order will lead to the whole market fluctuates sharply and you are at risk of heavy losses.
For example, a 100 BTC sell order, which results in the buyer being overwhelmed (the price will drop from $13.98 to $12,326) and there is still a sharp decline. Parties looking to sell large amounts of Bitcoin will need to lower their selling price.
To avoid falling into such a predicament, investors should consider using OTC for high-volume cryptocurrency trading. But if you are a retail investor and have no investment experience, then you should refer to buying cryptocurrencies on the leading reputable exchanges in Vietnam. This will help you avoid a lot of unnecessary risks, but you need to have certain trading fees.