The number of Algorand [ALGO] users spiked after the unit partnered with FIFA with the idea of focusing on digital collections.
On September 22, Algorand announced that it would be launching the "FIFA Plus Connect" NFT collection. According to the ALGO team, the collection will allow fans to own exciting football moments in the form of NFTs.
NOW LIVE: @FIFAcom makes digital history with the launch of @FIFAPlusCollect powered by #Algorand! Fans around the world will now have the opportunity to affordably own the greatest moments in football 👉 https://t.co/2Pk9NdBGB5 pic.twitter.com/uN5k2hfBeu

— Algorand (@Algorand) September 22, 2022
The number of daily transactions on ALGO's new addresses increased 4 times
ALGO sees this cooperation as a time to pursue new milestones. ALGO's operational addresses have improved significantly. However, it is worth noting that most new addresses have a 4-fold increase in the number of daily transactions in about 3 months.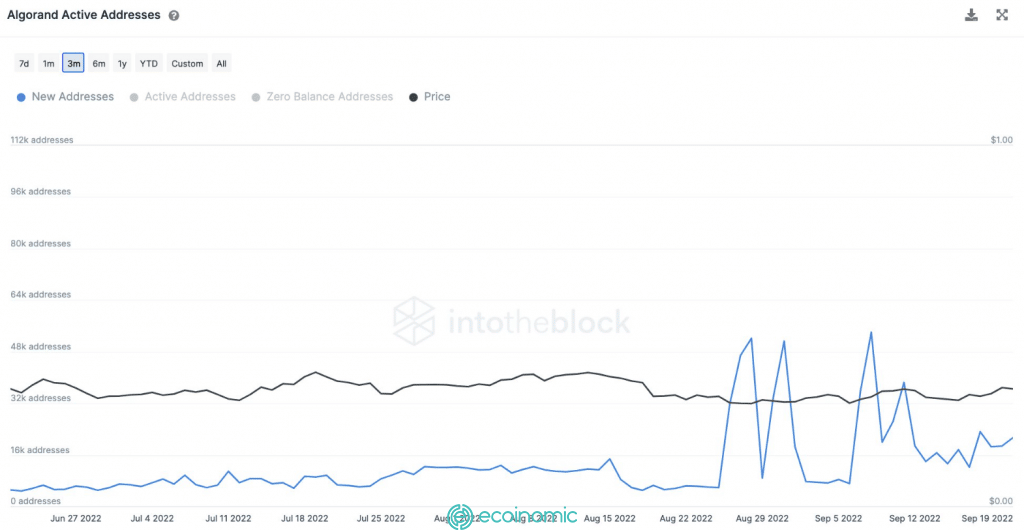 Transactions on active addresses are not the only ones affected by the update. Prices are also positively impacted. At the time of writing, ALGO is trading at $0.3855 over the past 24 hours. This is the second day in a row that ALGO has maintained a positive outlook, especially after activating the "State Proofs" phase.
Despite a major turnaround, ALGO hasn't done much in development. According to a report, development activity on the Algorand chain has been low for some time.
In contrast, the launch of NFTs has attracted great interest in ALGO. Social dominance is at its highest level since May, around the time the partnership was announced.

Algorand investors should lower expectations
According to Coinglass, the coin's futures opening interest rate has increased over the past 24 hours on top cryptocurrency exchanges.

Similarly, the perpetual-futures market recorded more than 50% activity on similar exchanges. The liquidation has taken a toll on a large number of ALGO traders.
Based on Coinglass data, more than $2 million has been liquidated in the last 24 hours. As expected, those who trade with short orders are the ones who pay the price. While long order liquidations accounted for $193,620; short orders were liquidated approximately $826,560. Compared to previous months, the number of short orders liquidated is staggeringly more than usual.

Although the market is making a profit, ALGO investors may need to lower their expectations. While anything is possible, there are no clear signs that the "green" will continue until the third day, after two days of positive outlook.
See also: Ethereum Fork Mastermind says ETHW will have the same value as ETH