The NEAR Octopus Network system project laid off 40% of its core staff. The remaining members will have their salaries cut by 20% and stop receiving token rewards indefinitely.
According to the announcement of "core team restructuring for Octopus 2.0" on 26/12, the project that has achieved a lot of fruit on the Near system will begin to purify the staff, in order to adapt to the current difficult context.
The NEAR project Octopus Network announced layoffs of roughly 40% of the members (12 of 30). The remaining team members will accept a 20% salary cut, and the team token incentive will be suspended indefinitely. https://t.co/uIhm9RnGM0

— Wu Blockchain (@WuBlockchain) December 26, 2022
Because there was a big change in the operational structure, the project also decided to restructure the personnel apparatus. About 40% of members (12/30) will leave the core team. The rest must accept a 20% pay cut and token incentives will be suspended indefinitely.
The project says it's the third crypto winter they've experienced, after 2014-2015 and 2018-2019, but this year is "very different."
With the participation of traditional financial institutions and Web3, cryptocurrencies have become part of the global capital markets, especially the Internet technology branch, with the highest risk and volatility.
Octopus Network was born to provide appchain infrastructure for Web3 applications. Appchain offers high performance, low cost of use, and incredible customizability, but the operating costs are quite high compared to the layer-1 blockchain.
Because it needs a large amount of support resources, Octopus cannot afford to integrate a wide range of appchains. This is why the project needs to revise its strategy, condense and focus on building NEAR and IBC in the coming year.
Octopus believes that NEAR Protocol is the best Layer-1 blockchain for Web3 applications, due to its unparalleled usability and scalability. Octopus 2.0 facilitates NEAR by widely connecting the appchain (based on Substrate or Cosmos SDK) and all blockchains that support IBC. However, since NEARCON 2022 and many impressive achievements, Near seems to be sinking into a series of difficult lackluster days.
About Octopus Network, is a Sidechain that supports Web3 applications that work efficiently on the sub-blockchains (also known as appchains) of the main Near Protocol blockchain. Octopus saves the cost of starting the application chain by 100 times. Octopus' OCT coin price also bottomed day by day and trading volume "red alert".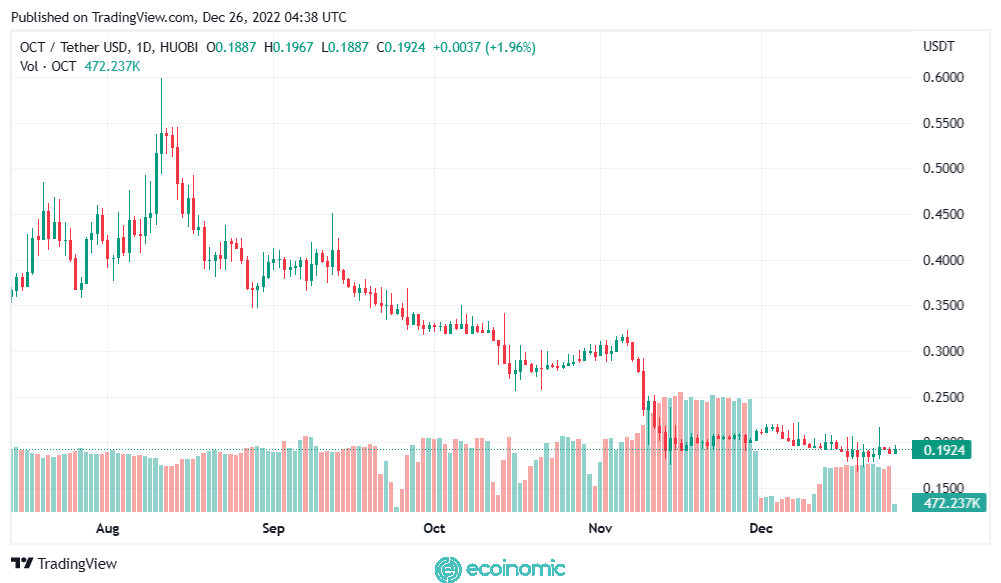 Hopefully Octopus is the "closing name" for the austerity list before the New Year 2023, after the giants Kraken, ByBit, GameStop, Amber Group, Paradigm …
Source: Coin68