The Avalanche Bulls (AVAX) has denied allegations made by a website that the project's parent company, Ava Labs paid lawyers to damage a competitor's reputation.
Avalanche price recovers from serious allegations
AVAX's price set an intraday high of $19.75 on August 30, or a 15% gain, two days after bottoming out at $17.50, or a 15% gain. The token's modest recovery after the sell-offs arose from an allegation by CryptoLeaks.
🏔️ #Avalanche is the top rising topic in #crypto following a claim that its #blockchain was attempting to manipulate regulatory systems. After hitting a 7-week low about 9 hours ago, $AVAX is up +7.5% since. We're watching how news of this unfolds. 👀 https://t.co/Ry1mGvdMap https://t.co/OHmNMkpAzS pic.twitter.com/kk3zue4d3G

— Santiment (@santimentfeed) August 29, 2022
AVAX's price fell 3.5% on August 26, the day that CryptoLeaks released an unverified video showing Kyle Roche, partner at Roche Freedman saying he can sue Solana, one of Avalanche's top rivals on behalf of Ava Labs.
The token fell another 7.5% the next day after the site released its full report, which included another unverified video featuring Roche.
In addition, Avalanche's intraday losses are the result of negative moves on other leading crypto assets.
AVAX can increase by 55%
The fundamentals of Avalanche are closely tied to the overall cryptocurrency market, which makes it trend further down.
Analyst PostyXBT noted that AVAX's price could fall to the $13-$15 range and establish a short position in this area.
Textbook short set up forming.

Only concern being deviation caused by $BTC running higher towards $20.8k.

Manage position size accordingly and keep btc in mind when setting invalidation levels 👍 pic.twitter.com/8wRgZxkOcv

— Posty (@PostyXBT) August 30, 2022
BrechTP analyst also expects the price to fall to $14 based on the "head and shoulder" pattern, as shown below.

On the contrary, TraderSZ analysts expect AVAX prices to continue their recovery trend in the coming days. His setup, as illustrated below, expects the Avalanche's token to reach around $30 by September.
The upside target is in line with AVAX's "symmetrical triangle" pattern. Notably, the price rebounded after testing the trendline of the support triangle and that was its temporary bullish target.
The Trendline is near the $30 price target, as shown below.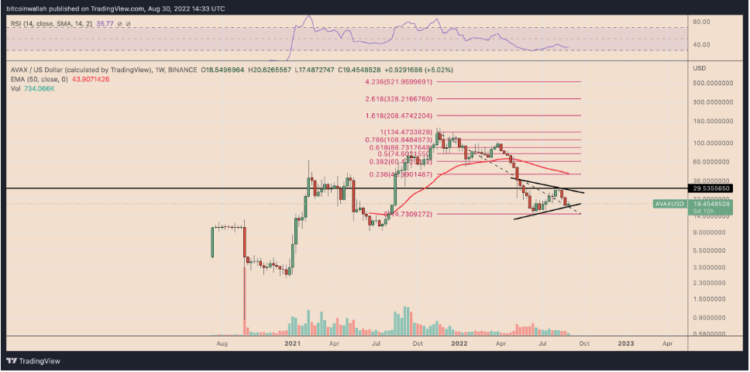 In other words, AVAX can increase by more than 55% compared to the current price.