Three Serum (SRM) trading pairs on Binance will be delisted on 11/28 due to their close links to the bankrupt exchange FTX.
Accordingly, the world's leading cryptocurrency exchange will officially phase out SRM/BNB, SRM/BTC and SRM/USDT trading pairs on 28/11. Along with that ARK/BTC, BEAM/BTC, BTCST/BTC, BTCST/USDT, GTO/BTC, GTO/USDT, MITH/BTC, MITH/BNB, PERL/BTC, PNT/BTC, REP/BTC, TRIBE/USDT, SEE/BTC pairs will also be delisted on Binance on 28/11.
Binance announced that it will delist the following spot trading pairs on November 28, 2022: ARK/BTC, BEAM/BTC, BTCST/BTC, BTCST/USDT, GTO/BTC, GTO/USDT, MITH/BTC, MITH/BNB, PERL/BTC, PNT/BTC, REP/BTC, SRM/BNB, SRM/BTC, SRM/USDT, TRIBE/USDT, VIEW/BTC https://t.co/z9dpVmQEmH

— Wu Blockchain (@WuBlockchain) November 25, 2022
Serum is a Decentralized exchange built on Solana, which has been enthusiastically supported by FTX since its inception. On November 14, the Solana Foundation said it held SRM 134.54 million on FTX, raising concerns about the future of the project. As for Solana, the ecosystem has been wiped out by nearly 700 million USD, the TVL of the system also decreased by 70% with a total value of 1 billion USD after a series of events.
See also:
SRM is also one of the most valuable coins on FTX's list of assets, according to a statement by former CEO Sam Bankman-Fried. However, this figure may not be true as SRM's liquidity is very weak, similar to other "Sam coin", which are designed to have high valuations but low circulating supply. FTX/Alameda allegedly deliberately designed "Sam coin" coins such as SRM, FIDA, OXY, MAPS to be able to easily mortgage loans.
However, Serum was suddenly "revived" extremely quickly before the fork plan of the project community when the FTX crisis took place, the price of SRM sometimes increased by 250%.
According to CoinMarketCap, although SRM is still listed on Kraken, Kucoin, and Gate.io, the majority of the token's trading volume takes place on Binance.
SRM was trading at $0.2719 at press time, down 6.1% over the past 24 hours.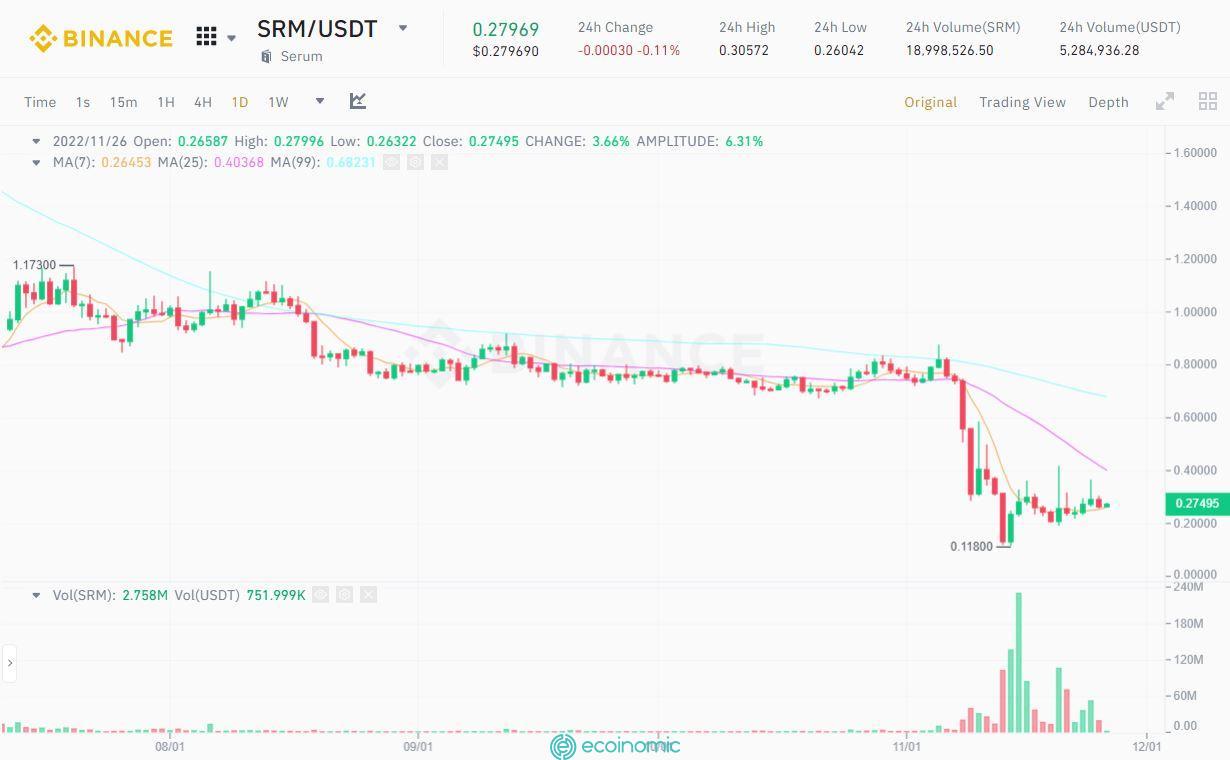 Source: Coin68