Bitcoin, Ethereum, altcoin, and stock prices crashed after the CPI report was published. Is there a solution to the short-term recovery?
The cryptocurrency and stock markets are wobbling after the 9/13 Inflation report released a figure that showed inflation up 0.1% from the previous month.
Even as gasoline prices fell to multi-month lows and the housing market cooled, core inflation was up 0.6% from the previous month and full-year inflation at 8.3%.
This chart from @TheTerminal shows why this #CPI number is so disappointing. The contribution of energy has declined, as expected; but services inflation is now rising sharply. Not what the #FOMC will have wanted to see. pic.twitter.com/BsfwFsuyD5

— John Authers (@johnauthers) September 13, 2022
While market participants and investors have estimated the Federal Reserve's next rate hike at 0.75 basis points, many it is anticipated that the CPI report of 9/13 will give softer figures.
Given that the market has "rallied" by 0.75 bps, cryptocurrency traders expect Bitcoin (BTC), Ether (ETH) and altcoins to break out.
Well, obviously the exact opposite happened.
Perma-bull Fed pivot CPI traders REKT. LOL

— Big Smokey (@big_smokey1) September 13, 2022
The Dow fell about 2.6%, while the S&P 500 and Nasdaq fell 2.9% and 3.6%, respectively. Naturally, risky assets also fell and the price of Bitcoin has since dropped by more than 50%. Compared to the recent weekend gains, BTC is down 9% to $20,350. With just a day left before The Merge event will take place, the price of Ether has also dropped by 7.29% to $1,590, and the majority of cryptocurrencies in the top 100 are currently suffering significant declines, from single digits to double digits.
While Bitcoin's weekend rally from September 9 lasted through earlier this week and the price pushed to $22,800, earlier analysis warned that BTC is also trading near key resistance levels.
As seen below, the multi-month resistance level remained the same as the price dropped to $22,400 when the market opened. Monthly CPI data is given in the media. The analysis also highlights the "continuation of the bear market" trend that has taken place since the Bitcoin price peaked at $69,000 on November 10, 2021.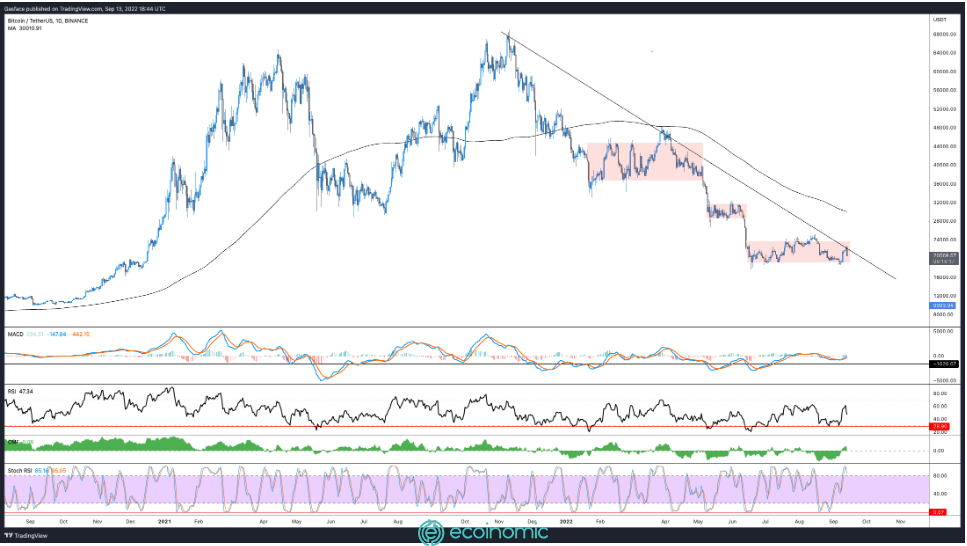 Without The Merge event, the most likely trend for Bitcoin remains bearish.
One positive point to note is that despite the September 13 correction, the Bitcoin price continued to decline in the 90-day range from $25,400 to $17,600. There is nothing "to see" until the BTC price breaks below $18,500 or the annual low at $17,600.