A string of warnings issued by Goldman Sachs puts Bitcoin (BTC) at risk of dropping to $12,000. Bitcoin derivatives data also shows that sentiment is shifting in a negative direction and could cause a major collapse below $20,000.
Is Bitcoin bottoming out?
A team of Goldman Sachs economists led by Jan Hatzius made their predictions about the pace of the Federal Reserve's rate hikes. They noted that the U.S. central bank would raise interest rates by 0.75% in September and 0.5% in November, up from its previous forecasts of 0.5% and 0.25%.
The Fed's rate hike roadmap has played an essential role in determining bitcoin's price trend in 2022. The period of higher lending rates – from almost zero to the range of 2.25-2.5% today has prompted investors to pivot away from risky assets and look for safer alternatives, for example, cash.
Bitcoin is down almost 60 percent and is currently hovering around the psychological support level of $20,000. Some analysts, including a trader nicknamed Doctor Profit believe that the price of BTC has entered a bottoming phase. However, the trader warns:
Consider the fed's next decisions. An interest rate increase of 0.75% has been determined, 1% is most likely to occur.
The Fed's decision to raise interest rates by 0.75% will help green markets again. If interest rates rise by 1%, it will be Fire carpet with financial markets!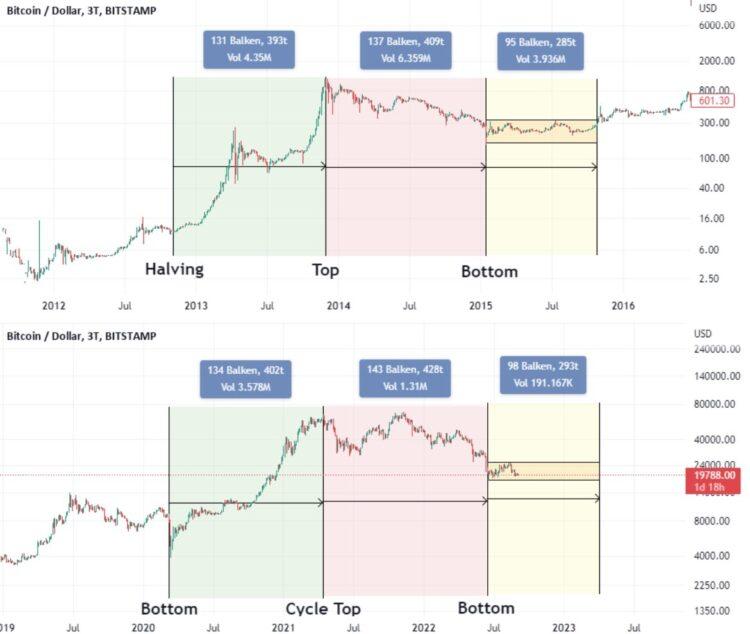 On the other hand, Bitcoin's positive correlation with the US stock market, especially the Nasdaq Composite causes deeper correction risks.
Sharon Bell, a strategist at Goldman Sachs, suggested that the recent rally in the stock market could be a bullish trap, echoing the company's warning that stocks could fall 26% if the Fed is more aggressive with rate hikes to combat inflation.
Interestingly, these warnings coincide with the recent increase in bitcoin short positions held by institutional investors, according to CME data outlined in the Commodity Futures Trading Commission's (CFTC) weekly report.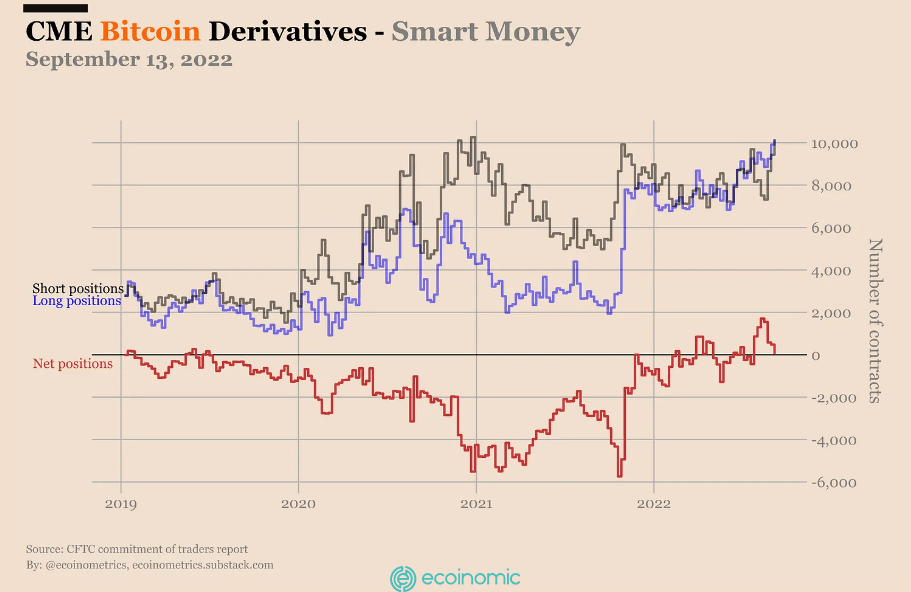 Nick, an analyst at data source Ecoinometrics, said: "There's no doubt that some people are believing in a risky asset recession this fall."
The consensus of BTC options at $12K
Bitcoin options expiring at the end of 2022 suggest that most traders are betting on btc prices falling to the entire $10-000-12,000 area.

Overall, the ratio of call options and put options was 1.90 on September 18, with call options at a maximum weighted price of $45,000. But the price range from $ 10,000 to $ 23,000 indicates at least 4 put options on 3 call options – this is probably a temporary, more realistic assessment of market sentiment.
From a technical perspective, the price of Bitcoin could drop by about 30 percent to $13,500 as the price forms a Cup and Handle Pattern.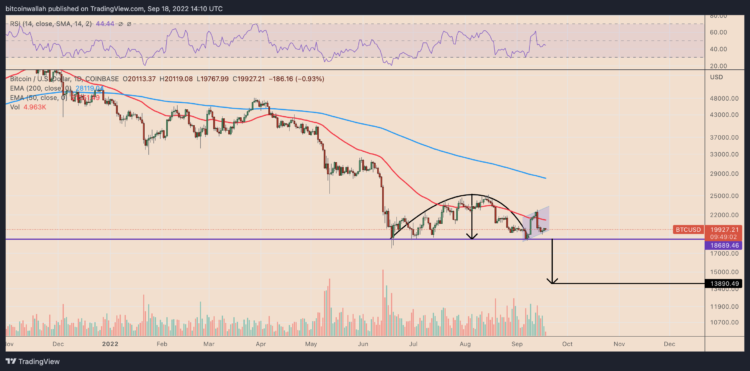 Conversely, a rally above the 50-day exponential moving average (50-day EMA; red wave) near $21,250 could detract from this bearish possibility, Identifying BTC for a rally toward $25,000 is its next bullish psychological target.