Bitcoin price has reached a key resistance level in today's trading session. The coin price is positioned to break out high if the bulls try to close the daily candle above $21,500. BTC still recorded heavy losses, so a decisive move could occur.
At the time of writing, Bitcoin (BTC) is trading at $21,700 with a 1% profit and a 9% loss over the past 24 hours.
As mentioned, the key resistance level is $21,500, and the daily candle closing above this level may hint at the BTC price trend in the future.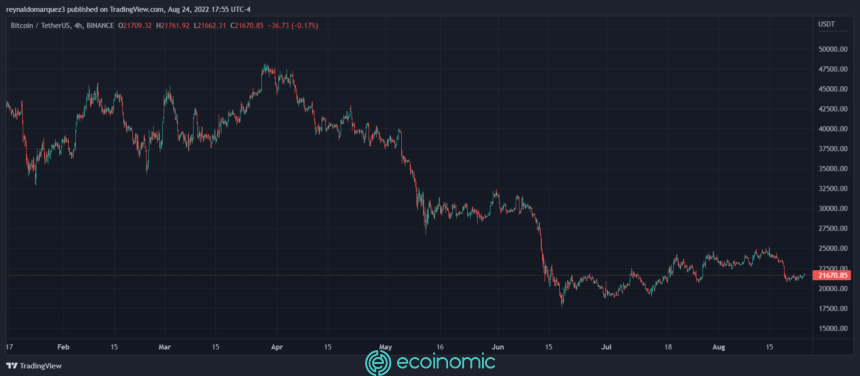 Data from Material Indicators (MI) highlights the importance of $21,500. Bitcoin has been rejected at least twice around that level in the past week.
Watch BTC liquidity skyrocket on chart D (daily chart). When we see liquidity fluctuating wildly, it's hard to get confidence in the new liquidity that's popping up on the order book. If the bitcoin price goes back to $21.5K, be aware of rug pulls.

Bid liquidity has been placed at around $21,000. This level will act as a support level in case of increased bearish pressure. Keith Alan, co-founder at Material Indicators identified the ascending triangle pattern in Bitcoin's 4-hour chart.
This is when Bitcoin is on the rise
On this day, US Federal Reserve Chairman Jerome Powell gives a speech and gives the market more confidence about a rally. Alan says:
Formation of an ascending triangle pattern on the 4-hour chart of BTC. A breakout will encounter technical resistance at the Main Moving Averages, the confluence point with selling liquidity in the order book. Of course, we may just cut this range until Fed Chairman Powell speaks from Jackson Hole.
Additional data provided by Whalemap shows that the price of BTC has reached historically positive levels. According to BTC's Maximum Probable Loss (MPL), the cryptocurrency had a terrible sell-off in history and marked a short-term low that led to a rally in price.
Historically panic selling at a loss and low profit-taking foreshadowed an increase in price for #Bitcoin

Let's see what happens this time pic.twitter.com/rzvM0YmGps

— whalemap (@whale_map) August 24, 2022