In response to a large amount of liquidity fleeing the platform, Binance suddenly blocked the withdrawal of USDC. Meanwhile, stablecoin BUSD has unexpectedly deviated from the $1 mark and has yet to recover.
Binance unexpectedly blocks USDC withdrawal
Not only did the crypto community withdraw money from Binance before the latest FUD series, the crypto community also massively "fled" from BUSD in the past day. The swap of a large amount of BUSD to other stablecoins has put Binance's stablecoin in a depeg situation – dropping slightly from the 1:1 peg to the USD as it was at noon on December 13, sometimes collapsing to $0.9989.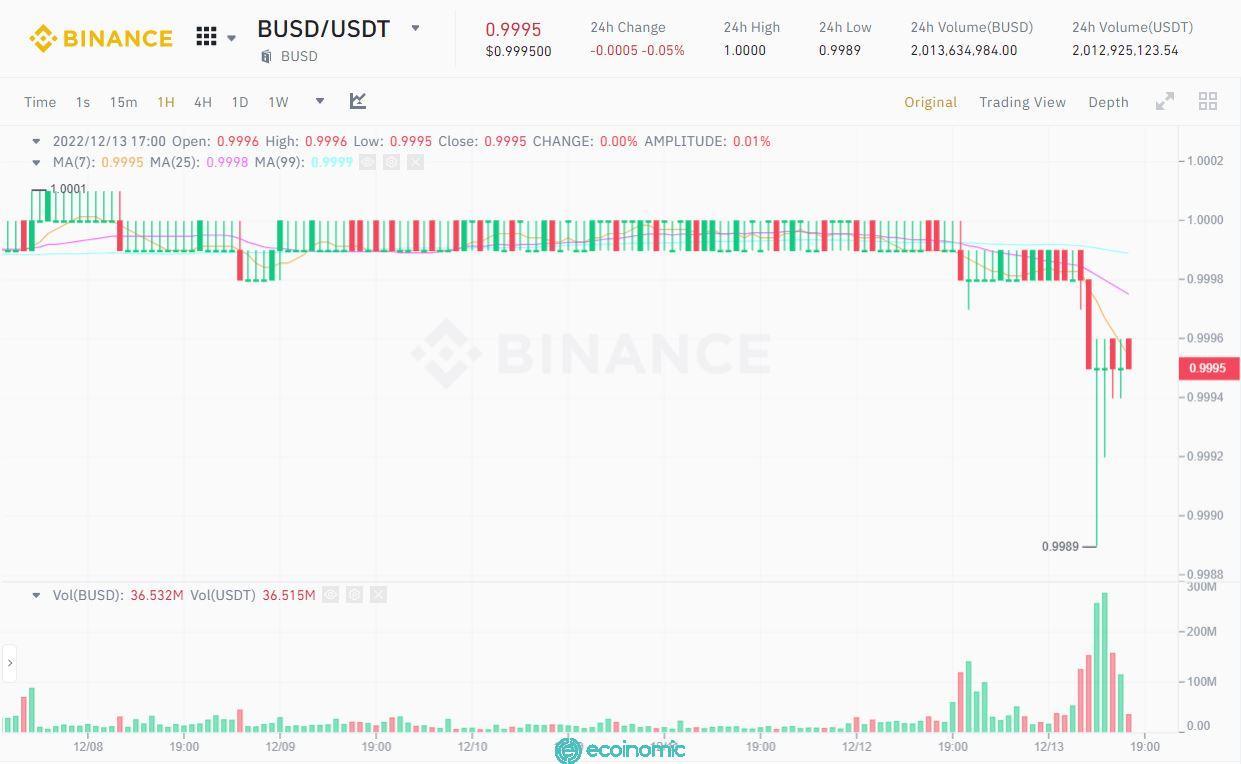 Soon after, Binance suddenly made a decision to block USDC withdrawals. According to Binance CEO Changpeng Zhao, the reason for the action is that the swap channel from PAX / BUSD to USDC currently has to go through a bank in New York (USA), but this bank is not yet in operation so it cannot be done. The 1:1 conversion from stablecoins to USDC will be restored in the next few hours when the bank opens. BUSD or USDT withdrawals are still going on normally.
These are 1:1 conversions, no margin or leverage involved. We will also try to establish more fluid swap channels in the future. In the meantime, feel free to withdraw any other stable coin, BUSD, USDT, etc. 🙏2/2

— CZ 🔶 Binance (@cz_binance) December 13, 2022
To date, BUSD is trading around the $0.9995 mark and has not yet been able to fully recover the peg. The 24-hour trading volume of BUSD/USDT on Binance is $2 billion, ranking 2nd only behind BTC/USDT and 5 times higher than ETH/USDT.
The confusing actions of the founder of Tron
Sentiment of insecurity continued to engulf the market for the second day of the new week. Part of that came from Justin Sun's move to suddenly withdraw $50 million from Binance. However, the founder of Tron has re-deposited 100 million USDC into the exchange.
According to Lookonchain, Justin Sun withdrew BUSD 34 million and $15.4 million from Binance about 11 hours ago, and transferred them to Paxos Treasury and Circle.
Justin Sun(0x9f84) withdrew 33,911,530 $BUSD and 15,432,715 $USDT from #Binance 9 hours ago.

Then he transferred 33,911,530 $BUSD to Paxos Treasury. And exchanged 15,432,715 $USDT for 15,435,455 $USDC and transferred to #Circle. pic.twitter.com/SCSPcjYVTC — Lookonchain (@lookonchain) December 13, 2022
At about 3:00 p.m. on December 13 (Vietnam time), Huobi advisor posted an announcement that it had just recharged $100 million into Binance from Circle. He claimed that the last deposits and withdrawals were just "normal adjustment operations".
I just deposited 100 million USD into @binance. 我刚刚给币安充值1亿美元。 https://t.co/tTCyiEBsXW

— H.E. Justin Sun🌞🇬🇩🇩🇲🔥 (@justinsuntron) December 13, 2022
Looking up on-chain, billions of dollars have fled exchanges on all chains in the past 24 hours. Binance alone has seen up to $1.8 billion in money flowing off the exchange.

Data from Nansen shows that Paxos and Huobi are the biggest players with capital inflows, with about $ 162 million. Coinbase also recorded strong inflow inflows, with about $124 million brought into the exchange in the past 24 hours.

To date, the cause of these moves has not been clearly identified. However, a series of withdrawals in recent days started from the scandal of Binance violating sanctions and abetting dirty money laundering since 2018 that was raised by Reuters.
The price of BNB was also hit hard, falling as far as $255.60 at the time of the news.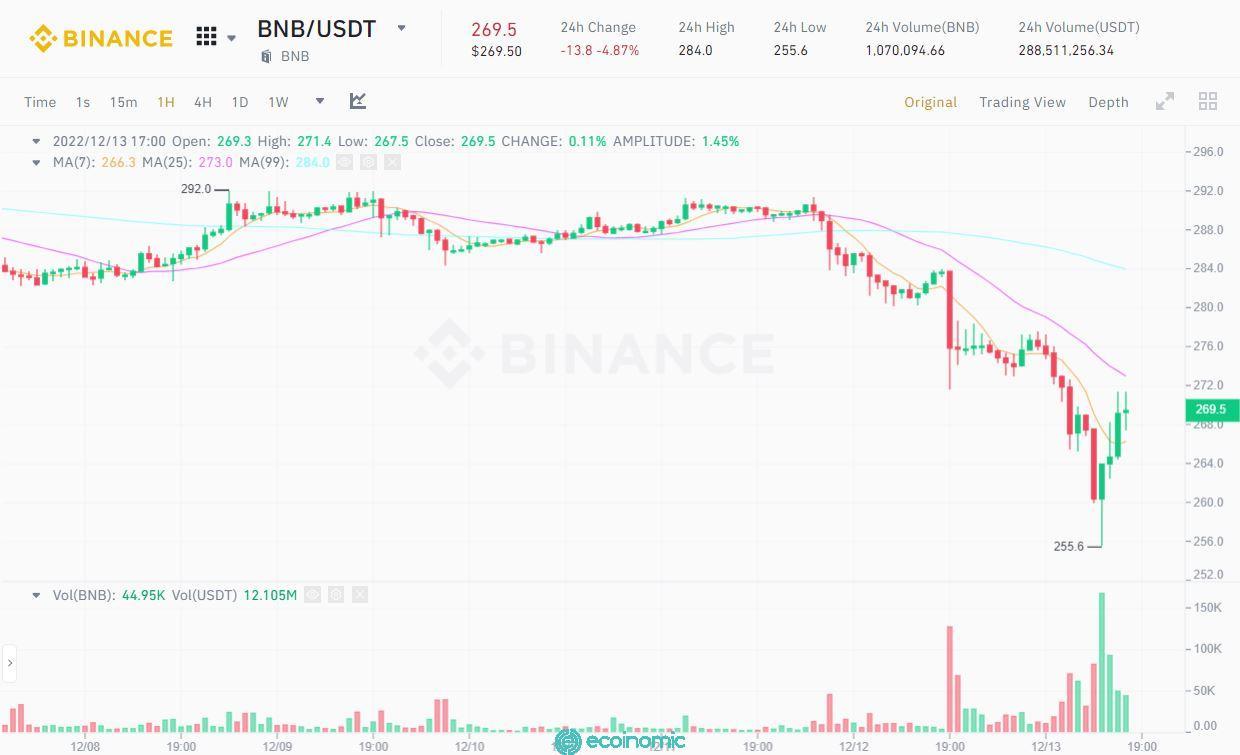 According to DeFiLlama, BNB Chain's total assets anchored on DeFi (TVL) protocols have fallen by 4.5% over the past day.

Source: Coin68