Do Cool Cats still have Blue Chip status? Similar to other NFT collections, the Cool Cats collection has recently fallen on hard times. After all, we are in a bear market. An agency in Hollywood that manages the Cool Cats project, they had one of the coolest exhibits in NFT NYC, and partnered with TIME magazine on an unusual NFT sale. However, the floor price of the collection has dropped to levels not seen since the project's inception.
The Cool Cats debuted in July 2021. This is a PFP collection consisting of 9,999 unique cats paired from different characteristics that can form a total of 300 thousand abilities. The ecosystem expanded in two main ways some time ago. They launched their secondary collection, Cool Pets, and their own token, $MILK. The new coin is the source of power to the owner experience that the creators of the collection have released.
— Mike Tyson (@MikeTyson) July 9, 2021
Core development team consists of Smart contract programmer Tom Williamson, web developer Rob Mehew, creative director Evan Luza and illustrator Colin Egan AKA The Cartoonist. The unofficial fifth member is Mike Tyson.
The relationship between Cool Cats and CAA
The Cool Cats arrived in Hollywood in March 2021. In an unprecedented move at the time, the creators signed with top talent agency CAA. In a press release at the time, the partners explained the deal in detail:
"Leading sports and entertainment agency Creative Artists Agency (CAA) has signed a contract with Cool Cats, the producer of the Cool Cats collection and Cool Pets NFT. In collaboration with the highly regarded NFT company, the agency will identify and create opportunities for Cool Cats characters across a variety of areas, including licensing and business, animated content, brand partnerships, live events, publishing, and more. "
So there is a lot of money and benefits behind the cats. So why are they "sinking"? Is this just an effect of a bear market?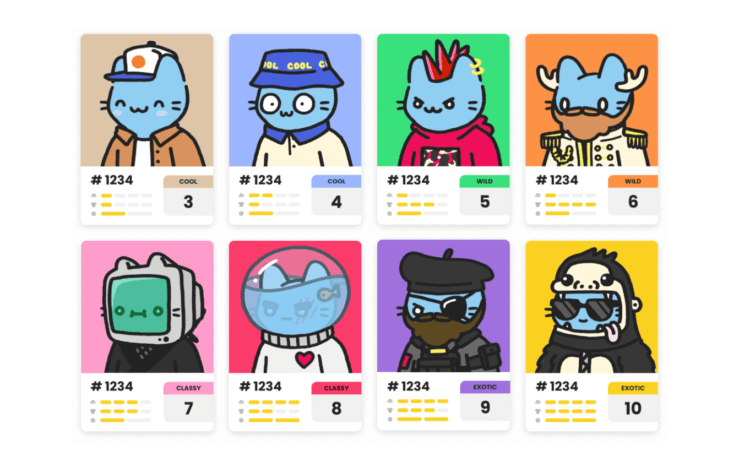 Gadgets from Cool Cats
First of all, Cool Cats owners have rights to their NFT assets . That means they can produce commercial projects using their NFT images. Cool Cat's owners also have access to the project's Discord server and are prioritized for all Cool Cats exclusive events. Owners can stack their NFTs and receive profits in $MILK.
Another benefit is access to Cooltopia, a project they define as "a prized ecosystem built on interactivity and utility, community rewards and growth, collaboration with brands, and more." Another definition states that Cooltopia is "where Cool Cats NFTs give you access to games, tokens, community events, collaborations, and more."
In addition, there is the side project Cool Pets. Rewards for NFT holders and a way for newbies to join the ecosystem at a lower price. The Cool Pets collection has 19,999 NFTs. Every owner has a free and unique pet. Cool Pets first appeared as a hatching egg image and revealed the final NFT. The pets are divided into four elements: Fire, Water, Air and Grass.
Token $ MILK
$MILK is an ERC20 token on the Ethereum and Polygon blockchains.
"$MILK is key to all kinds of functions in the Cool Cats ecosystem, from purchasing Battle Chests or Housing to performing missions."
"$MILK is also how you will upgrade and grow your Pets."
This describes the staking-like mechanism of NFTs: "Your cool cat is earning $MILK and $MILK will accumulate over time."
Controversy and doubt
There may be something strange going on with this project. In April, the newly appointed CEO resigned after just three months. Not a single credible explanation has been given. The collection tweeted, "Chris Hassett has stepped down as CEO. We thank him and wish him well in the future ahead." Was there a problem with production at Cool Cats headquarters?
And then there's the price. At its peak, in October 2021, the floor price of Cool Cats was around 26 ETH. Almost a year later, Cool Cats is trading for 2.9 ETH. That's not all, the floor price of Cool Pets is currently 0.18 ETH. Are those Blue Chip numbers? While we're basically in the middle of a crypto winter, the collection seems to be falling off a cliff…
Will Cool Cats be able to "survive" the difficult period?
See also: NFL All Day NFT revenue soars on Sunday as games take place