Chiliz [CHZ], the token for fans on social media platforms, has seen massive growth since last week.
In particular, the founder of CHZ, Alexandre Dreyfus, has given a glimpse of CHZ 2.0. This token was created for the sports and entertainment sectors, allowing leading brands to build fan tokens, NFTs, and other digital assets.
Interestingly, CHZ had a big bull run at the time of writing. According to CoinMarketCap, CHZ has gained more than 10% in just 24 hours, up more than 150% over the past four weeks as it trades around the $0.24 mark.
This helps CHZ enter the top 40 crypto assets by market capitalization.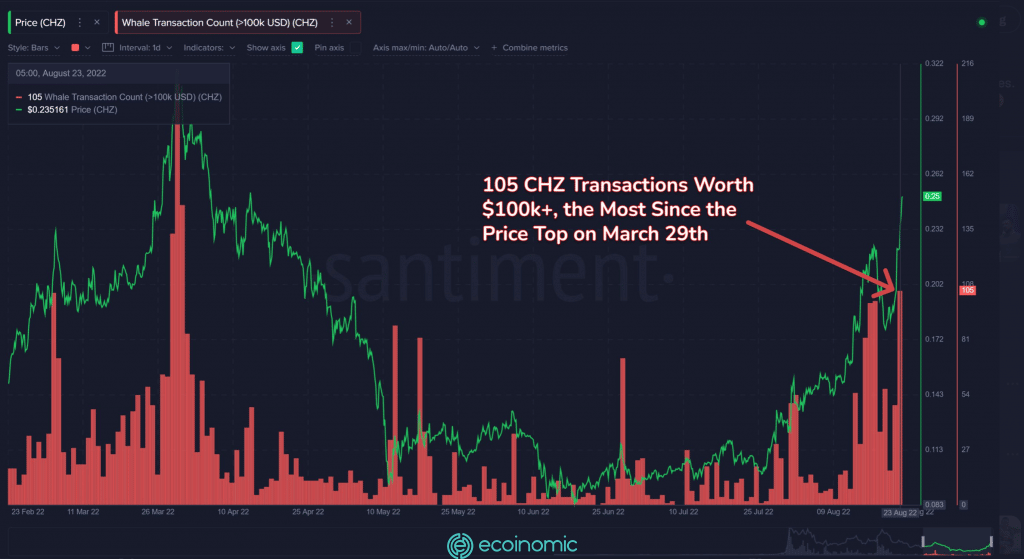 Even large buyers are returning to the network. Whale transactions hit their highest level in the network since March 29. In this regard, the development of CHZ can continue even if whales are taking profits.
In fact, according to the whale activity tracking website Whalestats, the CHZ token is back in the top 10 by trading volume among the 100 largest ETH whales.
CHZ 2.0
CHZ 2.0 plays an important role in triggering the actions of the CHZ community.
The network upgrade is divided into several stages that carry their own meaning and importance.
Currently, the network is ready for a fifth phase deployment known as 'Pequin', which includes the launch of the cross-chain CHZ bridge.
According to information on Twitter, the Pequin update will affect the community 5 to 8 times more than the previous Jalapenous upgrade.
CHZ 2.0 provides a cross-bridge functionality for the CHZ native token, which will be the last update in the Scoville Public test network.
This may explain why holders of this token remain optimistic despite the small exchange rate.