The smart contract for Wrapped Staked ETH on Coinbase (cbETH) has a blacklist function, which has caused criticism from some in the crypto community.
Wrapped Staked ETH on Coinbase (cbETH) has a blacklist function, which has been observed in smart contracts. It allows Coinbase to blacklist addresses if they deem it necessary. Addresses will be blacklisted by the exchange if they believe the wallet violates the user agreement and can freeze customer funds if they feel there is a violation or if required by law.
Coinbase isn't the only cryptocurrency company with a blacklist of addresses. USD issuer Coin Circle has also frozen funds related to its Tornado Cash service. The company froze $75,000 due to users' involvement in the scandal.
The move will upset some crypto owners, who believe censorship sets a bad precedent. However, Coinbase has taken care to work within the scope of the law and comply with any regulatory order.
Armstrong has previously opposed censorship.
Several in the crypto community have cited previous comments by Coinbase CEO Brian Armstrong about criticizing censorship. In August 2022, Armstrong said that it would likely shut down staking services if regulators requested censorship.
The CEO said this is a hypothesis he expects the exchange to encounter, but also noted that there could be a better alternative and deliver more favorable results. He said:
"It's a hypothesis that we hope won't really face. We have to focus on the bigger picture. There may be some better options or a legal challenge that can also help achieve a better outcome. "
Focus more on Ethereum Staking
Coinbase became one of the largest distributors on the Ethereum network. Coinbase, Kraken, and Binance account for nearly 30% of all staked ETH. Respectively, they hold 15%, 8.5%, and 6.75% staked ETH.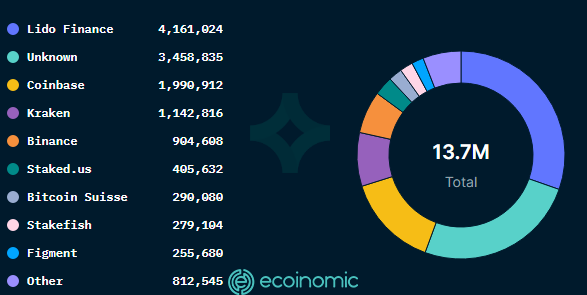 There have been some concerns about centralization regarding Lido and it needs to be decentralized sufficiently as a principal owner of staked ETH. Meanwhile, four centralized cloud service providers — AWS, Hetzner, OVH, and Oracle Cloud — already control more than 66 percent of Ethereum nodes.
Crypto needs to decentralize.

Three major cloud providers are responsible for 69% of the 65% of @Ethereum nodes hosted in data centers.

Of the estimated 95% of @Solana nodes hosted in data centers, 72% are hosted with the same cloud providers as @Ethereum. pic.twitter.com/oK08c3G6Of

— Messari (@MessariCrypto) August 18, 2022
Nansen reported on the distribution of staked ETH. They say that most ETH staking is currently unprofitable. However, investors can also sell their ETH after the "Shanghai" upgrade is done, which will happen between 6 and 12 months after The Merge takes place.