This past week, sports and crypto-related events were in full swing. Let's take a look at the latest news about partnerships and tournaments on blockchain platforms and sum up everything happening in sports and cryptocurrencies.
Liverpool expand partnership with Sorare
Sorare has exploded with a slew of activities, securing a major league contract with the NBA in recent weeks to join two existing U.S. major league contracts. Sorare is also retaining them in other regions, as Liverpool FC announced earlier that they are deepening their existing partnership with Sorare. It's unclear exactly what it will look like, but the release is geared toward "multimedia fan content and new unique experiences." The platform currently offers all Reds players as NFT collections. Sorare is a France-based company that has seen a lot of European football partners and has recently shown investment in building the U.S.-based business book.
Autograph secures multi-year deal with PGA Tour
Tom Brady isn't the only one scoring this month, though the NFL season is starting to hit the reels. The Brady-led Autograph scored big hits this past week with a new tournament-wide contract with the PGA Tour. It is expected that there will be a revenue split with players – a fitting move considering the pressure that LIV Golf real estate is looking to apply. Autograph continues to look for solid partners in the early stages – the company's list of founders in practically every sport creates a strong playing field for the future of the platform.
AC Milan exploits 'Monkey League' based on Solana
AC Milan acquired an official 'NFT Game Partner' last week after signing for Solana-based football game, Monkey League. The game is one of the increasing fantasy-style NFT-powered games, meaning players can expect to see AC Milan assets with in-game branding. The first collection between the two will be launched on October 6 on MagicEden.
We always said we weren't messin' around…

We are proud to announce a strategic partnership with @acmilan 🚀🔥

Forza Milan. Sempre MonkeyLeague!

We rafflin' 1 LE AC Milan NFT! Follow, rt, tg 3 friends to be eligible!

Check it: https://t.co/GC8xWxonfh$MBS #MonkeyTrain pic.twitter.com/9dHe4p2lPy

— MonkeyLeague 🐵⚽♟️ (@TheMonkeyLeague) September 23, 2022
Kraft Sports, New England Patriots partnership with series
Kraft Sports + Entertainment secured a new partnership with Chain last week that will come to life through Kraft's character, including the NFL's New England Patriots and MLS' New England Revolution.
The chain operates mainly around blockchain infrastructure and blockchain-related services according to the SaaS model; rumor has it that the four-year partnership also included the Patriots purchasing the ENS domain 'Patriots.eth' for $75K. It was later confirmed and reported that chain CEO Deepak Thapliyal bought the domain for $99K. It's a fitting response given that this partnership is Chain's first when it comes to sports partners.
The ENS Domains (ENS) token has been strong in recent months despite broader market struggles. Chain CEO Deepak Thapliyal bought the 'Patriots.eth' last week after the company partnered with Kraft Sports.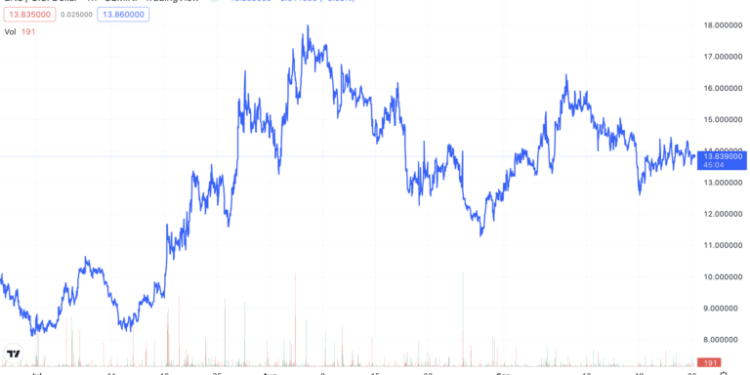 Rario continues to dominate Cricket
The Rario NFT platform continues to gain cricket partner market share. The project made headlines this week after securing another official talent partnership – this time with Indian ODI player Prasidh Krishna.
NBA Action Figures, with NFT Twist
Hasbro is relaunching its former 'Starting Lineup' toy, with new developments in recent days. Except this time, they will include NFTs. LeBron James, Steph Curry, Giannis Antetokounmpo and many of the NBA's biggest stars will be featured as six-inch figurines that retail for $50 each.
The collections were last seen in the 1980s and 1990s, so they'll be back with a 2022 web3 version: one NFT with each purchase. Randomly assigned rare items (including only one gold NFT per player) will be sold and will operate on Panini's blockchain infrastructure. Hasbro hasn't shied away from NFTs, using them with IPs like Power Rangers and partnering with web3 projects like the 'World of Women' NFT project for a custom Monopoly game.