Cryptocurrency Market Capitalization amid weeks of high volatility is holding above the $1 trillion threshold. Information from Federal Reserve Chairman Jerome Powell at the annual global central bank conference in Jackson Hole, Wyoming, on Aug. 26.
Currently, the global cryptocurrency Market Cap is $1.03 trillion, up 0.29% from the previous day, according to data taken from CoinMarketCap on August 24. Meanwhile, the cryptocurrency market volume in the previous 24 hours was $68.83 billion, down 1.43%.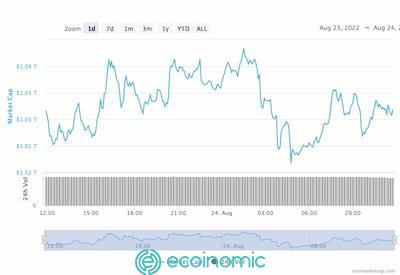 Nexo leads cryptocurrency market gains
The native token of the Nexo platform, NEXO is currently the best-performing cryptocurrency among the top 100 cryptocurrencies measured by market capitalization. Indeed, Nexo led the top 100 in the last 24 hours with 11.5%, followed by Waves (WAVES) with 9% and Helium (HNT), with an increase of more than 9%.

The entire market is still in the process of gradually recovering from the recent decline, and NEXO's recovery is not out of the process.