Built on the Ethereum network, MakerDAO with a $7.94 billion TVL accounts for a 13.42% market share of the entire DeFi market. However, the reality is that the TVL of this protocol has also decreased by more than 120% since its inception.
According to data from DefiLlama, the total locked value (TVL) for all decentralized finance (DeFi) protocols located in different chains is $59.18 billion. Affected by the general decline of the cryptocurrency market, TVL in the DeFi ecosystem fell by 65%.
As of the time of writing, the TVL of DeFi protocols built on the Ethereum network stands at $34.23 billion. With the rest of the market all down since its inception, how have DeFi activities in the Ethereum network been specifically affected?
Although Ethereum has the highest TVL among all networks in the DeFi ecosystem, TVL on this network has dropped by more than 185% over the past nine months.
At the beginning of the year, the TVL of protocols in the Ethereum network stood at $98.81 billion.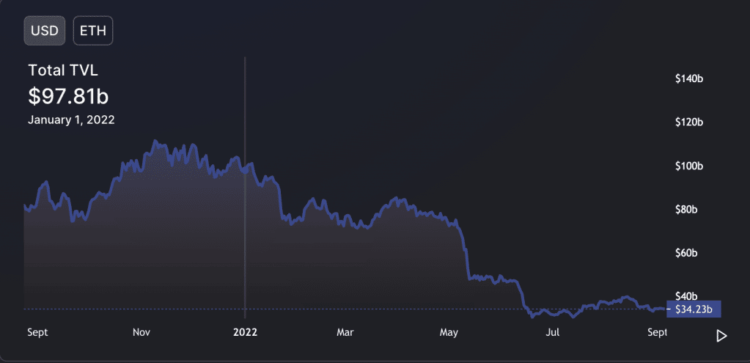 For decentralized exchanges (DEXs) on Ethereum, as of the time of writing, TVL has been pegged at $13.94 billion. Due to the overall extreme market conditions, DEXes' TVL on Ethereum has fallen by more than 69%.
Data from OKLink reveals that these protocols have recorded a decline in daily trading volume since May 5.
As of September 3, the daily trading volume for DEXs built on Ethereum was $931 million, down 96% in just four months. This suggests that as the overall market continues to decline, fewer people are involved in the use of DEXs.

In addition to the decline in daily trading volume, the daily active users of DEXes on Ethereum have also decreased.
Interestingly, this decline began in May 2021, in the midst of the cryptocurrency market rally.
As of September 3, only 7532 users have used Ethereum DEXes, down 93% from 124,050 on May 9, 2021.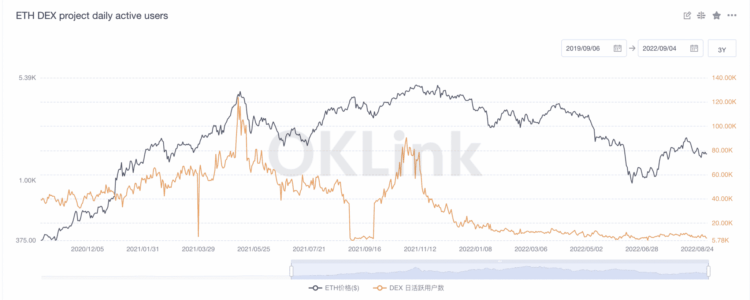 Daily revenue on the Ethereum network has been declining since May 2.
According to data from Token Terminal, daily revenue on Ethereum has decreased by 74.6% over the past 180 days.
Moreover, over the past month, this figure has decreased by another 16%.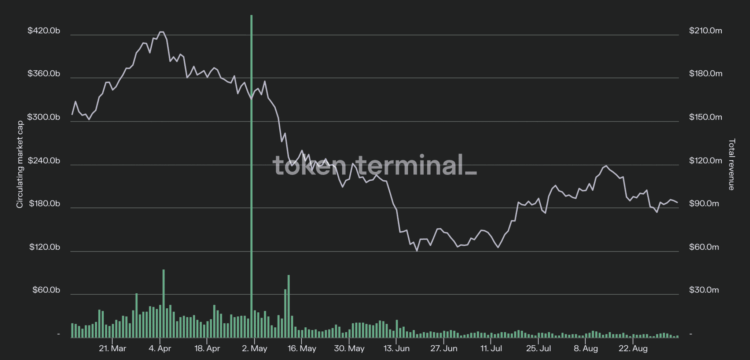 With the continued growth in the number of Layer-2 scaling solutions and the gradual decrease in transactions processed on Ethereum, revenue is likely to decrease even more in the near term.