Ether miners are piling up losses after switching to lower-value cryptocurrencies like Ethereum Classic and Ravencoin, after Ethereum network upgrades rendered much of their operations obsolete.
The upgrade, called 'The Merge', replaced the graphical tokens used by Ether miners with investors staking Ether, to secure the Ethereum network and validate transaction data encrypted by the blockchain.
The tokens that miners are currently looking to mine still operate under Ethereum's old consensus mechanism, called PoW. This means that miners can still use their GPUs to earn these coins. However, miners still have to compete to be the first to solve mathematical puzzles to win rewards. The more miners there are, the smaller the reward. Subsequently, computing power from Ether miners drove mining revenues below zero for other major altcoins.
Ethan Vera, chief operating officer of cryptocurrency mining company Luxor Technologies, which once provided Ethereum mining services, estimates that people who mine Ethereum Classic for profit "are operating at negative 30% to 40% on gross profit margins." even the best operators."
Miners can easily turn to Ethash and GPU alternatives for mining after The Merge. The problem is, that there is a limit to the computing power that these other networks can pay attention to before miners become unprofitable.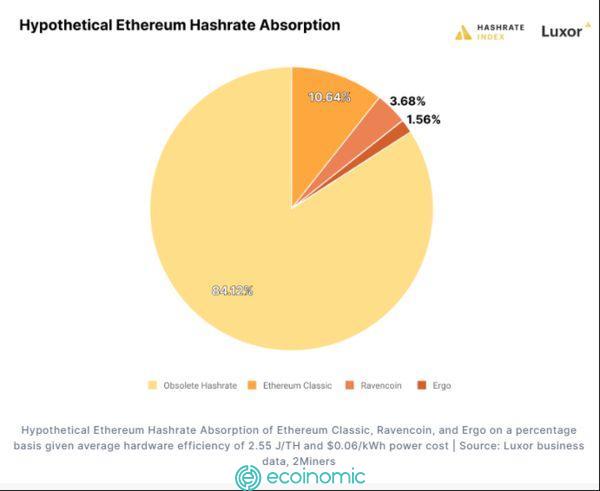 Vera said:
"As it stands, I expect some of Ethereum Classic's computing power to decrease as it is not conducive to mining for even those with good equipment."
Up to a million people are mining Ether with mining equipment worth more than $10 billion before The Merge takes place.
After The Merge, several large-scale Ether miners such as HIVE Blockchain Technologies Ltd. and Hut 8 Mining Corp. are planning to use their facilities for other purposes. However, the majority of Ether miners lack the ability to scale or establish a business.
See also: Ethereum miner quickly "shut down" in less than 24 hours after The Merge