Ethereum has become heated in the discussion on social media following 'The Merge Ethereum' event last week. However, things didn't go as planned as the price of ETH fell below $1,350.
In fact, Ether's weekly losses currently stand at more than 17%. But the anonymous crypto enthusiast (@CryptoGucci) believes that all hope is not lost on Ethereum in a recent tweet thread.
The past 48 hours in #Ethereum, a quick thread🧵

— Crypto-Gucci.eth ᵍᵐ🦇🔊 (@CryptoGucci) September 21, 2022
Ethereum's active validator increases
The analyst has stirred the conversation about Ethereum validators, who have gained more than 11.36K in September alone.
Ethereum currently has over 429.6K active validators on the network. This increase in online validators shows the growing trust of investors from The Merge's technical point of view.
That being said, the leading NFT marketplace OpenSea has now extended its support for Arbitrum.
OpenSea announced the news in a tweet on September 20 claiming users will now be able to buy and sell NFTs on the Ethereum Layer 2 solution.
NFTs will start rolling out on Arbitrum from September 21 without any delay.
The situation remains bleak for the cryptocurrency market
Despite this optimism, the situation remains bleak for Ethereum and the cryptocurrency market as a whole.Leading crypto assets such as BTC and ETH are still struggling in the market.
Bitcoin is trading below $19K while ETH is available at around $1,330. Both have declined over the past days and continue to be affected by macro factors.
The situation is similar for Ethereum traders due to the falling price. The MVRV ratio for Ethereum has now dropped to -13.6% as profits have fallen en masse over the past week.
This process was exacerbated by a massive sell-off after The Merge. Trader sentiment remains an important aspect for any short-term recovery of assets that are currently in poor condition.
This is another embarrassing aspect observed on Ethereum on September 21. Ethereum's average trading volume has dropped to an all-time low of 0.032 ETH.
This is a clear reflection of the downturn of trader sentiment at Ethereum right now as many are looking to reduce their ETH exposure.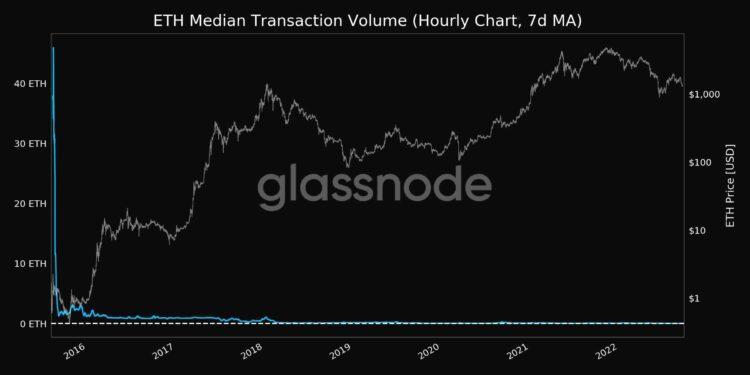 Another factor of concern for Ethereum is the growing negative sentiment from the crypto community.
According to the data below, we can see how FUD is blending into the crowd despite the highly anticipated The Merge event.
It seems that Ethereum is looking to end Q3 in a similar way to the previous quarter.
>>> Related: Ethereum proof of work (ETHW) up 30% after Binance completes distribution