Forbes magazine statistics confirm that the crashes of the cryptocurrency market in 2022 have "swept away" the majority of the wealth of top founders and entrepreneurs.
Forbes magazine regularly conducts statistics to estimate the wealth of leading entrepreneurs in various fields, and cryptocurrencies are no exception.
In April 2022, Forbes published a ranking of the richest billionaires in the crypto industry without knowing that right after that is the beginning of the chain collapse of LUNA-UST (May), the "liquidity crisis" Three Arrows Capital – Voyager – Celsius (June, 7, 8) and the latest "disaster" FTX (November), causing the price of Bitcoin and major cryptocurrencies to also divide the value many times.
Therefore, Forbes' ranking of crypto billionaires also has many disturbances when the names in it are also affected by the market plunge. On December 24, this magazine published the asset statistics of crypto "giants" as below.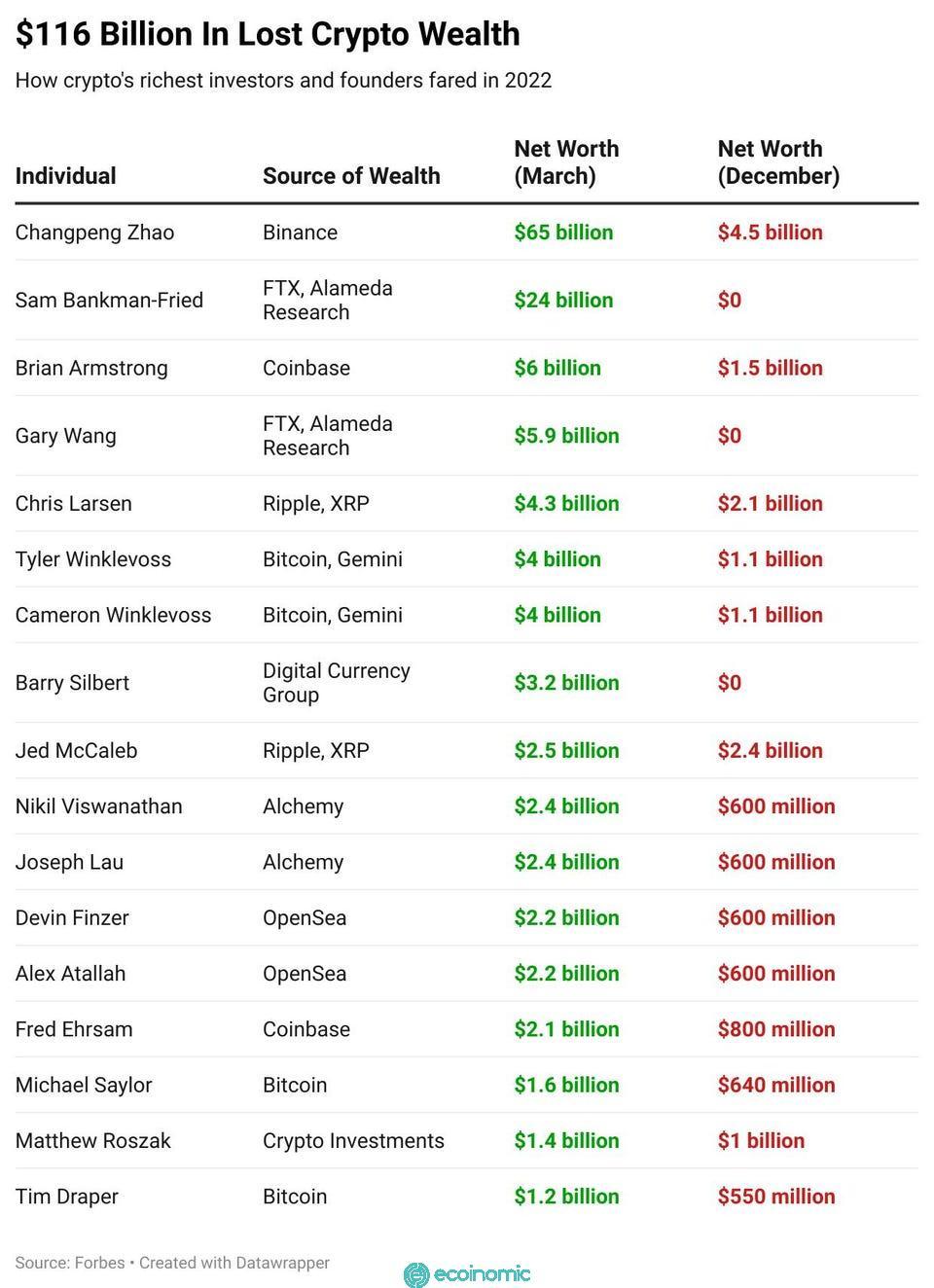 The biggest loser was Binance CEO Changpeng Zhao, whose assets dropped from $65 billion to just $4.5 billion. Even so, Binance's operations have not been affected much, even gaining more market share in the exchange segment when there is now no FTX, so it is difficult to understand such a serious asset decline to the supposedly "exclusive" position at the moment in the crypto market. However, Binance has suffered a lot of negative news in recent years when investor confidence in the CEX segment has been severely eroded.
Meanwhile, the biggest losers in 2022 are the owners of bankrupt crypto businesses, including former FTX CEO Sam Bankman-Fried, former FTX CTO Gary Wang and notably Digital Currency Group CEO Barry Silbert – all three of which Forbes recorded a decrease in assets to zero. It is true that after FTX's bankruptcy, all the assets that Sam Bankman-Fried and Gary Wang had in this platform "evaporated" completely. The two are also preparing for a legal battle in the US when former CTO Gary Wang has pleaded guilty, and Sam is applying for bail of up to $ 250 million and is due to stand trial again in early January 2023.
The surprising name is Digital Currency Group CEO Barry Silbert because although he has not yet announced bankruptcy, he is still questioned by Forbes when bringing his fortune from $ 3.2 billion to zero. As reported by Coin68, Digital Currency Group and its subsidiary Genesis Trading since November have been entangled in post-FTX liquidity difficulties, even appearing to be insolvent and in danger of bankruptcy.
With Sam Bankman-Fried gone, Coinbase CEO Brian Armstrong has climbed to second place on Forbes' rankings. However, Coinbase also had an unsuccessful 2022 when it had to cut up to 18% of its total staff, was caught up in an "insider trading" scandal, and the exchange's COIN share price earlier this week set an all-time low, falling to 87% in a year.
Bitcoin investor Michael Saylor lost his title as a "billionaire" noting a drop in wealth from $1.6 billion to $640 million. 2022 was an unsuccessful time for Mr. Saylor and his company MicroStrategy when the Bitcoin "all-in" strategy backfired because BTC plunged, causing the company to lose up to $ 1.7 billion. Saylor himself has been out of the CEO of the company he founded for nearly 30 years because of wrong investment decisions. Despite this, Mr. Saylor still has full faith in BTC.
Other crypto billionaires, who own big companies like Coinbase, Ripple, Gemini, OpenSea, Alchemy,… also see its assets divided from 2 to 6 times the value in 2022.
The name that lost the least amount of money is Jed McCaleb, the founder of Ripple, who has been continuously selling XRP for the past 8 years and has only stopped since July 2022. It is estimated that Mr. McCaleb's fortune will only decrease by $ 300 million in 2022.
In total, Forbes shows that the top 17 billionaires have lost $ 116 billion in assets in just 8 months.
However, Forbes statistics have been criticized by the cryptocurrency community for not publishing asset estimates, leading to the risk of miscalculation of Changpeng Zhao's assets, Barry Silbert. In addition, Forbes only includes in its list the "giants" from the West but ignores the "underground rich giants" of the East such as Justin Sun, or the owners of large crypto exchanges here such as OKX, Bybit,…
Source: Coin68