The departure of Elizabeth II, Queen of the United Kingdom on Thursday took a heavy toll on Britain amid a plunging pound, rising inflation and the impending election for a new prime minister.
All of that hasn't stopped crypto degens from creating NFT photos, caricatures and artwork and coin memes of the queen.
More than 40 cryptocurrencies were launched on decentralized exchanges on BNB Smart Chain (BSC) and Ethereum in the past 24 hours, showcasing luxury names like "RIP Queen Elizabeth," "Queen Elizabeth Inu," "God Save The Queen," "Queen Doge," "Elizabeth II," and "London Bridge Is Down."
The "Rise Of The King" token, in reference to the Queen's successor King Charles, has pumped about 2,000% since its creation on Friday. The token is currently trending on DEX Screener, the popular digital asset mapping tool on Uniswap powered by Ethereum.
On the other hand, Elizabeth token has reached a trading volume of $6.1 million in the last 24 hours on BSC-based PancakeSwap.
Most projects have negligible liquidity, which may indicate the possibility of short-term pumping and dumping. So traders should be cautious.
NFT community respects Queen Elizabeth II in their own way
On OpenSea, the RIP Queen Elizabeth II collection debuted with 522 NFTs and has the most activity among Queen-related NFTs on the market. Only 0.23 ETH ($394) worth of tokens has been sold so far.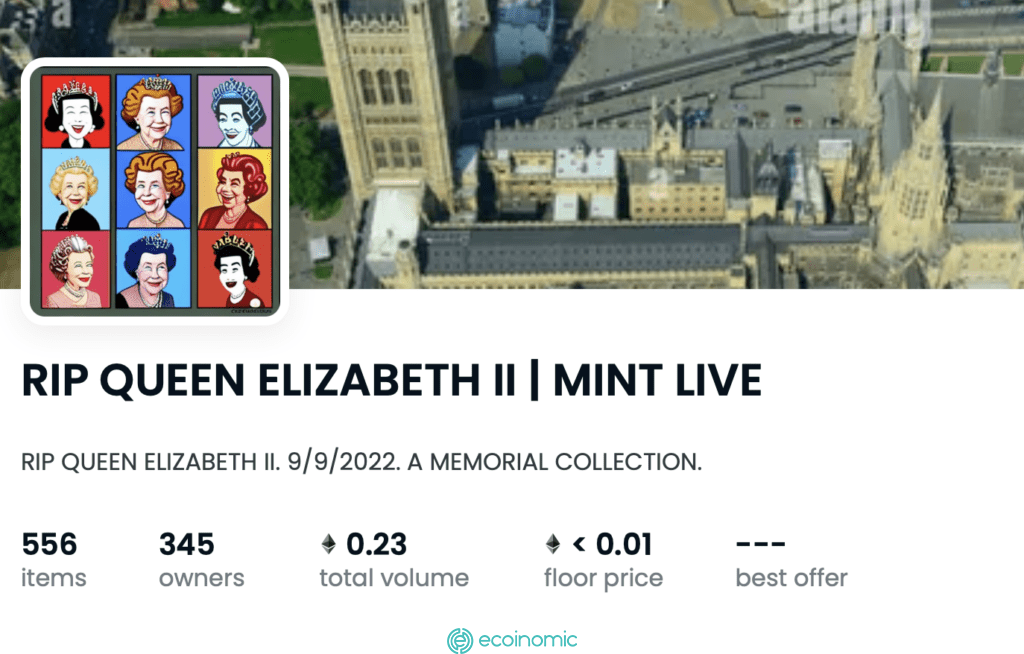 While Queen Elizabeth tokens may be new, the UK is no stranger to NFTs. In fact, Royal Mint, the British coin producer is reportedly developing an NFT.
Back in April, Rishi Sunak, a former finance minister asked the Royal Mint to mint NFTs in the government's efforts to put the country "ahead" in cryptocurrencies.
In any case, at the age of 96, Queen Elizabeth II set a record as the longest-reigning head of state in modern history.