The Ripple (XRP) price has recorded an impressive 33% rise above the critical resistance zone as seen over the past week.
XRP spikes dramatically by 10% on September 22
Ripple wins legal dispute with SEC
the token also skyrocketed 10% as seen on September 22, when the cryptocurrency market was in a sea of red.
Despite a slight improvement with Bitcoin up 4.9 percent and Ethereum up 7.3 percent, XRP is still leading the way.
According to CoinMarketCap, the price of XRP is up 4.47% and trading at $0.5051 as of the time of this writing.
Legal Dispute Update with SEC – Raising Investor Optimism
The price of XRP is up more than 45% as seen since March 8. Reportedly, Ripple Labs recently filed a motion for judgment on September 18 regarding allowing the court to conclude and make a final decision based on the facts presented along with whether XRP is considered a security.
The recent update on regulatory proceedings has increased optimism and boosted investor sentiment regarding XRP's long-term trend. Furthermore, interest in XRP has improved significantly as it has risen to $575 million from just $310 million in the past week.
Traders looking to enter should wait for the 200-day EMA to set at $0.48 to see if it moves to support in the coming days.
As of the time of writing, XRP's total Market Cap was $25.14 billion when it increased by $3 billion the day before.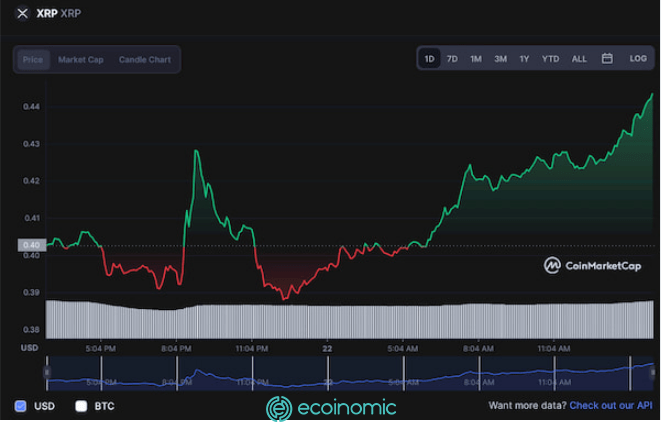 XRP makes strong strides in price increases
On the daily chart, the price of XRP is noted to have rebounded after experiencing a price drop. The bulls are targeting to break the key resistance detected at $0.4306 and once this is done, XRP could reach $0.49.
XRP expressed optimism as it targeted the critical support zone of $0.392. This indicates signs of weakness of the buyer. However, this will also invalidate the bullish thesis and bring back strength to the bears. If this happens, the XRP price could drop and return to the critical support zone at $0.38.
XRP is expected to move with strong strides despite the obstacles that the cryptocurrency market has experienced. The bullish trend is associated with the strong developments that are happening in the legal battle between Ripple and the SEC.
Although both the SEC and Ripple agreed to a ruling, Ripple seemed more confident that it would win after several tweets by Stuart Alderoty, Ripple's legal counsel, saying that the SEC could not meet the Howey Test set by the Supreme Court. The Howey test helps regulators evaluate and classify an asset as a security.
Furthermore, Brad Garlinghouse, Ripple's CEO, firmly believes that the SEC may not be interested in complying with the law but will want to redo the law.
See also: ETH supply changes after The Merge – will deflation occur?