The Merge Ethereum event is just two days away. Difficulty corrections and market sentiment for ETH have also recently been hotter than ever. Most of this is on the bullish side, but some of what's happening in the market has started to cause some negative sentiment from investors. It was the large whale exchanges that moved ETH to centralized exchanges, causing concerns that there could be major crashes in the market.
The number of Ethereum whale transactions increases
Ethereum whale activity increased significantly before The Merge event. The most notable of these are transactions that have transferred significant amounts of ETH to centralized cryptocurrency exchanges like Binance. Naturally, investors have begun to worry, whether these transactions are accidental or an attempt at dumping.
The first staggering transaction was that a total of 150,811 ETH was transferred from one unknown wallet to another, which was then determined to be transferred from the OKEx exchange to Binance. At the time of the transaction, the value of the transaction was $259.78 million. Although this in itself is not a big deal, after that, other large transactions also happen in a row.
Another 29,879 ETH worth $51.47 million was later transferred from an unknown wallet to the OKEx exchange. The next exchange brought 119,515 ETH worth $207.6 million from an unknown wallet to the Binance exchange.
22,397 ETH worth $38.56 million was later transferred from Bitfinex to an unknown wallet. While another large transaction of 37,499 ETH worth $64.57 million was transferred from one unknown wallet to another unknown wallet. All of these transactions took place within an hour, sparking rumors of a devaluation occurring after The Merge Ethereum was completed.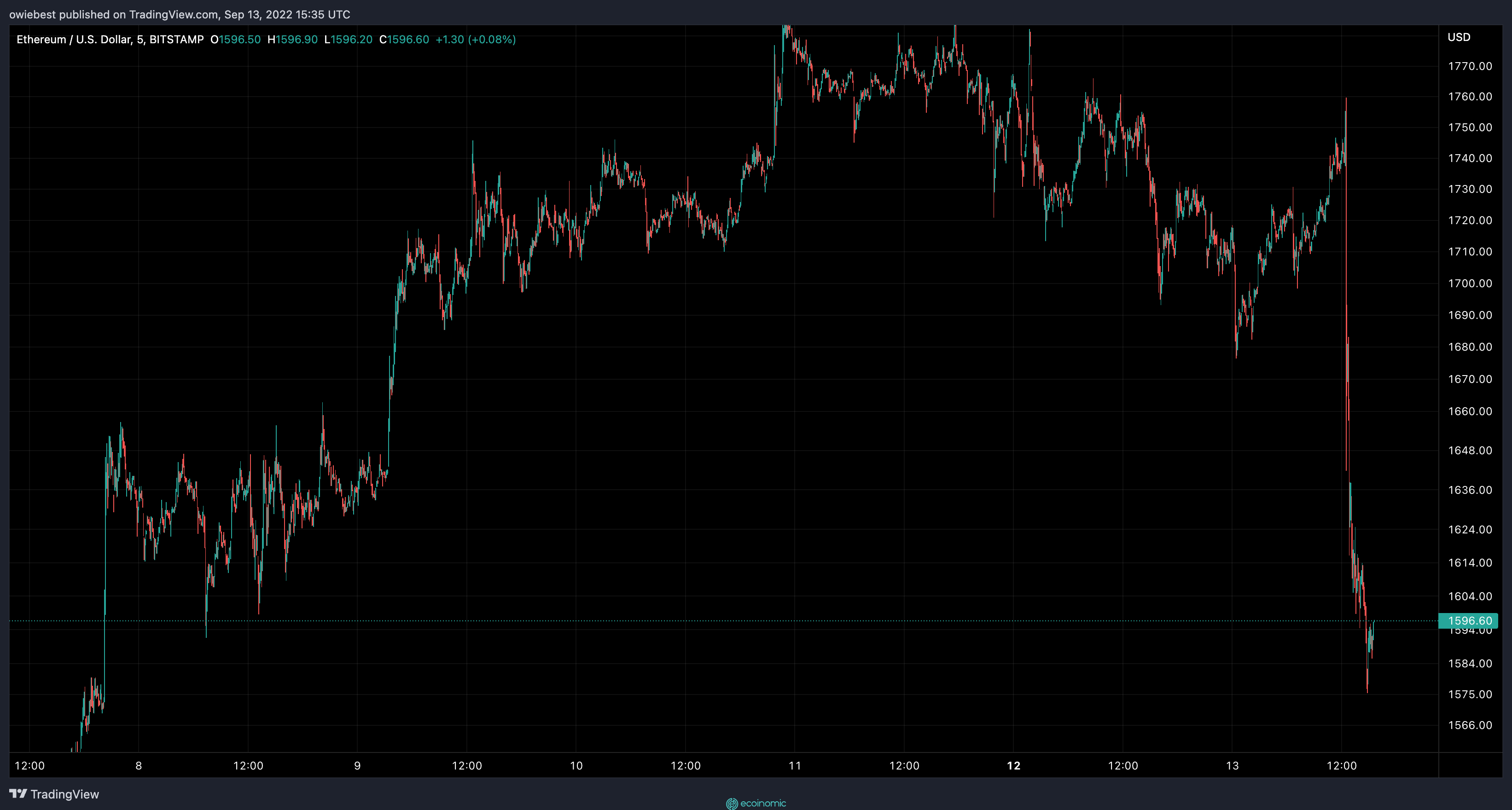 Do whales dump ETH?
These large exchanges are bringing large amounts of ETH to exchanges focused on drawing a bearish future for digital assets in the short term. Currently, Ethereum Merge has caused a lot of excitement, but it is also starting to resemble other "buy rumors, sell news" events.
If this is so, then eth prices are likely to be dumped due to these large whales reducing their holdings after The Merge. A lot of ETH has also been accumulated because investors want to take advantage of the ETH airdrops that will come from the hard fork. However, once The Merge is complete, these investors will not need to hold their ETH and many will likely sell them.
It should also be noted that these are transactions that are being tracked on centralized exchanges. Others choose to go the centralized route, where they will likely dump. However, centralized exchanges offer the highest liquidity for such large transactions.
To best prepare, investors should monitor the ETH chart after The Merge and ensure risk management ahead of particularly popular events like this one.