Terra Classic [LUNC] has been on the rise lately. It is rated as one of the top 30 cryptocurrencies by market capitalization, according to CoinMarketCap.
At the time of writing, LUNC costs $0.00037. After rising at the end of September 13, it reduced its daily loss to just 4%. The token has miraculously risen by more than 3,000% since its collapse in mid-May.
One of the main reasons for this terrible increase is that the 1.2% tax proposal has received approval from the Terra community.
Own LUNA
Considering the recent development of the token, many are starting to call LUNC the "meme crypto king"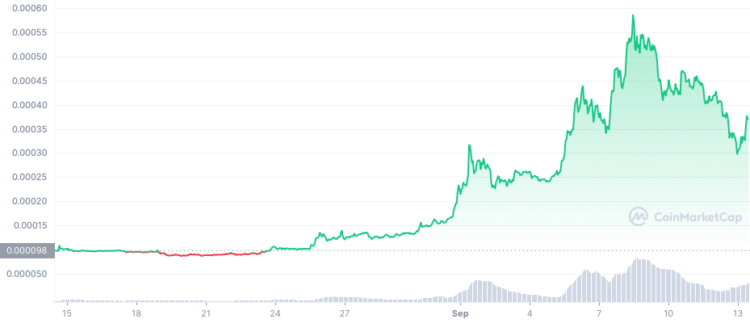 Another important driver of LUNC's recent growth is thanks to its huge community. Analytics platform Santiment stated in a recent tweet, that the surge in a dominant position on social media has resulted in the property coming out on top in the community.
Moreover, LUNC has a very strong social volume, as seen in the chart below. This further underscores the role of the community in pushing prices higher.

Another cause for high social growth is that LUNC-related keywords are ranked highly and trending, according to Santiment. This is another sign of the attention from the crowd to the Terra Classic token. This story has caused speculation to find similar patterns between Dogecoin and Terra Classic.
Recent Santiment insights also claim that there are spectacular similarities between LUNC's recent movements and Dogecoin's 2021 rally.
Both tokens have "initial price surges, then fixed consolidations, then the craze really starts."
The social data of these tokens tells a similar story.
So as not to miss
However, LUNC investors are excited to see their tokens added to Binance Convert.
With this new update, users can now exchange LUNC and USTC for free with BTC, BUSD, USDT, and any other supported tokens through Binance Convert.