Blockchain security firm PeckShield has warned the crypto community that the New Free DAO project may have suffered a loss of $1.25 million. The company said that the project is likely to be subject to a quick loan attack, causing the NFD token value to drop by more than 99%.
#PeckShieldAlert #slippage PeckShield has detected that $NFD has dropped -99% probably falls victim to a flashloan-assisted attackhttps://t.co/hS3HUTx6a0
The exploiter grabbed ~4,500 $BNB (~$1.25M) and has swapped ~2,000 $BNB to ~550k $BSC-USD pic.twitter.com/5k11RLJuCQ

— PeckShieldAlert (@PeckShieldAlert) September 8, 2022
Specifically, the attacker took away $1.25 million of BNB and exchanged it for BSC-USD, a token created on Binance Smart Chain (BSC) and is a DeFi token that focuses on the NFT segment and offers a multitude of features.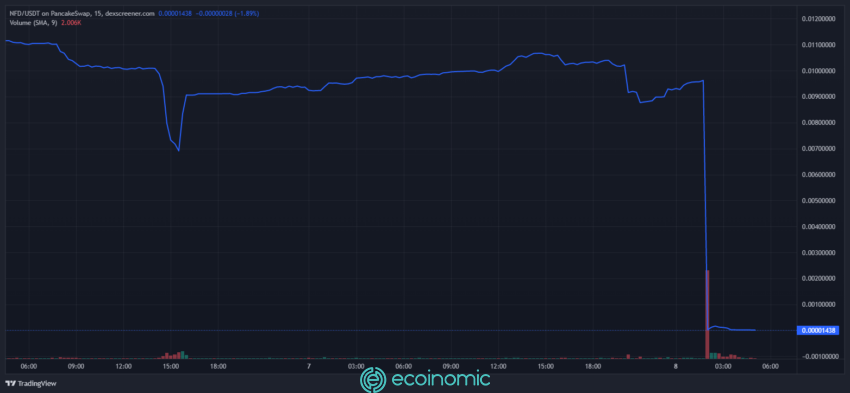 However, the New Free DAO project does not seem to have a particularly strong reputation in the cryptocurrency market as there is very little information about this project.
Fast loan attacks are a common attack method in the DeFi space, and several projects have been victims of this attack. Basically, they work by manipulating prices after an attacker makes a decentralized loan.
The DeFi market has always been good prey for attackers, as there is a large amount of capital poured into it. New projects and protocols with few security checks and are common targets for these types of attackers.
The most recent example is the Avalanche blockchain incident with a loss of $370,000. Similarly, last year, Cream Finance was hacked and lost $130 million, and PancakeBunny lost $200 million.