There has been much speculation surrounding NFTs that may have "died" in recent months due to the bear market, but that hasn't stopped digital artists from experimenting in the new and exciting space.
Gal Yosef, a globally renowned artist in animation and 3D art, proved his versatility by successfully launching two NFT collections. In an exclusive interview with Cointelegraph, Yosef explained why NFT is a natural transition for digital artists and why the industry will still grow despite current difficulties.
Yosef, who successfully launched the Meta Eagle Club NFT collection in May, explained to Cointelegraph why NFT artwork is so appealing:
"I think NFTs have brought widespread exposure to all digital artists primarily because NFTs are a very natural place for us."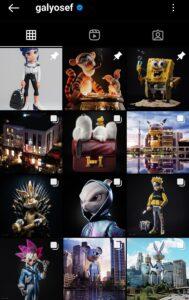 Access to NFT art compared to other forms of digital art
NFTs are a natural transition for digital artists because it is not a category. Instead, as Yosef explains, NFTs are exactly the same art for him, exactly the same way he's doing it all the time and exactly the same way he does it on other platforms. He says the art world is changing along with NFTs. and gives us a new platform for self-expression.
Yosef's foray into the NFT market began in 2021 when he launched the crypto Bulls Society collection. The collection has generated more than $50 million through primary sales and auctions. A one-of-a-kind NFT created in collaboration with American record producer Steve Aoki raised Yosef $214,000 at Sotheby's auction.
Did you know …

Gal Yosef (our artist) has recently sold his own NFT in collaboration with Steve Aoki for $214.000😱.

This is the first time that we have made Gal's art available for a broader audience. Make sure to get your hands on one of the sickest NFTs of this time🚀! pic.twitter.com/hzjND3ynIG

— Crypto Bull Society (@Crypto_Bull_NFT) November 3, 2021
When asked if there has been any development in launching an NFT collection, Yosef said the only unknown is the market dynamics of the new industry.
"I wasn't sure what really controlled the outcome, then I realized that it was all community-based; artwork may be the most beautiful, but without good community, the artwork will not succeed. "
Is Metaverse the future?
In describing his first exposure to the NFT world, Yosef said the broader blockchain industry, and specifically metaverse technology, could be a big thing in the future.
Although the current metaverse industry is described as "fundamental but strange" due to the new technology being adopted. But it is expected to have a profound impact on gaming, social interaction, and art. Some technologists and venture capitalists believe that the combination of metaverses and NFTs is of course and that NFTs metaverses will drive the next growth cycle in the digital collectibles sector.
NFT sales peaked in 2021 during the crypto boom, with names like Bored Ape Yacht Club and CryptoPunks generating billions of dollars in revenue. According to industry data aggregator DappRadar, although the market is in a cooling-off phase, rumors about the "death" of NFTs have been greatly exaggerated.
NFT sales were $3.7 billion in May. While trading activity continued to decline over the summer, the emergence of big brands like Tiffany &Co shows that many companies are strategically pivoting and oriented into the NFT market.