The Shibburn portal has spread the word that, in the past two days, about a third of the one billion Shiba Inu has been sent to unusable wallets, which is currently increasing the SHIB burning rate.
Shibburn claims that in the last 24 hours, it has been discovered that a total of 213,067,021 SHIB have been removed from the second most popular token supply in circulation.
This was achieved in 14 transactions and pushed SHIB's burn rate to over 90%.
Earlier, 176,545,974 Shiba Inu were burned in 29 transfers in dead-end wallets. On Tuesday, SHIB scoring rates increased by 256.13%, according to Shibburn's website.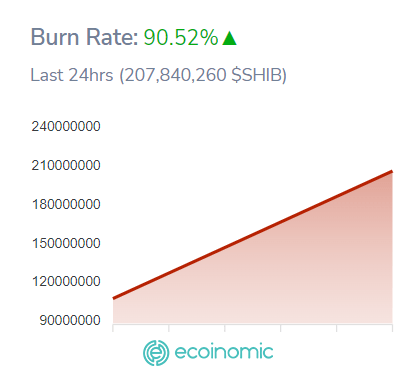 Part of this money is made through an affiliate program with Amazon that SHIB Superstore of the aforementioned game developer joined earlier this year. According to a recent tweet, commissions from this program formed $22 (equivalent to SHIB 1,661,631). It also mentions that the new SHIB-burning site, playzone.online also contributed $5 worth of SHIB, less than 1 million meme tokens.