The Shiba Inu meme coin has spiked in price. With the announcement of a new metaverse update and growing interest from whales, is the future bright for Shiba Inu?
Over the past seven days, Shiba Inu's token price has skyrocketed by 7%. Despite the bear market, these meme coins seem to be doing well.
One of the few reasons for this could be that Shiba Inu entered the metaverse and launched their first concept art. Furthermore, in a recent tweet, whalestats announced that SHIB ranks first in tokens held by the top 500 ETH whales.
These updates have helped strengthen the token's appeal.
According to LunarCrush, Shiba Inu saw an 8.03% increase in community discussions. And a 10.37% increase in its community activities. The majority of social media interactions are somewhat positive.
As seen from the chart below, there has been volatility in community dominance with figures recorded at the time of writing of 1.43%.

As noted, Shibburn, a website dedicated to tracking Shiba Inu's burned tokens on September 5 announced that a total of 51 million SHIB tokens had been destroyed.
With the increasing number of SHIB tokens burned, it is likely that the value of this meme coin could increase in the long term.
However, the stats on burned tokens and social media attraction do not affect the number of Shiba Inu. Over the past two weeks, SHIB's volumes have been relatively stable with a spike around September 4.
The market cap in circulation hints at a bearish future for the token, as it has fallen 18.50% over the past two weeks.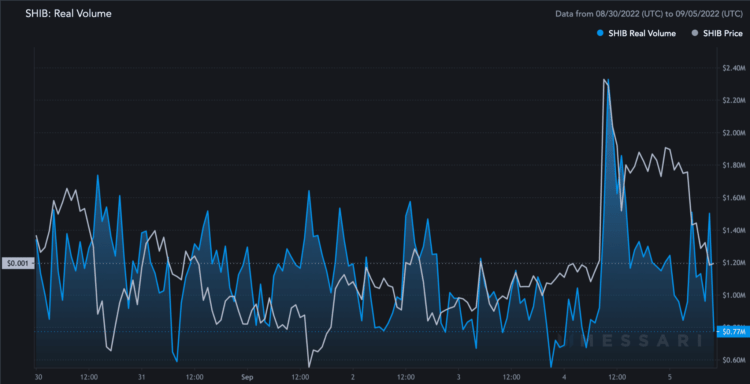 Although there are many optimistic factors in favor of Shiba Inu, traders should be cautious and research before entering a trade.
This meme coin is prone to high volatility and investors' portfolios can be seriously affected if they are not cautious with their investments.