The Total Value Locked (TVL) on the Decentralized Finance (DeFi) space of the Solana blockchain in U.S. dollars has been trending downward over the past three months, down a total of 45.9% from $3.94 billion to $2.13 billion.
According to CryptoCompare's latest Asset Report, the dominance of the five largest protocols has increased over the same period, reaching a peak of 51.6% on August 9. Solana benefits from the DeFi space diversifying applications ranging from DEXs to lending services, liquidity staking and yield.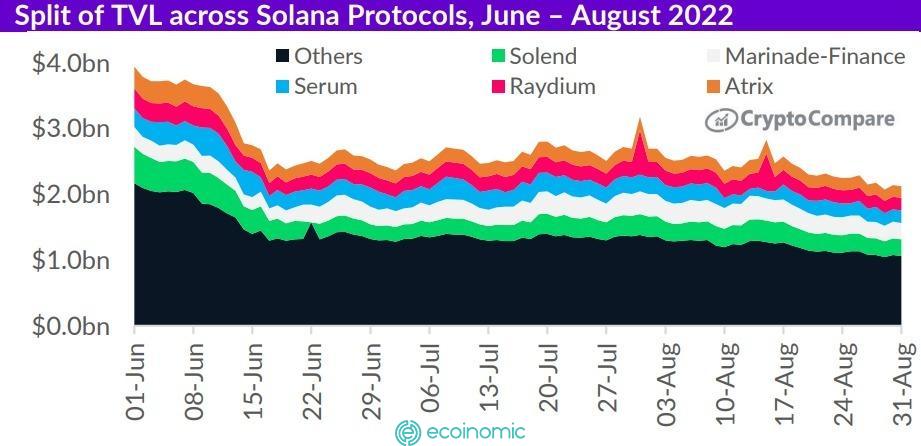 CryptoCompare's report adds that developer activity on the Solana network has been steadily increasing this year, with "the total number of GitHub contributors increasing by 40.9%, while the total number of commits increased by 14.8%".
Meanwhile, cryptocurrencies have seen volatility with prices declining steadily since May 5. The lowest 30-day annual volatility was 77.2% on August 27. According to the report, this is "the lowest volatility figure for cryptocurrencies over the past two years, demonstrating a lack of activity in the market."
The company added that lower levels of volatility are not necessarily a good thing for cryptocurrencies. For example, Solana has lost more than 80% of its value this year and underperformed other major cryptocurrencies including $BTC, $ETH, and $ADA.
The total number of transactions made on the Solana network is close to the 100 million mark, at a time when institutional investors continue to bet on products that offer them exposure to cryptocurrencies, despite the ongoing bear market.
Institutional investors earlier this month reduced the majority of their bets on both Bitcoin and Ethereum-based investment products while increasing their exposure to several altcoins, including Solana.
Products that provided exposure to Solana received $500,000 into cash flow, while products that provided exposure to XRP received $200,000. Cardano-based investment products received $100,000 in cash flow, while multi-asset products received $3.3 million.