LUNC (Terra Classic) price is rising again, up 15% this week and back in the top five bullish cryptocurrencies today on Binance, behind only ApeCoin.
This latest LUNC pump is a significant show of bull strength – with Bitcoin still trading below $20,000 and Ethereum below $1,400 as market sentiment shifts to a 'hedging' state ahead of Wednesday's FOMC meeting.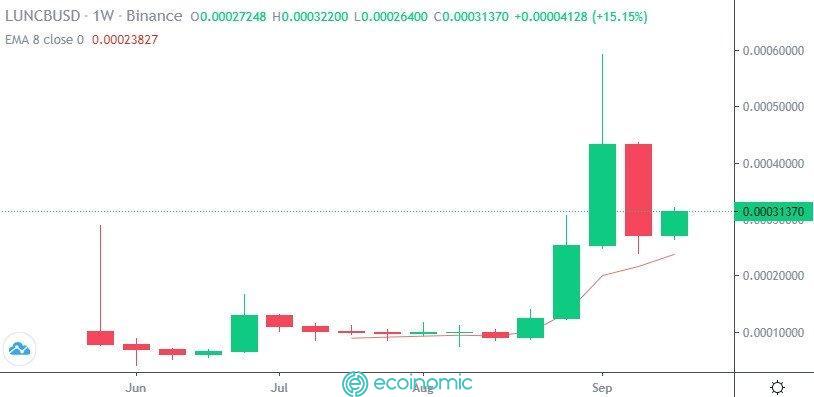 Terra Classic Price History
The current monthly high for Terra Classic (LUNC) or 'Terra LUNA Classic' was $0.000593 on September 8.
That's the peak of a 14.3x increase from the 2022 low of $0.00004123, reached on June 9 (considering Terra's price action since the Terra LUNA hard fork and rebranding as LUNC).
After moving near 1,500%, a correction and consolidation took place, and the LUNC price fell to a low of $0.00024 this month, down 60%.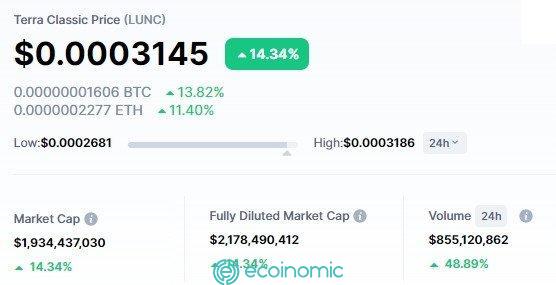 Terra Classic prices have rallied near the weekly EMA 8 with bull efforts and are now trading back above their all-time highs – May 30.
Terra Classic price prediction
If the LUNC price can close the candle this week in green and above the May 30 high ($0.00029) then it will be a bullish signal for the emergence of many potential new buyers and confirmation that Terra Classic has broken through that level for support on the high timeframe.
A close of around $0.0003 or higher during the week of the FOMC meeting and outperforming BTC and ETH will indicate that the LUNC pumping is not over and will resume its uptrend.
However, the LUNC price chart will flip the market structure in a bearish direction if it starts closing more weekly candles below $0.00029, similar to the weeks before the spike in price action.
Gigantic Rebirth, who predicted the LUNA incident to close his Terra (LUNA) short position earlier this week, but has yet to close its LUNC short sell order – this is a bearish case for LUNC.
Why's LUNC Pumping?
The peculiarity of Terra Classic or 'LUNA Classic' is that it is the original Terra LUNA coin and is now owned by the community that Terra founder Do Kwon is not involved.
LUNC is "No" in association with do Kwon. Only Luna 2.0. The 1.2% burn officially begins tomorrow. So people are trying to "fill their pockets." The Terraform
Labs founder is now believed to be a fugitive from South Korean prosecutors, though he has denied that rumor.
As investors commented in a Reddit thread:
He dropped it to start a new coin, so people are buying "abandoned child."
In a way, Terra Classic adopted the community's perception of the meme coin.
Meme tokens still have mass traction and were proven this week when the new meme cryptocurrency Tamadoge ended its early sell despite Bitcoin and Ethereum price crashes.
We will include more Terra Classic price predictions and analysis this week ahead of the FOMC meeting and after the Fed announcements.
The current Terra Classic price is around $0.00031 with a direct market cap of just under $2 billion.