One of the most popular cryptocurrency traders on twitter, GCR (@GiganticRebirth) sold LUNA for $2.50.
On September 14, the price of Terra LUNA dropped to as low as $2.23 on Binance, before rising to around $3. After a sharp rise, Terra prices are still down more than 30% in the last 24 hours and have pulled out most of the rally in September.
Volatile day in the markets

Bitcoin sold off heavily with equities on hotter than expected CPI
Heavy sell off in LUNC on news that Terraform CEO Do Kwon faces arrest warrant in South Korea

Update on my positions [ + fully out of my modest LUNA 2.0 short for now, ~$2.5] pic.twitter.com/UboP3YX7MF

— GCR (@GiganticRebirth) September 14, 2022
GCR's Terra LUNA price prediction
GCR did not share on twitter about whether he sold or hold Terra LUNA.
Based on GCR's trading history, it can be seen that the long-term bullish outlook for LUNA is unlikely. LUNA can only go up in the short term. Therefore, GCR closed the leveraged trading position.
GCR gained notoriety after the sale of Terra LUNA in early 2022, the time before and while Terra LUNA collapsed. He predicts Terra LUNA will become 'garbage' and collapse due to competition from other stablecoins.
Gigantic Rebirth won a $10 million bet against Do Kwon when luna prices dropped. Previously, Algod (@AlgodTrading) another cryptocurrency trader in March suggested that LUNA was a 'ponzi scheme'.
Last week, when one of the other top cryptocurrency traders on twitter @lightcrypto also predicted a drop in terra LUNA price.
GCR Terra Classic (LUNC) price prediction
Gigantic Rebirth kept its Terra LUNA Classic price prediction down.
Gigantic Rebirth reveals lunc short position has increased by nearly $4.4 million in unrealized PnL. He opened a short sale for LUNC of $0.00042 on September 9.
South Korean prosecutors issued an arrest warrant for Do Kwon, causing both LUNA and LUNC prices to fall and the market to continue to sell off.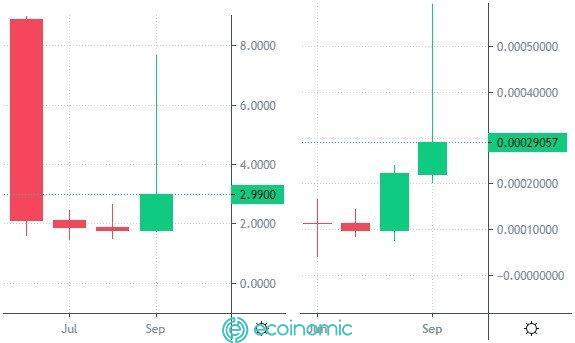 Gigantic Rebirth's Bitcoin Price Prediction
However, Gigantic Rebirth leverages Bitcoin purchases – this provides some signals to holders of Terra LUNA or LUNC. If Bitcoin rises in the opposite direction, terra cryptocurrencies could also experience a rally.
Currently, however, neither LUNA nor LUNC are on the list of the 12 best crypto tokens to buy in 2022.